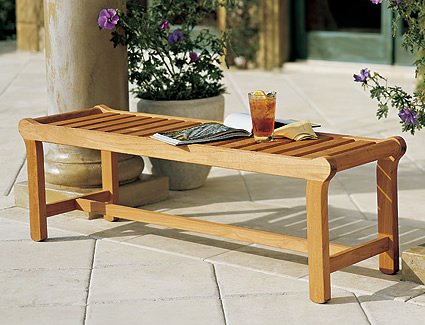 This is a beautiful teak backless bench that will go great in your garden or backyard. It has a very smooth sanded finish, very comfortable for sitting on and easy on the eyes as well. Some assembly is required using a rubber mallet to pound dowels into the holes provided. This bench is all wood construction, with no metal screws or bolts. You may wish to use a wood glue when putting it together to ensure the joints fit as solidly as possible.
When fully assembled, this backless teak bench can comfortable seat 3 grown adults or 5 smaller children. It's 55 inches long, which is about 4 and a half feet. The seat is also 16 inches wide and 17 inches tall.
This bench is very highly recommended because of the quality teak wood used, the elegant and sturdy design, and the very reasonable price. After you get one, you may like it so much that you decide to get another. You could have it by your pool, on the patio, in the garden, by your front door, or even indoors. As shown in the photo, it could also work as a coffee table. You could also set up a bench like this in your bathroom or a hallway as a place to store towels or display collectible items.
Review Summary
Reviewed by
TeakPatioFurnitureWorld.com
Date
Item
55" Grade A Teak Wood Outdoor Garden Backless Bench
Our Rating