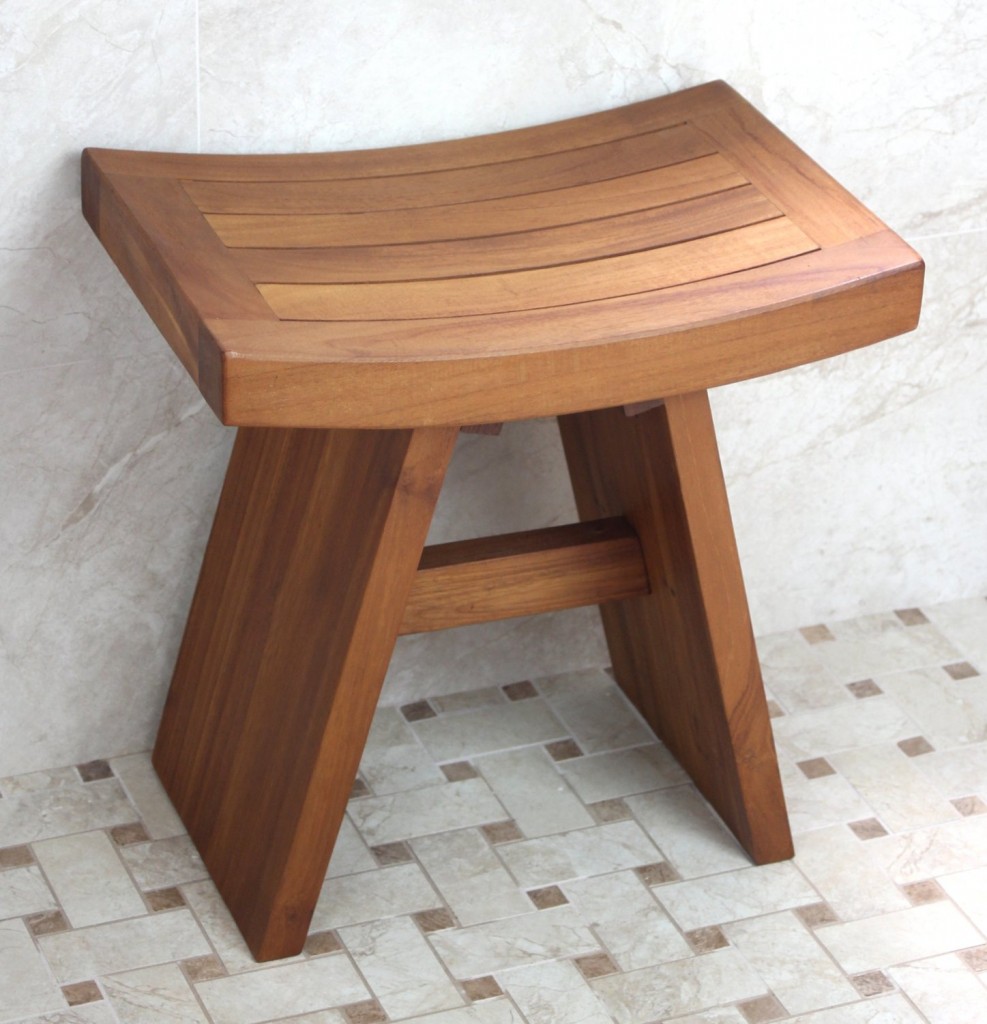 Would you like to add a little touch of Zen to your shower area? Of course you would! You can do so with an Asian shower stool
made from teak wood. Teak has the perfect combination of beauty and quality that make it such a great choice for use in a bathroom or outdoor shower.
Teak is one of the most durable woods for furniture construction. In particular, teak is very practical for any adaption that involves contact with water. This is because teak heartwood contains large quantities of protective oil. These natural oils prevent water from penetrating and damaging the wood. For this reason, teak has been the wood of choice for shipbuilders for hundreds of years.
In the home, teak can be used for a number of uses in the bathroom or shower areas without having to worry about water damaging the wood. On top of this, teak is a very beautiful wood. It starts out as a golden brown color when it is freshly cut, and then slowly fades to a lovely silver gray patina over time. Aged teak wood appears smooth, soft, and inviting. It's the perfect look for a bathroom or shower.
The teak Asian shower stool
design is inspired by the traditional wooden shower stools used in Japan. Bathing is a very important part of Japanese culture. Whether in outdoor hot springs, community bath houses, or in private homes—bathing is a daily activity that  the Japanese have turned into a way of life. We may be used to thinking of the bathtub as the place where you go to get clean, but for the Japanese, the tub is only for soaking in hot water. You're supposed to be clean already before getting in the tub or community bath because it's shared with others. This means you need to wash yourself before stepping into the water.
The shower stool is used in Japan to sit on while you wash yourself before you soak in the hot bath. You would typically scrub yourself down with water from a bucket or basin while sitting on the stool. The low stool is convenient for getting at the water and scooping small buckets over your body to rinse off. It allows you to get in a low position without having to squat for a long time and strain your legs.
In the West, we don't typically wash off before getting in the bath or shower. But nevertheless, the shower stool can be a very useful item to have. For starters, it's much easier to scrub your toes or shave your legs in the shower when you have something to sit on. The elderly and those who lack mobility can also greatly benefit from a shower stool since it allows them to take the weight off their legs while they shower. And the outward-angled legs of an Asian shower stool provide a very stable base.
The wooden shower stool also fits in well with the Japanese wabi-sabi minimalist sense of aesthetic. You'll find this uncontrived sense of beauty all throughout Japanese culture, but it's particularly evident in Zen temples and gardens. There is genuine satisfaction from being able to appreciate the quiet beauty of a moss-covered rock or a well-worn wooden plank. You can complete the Zen look for your bathroom or shower area by combining an Asian shower stool with a teak bath mat and teak towel holder. Let the simple beauty of the wood inspire you when you start the day each morning.
Teak shower stools make a great gift.
Here are some of the best Asian shower stools made from teak available: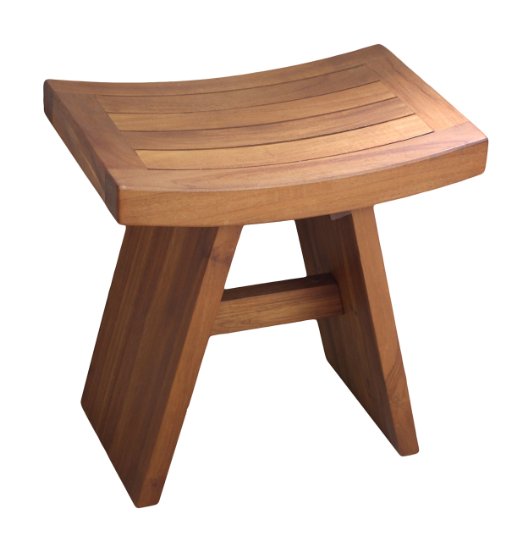 This is your classic Japanese-inspired teak shower stool. It's simple and elegant. You really couldn't go wrong picking this as a gift for someone on their birthday or during the holiday season.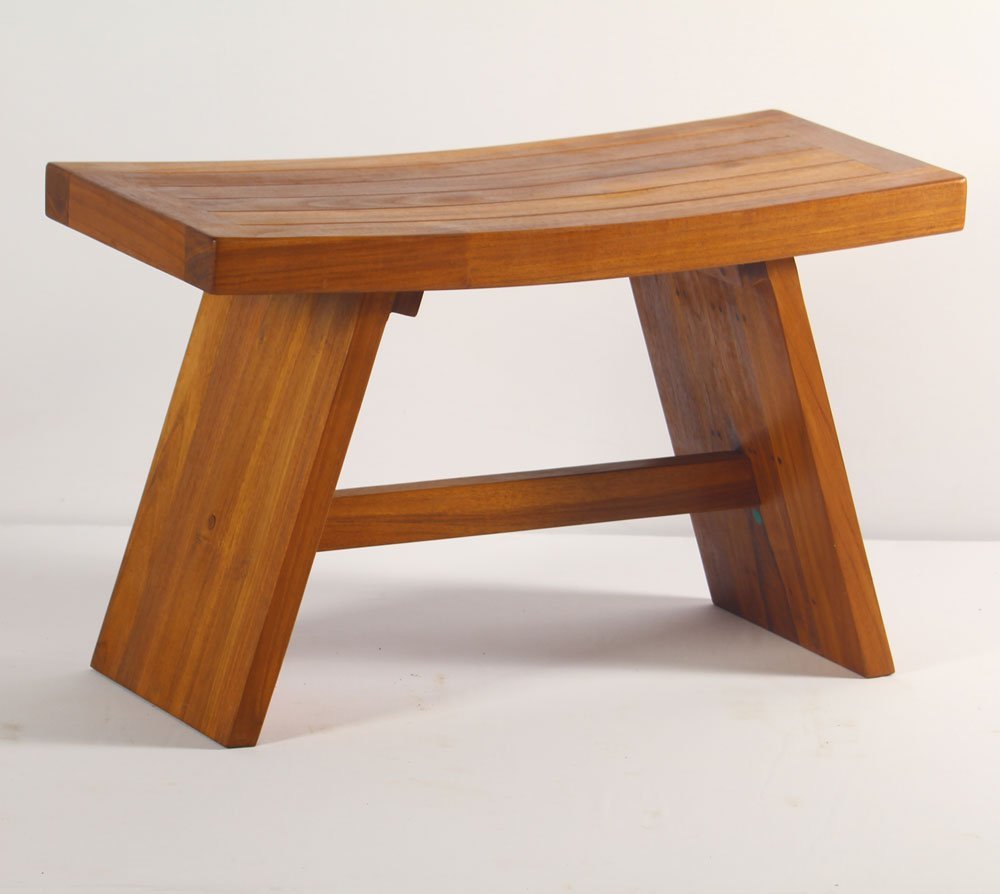 The double sized Asian shower stool has the same clean and simple lines as the standard version, but the width is extended considerably. If you have a little more space available, this variation is quite attractive. The extra width of the legs also provides a very sturdy base.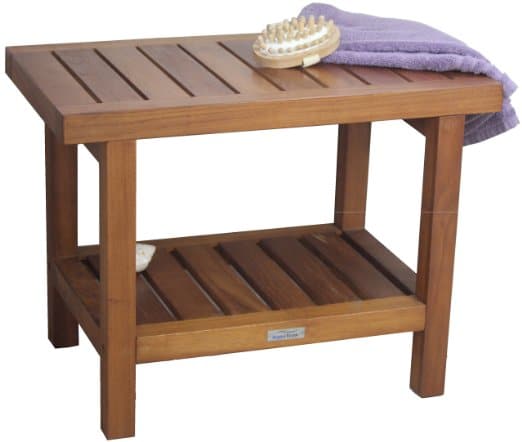 Another good choice is a standard rectangular shaped bench. The shelf underneath provides some extra storage space, which can make this model more practical depending on the intended use in your home.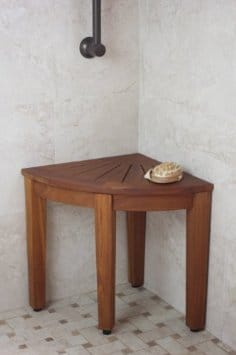 The corner teak bench is another smart design. This one works best if you've got a tight 90 degree angle corner in your bathroom or shower where you intend to place it. It's very practical without taking up too much space.