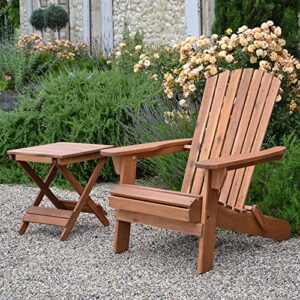 You like the idea of teak furniture, but it's a little out of your budget. What's a good option? Have you considered acacia wood outdoor furniture? Acacia is another popular variety of hardwood for outdoor furniture use. It's strong and durable, but not as heavy or dense as teak. It's also not as expensive, which is one of the most appealing factors to consumers with a budget.
So what is acacia wood anyways? What are it's distinguishing characteristics? How does it stack up to teak wood? And would it be the right choice for your patio furniture?
Let's answer all these questions and look at some of the best acacia patio furniture you can currently buy.
What is Acacia Wood?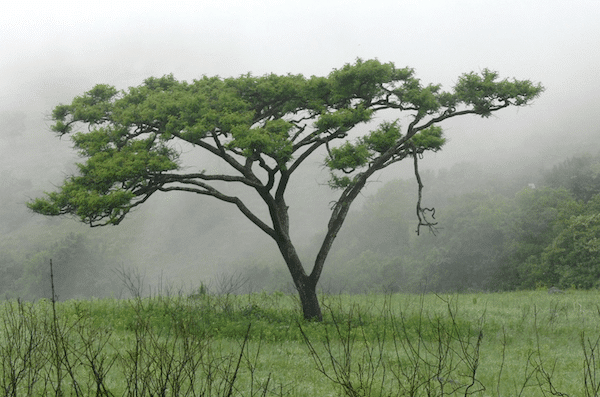 Acacia is a large group of trees and shrubs, with hundreds of different species, mostly native to Australia and Africa. The wood has long been used for home, furniture, and boat construction. In fact, the famous ark built by Noah in the biblical story was said to be made from acacia wood. On top of this, leaves, seeds, and resins form different acacia species have been used in traditional medicine since ancient times.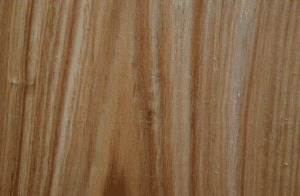 Acacia wood has a very attractive grain pattern that many people enjoy. You can find many hardwood floors and indoor furniture items are made from acacia wood because of this. The grain is sometimes described as a flame pattern.
Acacia trees do not grow incredibly large. They are more shrub-like and branch out widely. The usable timber from acacia, therefore, tends to be on the thinner side. In contrast, teak trees grow quite tall, straight, and upright. If they are given sufficient time to mature the timber produced can be quite thick.
Acacia Wood Furniture vs Teak
Appearance
How does acacia wood differ from teak wood? First of all, there is the appearance. Teak wood naturally has a tight, straight grain and golden honey-like color when new. Acacia, on the other hand, can develop more wavy or flame-like patterns in the grain. Acacia can be anything from a light brown to dark red in color.
Density
Teak is the denser wood. Acacia is a fairly heavy hardwood, but it does not come saturated with natural oil in the same way that teak does. You can tell the difference in person when touching the two woods. Teak wood will feel slightly oily to the touch, but acacia won't.
Maintenance
Teak wood needs very little maintenance so long as you're not overly concerned about the color fading to silver. The protective natural oils give it a resistance to damage from water, rot, and insect invasions. No treatment is strictly needed for teak wood furniture used outdoors. Acacia wood, on the other hand, does not do as well if left untreated and exposed to the elements. Treatment with a teak oil is a good idea for acacia outdoor furniture to keep it looking good.
Cost
A huge advantage of acacia furniture is the lower cost. Often you can find acacia outdoor furniture for 3 times less than similar teak furniture would cost. The trade-off, of course, is the reduced longevity of the furniture. Regular cleaning and the application of protective coatings will help acacia furniture last longer when used outdoors. It will still never be quite as long-lasting as teak though.
Best Acacia Wood Outdoor Furniture Sets
Acacia wood makes some pretty good outdoor furniture. However, it's not as long lasting and durable as teak, shorea, and even eucalyptus. When thinking about outdoor furniture sets, acacia makes the most sense if you want something rather inexpensive and are not terribly concerned about its potential lifespan. You could get a nice looking hardwood furniture set that might last you 10 years if you take good care of it. Whereas a teak furniture set can easily last 30+ years and with little maintenance.
So, on the whole, I would only recommend acacia wood for smaller furniture sets that you won't feel bad about replacing down the line. If you want to invest in a large dining set, you would be better off shelling out the extra dough for teak or eucalyptus as it will last much longer. With that in mind, let's review a few acacia wood furniture sets that you might consider buying.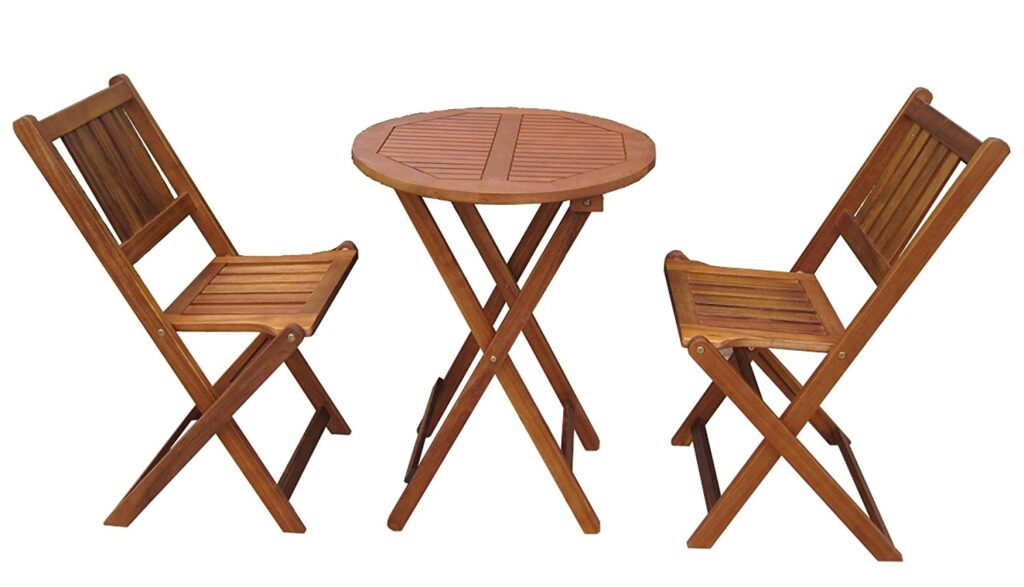 If you want a very affordable hardwood bistro set think about buying this little set. The Merry Garden bistro set includes 2 folding chairs and a small circular folding table, all made from acacia wood and treated with an oil-based coating from the manufacturer. After a while you'll probably want to spruce this set up with a coat of teak oil to keep it looking nice.
Make no mistake—this is a small set. The table measures just 22 inches in diameter, and the chairs are on the small size too. But as long as you've got your expectations in order, then this is a very economical option for outdoor seating and light dining. Even those without a house might consider purchasing this set. It's the perfect size to fit on a small balcony at your apartment or condo unit. Because of the small size and folding nature of the pieces, you should be able to easily store it indoors over the winter, which could extend the lifetime of this set.
Merry Garden Acacia Wood Bistro Table and Chair Set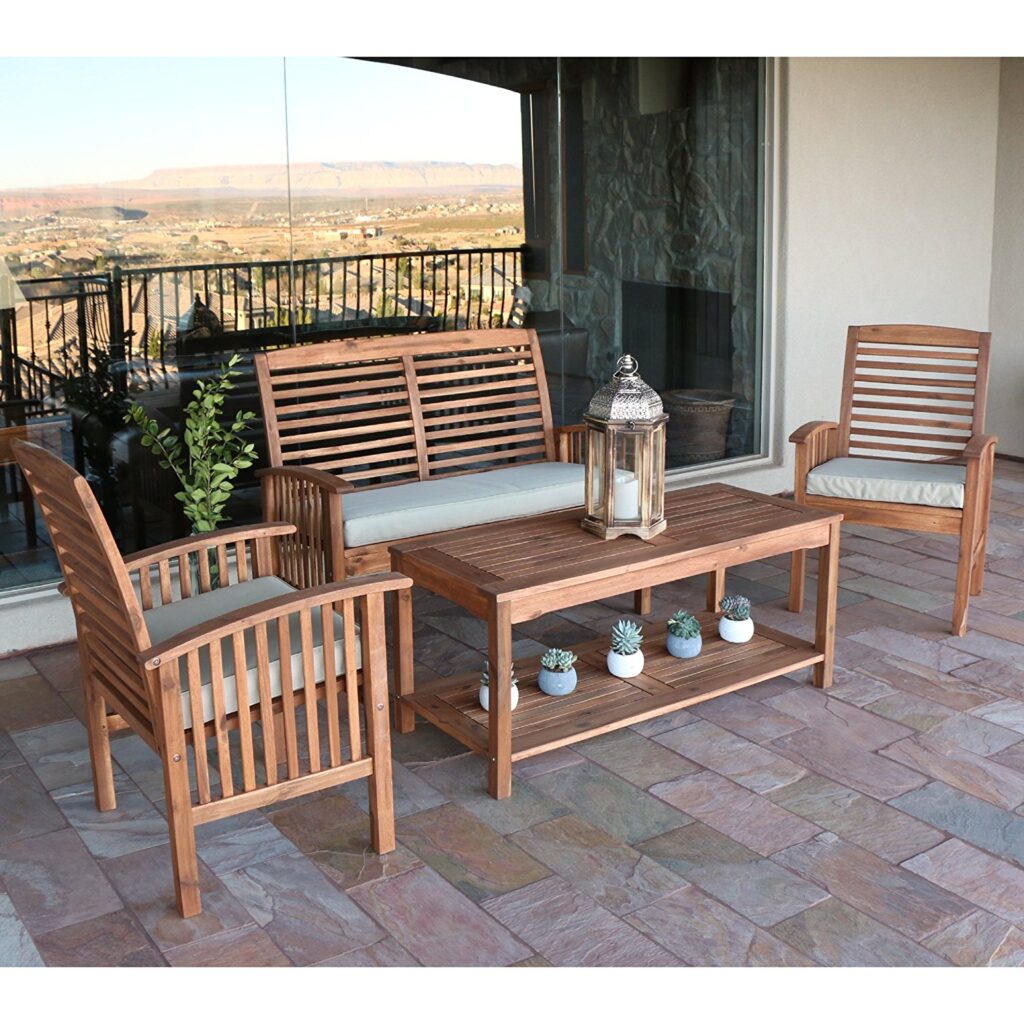 Let's say you would like to set up an outdoor living area in your backyard or patio and your budget is under $500. In that case, this is the set to buy. It comes complete with everything you need: coffee table, 2 armchairs, loveseat, and outdoor cushions. You have a choice of brown (pictured) or dark brown finish with this set. In either case, you'll want to pick up some teak oil at the same time so that you can provide periodic protective coats to the acacia wood whenever it needs sprucing up.
A similar sized teak wood conversational set would easily cost 2-3 times as much. If you expect teak quality at this price, you'll be disappointed, but if your plan is just to get a budget outdoor seating set, you should be pretty happy.
Walker Edison Acacia Wood 4-Piece Patio Chat Set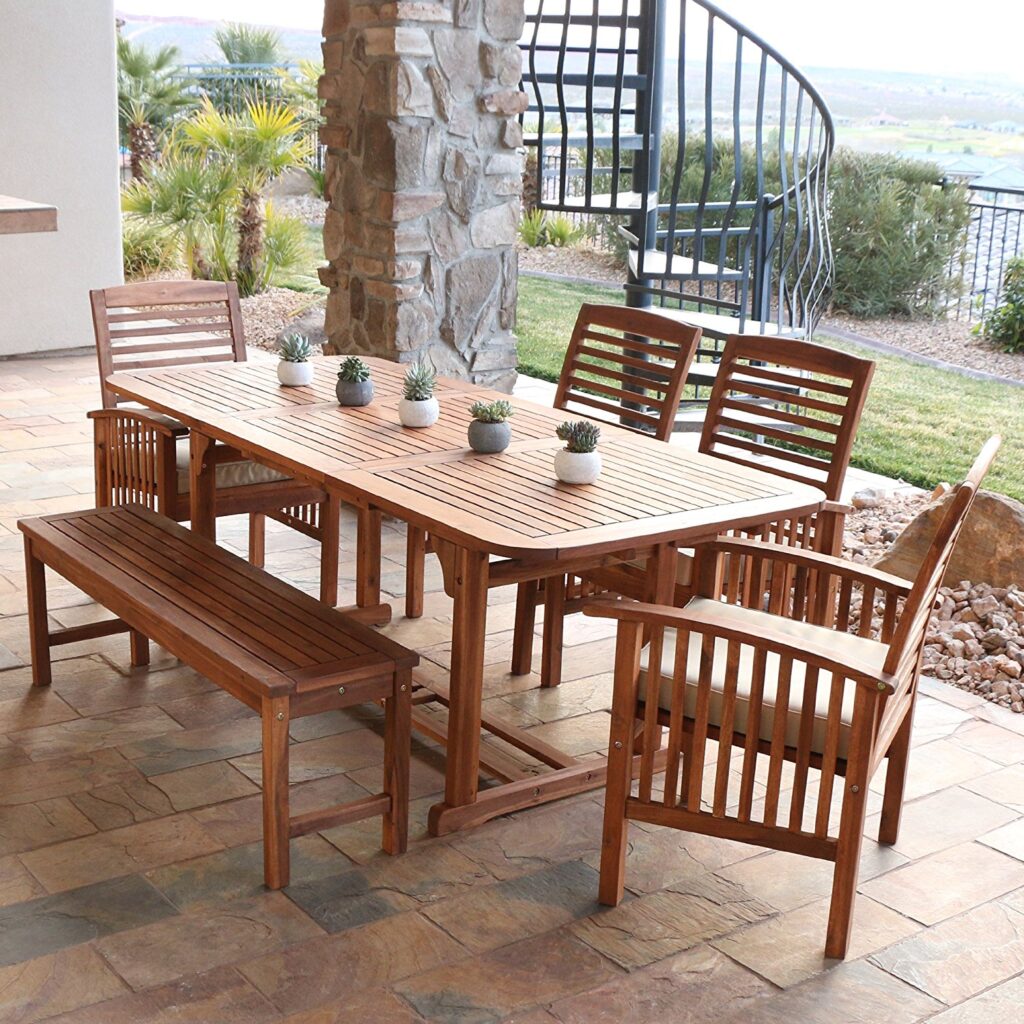 This 6-piece patio dining set is a bit different. usually this sized table would come with 6 chairs, but in this case you get 4 chairs plus a backless bench to place on one of the long sides of the table. I have to say that I'm not a big fan of this design. Maybe, if you've got a few small children, this configuration would be suitable for your family. Otherwise, I don't think it looks as nice as a standard 7-piece dining set.
This is also about the largest furniture set that I would consider buying from acacia wood. For anything bigger, you're really better off in the long run investing in a higher quality hardwood. That said, this set can be a really good value for the right owner. Consider that this set costs maybe a third of the price that a similar teak wood set would be. If you don't want to wait around until you have enough saved up for a teak or eucalyptus set, this could be a decent alternative.
It comes with cushions for the 4 armchairs, which makes it even a better value.
Walker Edison Acacia Wood 6-Piece Patio Dining Set

Best Acacia Wood Outdoor Chairs and Benches
Single outdoor furniture pieces from acacia wood can be a good value. I'm more likely to suggest acacia wood for single furniture pieces, such as outdoor chairs and benches, rather than for large dining sets. Again, this is my opinion on the value of your total investment. Some of these chairs are really quite affordable, and much cheaper than the teak wood equivalent would be. So if your budget is somewhat limited, but you want outdoor furniture now, then acacia can be a sensible hardwood choice.
For all of these acacia patio furniture items, an application of teak oil will be useful in keeping them looking their best.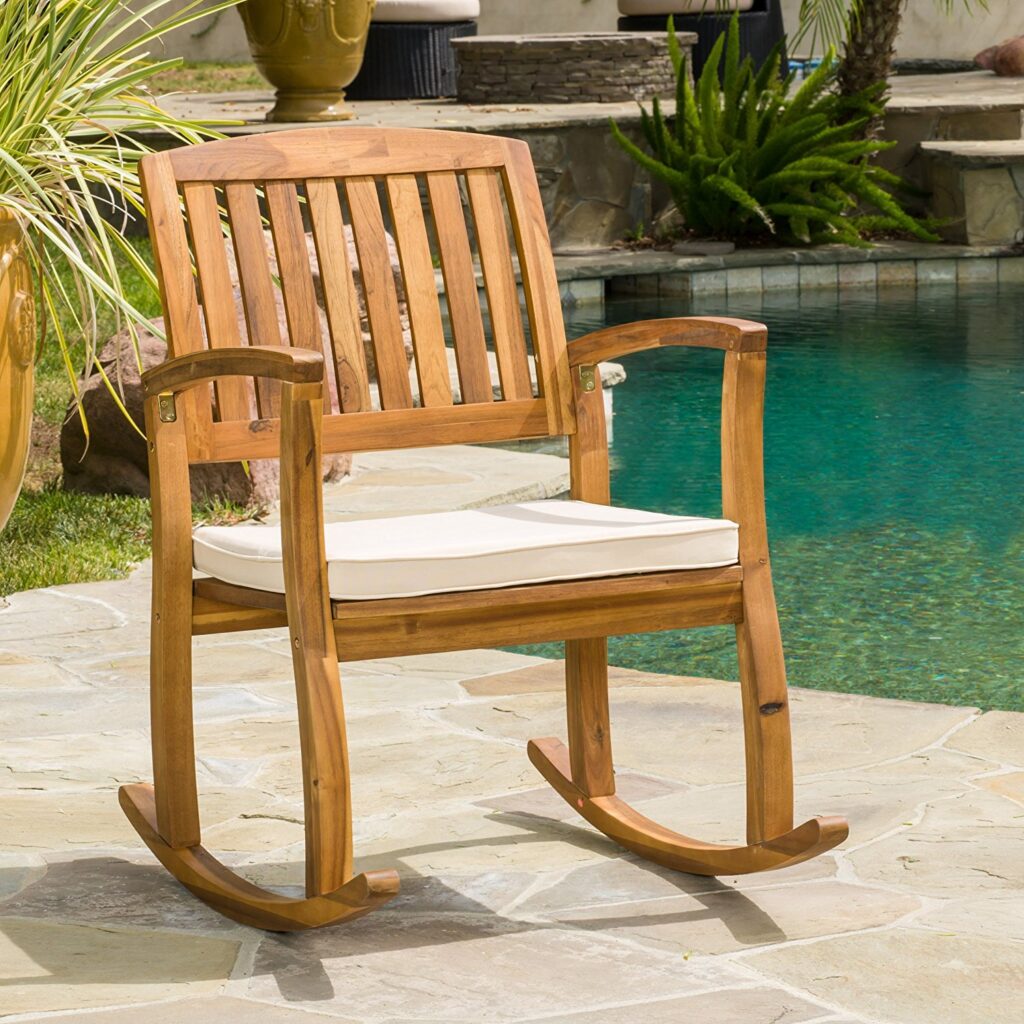 This little rocking chair has a kind of contemporary look. You'll notice that the backrest isn't nearly as high as the typical "grandma's" rocking chair. The all-weather seat cushion is a nice added bonus.
Sadie Outdoor Acacia Wood Rocking Chair with Cushion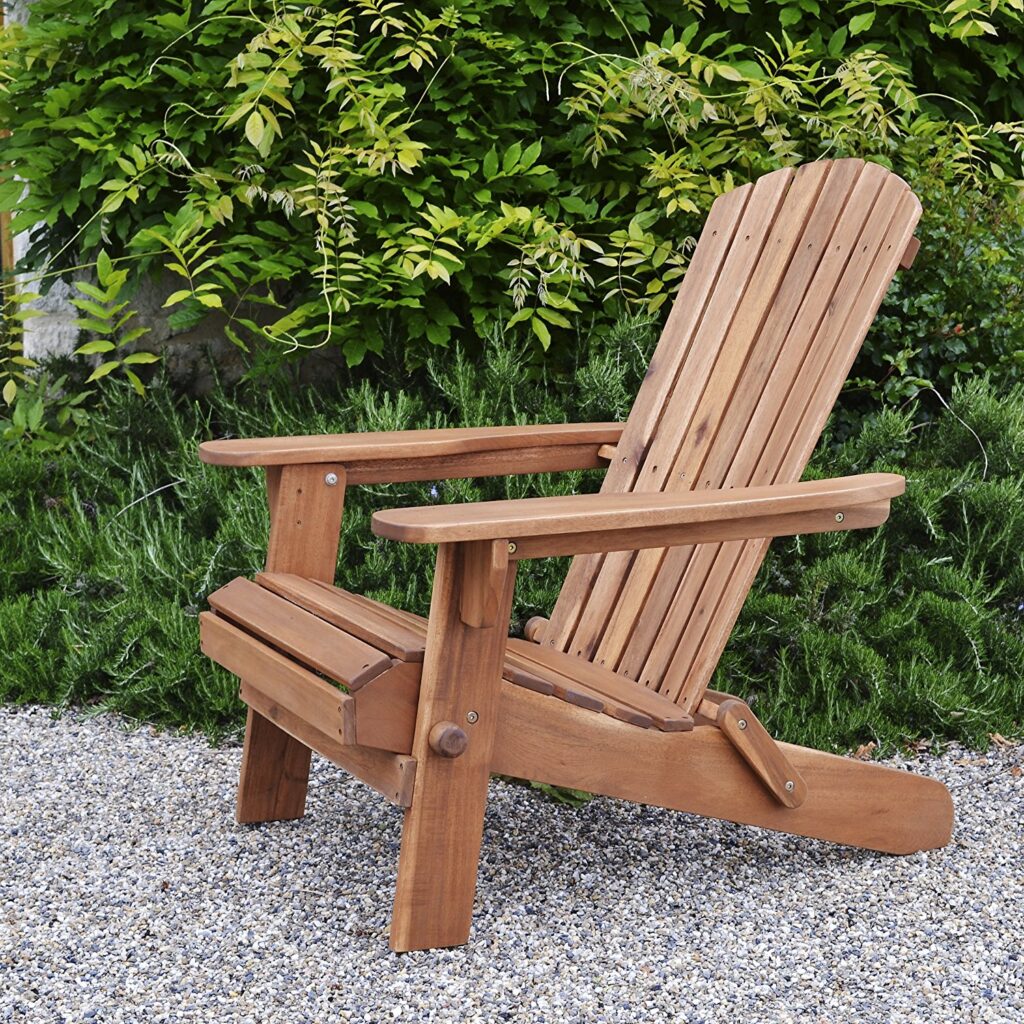 If you want a genuine hardwood Adirondack chair for much less than teak would cost, this model is one you should buy. One or two of these to place in the backyard or around the fire pit would look great. They're very solid and well-made. Take care of it well, and it should last you a good number of years.
Plant Theatre Folding Acacia Wood Adirondack Chair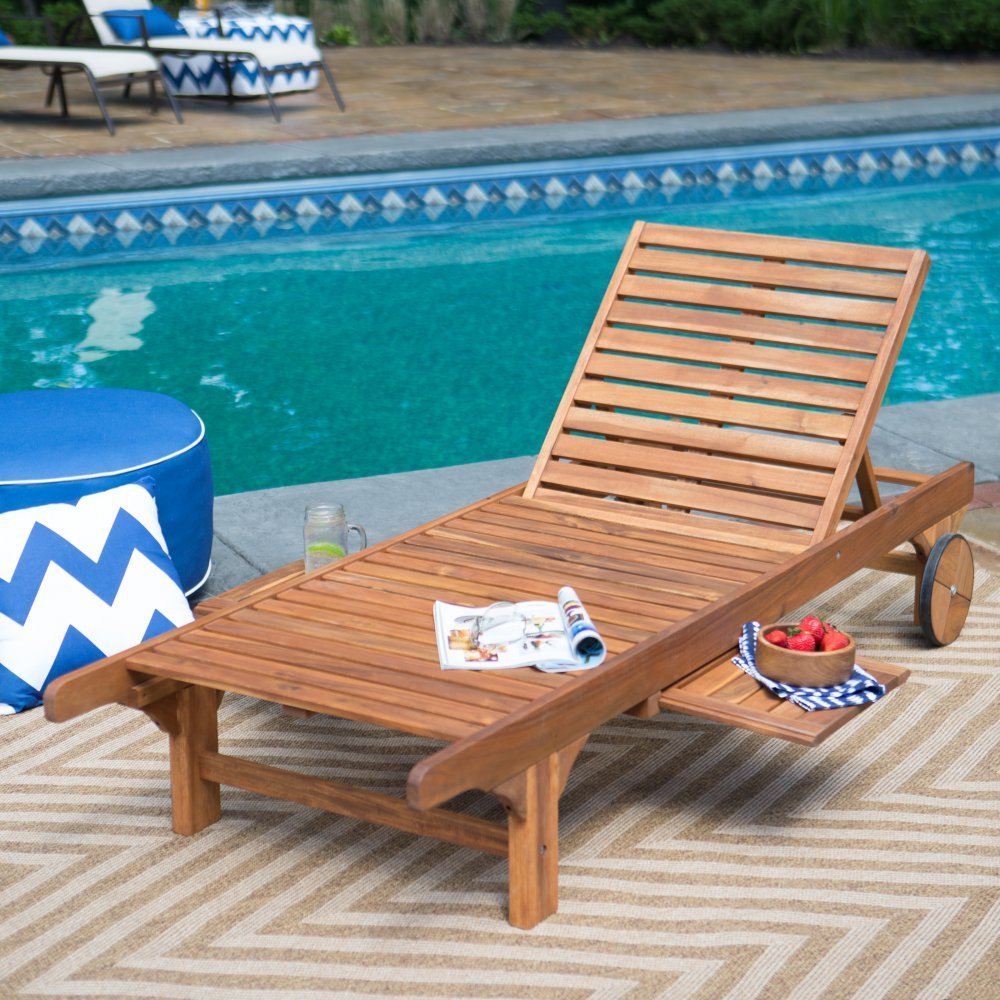 If you've seen how expensive teak chaise loungers can be, then you'll understand how good of a value you get by buying this acacia lounge chair instead.
Is it as good as a teak lounger?—Probably not.
But, is it an excellent hardwood lounger chair for your money?—Without a doubt.
Do yourself a favor and treat the wood with teak oil. Acacia doesn't have the same density and naturally occurring protective oils that teak wood has. So a little maintenance on your part will go a long way towards extending the life of acacia chairs.
Coral Coast Bellora Acacia Chaise Lounger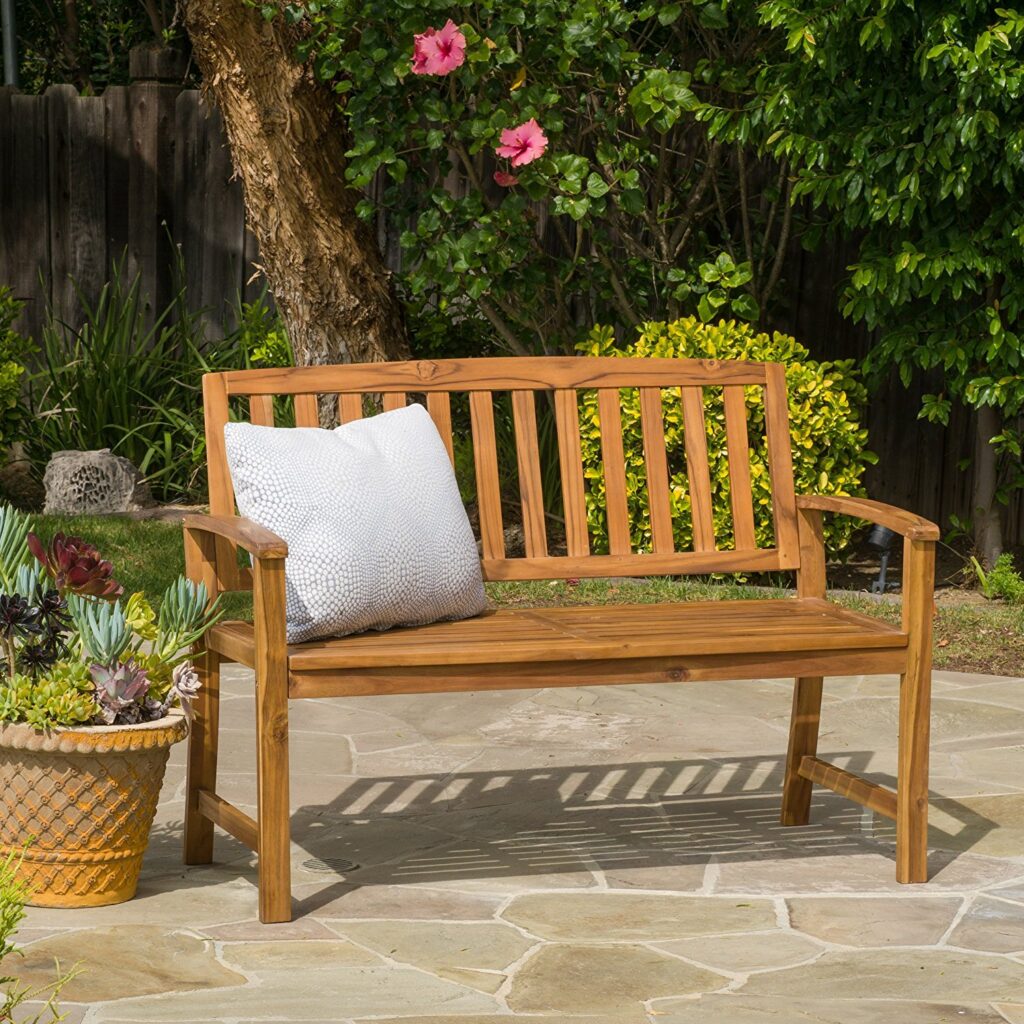 A simple garden bench is a thing of beauty. Every homeowner should think about picking one up for their backyard. If you don't want to shell out big bucks, buy this sturdy 4-foot hardwood bench. A teak bench will easily cost you 2-3 times as much. While not the highest quality hardwood bench in the world, this garden bench gives you great value for your money.