Buying LED string lights for your Christmas decoration, wedding, Halloween, or any other party is not as easy as walking into a store and picking any lights. There are a few things you need to put into consideration to ensure you have the best. This review will give you a few recommendations and why they should be your choice.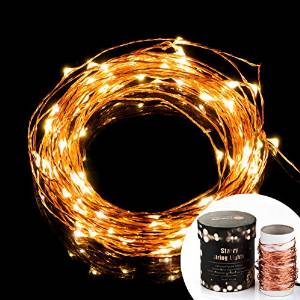 TaoTronics Copper Wire Lights is a lightweight string light weighing 3.5 ounces, with a length of 33ft , and with 100 LED bulbs on it emitting a warm white-yellow colored light. The voltage is 5 volts, and the lights do not overheat even after 14 hours of constant use. The TaoTronics Copper Wire Light is made from polyurethane material with a high-quality copper wire that is very flexible making it bendable.
Not only are these lights beautiful, but they are also energy efficient. You can also be assured that there is no risk of them burning one of your guests since they do not heat up after long hours of use. So go ahead and let them hang low if you wish. They are also waterproof, so they can be left out in the rain with no problem. Reviews from some of the many people who have bought these lights praise them for being able to create a magical star-like atmosphere.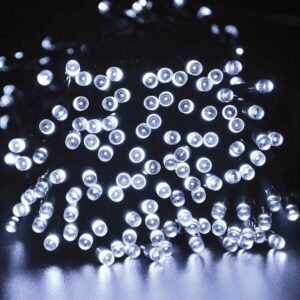 The string for this LederTEK Solar Christmas Lights is 72 ft long with 200 bulbs on it. It is solar powered, can work up to 8 hours at night, is waterproof, and can be switched between flashing mode and non-flashing mode. It comes with a solar panel and weighs 15.8 ounces. There is a plastic outer cover. With a power consumption of 2 volts, it emits white light.
This string light is very easy to install inside or outside and is very flexible. You just have to plant the solar panel where it will get enough sunlight during the day and then you can go ahead to decorate either your garden, roof or Christmas tree. With a generous length of 72 feet, it is very convenient, and there is so much you can do with just one string. Customers were impressed by the different light modes which gives the chance to change from one flashing mode to another to set the mood. You don't need to worry about conserving power since they are solar and they even turn themselves off at day time as they recharge. The only drawback is that you will need to put the solar box where it is protected from heavy rain.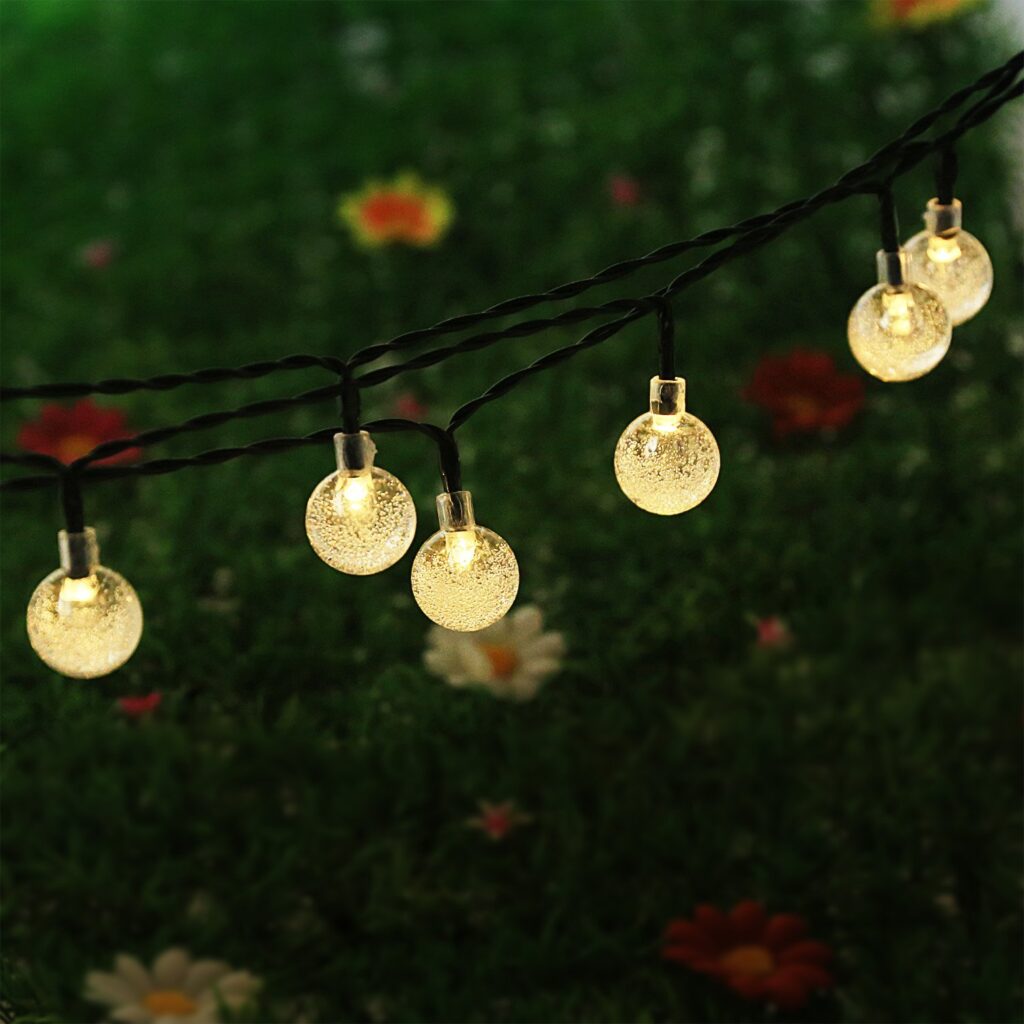 The string is 16.4 feet long with 30 crystal ball lights. It is also solar powered, and it has a solar panel that is placed by a 20cm spike. The Newstyle Crystal Ball Lights have two modes: blinking and steady on. It's are waterproof, so it can be used outside even when it is raining. It charges automatically once the sun is out and turns on when it is dark.
Many guests or people passing by the house will comment about how beautiful the crystal balls are. They also provide a sufficient light if you want to use them alone for both decoration and lighting at a party. One customer says he bought one string but after using it he felt he needed more to decorate the whole house because they are so beautiful and energy efficient. They work well both indoors and outdoors, and are very easy to install, but you should note that the battery will not fully charge on a cloudy day—it needs full sunshine to charge.
Making the choice between these three can come down to your preference in terms of length of the LED string lights, what color you would like the lights to be, or the style of the LED bulbs. All three of them have received many positive reviews for their performance and features. If you are hoping to dazzle your guests with stylish lights then the Newstyle will be appropriate. While if you would like to have more string to design shapes—say on the roof—then LederTEK will be just fine. And for the classic lighting which is common at many parties, the TaoTronics are the best for the job.