Imagine yourself sitting in your backyard in a study, yet comfy solid teak Adirondack chair. It's a warm summer afternoon, you've got a tall glass of freshly squeezed lemonade sitting on the armrest, and you're enjoying just taking it easy watching the birds come to rest at your feeder. Or maybe it's early autumn, the leaves have just begun to change colors, and you're enjoying the crisp morning air sitting outside with a hot cup of coffee to enjoy a quiet moment before heading off to work.
You've probably heard the reasons why teak wood makes the best outdoor furniture: it's beautiful, sturdy, long-lasting, and requires little maintenance. But maybe you don't know anyplace nearby to buy it. Perhaps you're lucky enough to have a home far out in the countryside, or maybe there just aren't any teak retailers in your neck of the woods. Luckily we all are living in the 21st century, and you can buy virtually anything over the Internet these days—patio furniture included.
When it comes to teak Adirondack chairs in particular, there's actually a pretty good selection available for purchase online. A number of different styles are out there, and they come in different price ranges too. So there's a good chance that you can find the perfect Adirondack for your backyard without even stepping outside.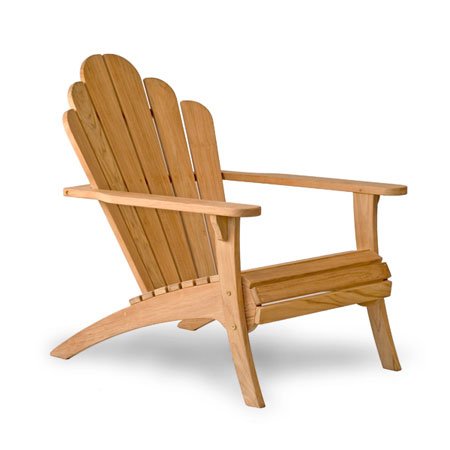 The Bainbridge Adirondack by Thos. Baker has a very elegant design. It's not the cheapest patio chair, but it isn't the most pricey either. If you stop to consider how many decades of use your family will likely get out of this Adirondack, it actually works out to being a good value. Notice how the design is done very beautifully, with the backrest slightly contoured for more comfort, while the subtle curves of the chair legs gives this piece of furniture a sense of grace that will stand the test of time. If you're the type of person who enjoys a nice footstool, then you should also be pleased to know that Thos. Baker also sells a matching teak Ottoman to go with this chair. You can also rest at ease, knowing that the teak wood is sourced from responsibly grown and managed plantations.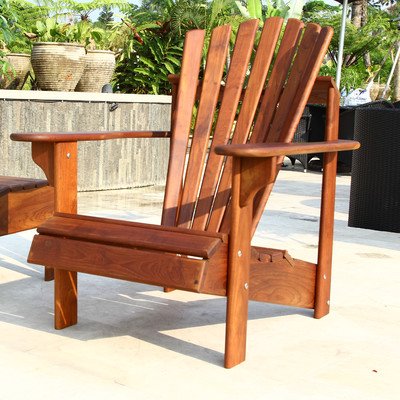 Another good looking chair is the Signature Teak Adirondack Chair. It's actually just one of an assortment of Adirondack-type outdoor furniture from Hyre's Country Haven. They've also got a number of very original pieces such as Adirondack rocking chairs and Adirondack loveseats. I like that they use stainless steel hardware, round off the edges of all the individual wood pieces, and shape the seat and backrest with a comfortable contour. My only hesitation to buy one of these is that it comes already treated with teak oil. Some consumers may prefer it this way, especially with how it brings out a rich brown color at first. But I think—for outdoor teak especially—it's much better to sell the furniture untreated and leave it up to the consumer to decide if they want to go down the route of treating it with teak oil, or if they'd prefer to take care of their furniture in another way.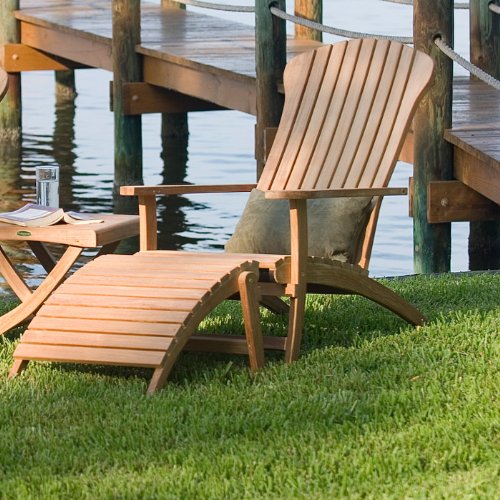 The most expensive chair we're covering in this article is the Westminster Premium Teak Adirondack Chair. You can order it either with or without the matching footrest. The Westminster has a little bit more contemporary design than the typical Adirondack chair. You can see that the backrest has a backwards bend to its shape and has a unique look. This chair features Mortise and Tenon joinery, while it also comes with a lifetime warranty. If that weren't enough, Westminster Teak received a "Best Overall" quality rating from the Wall Street Journal. If you want nothing but the most sophisticated and high-class patio chairs, then get a pair of Adirondacks from Westminster.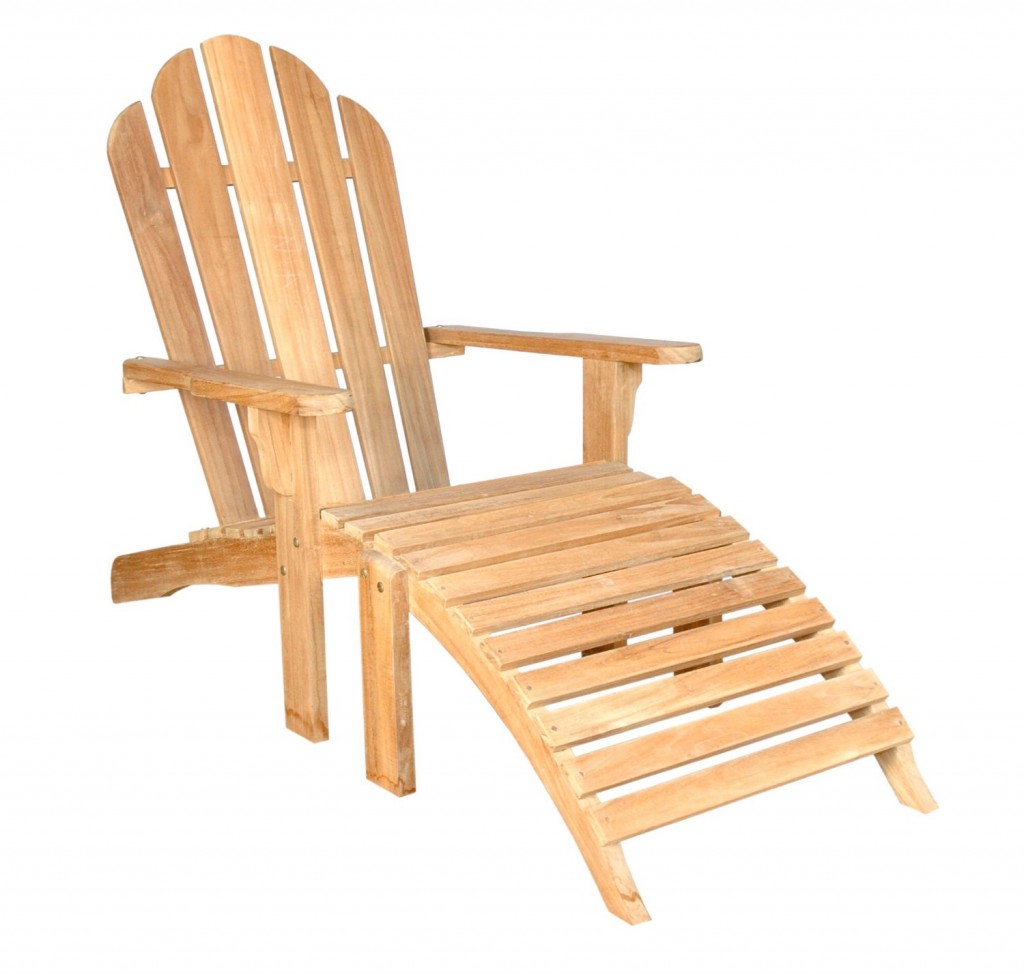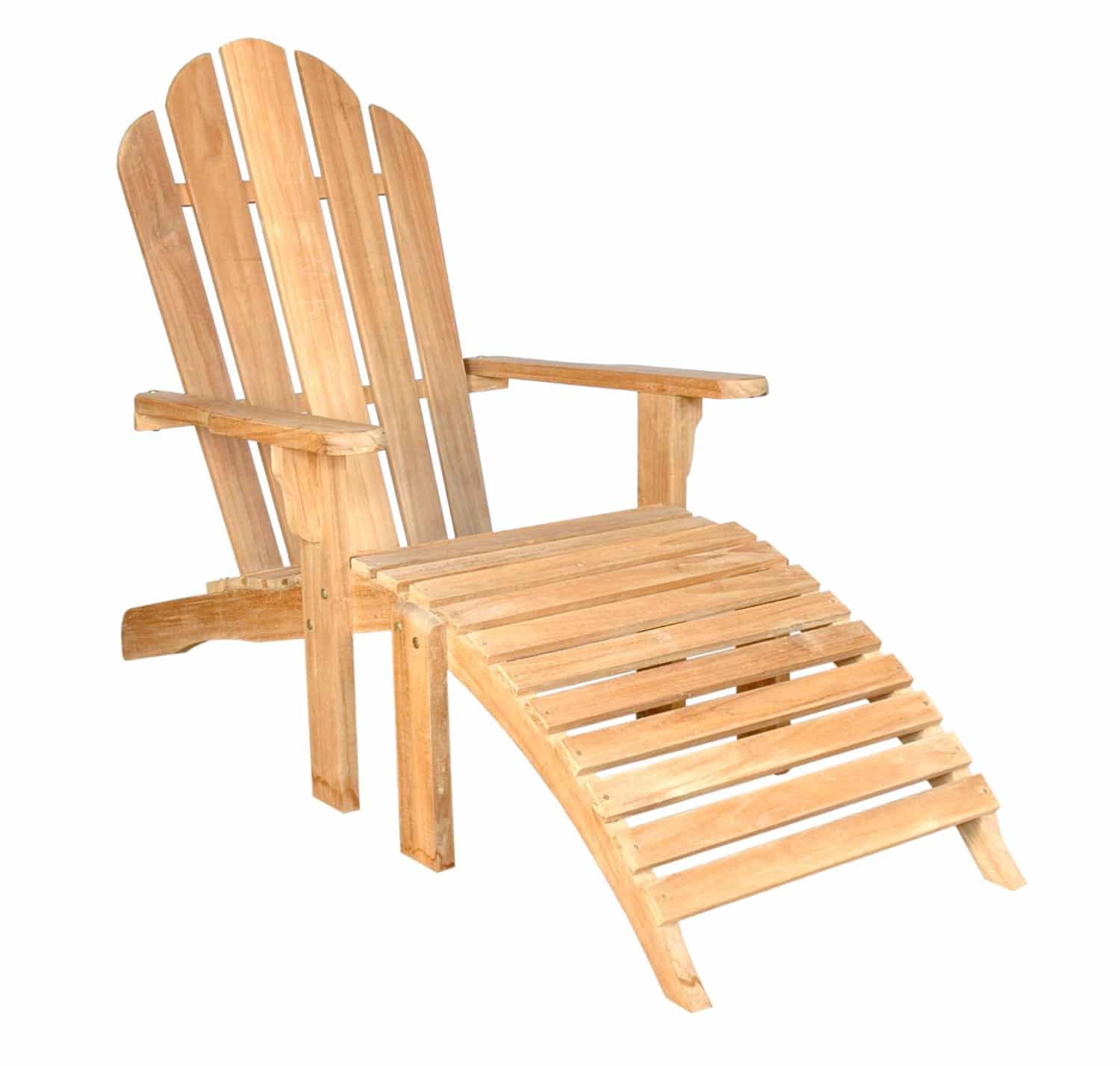 Anderson Teak is well-known for their high-quality products, and their Teak Adirondack with Ottoman is no exception. This chair and footstool is crafted from grade-A teak, and comes in a natural, unfinished state. This is really the best way to sell teak patio furniture because it puts the power back in the consumer's hands of whether or not to treat the wood with something like a teak protector or sealant. The design of this set follows a more traditional form. Notice that most of the wood pieces are completely straight, aside from the slope of the footrest. So if you like a very straight forwards design, this Anderson Teak Adirondack should suit you nicely. The price I found it listed for below includes the Ottoman, so it's also quite a good value.