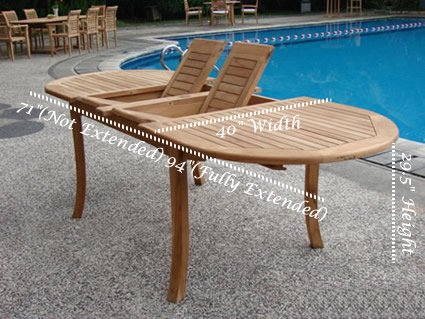 A very stylish and classy teak oval dining table. You'll love how it looks on your patio. The double eaves extend and fold away easily. It's a lovely teak dining table that will match up well with any number of teak dining chair styles. For occasions with many guests, it's quite easy to extend the two leaves to provide extra space on the table. Fully extended, this teak dining table has a length of 94 inches, which is nearly 8 feet. Without the leaves extended, it is still 71 inches, or about 6 feet. This patio table is also 40 inches wide and 29.5 inches tall.
A nice feature is the 2 inch umbrella hole in the center of the table. A patio umbrella is not included with the table, however. You'll have to buy one separately. When not using the umbrella, there is a circular wooden plug that fits over the hole, so your table looks complete. And unlike some other styles of extendible patio tables, the umbrella hole for this model is always accessible whether or not the leaves are extended or folded up.
This table comes from good quality, Grade A teak wood that has been properly kiln dried. You don't want to buy from any manufacturers who skimp out on this process because it is important for ensuring the teak furniture will have a long lifespan. Grade A teak just refers to the mature heartwood at the center of a teak tree. This wood is very dense and infused with natural oil from the tree. The oil is what gives teak its protection from weather and pests. Since this protective oil is already naturally present in Grade A teak wood, it is not necessary to add other oils and treatments externally. Doing so may help keep the wood appearing a young golden tan color for longer, but it does not actually improve the longevity of outdoor teak furniture.
Without any external treatment the teak table will fade to a fine silver grey color over time. To keep this teak dining table looking fantastic year after year, be sure to give it a good scrub down at least once a year. You can this with simply warm water and dish washing detergent mixed in a bucket. Wet the table with plain water first. Then use a soft bristled brush to gently scrub in the same direction as the grain of the wood with the soapy water. And rinse when finished. This should be enough to keep the teak wood looking bright and clear, and free from dark spots. If you want to keep the golden color lasting longer, though, it's also fine to use a teak protector after cleaning.