Who doesn't love marshmallows? Whether in s'mores, Rocky Road desserts, or the old standby Rice Krispies treats, they're just going to be a hit. But what about the traditional marshmallow roasting crowd, those who grew up camping, or who just loved a quick treat before Dad put the grill away? Remember actual sticks? Remember straightening wire coat hangers? No more! Thanks to massive technological advances, marshmallow roasting sticks are a real thing now, and best of all, they look like it. Strap yourselves in, kids. This is going to be fun.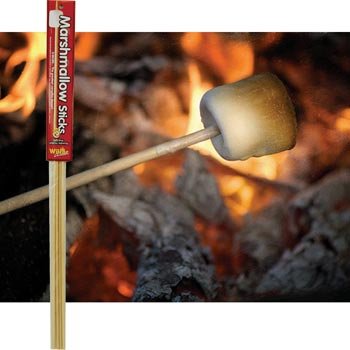 Let's start with the basics and work up to the good stuff. Wooden Marshmallow Sticks 32-inch (100% Biodegradable) 20-pc Set is perfect for family and friends, especially if you have a lot of them, as these come 20 to a pack (actually, five packs of four each). These don't come from the woods, so they're clean. There's also no worry of poison ivy. These sticks are 32 inches in length and are completely biodegradable. They are also available in a 40 pack, if 20 aren't enough. These are made by Coleman, and are priced at around $15 for a set of 20, making them a pretty good value.
These marshmallow sticks are a great solution for the hassle of finding or cutting sticks or wire to hold your s'mores, hot dogs or marshmallows. Yes, these are sturdy enough for all of the above. You won't feel heat from the flames after a while, as you would with branches. The tips are pointed and can hold up to three marshmallows at once, for those with big appetites. You can reuse them, as well, by washing or just burning the residue off of the ends.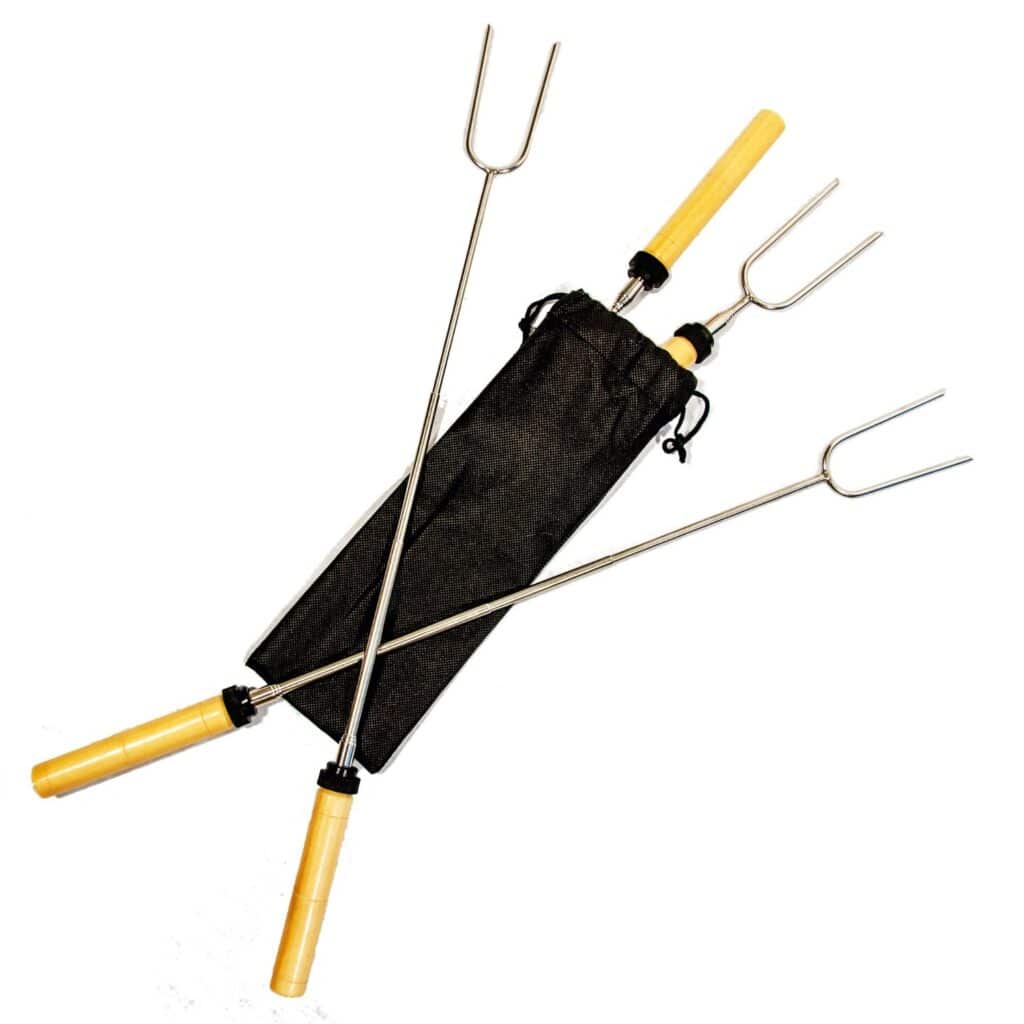 Here's where we start getting into serious marshmallow-roasting hardware. Check out the Heroic Marshmallow Roasting Sticks. So far, the first thing that stands out is that these are guaranteed. These marshmallow sticks are retractable, ranging from 10 inches compact to 34 inches when fully extended. The handles are made of wood, so they don't get hot to the touch. These sticks also feature a 360-degree turning wheel, making it easy to rotate the stick evenly with just your forefinger and thumb. They come with a convenient travel bag for easy storage.
Wow, this is quite a package! The construction is high quality, with steel that is actually flexible to handle weight and pressure. On average, when extended to full length, this set of sticks is a bit longer than most, making them safer. The handles are comfortable, and being wooden, they don't conduct heat to your hand. The sticks are lightweight, so even small children can handle them comfortably and safely. The turning wheel completely eliminates the problem of sagging food that is overcooked on one side and undercooked on the other, or that falls off of the stick. And yes, there's the guarantee. The price is fair at about $20. This set looks hard to beat.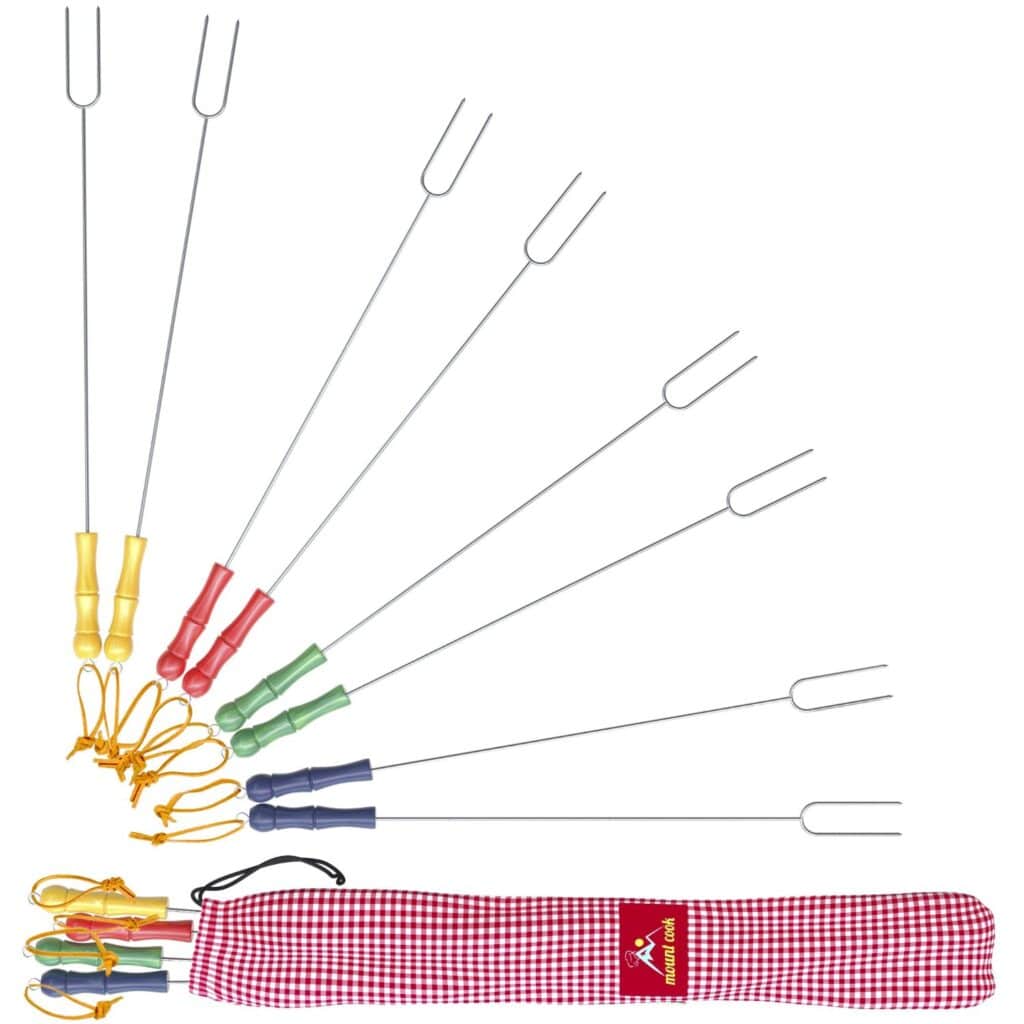 The next item on the list is Marshmallow Roasting Sticks – 8 Smores Skewers and Hot Dog Roasting Sticks. This set of sticks is versatile, being appropriate for all seasons. They are 22 inches long, a comfortable distance to keep from flames. The handles are constructed of multi-colored wood, making them both safe and comfortable to hold and entertaining to use. The set contains 8 hot dog forks (two-pronged) and marshmallow skewers. The sticks themselves are chrome plated and store in an attractive travel case for easy storage and portability. They are easy to clean and approved by the FDA. These, too, come with a guarantee – for life. As a bonus, the manufacturer includes two cookbooks for camping.
These two-pronged sticks are just the ticket for hot dogs, s'mores, and marshmallows. Colored handles can help you track who is using which stick. The handles are of wood construction, to keep heat away from your hands, but the metal in the stick will keep the sticks from burning. They are a decent length, making them safe for even children to use, and they clean and store very easily. The manufacturer clearly stands behind this product with a lifetime guarantee, and the cookbooks are a nice bonus that you won't find everywhere else. This set is a bit on the pricey side, coming in at just under $30.
These products are all pretty good choices for marshmallow lovers, but the best deal looks to be the Heroic Marshmallow Roasting Sticks package. They're longer (and should be safer) than the others, at 34 inches. They retract for storage, which neither of the other two products do. The turning wheel is a big hit, eliminating frustration and wasted food. A price tag of $20 for all of these features makes this a more reasonable deal all the way around. So grab yours now and make the most of your fall. Happy marshmallow roasting!