Outdoor Christmas lights are something to look forward to all year, no matter where you live—from the cold Northern fall and winter seasons to the South's warm holiday seasons. Outdoor Christmas lights come in a variety of types, from classic bulbs, LED, solid, flashing, stringed, roped, globe, teardrop shaped, icicle lighting, and so much more.
Below are some reviews of outdoor Christmas lights to get you into the holiday season mind-set and explore the variety of options at your fingertips.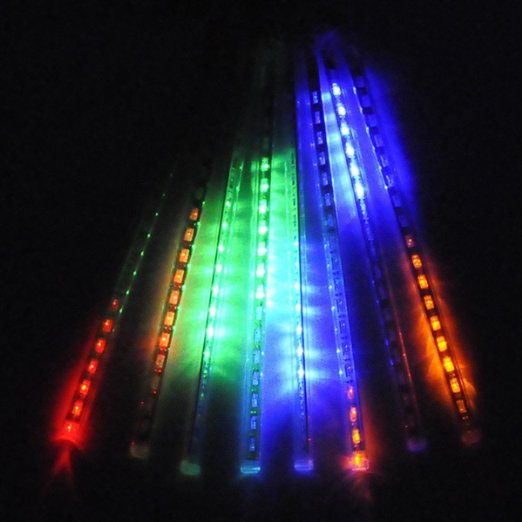 Sunvito has come out with an innovative design for the holiday season that you have to see to believe. These garden decoration lights are not the traditional Christmas lights of the past. No ordinary red and green here. These "meteor shower rain tubes" are LED plug-in lights, in mixed colors. Each tube is 30cm in length, 1cm in diameter, with a total length of the string of lights at 320cm. The lights' working voltage is 100V-240V and has a meteor shower effect lighting, where the blue LED light "falls" through the tubes repeatedly as the tubes hang from trees, hooks around the patio, or wherever one would like. With 8 tubes each holding 18 LED lights, that's a total of 144 LED lights per box of these lights, making quite a spectacle. Each bulb's light turns on and off one by one, in sequence, just like a meteor shower or falling snow in the night sky. These lights are waterproof, dustproof, corrosion resistant, have low power consumption due to the energy-efficient LED.
Now that the specifications are out of the way, these are the greatest lights of the holiday season, and are listed on this review because of the absolute aesthetic appeal and consumer love for this product. These blue meteor shower rain tubes will make the backyard/front yard trees, patios, decks, and edges of roofs, shine down on every passersby. A hands-down favorite, this is the number one suggested new lighting for the holiday season!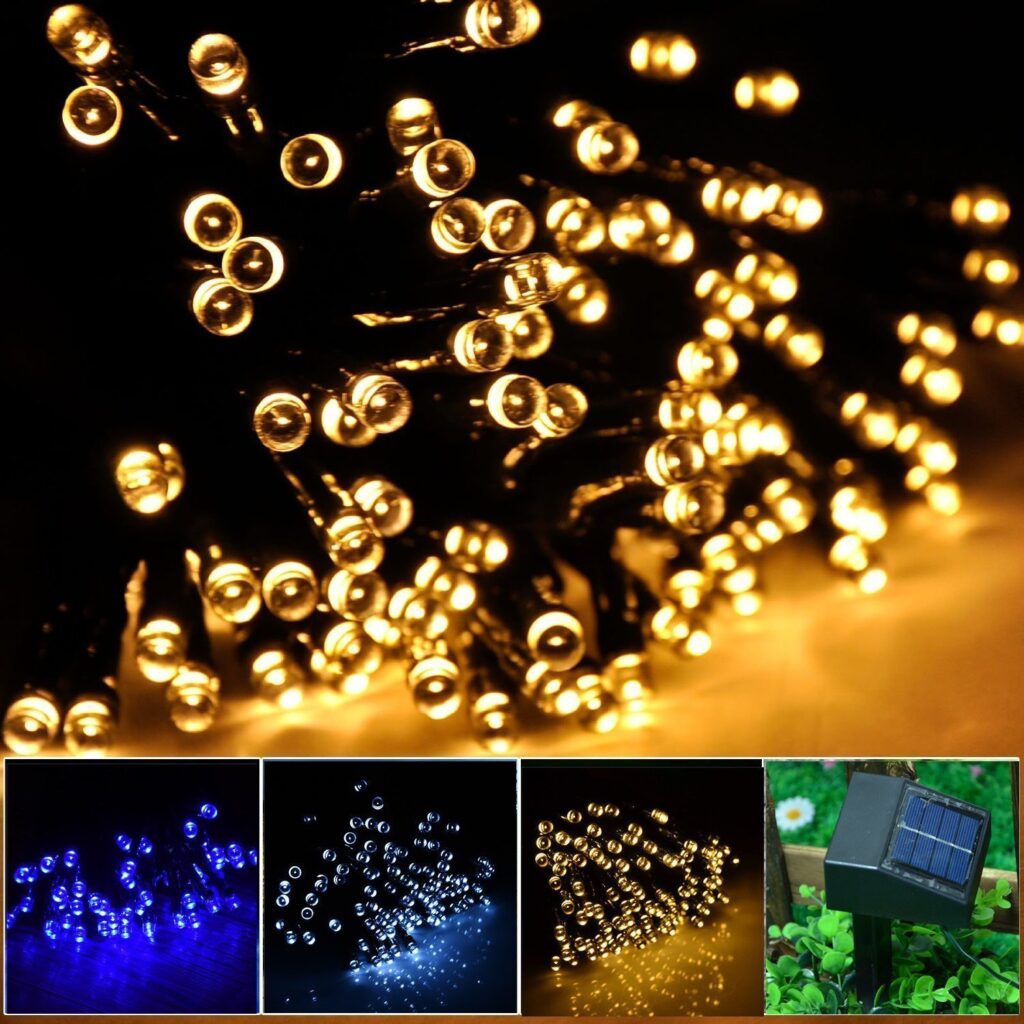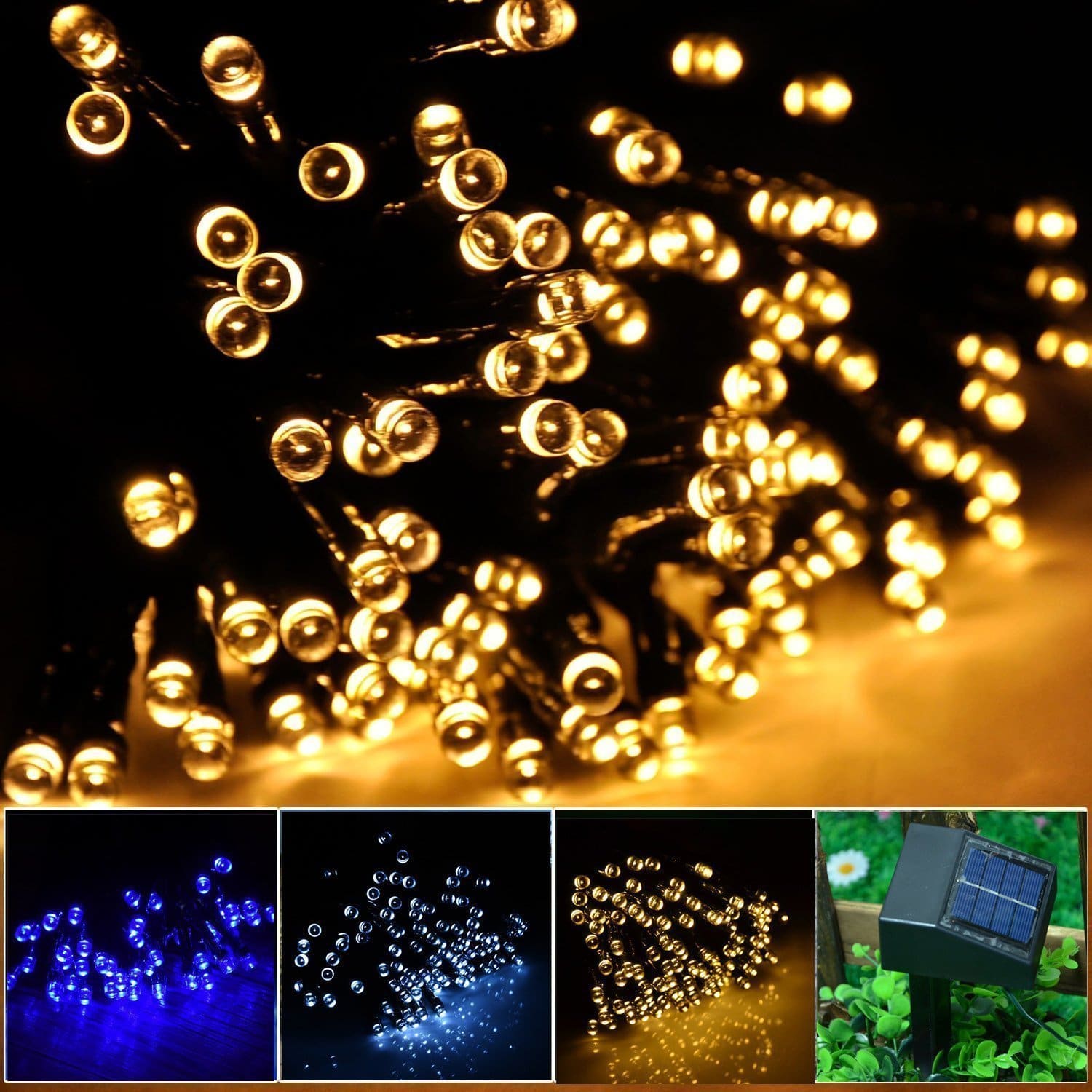 These LED outdoor Christmas lights are also far from traditional. Rather than the traditional age-old classic lights, these mini-LED lights are a warm white in color, giving off that vibe of off-white, creamy, traditional warm color, but in the new age. These LEDs are solar powered, meaning they are not only energy-efficient, but they don't need any energy from your home, but from the sun. This saves you money and keeps the lights on, automatically turning them on at dark. Each box has 100 LED lights with Steady and Flash on a string, which form a beautiful, fairy-like ambiance. These lights are sealed and waterproof, of course, and are suitable for indoor use as well.
That being said, these lights are listed on this review because they're the face of the new age meeting tradition. Solar energy conversion instead of standard electricity and LED instead of incandescent. Keeping traditional colors and ambiance while being energy-efficient and green is an excellent way to spend the holiday season. Knowing you are not paying a dime when the lights go on is a good feeling. As is the automatic turn-on at dark feature so you don't have to worry about forgetting to turn the decorations on! Consider these green, energy-saving, friendly lights for your holiday season!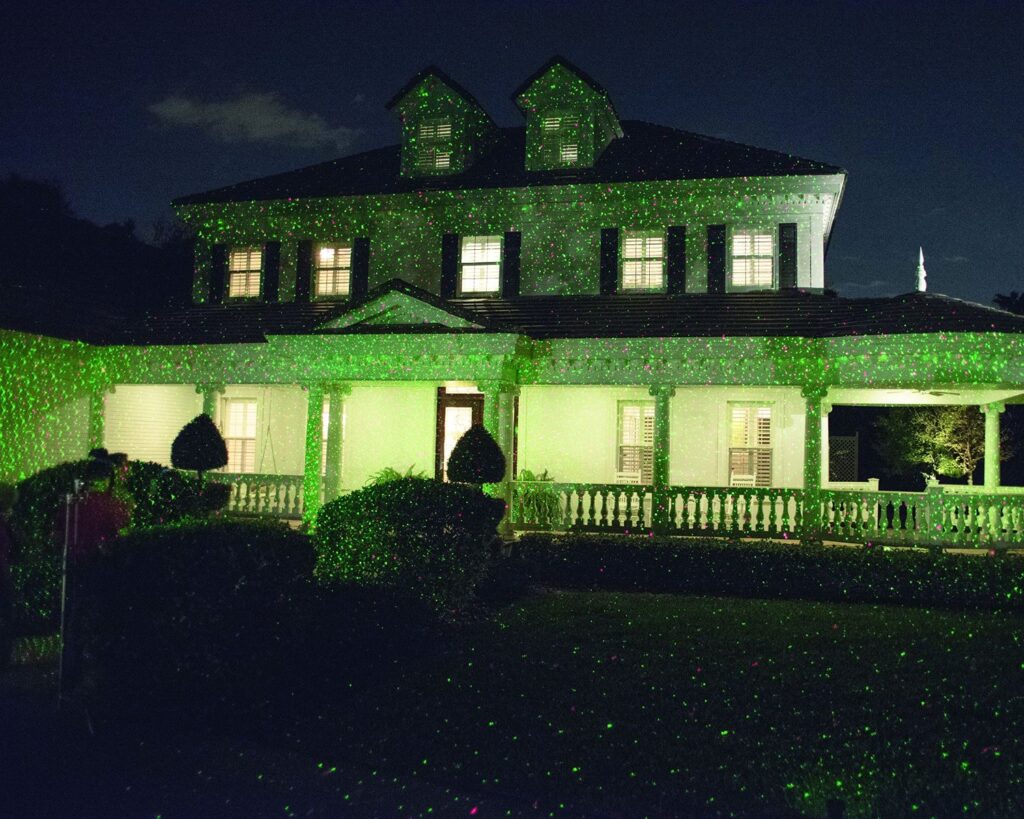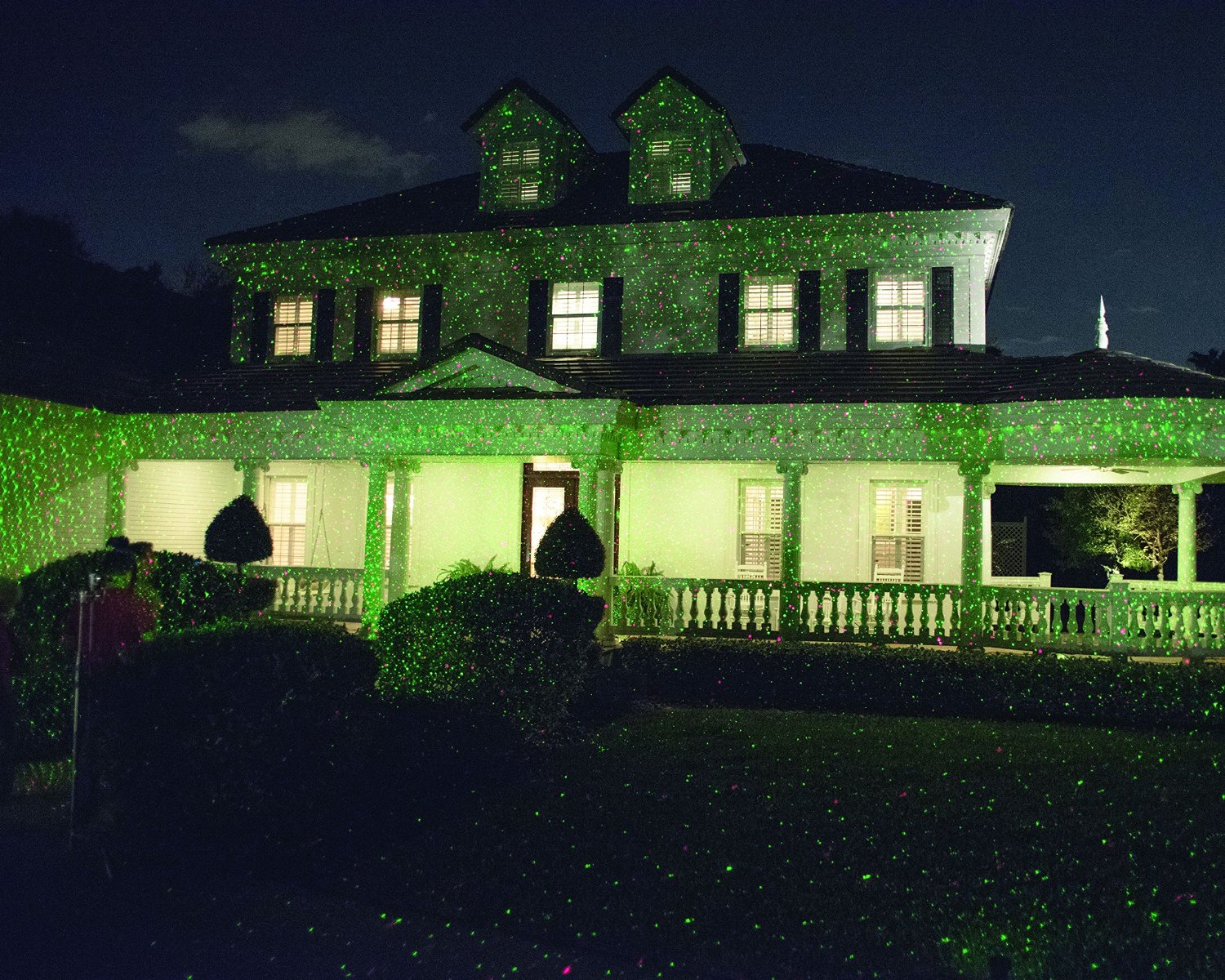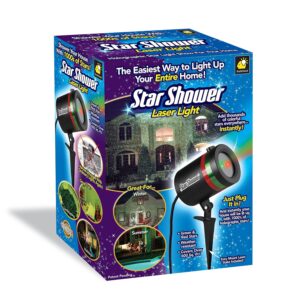 The Star Shower Outdoor Laser Lights Projector is yet another unique, non-traditional, but fun lighting option for the holiday season. Using a light system similar to lawn lights that light up your plants and trees from below, this projector has a stake that you stick in the ground and you can angle it towards your home for the pattern you want. This projector lights up any surface it touches with star-dots, displaying thousands of these stars in a green and red combination. The projector covers over 600 square feet and is weather resistant. The power source simply requires the standard AC outlet and each box contains one modern light projector with durable black plastic that looks like just like any other lawn lighting, without standing out—it's the projection that will turn heads.
This item is number three on this list because it is also a unique, non-traditional alternative or addition to Christmas lights. Energy-efficient and taking up only a few square inches, this light projector is invisible in the daytime and at night, it projects 600 square feet, depending on how you tilt and how far or close you set the projector in front of your home or area you wish to decorate. This is another new day to celebrate the holiday season that children and adults alike will love, as it is non-traditional yet classy. The red and green stars matrix into an amazing display onto any home. The laser lighting is powerful and reaches the surface of your home without light fading. This projector is definitely recommended and anyone looking for something new should check it out.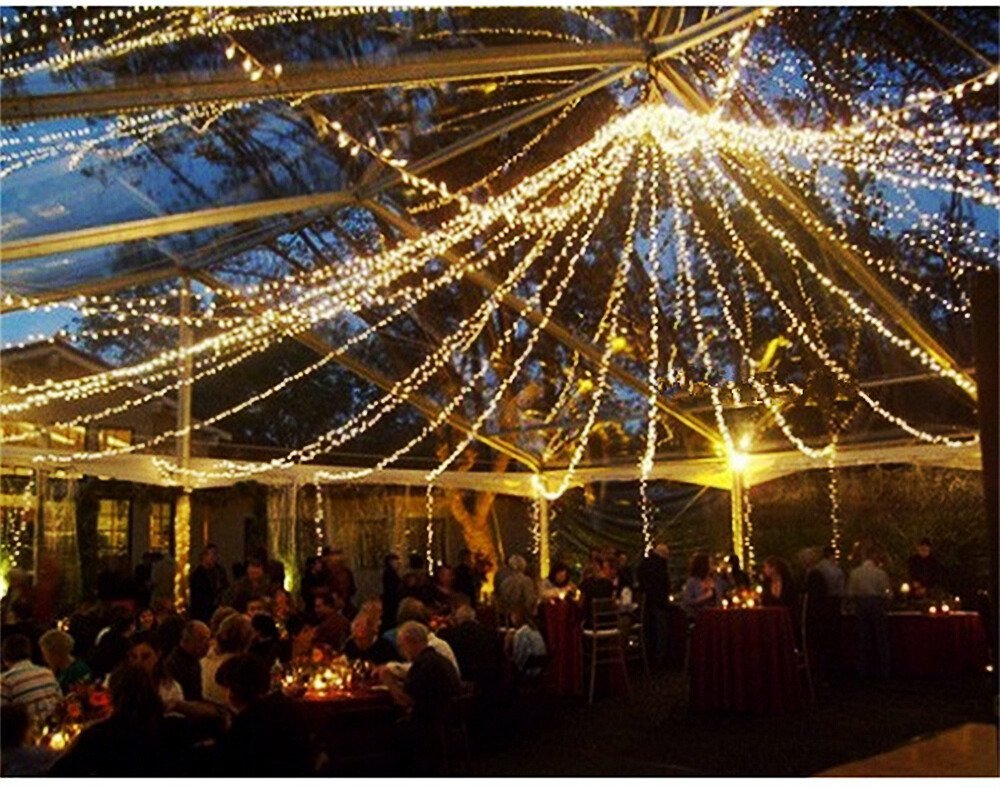 In the spirit of this article, this last recommendation is the meeting of two worlds. With the theme of tradition and modern LED, energy-efficiency, these Starry String Lights have 8 modes, including: Combination, In waves, Sequential, Slow glow, Flash, Slow fade, Twinkle, and Steady on. These lights are IP44 waterproof level but note that it cannot withstand heavy rain, so if you use them outdoors, use the Controller box and the plug in a dry protected area. It has been recommended that you can also wrap the controller box and plug with protective film as well.
These warm white LED light strings are made by Wislight, and provide an indoor and outdoor, multi-mode ambiance that will make your holiday look like a fairytale. They do require an outlet, however their energy-efferent lighting will cost you little on your electric bill. The 8 different modes will provide you with all of the different choices you could ask for and you will find the pattern and lighting you are looking for in this product. From hanging it in your bedroom, your patio, on your home or elsewhere, these lights bring that classic touch to your home while giving you more power over how these lights are presented. Perhaps a slow fade for relaxing evenings, twinkle for a fun night with the kids, waves for a wild look during a holiday party or flash for a vibrant, eye-catching display!
In conclusion, in the last decade and a half, outdoor Christmas lights have changed with the normalization and common manufacturing of LED lights, solar powered lights, and new, unique shapes of lighting such as: globes, snowflakes, tear drop, ropes, string lighting, icicle style, and mini LED lights to name a few. The explosion of new and improved holiday lighting now provide powerful lighting while maintaining an energy-efficient display, keeping the electric bill low while lighting up the neighborhood. Even better, solar powered outdoor lighting has created free light for the holiday season.
Ever since Christmas lights have been available, they have been used outdoors on bushes, trees, support columns, hanging from the roof, framing windows, swirled around a lamppost or lattice, lining the walkway, and strung up all over outdoor patios and decks, lighting the party space from above with warm and holiday ambiance. Shop around and find your favorite lighting scheme and light up your holiday season!