Outdoor patio umbrellas are a great way to get your friends and family together and enjoy the time spent together, outside, day or night. Patio umbrellas are not all the same; some stand freestyle and some are secured through patio tables and require a heavy base to keep it from flying away in strong winds. Color is also a consideration of most buyers. Some want a pop of color, some have a style they are trying to fit the new outdoor furniture into, and some prefer umbrellas that do not stand out too much.
Below are reviews of three patio umbrellas to consider for your next purchase to decorate your patio or deck and do so with a fashionable, reliable, and durable product. Not only are patio umbrellas merely decoration, but their function is the main purpose of their presence. It is important to always keep in mind the functionality, stability, and unique needs you require out of the product depending on where you live and the weather that your deck or patio may encounter.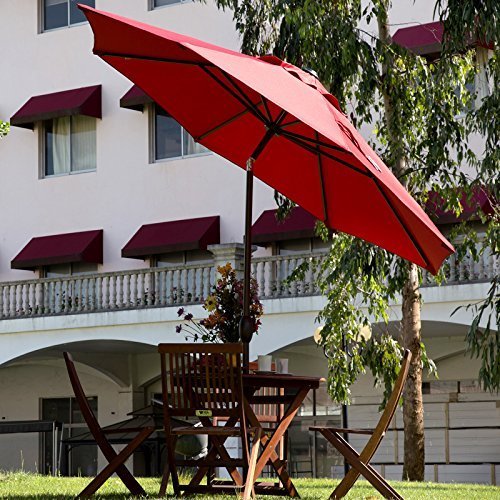 As the name suggests, the 9 ft. umbrella by Abba Patio boasts many customizable and standard features that people absolutely love about this particular model and brand.
This extremely popular patio umbrella features the following an aluminum skeleton body, push-button tilt, crank, 8 steel ribs, wind vent, made of 100% polyester, and shades a 42" to 54" round, square, or rectangle table with 4-6 chairs.
What makes this product great are the 9ft. diameter, sturdy aluminum and steel framework, and wind vent. The wind vent is especially important because not all umbrellas have it, which makes many patio umbrellas prone to flying away when a gust of wind comes. The 100% Polyester fabric is the second most important functional aspect of this umbrella. The Polyester ensures that no mold or moisture will be retained, but repelled, keeping this umbrella vibrant and always ready to be put up for a party.
The Abba Patio 9 Ft. Market Aluminum Umbrella also comes in a variety of popular colors such as a vibrant red, trendy turquoise, dark green, and a nice shade of beige. The size of the shading it provides is excellent, and putting this through any shaped table, you can sip on your favorite drinks, eat your favorite snacks, and enjoy your family and friends during a hot day or at sunset—thanks to the tilting capabilities buyers love, allowing the user to block the sun, no matter where it is in the sky.
Note: Make sure to buy the appropriate base for this umbrella, as it does not come included! Match the base with the umbrella using the unique model numbers provided by the manufacturers.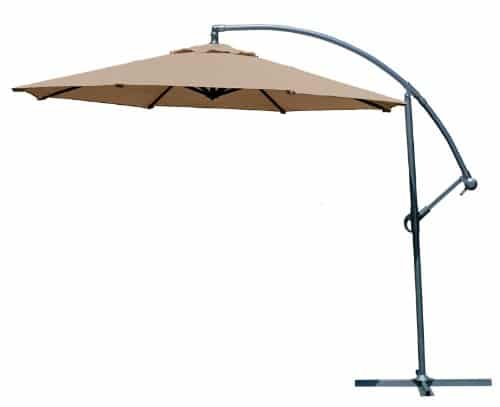 The Coolaroo 10 Foot Round Cantilever Freestanding Patio Umbrella is a freestanding model rather than a table-based umbrella. This umbrella can be set anywhere on a patio or deck and can be opened and closed up with ease.
Customers love this 10 ft. model due to the its many features. The extra foot in diameter is more than many patio umbrellas provide. It's got 90% UV blocking fabric. Coolaroo fabric allows the reduction of temperature underneath the umbrella by up to one third. The fabric is mold and mildew resistant and cleans easily with soap and water. It comes with a 5 year warranty against UV degradation. It's complete with a freestanding body.
The Coolaroo 10 Ft Round Cantilever Umbrella is a great patio umbrella to use if you have outdoor furniture or sets that you utilize for entertainment, rather than tables. It's also great to have a freestyle body for people who like to lay out and enjoy the day while reading a book under the shade. Also, this freestyle umbrella has fabric that "breathes," greatly lowering the temperature. In addition, this model comes in three colors that attract customers due to their uniqueness: Smoke, Terracotta, and Mocha. However, while most people loved this model, there were many reports of the lack of durability due to some plastic parts on the umbrella not weathering well after some months or years. However, most people found it to be sturdy. Note: Be sure to buy the appropriate matching base as it does not come with the purchase of this umbrella.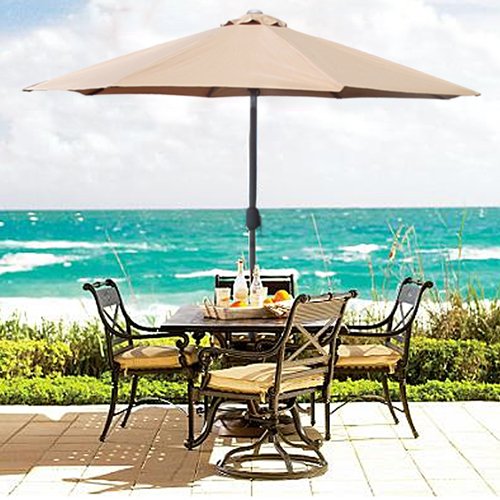 This outdoor, table-based patio umbrella manufactured by Best Choice Products is popular among buyers for many reasons. It is 9 ft. in diameter and 7 ft. 10 inches tall. It has a tilt mechanism. The aluminum pole is 1 ½ inches in diameter. And it has a 180G Polyester shade.
This would be the last out of the three most consumers would choose due to what people like and dislike about this product. Most people loved the amount of shade it provides, its attractive light beige color, the tile-and-crank mechanism that allows you to tilt the shade no matter where the sun is in the sky. They also love the sturdiness of the umbrella once a base is attached, allowing them to sit with family and friends at a table and feel confident that the umbrella above them was not flimsy or prone to falling.
Abba Patio's brand would be better suited for those who wish to purchase a higher quality patio umbrella; however, this model is still quite good. It too, has 8 ribs constructing the shade, and in fact, has 8 ribs concave to the upper ribs, creating a strong top to the shade and a steadiness to the structure. The generous shade it provides is also great, and the overall impression gives this product a beach-like feel, perfect for sunny days and grilling out. Note: Be sure to buy base for this patio umbrella, as it does not come standard with this product.
It is important to buy any furniture depending on not only its design and colors, but with consideration to structural integrity, sturdiness in the face of different weather conditions, the durability of the fabric shade, the construction of the pole, the buying of an appropriate matching base, and functional design preferences such as freestyle or table-based.
If you want a dependable and higher quality umbrella that has various color options, excellent customer reviews, and a higher-tech fabric for wind gust protection, the first product, the Abba Patio 9 Ft. Market Aluminum Umbrella, would be the best choice for you. If you are looking for something a little different than everyone else has, then the Freestanding Umbrella may be the best choice. It offers an additional foot of diameter, maximizing shade, is freestanding and has tilting capabilities, which allows you to easily choose where you want to use the umbrella, be it for a relaxing day reading outside, to shading company during get-togethers.