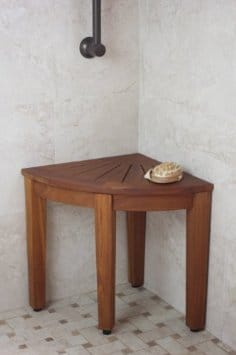 Here's a solid, heavy duty corner stool made from teak. This seat is put together and designed well, with thick wood legs and seating platform. Much better quality than some of the flimsy shower stools on the market. The assembly is fairly easy and straight-forward. This teak bath stool features adjustable legs so that it will have a level seat on sloping shower floors.
The bench is 22″ x 17″ x 15.25″, making it a perfect balance of large enough to sit on comfortably, yet not so large that it gets in the way. It fits in a corner very nicely, and has 4 legs for good stability and balance. Teak wood is naturally water resistant and not prone to damage from fungus or rot. do that makes furniture items constructed from teak very ideal for using in the shower, spa, bathroom, or by the pool. This corner bench can be used indoors or outside.
Teak wood furniture can last 75 years or longer with very little maintenance. Even used in the shower, this teak bath stool will not get damaged by water. Teak has been used as a shipbuilding material for centuries, so that tells you something about the wood's durability when in contact with water.
This teak shower stool is excellent to put in the corner of a walk-in shower to create a spa feeling and give a convenient place to sit for shaving legs or scrubbing toes. It makes a convenient shelf for keeping soaps and shampoos as well.
Made from teak that is grown on sustainable plantations in Indonesia. It is well known that the best teak wood these days comes from Indonesian plantations. For such high quality wood, this particular model of teak shower bench is quite a good bargain at this price.
Review Summary
Reviewed by
TeakPatioFurnitureWorld.com
Date
Item
Corner Solid Teak Bath, Shower, Outdoor Stool
Our Rating