Thinking of buying some teak patio furniture for your outdoor living space?
If you've put thought into this decision, then you probably already know that teak is the highest quality wood for outdoor furniture. But teak is not cheap—so before you make a purchase—it's good to read some teak patio set reviews and think about which type is best for you.
Looking for the top value teak dining set for your backyard? Check out our detailed review of the Best Teak Dining Set under $3000.
The two most important things to consider when buying teak furniture are:
Choosing a manufacturer who produces high-quality products
Picking out the right furniture set or items for your needs
Choosing a Furniture Manufacturer
When deciding on which teak patio set to buy, a very important factor to consider is the company making the product. Do they have a reputation for producing high quality products? When purchasing furniture, you should be thinking about buying something that will last a lifetime, so it's very important to not skimp on quality. The cheapest product is not always going to give you the best value for your money, and this is especially true with hardwood furniture.
With teak garden furniture in particular, two important things to consider are the quality of the wood and the quality of the craftsmanship.
The best quality teak wood is grade A
Teak wood is separated into three grades based on the quality of the wood. These three grades are known simply as grades A, B, and C.
Grade A
When a teak tree is mature, it will have a very dense core at the center of the trunk that appears darker than the surrounding wood. This is called the "heartwood" of the tree. Heartwood from mature teak trees of over 20 years old has a thick concentration of natural protective oil. Grade A teak is this mature heartwood, which is very dense, heavy, and saturated with natural oils that will protect anything made out of it from water damage and insects such as termites. Ideally, you want to look for furniture made from grade A teak.
Grade B
Grade B teak is simply the heartwood from immature trees. It still contains some of the protective oils, but it is not as dense as grade A. Furniture made from grade B teak is not terrible, but it will not hold up outside exposed to the elements as well as furniture made from grade A teak.
Grade C
The lowest grade of teak wood is grade C. It is just wood from the outer sections of the trunk that lacks the natural oils which make grade A teak such a superior wood. Grade C teak will be characterized by an uneven, lighter color with widely spaced grain.
Machined Furniture Gives the Best Quality of Craftsmanship
You may think that handmade wooden furniture would be more prestigious and of a higher quality due to the individual attention put into it. However, with teak furniture, in general you'll find that fully machined production gives a higher precision cut to each piece of the wood. Machine-made wood furniture fits together better, which results in an overall better quality product.
Teak is a natural resource that takes many years to grow to maturity. So, therefore, it's also very important to consider the source of the wood used to make your furniture. You want to support furniture makers who source their wood from environmentally sustainable teak plantations such as those approved by the Indonesian government.
Luckily, there are a number of companies that produce teak furniture from high-quality wood that is harvested responsibly and made with precision. And the best thing of all is the online marketplace allows you to shop for these products from the comfort of your own home. Here is a list of such companies that you can buy top quality teak online from:
Choosing the Best Teak Patio Furniture For You
Everybody is different. We all have different tastes and preferences. Every home and garden is different too, so choosing the best teak outdoor furniture for you really depends on your personal style and living situation. The main styles of furniture to consider buying are:
Let's look at each style of furniture one-by-one to see if it's the right type for you and your patio.
Large Teak Dining Sets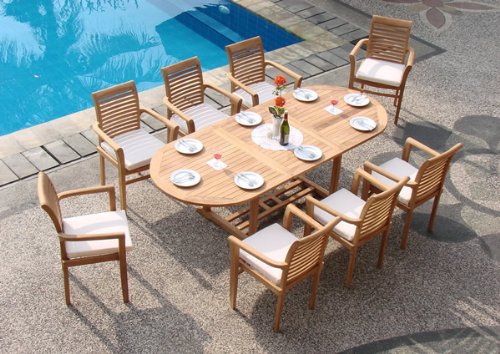 Large dining sets come in 7, 9, 11, and 13 pieces. The table counts as one piece, of course, so that means you can get patio sets with seating for between 6 and 12 people. The two things you need to consider are:
How many people do you want to have seating for?
How large is the area you want to put the dining set in?
If you often have company coming over for diner parties and other get-togethers, then it might make sense to get one of the larger sets provided that there's enough room for it on your patio or wherever you intend to put it. However, if you don't have children and don't have family coming over too often, you might be better off with something smaller like a 7-piece set or even a 5-piece circular table set. For most people, a 9-piece set will probably meet your needs, and there are a lot of nice designs of 9-piece sets to choose from.
Many of the larger teak dining sets come with a table that has removable extensions or foldable wings, allowing you to make extra space for extra guests on special occasions. The chairs are often stackable as well, which is nice if you want to keep the extras out of the way until they're needed.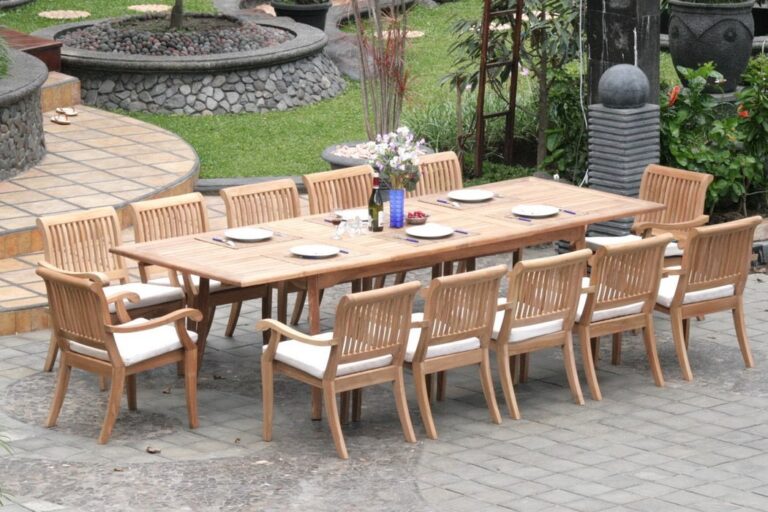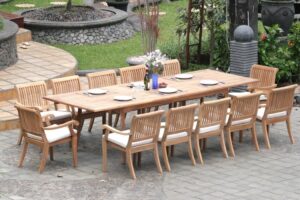 Outdoor dining sets usually have a small hole of about two inches in the center of the table where you can put an umbrella for shade. And usually the manufacturer provides a small plug that can fit into the hole if you don't happen to need to use an umbrella. If you want a shade umbrella, you'll need to purchase one separately. And one thing you should consider is that a single circular umbrella—even a rather large one—is not going to be able to provide shade for everyone sitting around an 8-10 foot long dining table. So it wouldn't be a bad idea to consider picking up an extra umbrella or two with their own stand that you can position where needed.
So, is a large teak dining set the right type of patio furniture for you? It depends on your lifestyle. If you plan to eat meals outdoors and entertain groups of guests—then, yes, a large dining set with seating for 8-12 people would be a good idea. Here are a few of the highest-rated teak dining sets for you to consider: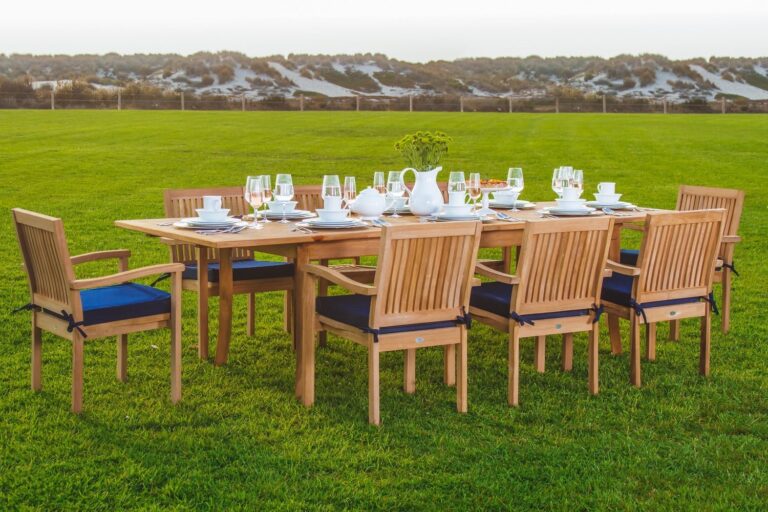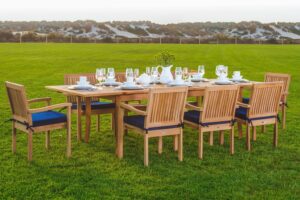 9 Piece Luxurious Grade-A Teak Dining Set, 94″ Rectangular Table by Wholesale Teak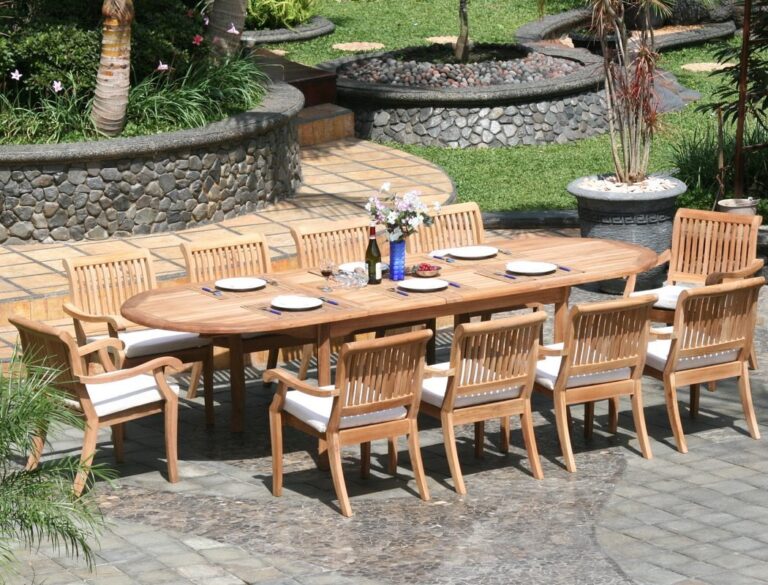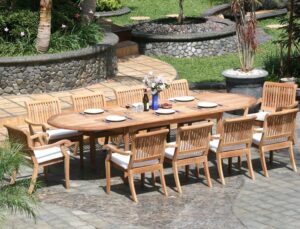 11 Piece Luxurious Grade-A Teak Dining Set, 117″ Oval Table by Wholesale Teak
Small Dining Sets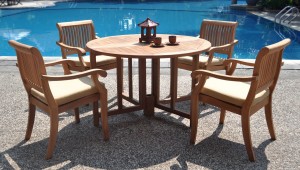 A 5-piece dining set may be more practical and enjoyable for you, depending on your circumstances. A circular or square table with seating for four creates a sense of intimacy and balance that you can't achieve with a larger dining table. If you'd like to eat outdoors often, but don't plan on having large groups over, a 5-piece dining set will feel much more cozy. Also, if you have a limited amount of space on your patio, a 5-piece set will fit much better than something with a long table.
A circular table has a certain visual appeal that a square or rectangular table can't match. One advantage of a circular table is that it never looks crooked. It's also much easier to pull up an extra chair at a circular table. If you envision yourself playing cards with your friends out on your patio, then a circular table would be perfect.
If you have a limited amount of space, or you just want some patio furniture that will take up a minimal amount of room, then you should strongly consider a 3-piece bistro set. The table on a 3-piece set will usually be much smaller, so this is not the type of set to get for having large dinners outdoors. Rather, a 3-piece dining set will be suitable for singles or couples who want to enjoy being outdoors for their morning coffee or a beer after work. A 3-piece teak set is also great for putting poolside.
Here are some good quality 3-piece and 5-piece dining sets in grade-A teak wood that you might want to consider: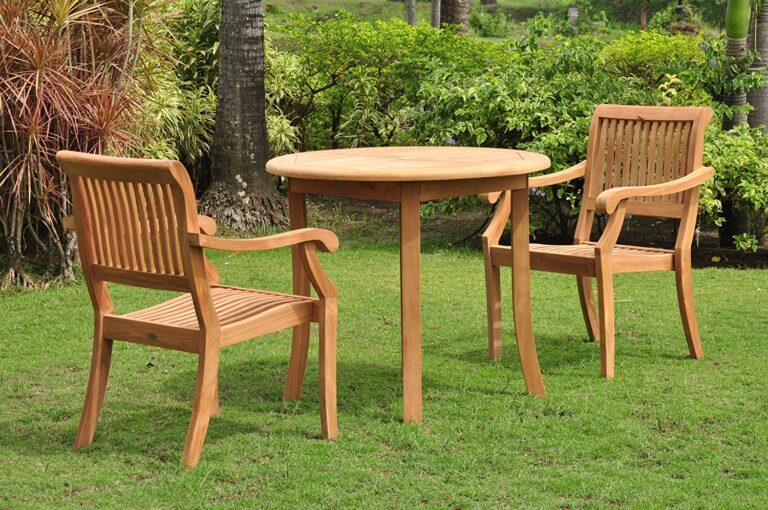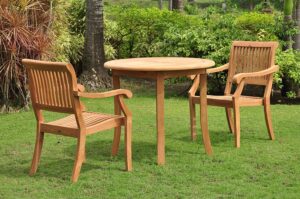 3 Piece Grade-A Teak Wood Dining Set, 36″ Round Table w/ 2 Stacking Chairs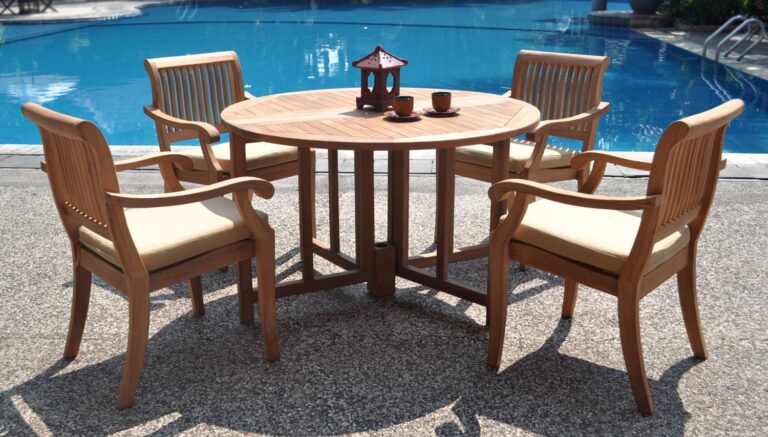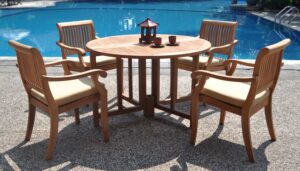 5 Piece Luxurious Grade-A Teak Dining Set, 48″ Round Butterfly Table w/ 4 Stacking Chairs
Adirondack Chairs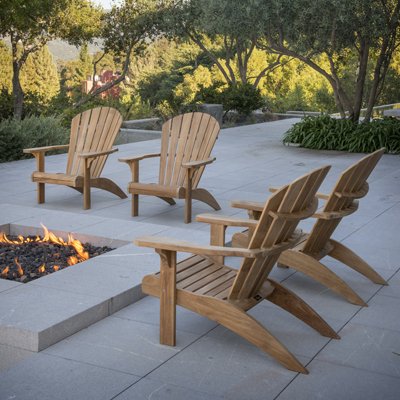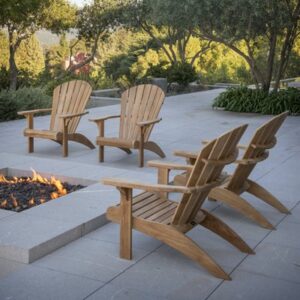 Adirondack Chairs are the most popular chair design for backyard furniture. The give a rustic, country look while at the same time providing much comfort and usefulness. If you want a chair to sit and relax in, then the Adirondack is for you. It's quite possibly the single most versatile piece of outdoor furniture. The extra wide armrests provide plenty of room to set down a plate of food, coffee mug, magazine, or laptop computer. They also make a nice place to rest your arms.
The Adirondack chair design is comfortable for sitting a long time because it's set at an angle that takes the weight off your lower back. At the same time, your body remains in a generally upright posture allowing you to read a book, watch birds, roast marshmallows over the fire-pit, or anything else you like doing in your backyard. Adirondack chairs look best when you have a pair of them.
Here are some of the best teak Adirondack chairs available for sale online: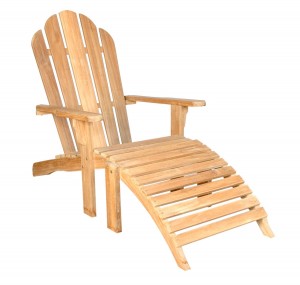 Anderson Teak Adirondack Lawn Chair w/ Ottoman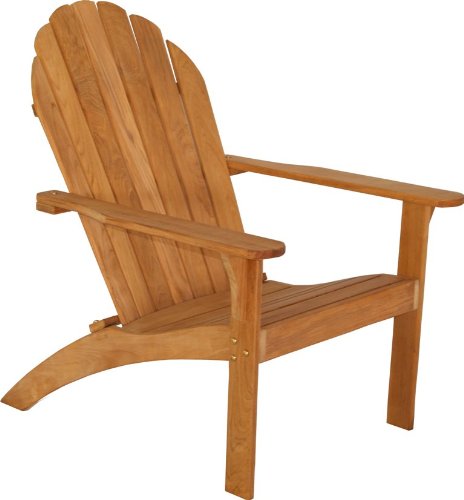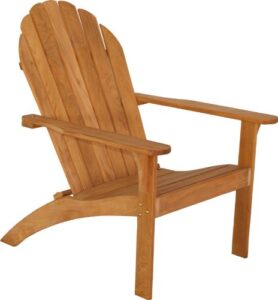 Three Birds Casual Teak Adirondack Chair
Teak Rocking Chairs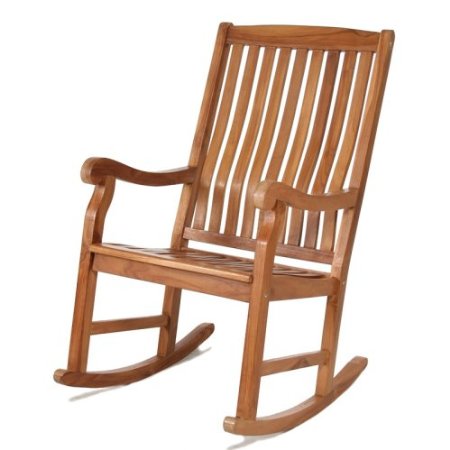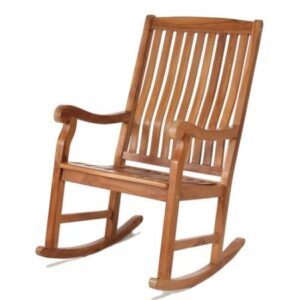 A rocking chair is a classic wooden furniture item that it's hard to go wrong with. A rocking chair goes just as well on the front porch as it does on the patio. If you can't decide between a rocking chair or an Adirondack, you should consider where you plan to put it. Rocking chairs work best when they have a flat surface underneath them, such as a wooden porch or patio deck. An Adirondack chair, on the other hand, will work fine directly on the lawn.
Of course, a rocking chair won't work well if you plan to eat outside—you're much too likely to spill food as you rock. But if you want a chair to sit on outside while you read books or watch the rain come down from the safety of your front porch, then a rocking chair might be nice.
Hardwood rocking chairs look really classy. And here are a few of the best ones available: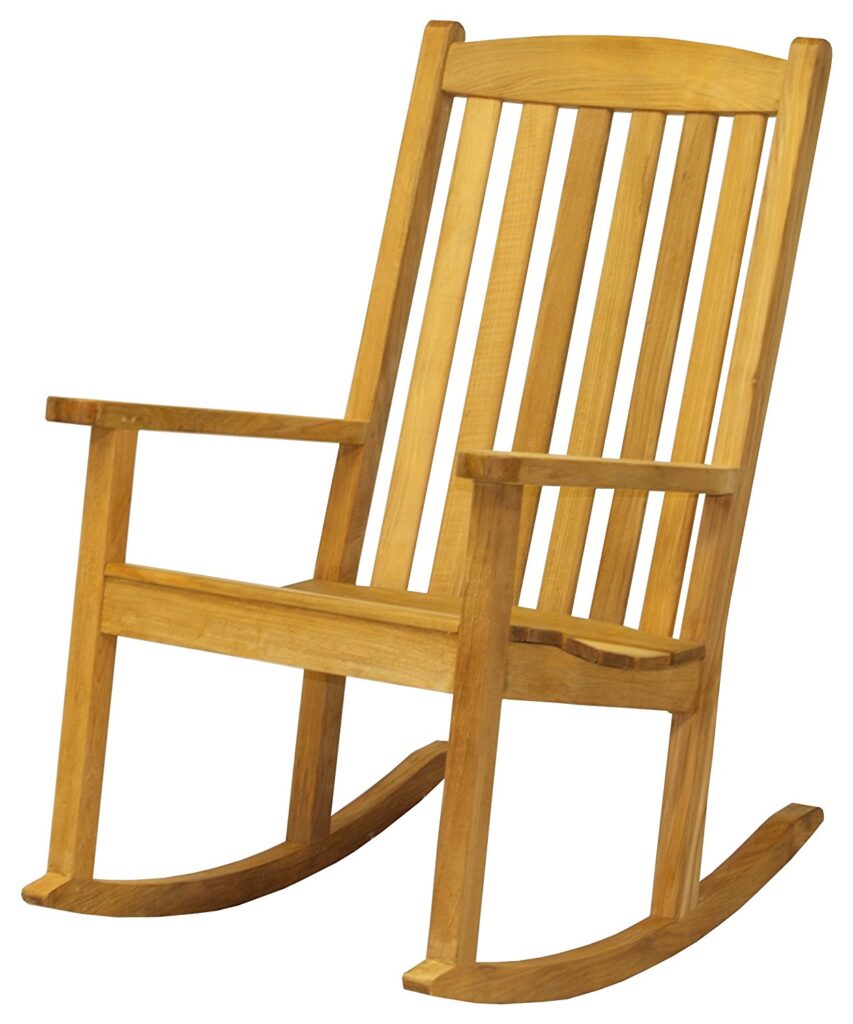 Three Birds Casual Teak Brittany Rocker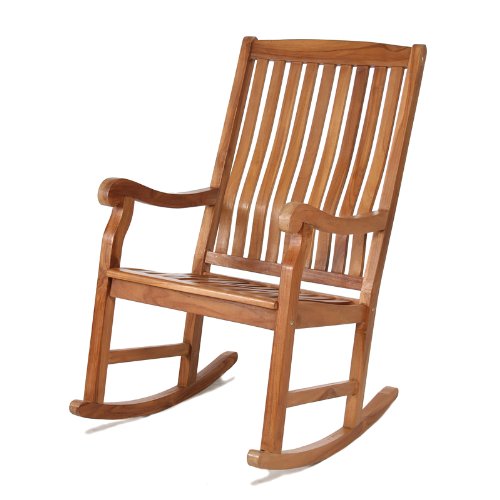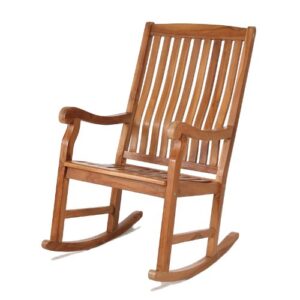 All Things Cedar Teak Rocker Chair
Teak Benches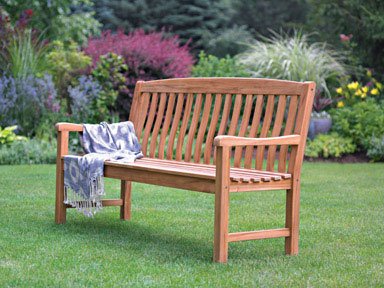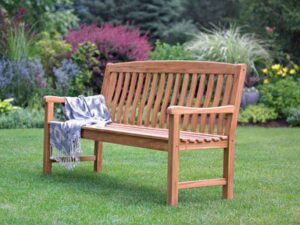 A teak bench is a very solid and traditional outdoor furniture piece. Consider getting a bench if you want a nice place for a couple people to sit, but you don't plan to be lounging around all day there. A bench also works well on a front porch, providing a comfortable spot for visitors to rest.
If you're lucky enough to have a large backyard, you may want to consider getting a bench to place a fair distance away from the house. Maybe you have a favorite spot under a large maple tree where you like to sit and watch the world go by. A garden bench is perfect for that.
There are both regular benches with backs and also backless benches available. If shopping for a regular style bench, you'll want to find something that has a little contour to the seat and back for more comfort. But if you're looking at getting a backless bench, then a simple flat seat should be fine.
Here are some great teak benches that you should consider buying: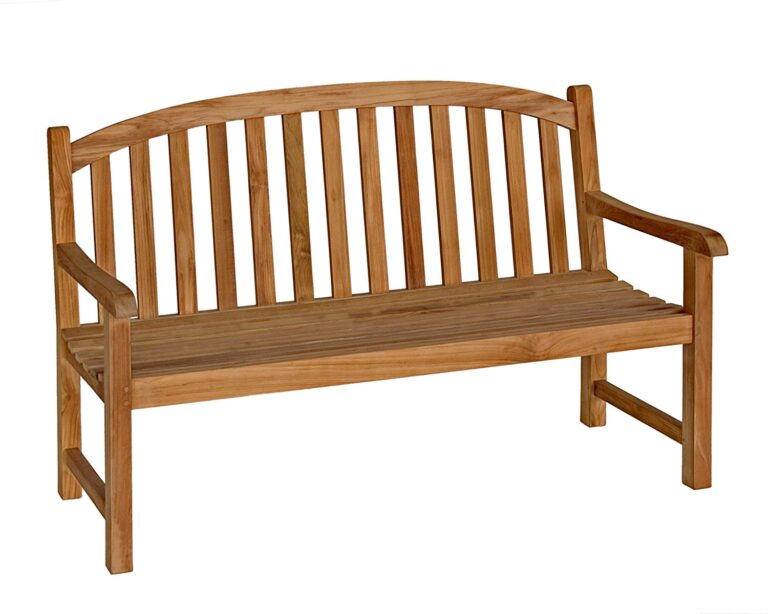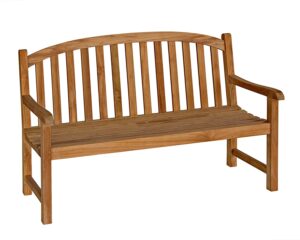 Three Birds Casual Victoria 5 Foot Teak Garden Bench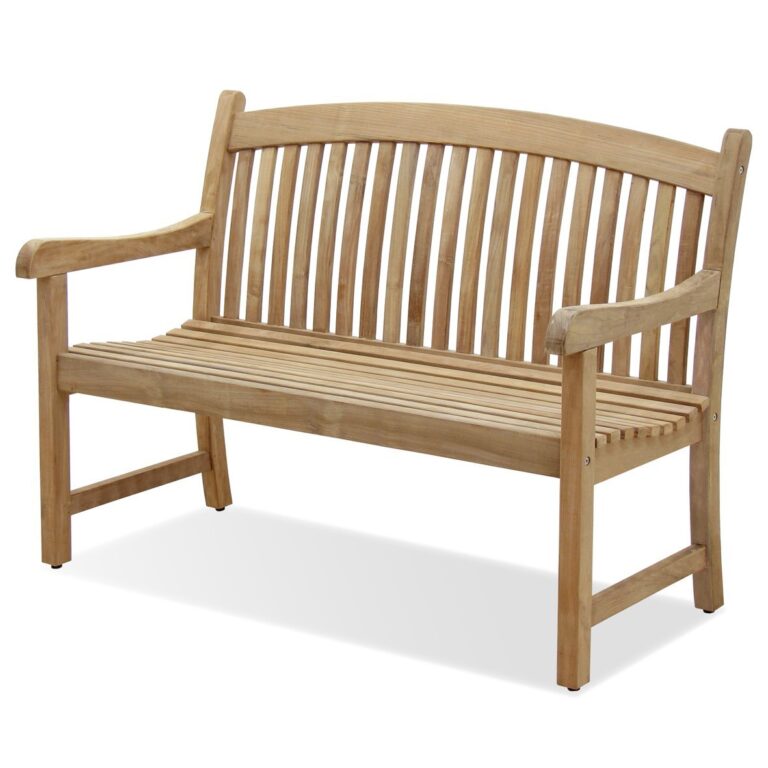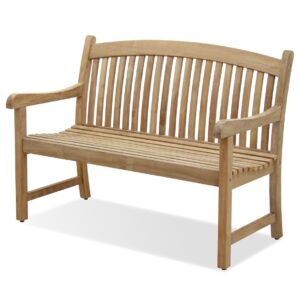 Amazonia Teak Newcastle 4 Foot Teak Bench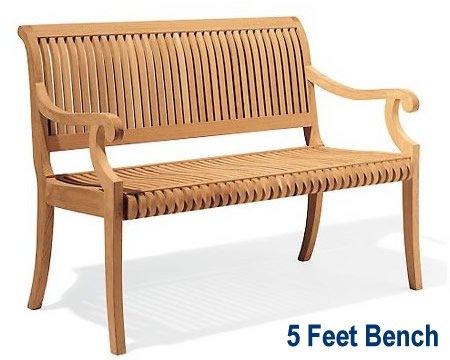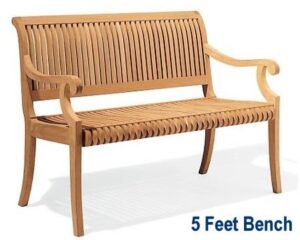 Giva Collection 5 Foot Grade-A Teak Outdoor Bench by Wholesale Teak
Sun Loungers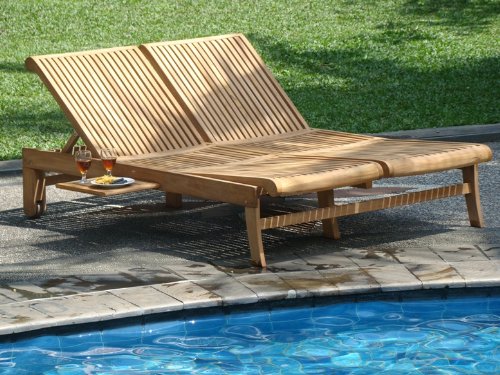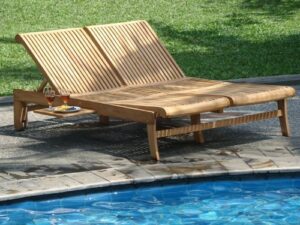 As the name implies, a sun lounger is a good piece of outdoor furniture to get if you like lounging around in the sun. Most teak lounge chairs have a set of wheels, making them easy to move around. If you're trying to get a tan, you can stay in the sunlight as it moves across the sky. Or if you're trying to stay cool, you can easily roll your lounge chair to stay under the shadow of a big tree.
Lounge chairs are great to put by the pool. So if you plan to split your time evenly between swimming and sitting around, a lounge chair would be a great choice. Most sun loungers have a tray that slides out, giving you someplace to set down a drink, plate of food, or your favorite paperback. if you have the room for it, sun loungers also look best in a pair.
A steamer chair is another type of lounge chair you might be thinking about getting. The design of a steamer is not as robust as a sun lounger or Adirondack chair, and they lack the wide armrests to set anything down on. But the design looks elegant and can be quite comfortable, especially with cushions. Consider getting a pair if you want some outdoor furniture that you can recline in if you're not concerned about having somewhere to set a plate of food down.
Here are some excellent quality teak lounge chairs you should think about getting: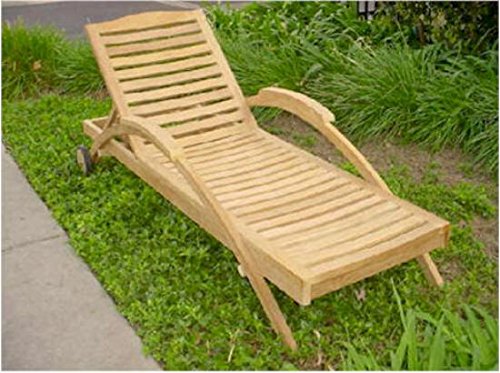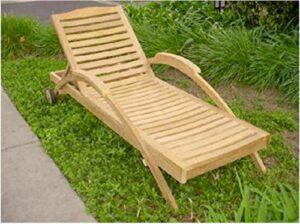 Anderson Teak Innova Sun Lounger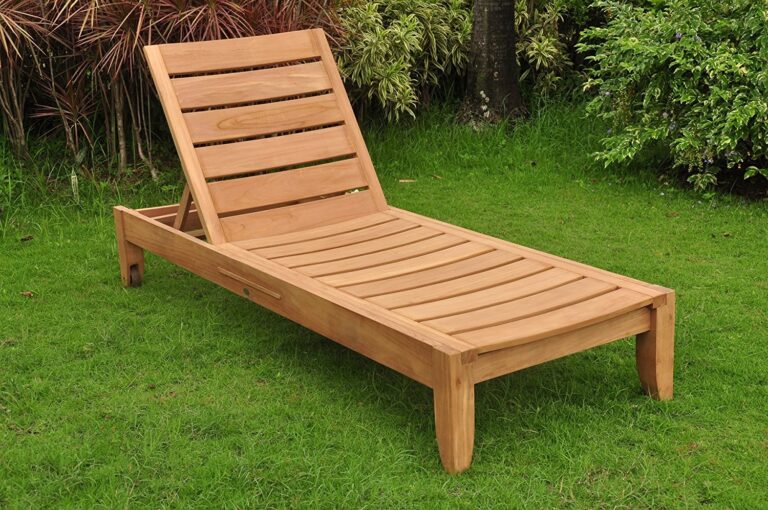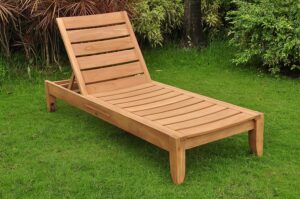 Grade-A Teak Multi Position Chaise Sun Lounger Steamer by Wholesale Teak
Teak Deep Seating Sets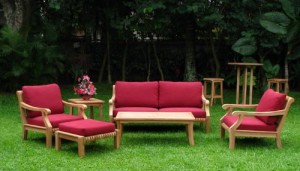 Teak deep seating sets are the ultimate in patio furniture luxury. Consider getting a deep-seating set if you live in a warm climate, as you'll be able to get more use out of it throughout the year. Deep seating lets you enjoy the beauty and durability of teak from the softness of a thick cushion. If you want to really transform your backyard into a comfy living space where you can relax all day, then a deep seating set might be right for you.
Deep seating sets come in all sorts of different styles and combinations. A popular configuration is a 5-piece set that includes a sofa, 2 lounge chairs, a coffee table, and an end table. Other sets add an ottoman to this to make a set of 6 pieces.
Here are a few excellent quality deep seating sets you might want to get: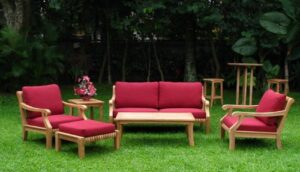 Giva Collection Luxurious 6 Piece Teak Deep Seating Sofa Set by Wholesale Teak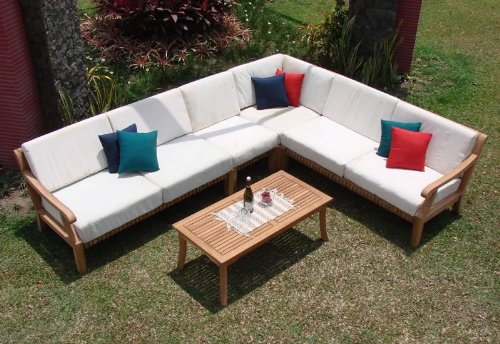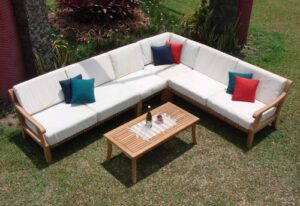 Giva Collection Luxurious 5 Piece Teak Sectional Deep Seating Corner Set by Wholesale Teak
Shower Benches and Floor Mats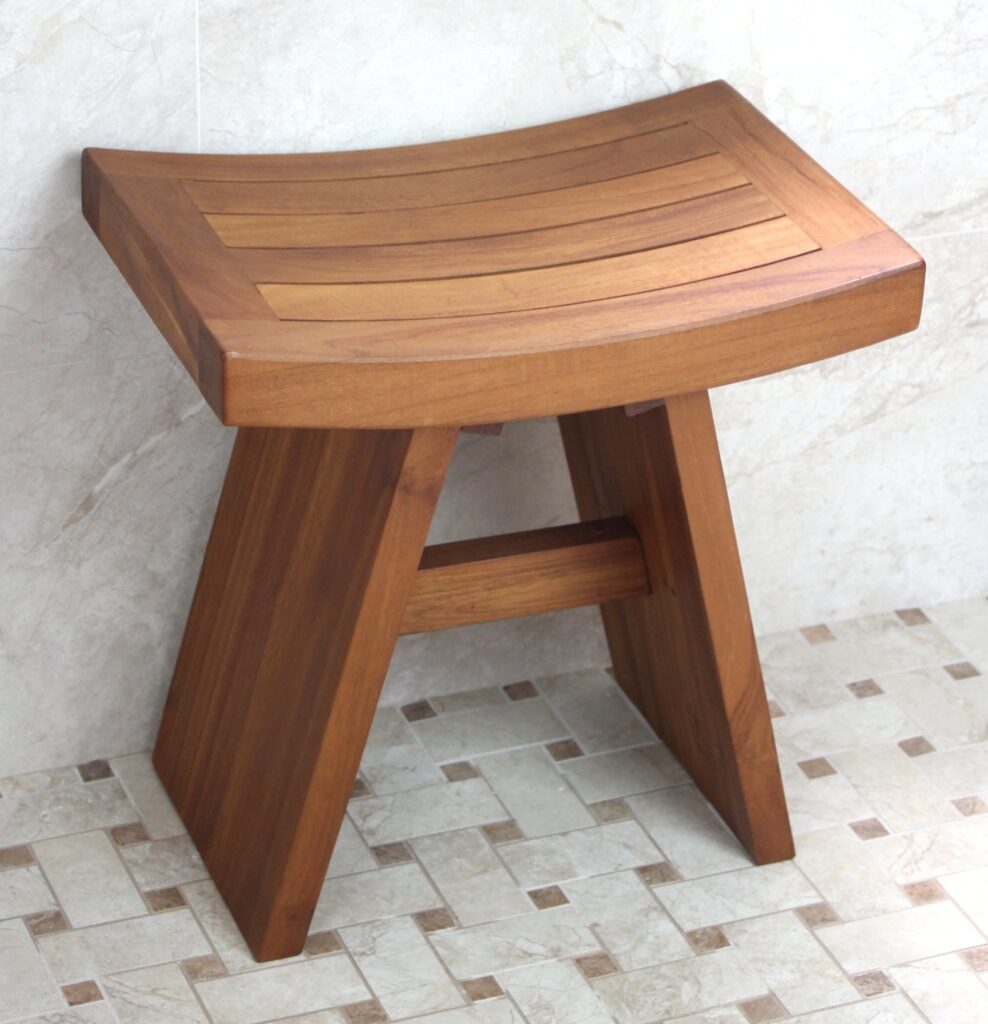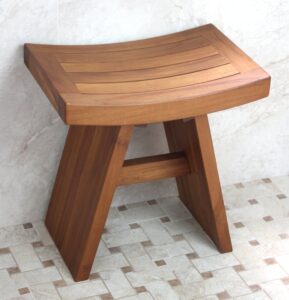 If you have a pool, you might want to consider getting a teak shower bench or shower stool along with a teak shower mat. These are items that work really well indoors to add a more luxurious feel to your bathroom. But they're also perfect for an outdoor shower or to place around the pool. A shower stool or bench is a very practical item that gives you somewhere to sit inside the shower. It makes getting at your feet and legs much easier, and they're also suitable for people with impaired mobility.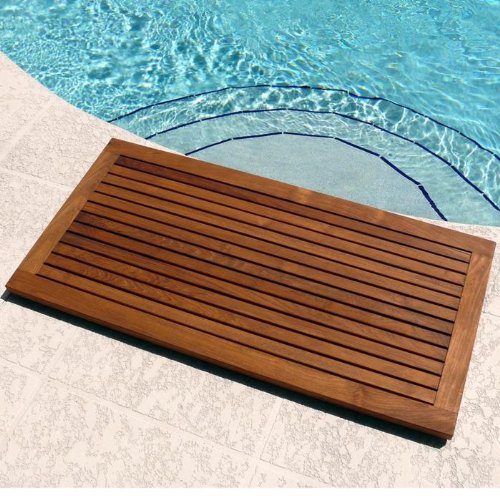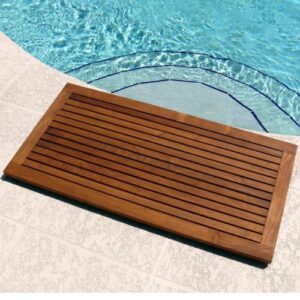 A teak bath mat or floor mat adds a nice touch and is also quite useful. It gives you an even platform to stand on while you dry off, but unlike a fabric bath mat you don't have to worry about leaving it outside where it will get rained on. Again, that's because this wood is naturally resistant to water damage. A smooth, stylish teak shower mat also helps to add a sophisticated touch to your shower area.
Teak shower benches and floor mats are both exceptionally popular items. In fact, they're the best selling teak wood items that I've seen. Here are some of the highest-rated ones: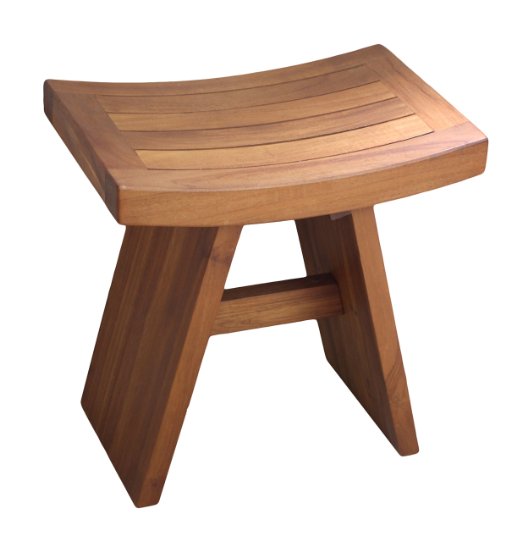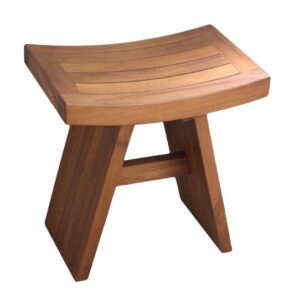 The Original Asia 18″ Teak Shower Bench by Aqua Teak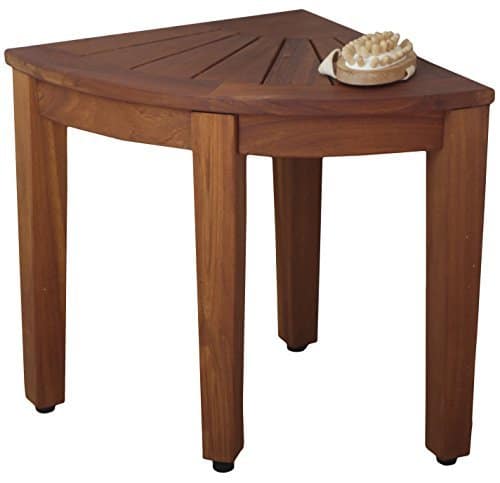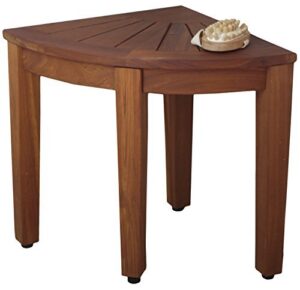 15″ Teak Shower Bench from the Corner Collection by Aqua Teak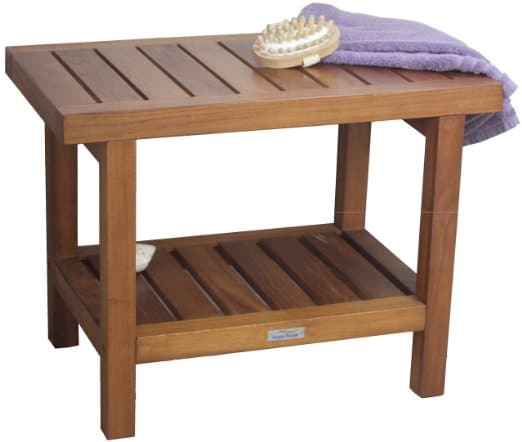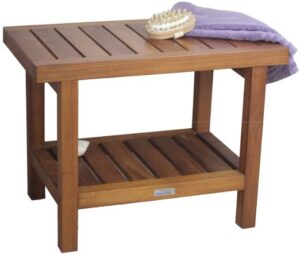 The Original 24″ Spa Teak Shower Bench with Shelf by Aqua Teak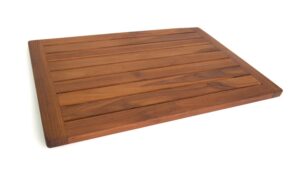 23″ Spa Teak Shower & Bath Floor Mat by Aqua Teak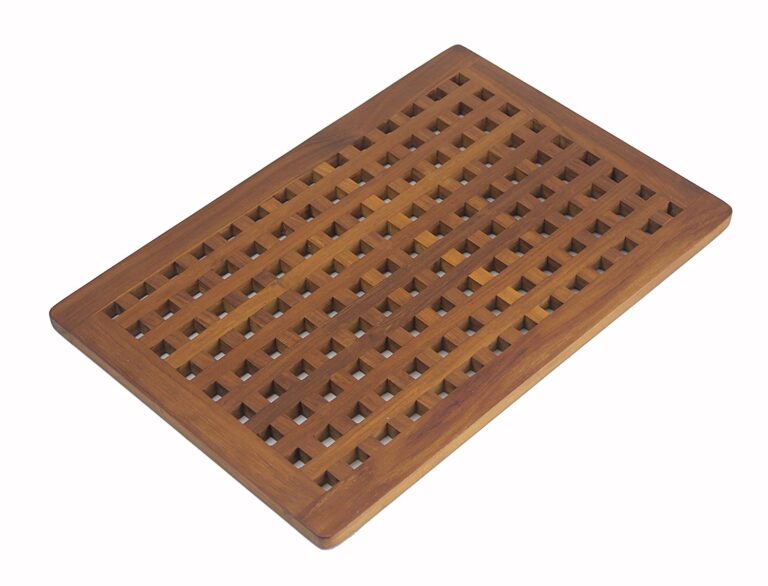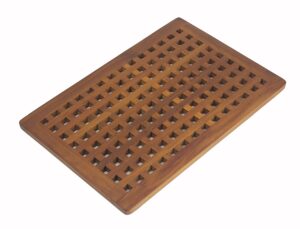 23″ Grate Teak Shower & Bath Floor Mat by Aqua Teak
Teak Patio Furniture Care
Once you've decided on the teak furniture that you want to get, you'll naturally be wondering about the best way to preserve it so that it keeps looking great for generations. The good news is that teak is very easy to care for. An occasional scrubbing with a teak cleaner is all you really need.
If you want to try to keep the golden honey color of new teak wood around as long as possible, there are also some recommended products such as teak protectors and sealers that you can use.
Don't assume that you need to apply teak oil to your outdoor teak furniture. Many people think this is a necessary step, but it can actually be quite harmful to the life of your furniture. Depending on the actual formula of the "teak oil" in question, you may be better off in the long run treating your furniture with a protector, a sealer, or nothing at all.
Now that you have some tools to make an informed purchase, you can choose high quality teak furniture in the right style and design for your backyard or patio. You might be paying a little more today to get teak, but you'll be glad you bought the highest quality wood when you're still enjoying your patio furniture 25 years from now.
Photo credit: CIFOR / Foter.com / CC BY-NC-ND