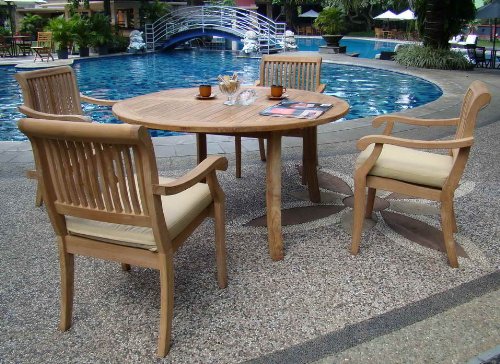 Are you looking for a great deal on an excellent quality 5-piece teak patio set? You'll be impressed with the look and feel of this outdoor teak dining set when it arrives. The circular table is 48 inches across and built solidly from grade-A teak. The four legs have a slight curve for an elegant design, and their position on the outside edge makes this table very steady when compared to other circular table designs that have the legs closer to the center.
Great design
The chairs stack up nicely in case you want to put them out of the way when not in use. These teak chairs are really nice and wide at 24 inches, too. So you'll feel comfy sitting around for a long time playing cards, or enjoying a few beers with your friends in the backyard.
A circular table design is an excellent choice for patio furniture because you can move it around to place in different areas and don't have to worry about trying to lining up any corners to make it look even with anything else on your patio. It's a great furniture set to have next to an outdoor pool, to give you somewhere stylish to sip your lemonade after an afternoon dip in the pool. It also gives you a really nice spot to enjoy your morning coffee while reading through the paper or just watching the birds that come to your backyard feeder.
Easy to maintain
Teak is the highest quality wood you can get for patio furniture. If left untreated in the rain and snow, all you need to do in the spring is give it one good cleaning with soft brush and some soapy water or a product such as Golden Care Teak Cleaner, and after a season the teak will fade into a beautiful silver gray patina.
The only assembly needed for this table is attaching the four legs, which is a breeze. If you want to put the table in a sunny spot, you can also make use of the small 2-inch hole provided in the center of the table to place a large shade umbrella in. When not needed, there's also a teak wood plug to cover up the umbrella hole.
This teak dining set is a great value, and it would be a nice set to have if you're looking for a stylish circular 5-piece patio set. The design of the table legs on this set is particularly nice if you're the type of person who wants some legroom underneath the center of the table, as most other circular teak dining tables put leg bracing in the way of where you'd like to stretch out your legs.