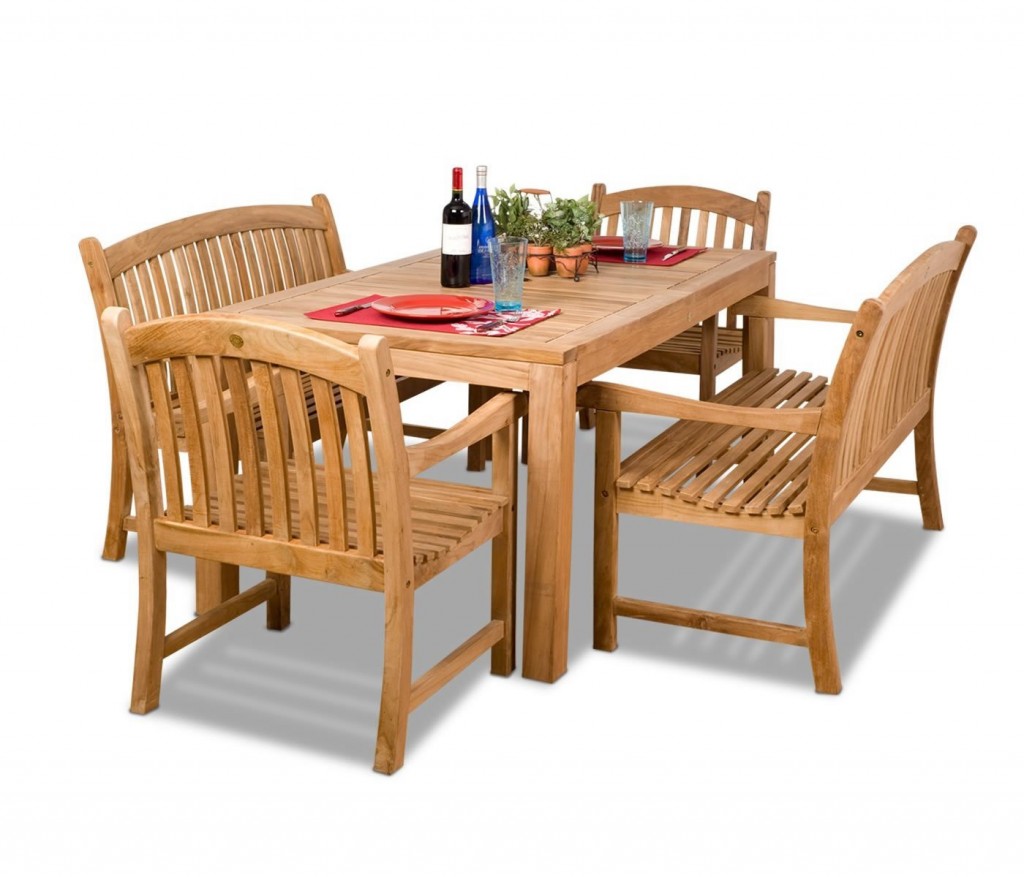 Here is an interesting outdoor teak dining set with bench seats. This set from Amazonia Teak is made from grade A plantation grown teak from Indonesia. It features a large rectangular table, which is 35 inches wide by 63 inches long. That is just a little over 5 feet. There is an armchair for each end, with a large 25 x 23 inch seat. For the long sides of the table there are two benches, Each one is 4 feet long. All in all, there is enough seating for 8 people with 3 sitting on each bench. Or just 6 people could fit at the table with more elbow room.
The armchairs and the benches are super sturdy. This is very dense and heavy solid teak wood. It's well constructed, although a little bit of assembly will be needed after delivery. When not using the dining table, you could move the benches to another area if you wanted to. One of them would look great on a front porch. Considering that you get 2 solid teak benches and a dining table, this set is very reasonably priced.
You and your family can get a lot of enjoyment out of this very practical teak dining set. The table also contains a central hole for a patio umbrella to give you a little shade in your backyard. After you get this teak dining set arranged on your patio, you'll want to eat outdoors all the time. It's great for entertaining guests or having family come over to visit. You can fire up the grill and enjoy the meal outside. The bench seats of this teak dining set are great for squeezing one more person in at the table. Your children will like having all their friends come over for a summer birthday party. It's also a nice spot to relax in the morning with your coffee or breakfast, to free your mind with the sounds of the birds chirping before you have to head out to work. And with a high quality teak dining set such as this, you'll be able to enjoy spending quality time on your patio for many years to come.