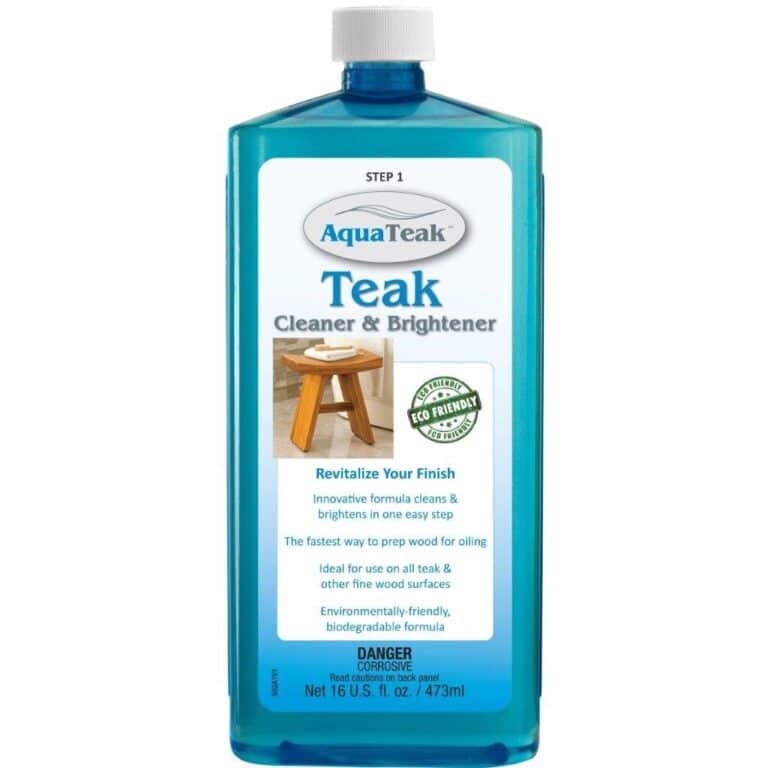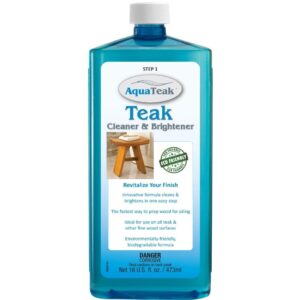 AquaTeak Teak Cleaner and Brightener is the ideal product to use when cleaning your indoor teak shower furniture. As part of a regular maintenance routine, you can combine it with AquaTeak's teak oil to keep your shower bench looking great.
This cleaner is specially formulated to clean teak and other hardwoods while preparing the surface for an oil coat. It's a 2-in-1 formula that both cleans and brightens the wood.
How to use AquaTeak cleaner
First, you want to get the wood wet by rinsing with fresh water.
Then, apply the product directly to the wood and spread evenly with a stiff-bristle brush.
Now just wait a few minutes to give the product some time to activate on the wood surface.
Next, scrub thoroughly while following the direction of the wood grain.
Finally, rinse off completely and allow your furniture to dry.
If using a teak oil to coat the wood, making sure it's completely dry before starting.
Brings old teak back to life
AquaTeak Teak Cleaner is just as effective on outdoor furniture as it is on indoor shower pieces. It can remove black spots and stains from old or neglected teak furniture, and it's also great for other woods such as oak.
It's very easy to use and works as advertised. You'll really be surprised how great your old furniture items will look after a good cleaning.
For some reason I can't fathom, there are people out there who allow their expensive teak furniture to go years without a proper cleaning. It probably just slips their mind because they're busy at work or taking care of their kids, until one day they realize their once-beautiful teak is suddenly looking grimy, grey, and splotchy.
After they see the remarkable improvement from one deep cleaning, you can be sure that they'll plan on following it up at least once a year to preserve their furniture's beauty.