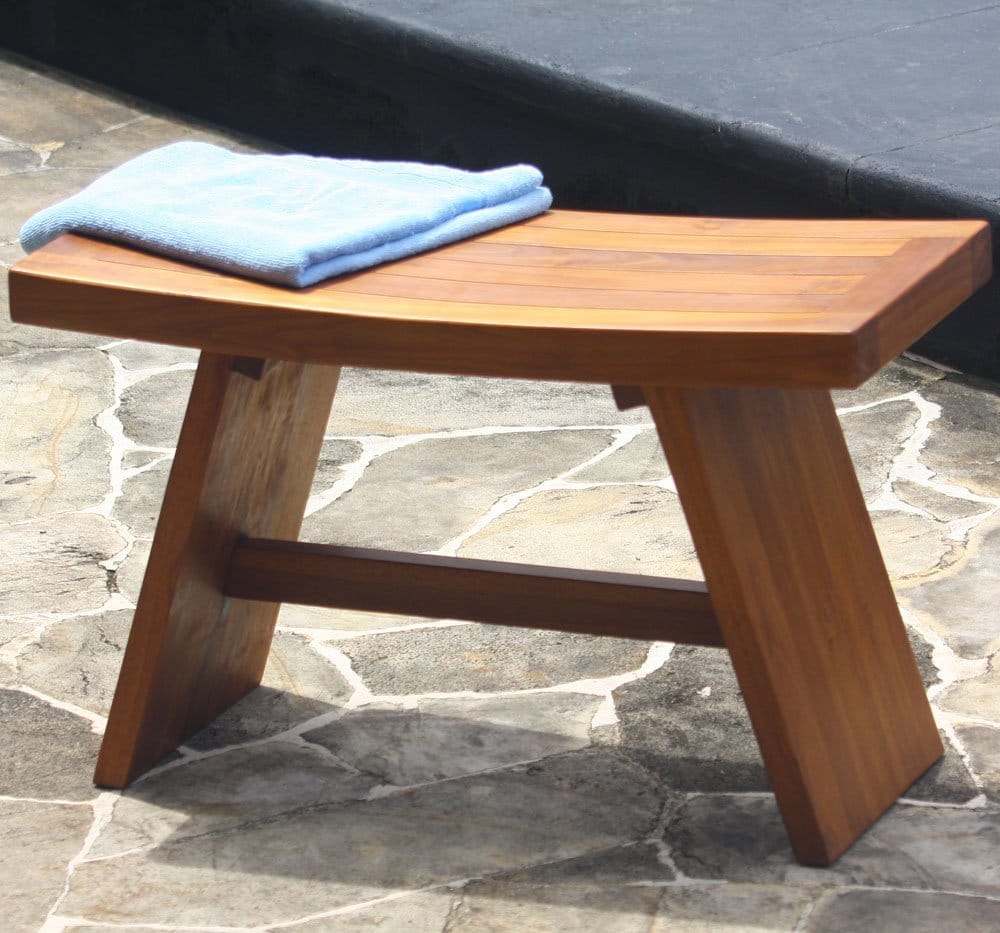 If you're in the market for a high quality shower bench, you may want to consider making that a teak shower bench.
Why teak? Teak is a popular wood that is widely used in crafting boats and making outdoor furniture. The rationale for this is that this particular type of wood is not only rare and beautiful, it is also durable and more resistant to the effects of water. These are the reasons why it makes the best sense to invest in a shower bench made from teak wood versus other materials that may not hold up as well through years of use.
Benefits of teak shower benches
Benches that will be subjected to water exposure will last longest if they are made out of teak wood. Other types of wood will succumb to the effects of moisture sooner and will begin to warp and show signs of decline. Metals tend to rust over time, especially when condensation from showers, spas or pools wear away the paint and begin to affect the metal underneath. Plastic benches are far less durable than wood, making teak the better choice when looking for a long lasting product that will hold up under use.
A wide variety of styles
Teak shower benches are designed in a wide variety of sizes, styles, and shapes. For larger showers or bathing areas, there are benches that are as big as 3 feet in width. Many are styled with a gently sloping bow in the middle for comfort. Compact models, designed for small shower areas are as small as 18 inches, and some are designed for use in the shower corner. For those who have a need for a sitting bench and storage while in the shower, there are teak furnishings that combine a shower bench with a handy shelf. There are plenty to choose from so you shouldn't have any trouble finding a shower bench that meets your individual needs and preferences. In addition to this, there are several different designs available. While some teak shower benches are plain in their design, others have ornate decorations and novel shapes. It's all a matter of individual taste. Take a look at these examples of bench designs:
Other benefits of teak
Teak wood is not only resistant to water damage, it also holds up against humidity and the damage that can be caused by insects.  This makes teak a great choice for anyone, but especially for people who live in humid climates.  Another advantage of owning a teak shower bench is the decorative quality that it adds. Teak products add a touch of class to any decor and combine beauty with durability and function.
More interesting facts about teak wood
Teak is a tropical hard wood that is native to India, Indonesia, Burma and other countries of Southeast Asia, but it has been cultivated to be grown in Africa and the Caribbean as well. The wood has a quaint leathery scent which adds to it's already tremendous appeal.
Different uses for shower benches
Some benches are used to sit on in the shower, while others are intended as shelves. They make great additions to any shower. They are particularly useful for persons with physical limitations when used as a comfortable place to sit while showering. You can also purchase other teak shower accessories to complement your bench in design.  They are not only useful as shower accessories.  Teak shower benches also work well in sauna rooms and pool rooms.  This is because of their water resistance and natural durability.
Who would like teak products
Anyone who desires to own a high quality and durable product will consider teak as the best material, particularly when selecting a bench for the shower, bath, pool or spa. Teak makes an excellent addition to the decor of any bathroom or sauna area.  People who need or wish to sit down while they shower, or those who need extra shelf space will benefit from owning a teak shower bench. Anyone living in a humid climate will appreciate the durability of teak over other products as well as people who appreciate natural products over other materials such as plastics and metals.
The value of teak
Teak products may be a little more expensive than some lower priced items, but in terms of durability, they will last much longer, increasing the value. Teak is actually a good deal for the price for this reason alone. However, the aesthetic value and the added charm of teak provides a dual benefit. Teak is a rare wood with durable characteristics and unique grain patterns that give it a special appearance. Purchasing a product that will last longer and be more attractive makes good sense. Many manufacturers of teak wood furniture offer a 5 year warranty on their products.
Teak is a unique and rare wood that has amazing characteristics, making it superior over other woods for some uses. Its water resistant properties make it the best choice when selecting a high quality bench for showers, spas or pool areas. The wide variety of sizes, shapes and designs, makes these benches more aesthetically pleasing to the eye, as it can be combined with other teak accessories that will complement any decor. Teak shower benches can be used for persons with physical limitations to rest upon when showering, or as a handy shelf for storage if desired.
There are many benefits associated with teak furniture and accessories. Teak products are more expensive than many other materials used, but the value of an investment in teak is realized as it holds up well over time. This means fewer replacements and savings in this area. People who want to purchase an attractive and durable shower bench will strongly consider teak as the best choice.