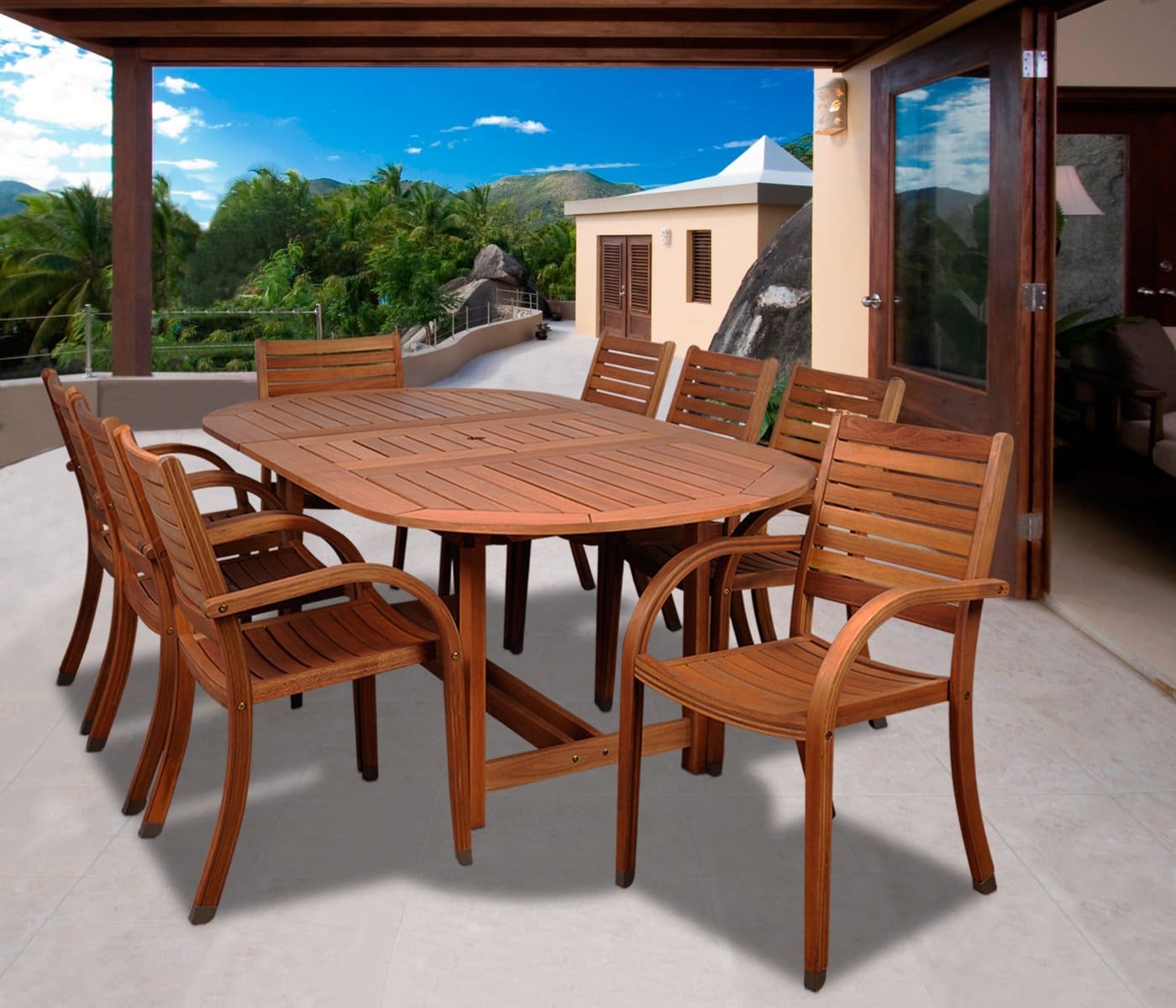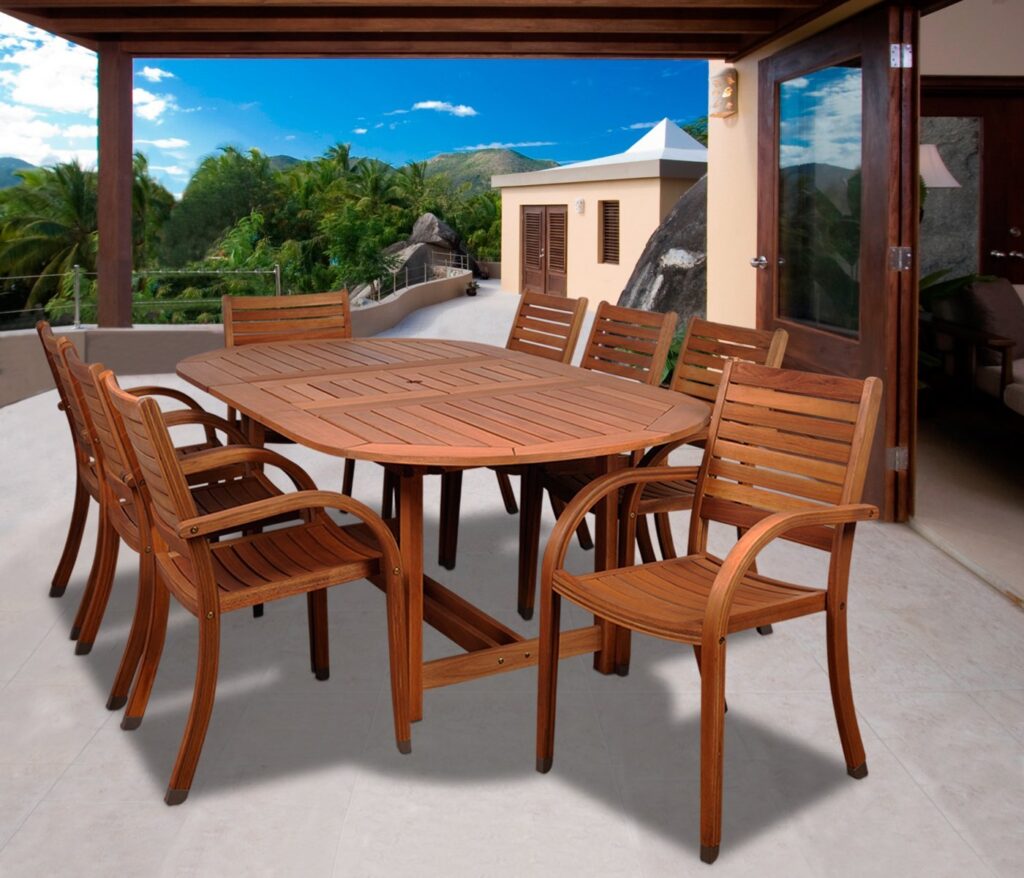 Eucalyptus has quickly become one of the most popular hardwoods for outdoor furniture sets. It enjoys durability and attractiveness that rival more expensive woods like teak. Yet the relative abundance of this tropical hardwood make eucalyptus patio furniture an affordable option. Brazilian eucalyptus furniture, in particular, has been selling very well in recent years.
Originally found growing in Australia—where its leaves are famously the favorite food of koalas—there are over 600 species of eucalyptus. Australian eucalyptus forests cover 101 million hectares and account for 77% of all Australian forest areas.
Due to the quick growth of this plant, plus the superior qualities of its wood, eucalyptus is now cultivated in many countries around the world.
Eucalyptus oil is used in a large number of health and beauty products, while the wood has quickly become one of the most popular for outdoor furniture.
Eucalyptus dining sets, outdoor chairs, and garden benches are all great value buys that match the quality and price requirements for many homeowners. Should you purchase some eucalyptus wood furniture for your patio?
Let's first look at the advantages and disadvantages of choosing eucalyptus, and then we'll review some of the best eucalyptus outdoor furniture currently available.




Advantages of Eucalyptus Outdoor Furniture
Eucalyptus wood has a number of significant advantages that makes it such a popular choice for outdoor furniture:
Dense, strong, and durable. Much like teak, eucalyptus wood is very dense and strong. It is quite heavy and durable. You'll find that eucalyptus outdoor furniture will easily last decades, even with continued use. This makes it one of the best alternatives to teak wood.
Resistant to rot, insect and moisture damage. You're probably familiar with eucalyptus oil due to it's many uses in personal care and homeopathic products. This natural oil that occurs within the eucalyptus tree protects the resulting wood from damage by water, boring insects, and fungus growth. This adds to the lifespan of any eucalyptus furniture.
Easy to maintain. Because the wood is naturally dense and resistant to damage, there isn't that much you need to do to maintain a furniture set made from eucalyptus. No special varnish or other wood treatment is strictly needed for eucalyptus outdoor furniture if you're content with the natural silver-gray color that the wood will fade to after exposure to the elements. But if you wish to protect the color, you can treat it with a teak sealer product.
Fast-growing, affordable wood. Eucalyptus is a very fast-growing tree, and thus has been widely planted in many countries around the world. This has resulted in an abundance of eucalyptus wood, which keeps the price down. Furniture sets made from eucalyptus are typically 30-40% cheaper than similar sets made from teak.
Disadvantages of Eucalyptus Wood Furniture
The disadvantages of eucalyptus are really quite minimal, but they are worth mentioning:
Thirsty trees. The fast growth rates of eucalyptus trees come at one expense—it is a rather thirsty species. Eucalyptus plantations require a lot of water. In some locations, this has caused problems for surrounding farms and villages due to the eucalyptus soaking up so much of the groundwater.
Slightly less durable than teak. Eucalyptus wood is very durable, but still not quite as durable as teak wood. The difference is minor though, and the cheaper price of eucalyptus furniture relative to teak makes up for this in the minds of many consumers.
Best Eucalyptus Patio Furniture Sets
Eucalyptus outdoor furniture sets go from small 3-piece bistro sets all the way up to large 13-piece extendable dining table sets.
Bistro sets are great for small spaces. If you live alone or as a couple and just want some nice outdoor seating to enjoy a casual meal or drink, then a bistro set might be all you need.
Lounge seating and deep seating sets are good if you want to set up an area in your outdoor space to relax, read a book, or entertain company. Dining sets are of course ideal if you'd like to dine outdoors often.
When looking at dining sets, you've got to consider the amount of space you have to put it in and how many you'd like to seat. 5-piece round table sets are good for smaller areas and small households. You can choose to purchase extra chairs separately to have the option to seat extra guests.
If you like to host large gatherings of family and friends, than you'd probably be in the market for a 9, 11 or 13 piece dining set. Again, you can always purchase extra chairs separately to give you the option of squeezing a few more bodies at the table.
Now let's look at my top-rated eucalyptus patio sets going is order of size, starting with the smallest:
This is a nice little bistro set that doesn't break the bank. It is probably the best quality outdoor dining set you'll find for under $200. You get a cute little folding table measuring 2 feet on a side. The chairs fold up as well, and even come with cushions, making this a great value.
Excellent for setting up in a small space, this set will give you and a partner somewhere to enjoy breakfast and coffee or a bottle of wine outside. Since the entire set folds up, it's also ideal for those living in cold winter areas who would prefer to store the furniture indoors once the snow starts falling.
The only minor concern with this set is that the design of the chairs is not intended for those weighing over 200 pounds. The chairs are actually quite sturdy, and easily support anyone in the 200-220 pound range. If you're closer to 300 pounds, however, you'd probably want to look at non-folding chair designs instead.
Here is a great value lounge-seating outdoor set that even comes complete with cushions. This conversation set includes a coffee table, loveseat, and two armchairs. It gives you an indoors style relaxation space that you can put outdoors without worry. The eucalyptus wood naturally stands up to the weather, while the complimentary cushions are made from a water-resistant fabric.
The coffee table is 18 inches in height, which makes it significantly taller than the next set on this list. So, besides the color and style of the seating fabric, the seating height of the set is something that will either sway you more towards this set of the lower-riding set below.
This set is super sturdy and not terribly difficult to assemble, especially if you have two people on hand for the task.
The main concern with this conversation set is the color of the cushions. They are an attractive cream color that can easily fit in with the decor of most properties.
The only problem is that this light color makes them easy to get dirty. If you've got pets in the backyard crawling on your furniture with their grubby paws, then you'll be hard pressed to keep these cushions looking spic and span.
The good news, however, is that they do clean up easily with a little soap and water whenever they get too dirty.
This is one of the most affordable hardwood deep-seating sets that you'll find. The chair seat and back are made of a black sling fabric that looks slick contrasted with the eucalyptus wood frame. Keep in mind that the seating position of this set is intentionally set rather low. This is a set you want to get to have somewhere to sit back and relax—it's not ideal for typing away at a laptop or eating messy foods. The coffee table is just 13 inches in height.
It's not really a negative point, but be aware that this set will take some time to assemble. Having two people on hand will make the assembly go smoother as you can use one person to hold the chairs steady while the other secures the bolts.
There are a good number of furniture sets in this list that come from the Amazonia brand. They use Brazilian eucalyptus wood from managed forests to construct their pieces. It's high quality wood that is very durable and holds it's own under the elements if you leave it outdoors year-round. I would, however, advise you to use a modern, breathable furniture cover in the winter should you choose to leave it outdoors in a snowy climate.
This 5-piece set features armchairs distinguished by three broad horizontal panels that make up the back. Beige and off-white striped seat cushions are included complementary with this set. The style should blend in with many people's backyard setup. You'll have to compare them with the Arizona style chairs found below to see which type you like better.
This is the first of Amazonia's sets we'll look at that comes with their highly popular Arizona style chairs. As you can see in the photo, these are armchairs with a single curved piece of wood that forms one arm and front leg on each side. The seat on this model is also contoured for better comfort.
These Arizona chairs can stack up, which is great if you want to take them indoors in the winter to keep in your garage or basement. It's also good in case you'd like to order extra chairs to have around just in case you need more seats, but you don't want the extra chairs to take up a lot of storage space.
This round table is 4-feet in diameter. It's a very classic design that will look great on anybody's deck or patio. There's a convenient umbrella hole in the middle of the table if you want to pair this set with a nice patio umbrella to get some shade or stay out of the rain.
The chairs look elegant and are comfortable. You can sit in them perfectly fine without buying cushions, though if you'd like to get cushions for these it would work too. These are not lightweight chairs—they're substantial pieces of furniture. They're not going to get blown over in strong winds, and they won't have trouble supporting individuals weighing 300 pounds and more.
With a price under $750, it's hard to go wrong with this one.
Here is another 5-piece dining set with the Arizona style chairs. The only difference is that this one has a rectangular shaped table. The table measures 3×5 feet. The comes with four chairs, but you could easily seat six at this table by squeezing an extra chair on each of the long sides. You'll have to order extra chairs if you'd like to do so.
I'll have to be honest and say that if you're going for a 5-piece patio set I think the round table looks much better. I like rectangular tables when used for larger sets like the 9-piece or 11-piece dining sets. But with this 5-piece set, my first impression is that it looks too asymmetrical when you give 3 feet of horizontal space to some seats and 5 feet of horizontal space to others. Bottom line, I would recommend going longer than this if you're going to bother getting a rectangular table design.
That said, the quality and workmanship put into this dining set is top-notch. So if you like the look, then it's a good buy.
I'm a big fan of long, oval hardwood tables. If you're in the market for one that isn't terribly long, then this Amazonia 7-piece set might fit the bill. With the extension in place, this table comes out to 84 inches in length. It's plenty large enough for six chairs to fit comfortably, and yet won't take up a huge amount of real estate on your patio.
This is another set that comes with the popular Arizona chair design. It's a smooth, contemporary, and clean look that will no doubt draw numerous compliments from friends and neighbors.
At just a little over $1000, this is one of the best values you can find on a 7-piece hardwood dining set.
Here is a second 7-piece oval set from Amazonia to consider. The main difference between this one and the previous is the chair design. Here we have the same Nelson style armchairs that were seen earlier in one of the round sets.
These chairs come complete with all-weather seat cushions, and add a little bit to the cost of this set. Altogether, the more expensive chairs bring the price to about $200 more than the previous set. You'll have to decide for yourself if you like the look of these chairs enough to justify the extra cost.
This is essentially the exact same table that came with the 5-piece Arizona rectangular set above. It's 3×5 feet with an umbrella hole in the center. This one of course comes with 6 chairs, so you can see that I was right about the 5-piece set being able to accommodate two more chairs if needed.
The big difference here, of course, is the style of the chairs. These Bahamas style chairs combine a eucalyptus wood frame for the arms and legs with a black mesh material for the seats.
You obviously won't need to get separate seat cushions for these as the chairs have some give due to the material. They look nice and are quite comfy, but may not outlive solid hardwood chairs if you're considering between the two styles.
This large square table dining set will appeal to some. It measures 59 inches on each side, or just shy of 5 feet. Figure that you'll need to account for at least two feet of space on all sides for the chairs. That means you'll need a bare minimum 9×9 foot area to place this set in. For more comfort walking past or getting in and out of the chairs, I'd actually up that to 11×11 feet. You'll need to know the shape and size of your patio to see if this is a dining set you should consider.
If you've got the room for it, and you like the large square table style then this would be a solid buy. The armchairs come fully assembled and you can stack them up and out of the way if your choose.
The table has a handy 2-inch standard sized umbrella hole in the center. Keep in mind that you'll need a large sized patio umbrella to give adequate shade for a table of this size. I would go with a 10-foot umbrella at the smallest if you want to protect all those seated from rain and any sunlight not directly overhead.
The square shaped table is really good if you want everyone seated equal relative to each other—there's no "head of the table". It's a good design when eating the type of meal where you've got many dishes placed in the center that everyone can fill their own plates from. It also works well for playing poker and board games.
Here is the oval version of Amazonia's Arizona 9-piece dining set. I personally think the oval table looks better than a large square one, but some will prefer the square table above. A 9-piece set is just about the right size if you want a large, but not huge, dining table set. For a lot of people, a 9-piece set will be adequate for 90% of the time. To accommodate a few more people you can pick up a set of extra chairs like the ones listed later in this article. As it stands, this table is 93 inches when extended.
The 2-inch umbrella hole at the center of the table is a welcomed feature. Those wishing to get set up with little hassle will be happy to know that the chairs come fully assembled. The table just needs a little assembly, but nothing difficult.
This is a solid dining set that will draw many compliments from guests. The chairs are comfy enough as they are, but if you think you'll be sitting for a long time it's always a good idea to look into getting some cushions.
The wood for this set comes from the eucalyptus grandis species harvested in managed forests in Brazil and is certified by the FSC (Forest Stewardship Council). That is good to know if you're someone who is concerned about the environmental impact of your buying choices.
This 11-piece eucalyptus dining set from Amazonia features the same style chair that we saw in the first 5-piece round table set above. Again they come with the complementary seat cushions in beige and off-white stripes.
The extended length of this table is 118 inches, which puts it just barely under 10 feet long. One nice point about this table is that the umbrella hole is located on a permanent central section right in the middle, between the two extension panels.
So even when the table is compacted down to the shorter 79 inches length, the umbrella hole is still usable. This is not the case with many of the smaller extending tables that in which the umbrella hole is located on the single extension piece.
If you're thinking about buying a patio umbrella to go with this set, you'll need to consider the size of the umbrella. A 10-foot wide umbrella would still leave the people seated at either end of the extended table exposed to the sun and rain. Probably the biggest umbrella you'll find is 13-feet wide. Even that would only extend a foot and a half beyond each end of the table, so I still don't know how well it would protect the people sitting on the ends.
This set combines a eucalyptus hardwood table with wicker chairs. When fully extended, the table comes to 118 inches, which is basically just shy of 10 feet long. There are not many outdoor dining sets that you'll find for this price allowing you to seat 12 people. When you consider that the wicker seats won't require any cushions, then it makes this set even more economical.
The dark wicker on the seats makes a handsome contrast to the wooden table, though I'm not sure I'd want to go with this set. The main reason is that the table will undoubtedly outlast the chairs.
So someday down the road you'll probably have to replace the chairs. Personally, if I was going to invest this much money in a large-sized dining set I would go with hardwood chairs as well. It may be more expensive, but at least the chars and table would age at the same rate.
Recommended Eucalyptus Outdoor Chairs
There are basically two main categories of eucalyptus chairs. Some that you'll see listed here are identical to the chairs sold as part of dining sets. You might want to buy a couple pairs of these either to replace older chairs or to provide extra emergency seating for those occasions when more guests show up than you'd expected.
The other eucalyptus chairs are various styles of loungers. These work great to put next to your pool, under a large shade tree, or basically anywhere you want to relax in your backyard. It always looks better to have a pair of loungers rather than just one. It also makes more sense in practical use to buy lounge chairs in pairs.
Folding chairs are practical in some ways that stacking chairs aren't. For example, a folding chair can fit in the trunk of your car if you wanted to take it with so you'd have a seat at a special outdoor event, like a concert in the park.
These Ipanema style folding chairs come in a set of two. If you buy a separate dining set that comes with between 4-10 chairs, a couple folding chairs make a good supplementary purchase. The reason being that chairs without arms can squeeze in around the table easier.
So even though the design of these chairs may not exactly match the regular chairs of your patio set, they are a much classier option than cheap canvas folding chairs when you need to make room to accommodate a few extra folks gathered around the table.
These are pretty much your basic eucalyptus outdoor chairs. They are built solidly and made to last. Since they have no arms, these are a good model to pick up when you want extra seats to squeeze a few more souls up to the table. The only real downside is that the assembly will take a bit of elbow grease.
There's not that much to say about this item. It's a nice-looking, solid, stackable armchair made from eucalyptus. Nothing really fancy here—just a highly durable and functional outdoor chair. These are the version with arms, so they may be a notch more comfortable than the arm-less chairs above.
It will take some time to put the chairs together, but the assembly is not difficult. These are all-around great quality chairs that stand up to the weather. You won't be disappointed picking a couple of these up if you need some extra outdoor seating.
This is Amazonia's Arizona style version of their eucalyptus armchair. These stackable armchairs are solidly built and look gorgeous. The contemporary design is very comfy to sit in. The Arizona style is the same chair design used in many of Amazonia's popular dining sets found above. So if you're planning to get one of those sets and want to be prepared with some extra seating then getting a set of these armchairs is a great idea.
The Arizona chairs sell as a set of four. You could also match these up with a separate hardwood table that you purchased elsewhere. Since they stack up one on top of another, you don't have to worry about your extra chairs taking up a lot of space when they're not needed.
I really like the design of this Outdoor Interiors Luxe armchair. I think it looks a little bit more classy and luxurious than the standard stackable armchair from Amazonia above. It has some curve to the legs, arms, seat, and back that give it a bit more organic look.
This model is a tad more pricey than the Amazonia armchair, so you'll have to judge for yourself if the aesthetics make it worth spending more. The quality of the wood and manufacturing are both first-rate.
This swing lounger is a highly original design. The seat molds to the shape of your body for maximum comfort. If you look carefully at the photo, you'll see that the back and seat is one continuous net made of many small blocks of eucalyptus wood connected together. So it feels much like sitting in a hammock. There is a canvas pillow at the top to give your head and neck a little support. The entire chair folds up brilliantly to take up very little storage space.
It's solid, but still quite portable. You could take it to the beach, camping, to the park for watching 4th of July fireworks, etc.
If you've looked at hardwood chaise loungers, then you know that it's easy to spend $1000 on a teak wood model. If you don't want to spend quite so much money, but still want high quality wood, then choosing a eucalyptus wood model is a good alternative.
This one has a pair of wheels on the rear legs so it's easy to move around. that makes it great if you're trying to either stay in the shade or out in the sun. You can simply wheel it around the yard to get the best spot as the sun moves across the sky.
There's a slide out tray where you can store a drink or other small items. The back and leg portion are adjustable. To really make this lounger comfortable to lay back in you'll want to pick up a cushion for it.
The Adirondack chair is a classic backyard furniture design. This version of the timeless classic is crafted from quality eucalyptus hardwood and comes complete with a built-in Ottoman for added functionality.
The Ottoman has 3 positions possible. You can extend it out flat with the legs propping it up, as in the picture above. The second option is to fold the legs in so that the Ottoman surface slants forward to the ground at about a 30 degree angle. The final option is to fold the Ottoman completely in under the chair seat.
On top of that feature, this Adirondack has nice, wide armrests and a gently curved back. It's truly a beautiful furniture piece, and one that will hold up for many years to come.
It's a super sturdy model and feels roomy even for big guys.
Top Eucalyptus Wood Garden Benches
A garden bench is a versatile outdoor furniture piece that you'll never regret buying. They give a classy touch to any backyard, patio, or porch. An outdoor bench is not just a nice place to sit and relax, but it can also be one of the best props for a family portrait.
At under $150, this is one of the best bargains you'll find on a hardwood outdoor bench. It's four feet wide, which is plenty of space for two to sit comfortably. If you want to be able to seat three, then the next bench on the list would be a better option. For a simple, sturdy, and attractive garden bench this one is hard to find anything to complain about.
This is the 5-foot long version of the Amazonia Milo style eucalyptus bench. It's basically identical to the 4-foot Milano bench shown above, except that this one gives you one more foot of additional seating space. The difference in price between the two models is slight—only about $30 more for the 5-foot model—so if you've got room for the longer bench I'd go with this one.
The Outdoor Interiors Venetian bench is a stylish model with a length of 4 feet. Outdoor Interiors Brazilian eucalyptus wood is plantation grown. It has a long, straight grain and the wood contains a high oil content similar to teak. The wood is FSC (Forest Stewardship Council) certified.
The seat, back, and armrests all have a slight curve to add to your comfort level when sitting on this bench. It's an ergonomic design, and you can get much use out of it without needing cushions. Superb manufacturing quality goes into every one of these benches. They're quite solid, stable, and attractive.
A backless bench is something different to consider. Naturally, if you want a piece of lawn furniture that is good for sitting and relaxing for a long time, then this is not going to be it. I would use this more as a decorative element, to place in or around a flower garden, for example.
I suppose one benefit of owning a backless bench is that you can improve your posture sitting on it since you'll need to support your torso weight on your own, thus working your core muscles a little. You could also place it up against a wall, maybe on the porch.
It's designed to be an outdoor bench, but there's nothing stopping you from using it indoors either. It might be nice to place in a hallway or near your home's entrance. I'm imaging using it as a place to sit down briefly to tie your shoes before stepping outside.
You'll have to decide for yourself if this type of design that you're interested in adding to your home. But if this is what you're looking for, then I'd say this model is a good one. It measures 55 inches, so that's about 4 and a half feet. Three adults should be able to sit on it without having to squeeze together. The seat is curved, so it's a bit more comfy than a flat seat.