If you didn't already know, shorea wood furniture is one of the best substitutes for teak for those who want quality patio furniture on a budget. It has all of the main advantages of teak wood with the added bonus of being less expensive.
Shorea is not as well-known as teak, but that doesn't mean it's of inferior quality. Neither should you think that the cheaper price tag means that it's less durable. The lower cost is simply a matter of supply and demand. Shorea is more abundant, which keeps it more affordable for the average consumer.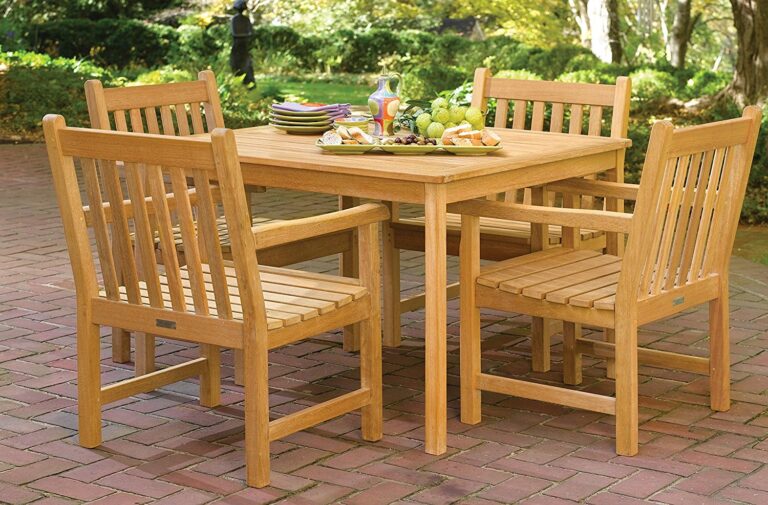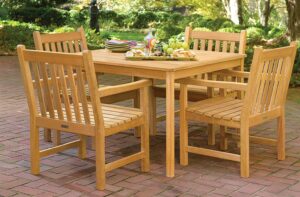 What is Shorea Wood?
Is this your first time hearing about shorea wood?
Shorea hasn't gotten nearly as much publicity as teak, so some of you may not be familiar with it. There are nearly 200 closely-related species of tree that produce this tropical hardwood, which are all native to Southeast Asia. Like teak, shorea wood is very strong and dense, and it's also highly resistant to damage from both insects and water.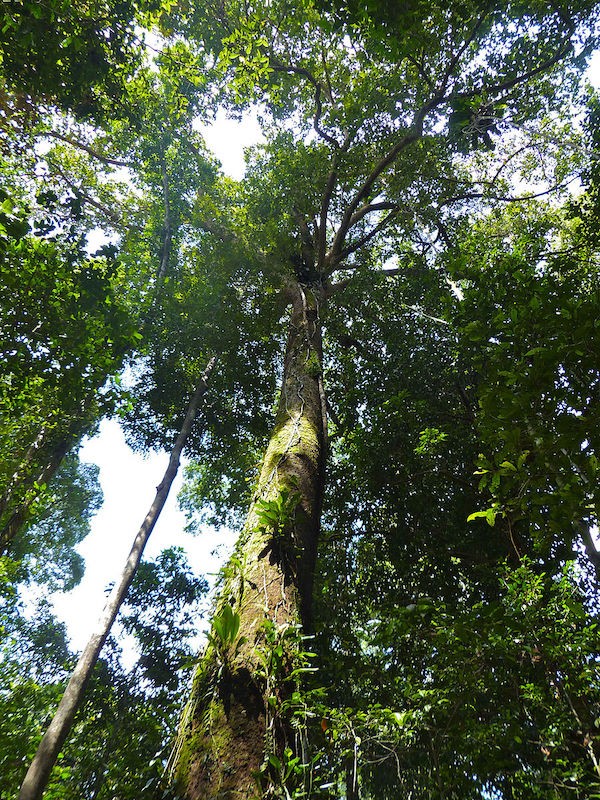 Choosing shorea furniture over teak doesn't mean settling for an inferior product. It's a strong, high quality wood that is actually more dense than teak. Plus, as you can see in the photos, it looks gorgeous.
The reason for the lower cost is simply that shorea wood is more abundant. It's more economical due to the law of supply and demand.
Advantages of Shorea Wood Furniture
Shorea has several great advantages when used for making hardwood furniture:
Strong wood. Shorea is a strong and dense hardwood with very tight grain. It's actually more dense than teak wood.
Pest resistant. Due to its density, termites, ants, and other insects stay away.
Rot resistant. It's protected naturally from water decay, as well as damage from mold and fungus. It should easily last 30 years or more even when left outdoors.
Looks beautiful. New shorea wood has a nice warm glow with a reddish-tint, and it will fade to a stately silver over time if left untreated, much like teak.
Disadvantages of Shorea Wood Furniture
The one minor disadvantage of shorea wood deserves mention too:
Moderate checking. Some slight checking of the grain can be expected as shorea wood ages due to its reduced elasticity.
All-in-all I'd say the advantages far outweigh the disadvantages when considering shorea as a wood choice for your outdoor furniture needs.
Shorea Wood Patio Furniture Sets
The superior qualities of shorea wood make it a natural choice for outdoor furniture construction. In particular, resistance to damage from moisture and from insect invasions set it up as one of the best hardwoods that you can select for use outdoors.
Shorea hardwood furniture sets come in a wide variety of sizes, styles, and budgets. For something simple, you can pick a couple armchairs or Adirondack chairs with a small side table to center the unit. If you have a dining set in mind, then there are some great ones to choose from. Conversational sets made form shorea wood are also something that many homeowners really enjoy setting up in their backyard.
Let's review some of the best shorea wood outdoor furniture sets so you can get a better idea of what would fit with your home.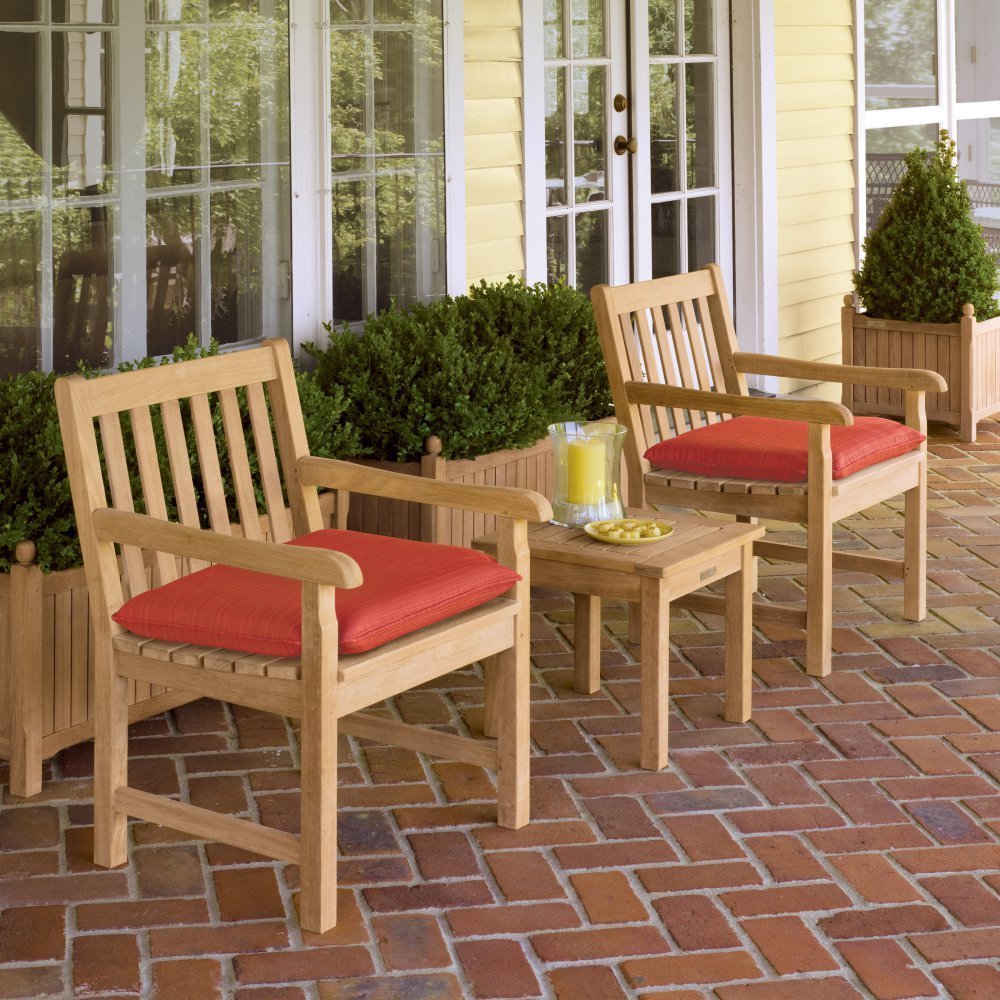 The first set that we'll review is a simple little grouping to put on your porch or patio. It's called a 5-piece set, but they're counting the included seat cushions as 2 of the pieces. So you could actually call it a 3-piece set with all-weather chair cushions included. What we've got here in this set are 2 shorea wood armchairs and a small side table.
I'd say it's a nice setup if you want somewhere to sit on the the front porch to sip your morning coffee or afternoon tea and watch the world go by. It will be comfortable enough because of the extra seat cushions that you get, but it's not really the right chair design to kick back under the summer sky with a good book and bottle of Pinot Grigio. For that, I'd recommend the Adirondack below.
Still, for a cute little furniture set to keep right outside the front or back door, this might be just what you need.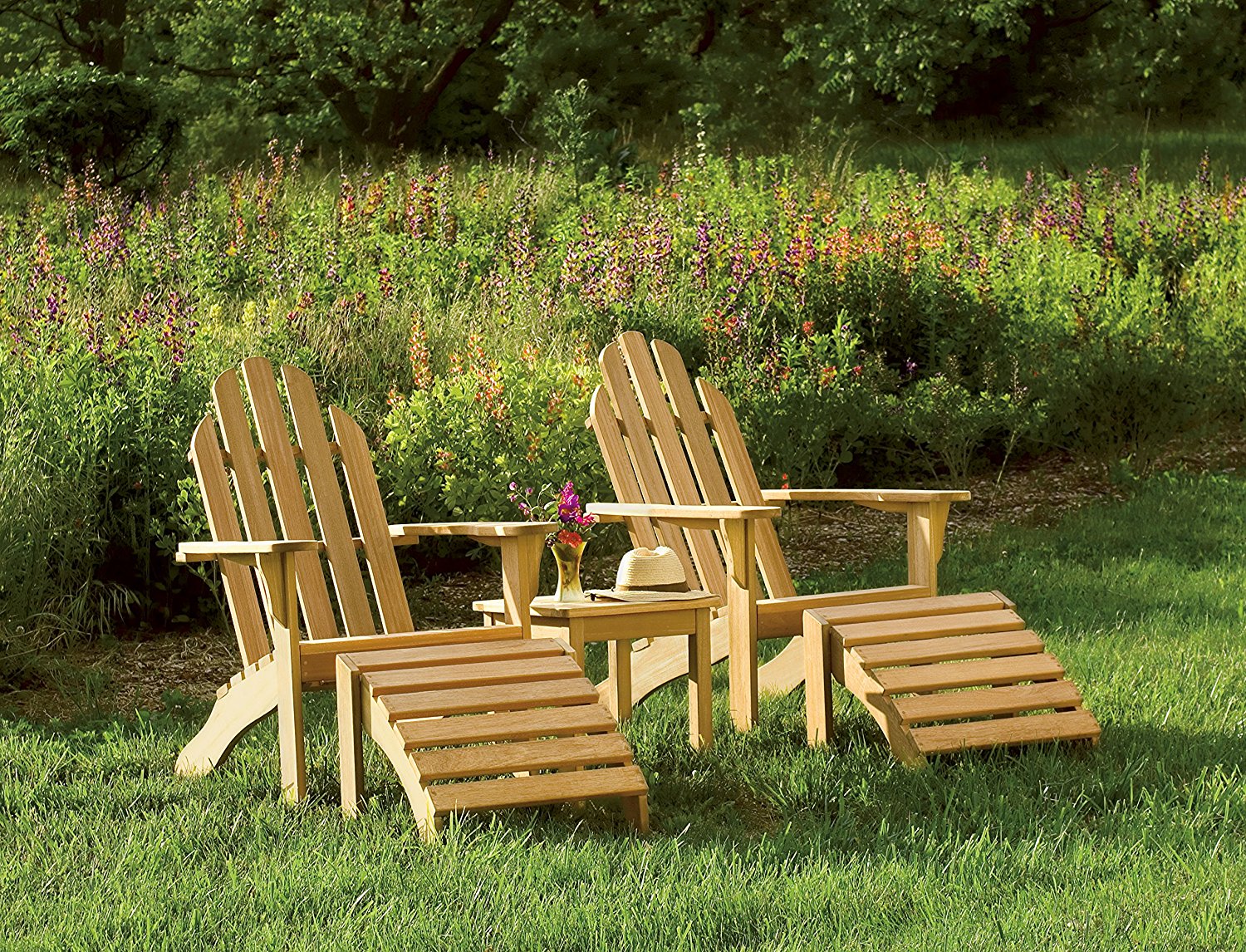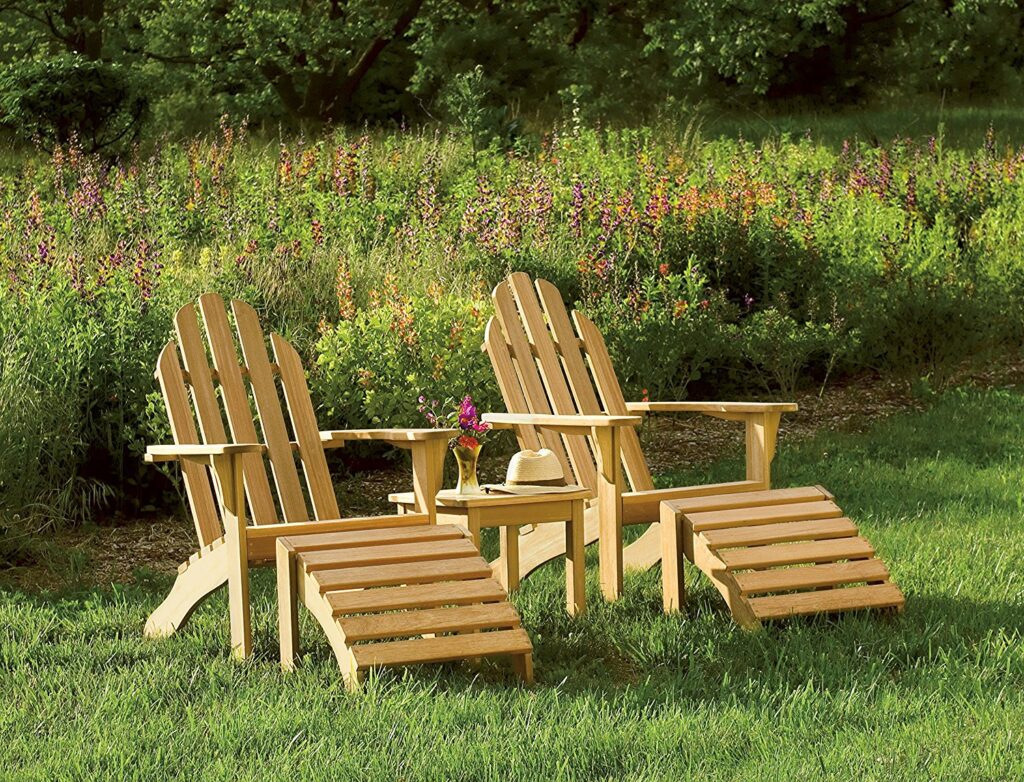 Like I mentioned above, if I wanted to get an outdoor furniture set for the purpose of sitting out under sunny skies, reading a good book, while sipping my favorite wine, this is the set I would get. Adirondack chairs are such a comfortable design—you really can't go wrong with them.
Altogether, you get 2 Adirondack chairs, with footstools, and a cute little side table too. the low height of the 18″ x 18″ end table works perfectly with the low-slung posture that the Adirondack chair puts you in. The end table is the perfect spot to set down your wine bottle or tea pot, and the extra wide arms of the Adirondack chair design are also great for setting down a book, coffee mug, or whatever else you may be busy using.
The back angle of the chair puts you in a comfortable position. You could even place this under a large shade tree to catch an afternoon nap. It's also ideal for watching the sunset if you're blessed with a good view from your property.
Shorea wood lasts nearly forever, too. So this is the kind of outdoor chair set that you could buy for yourself as a retirement present and never need to replace.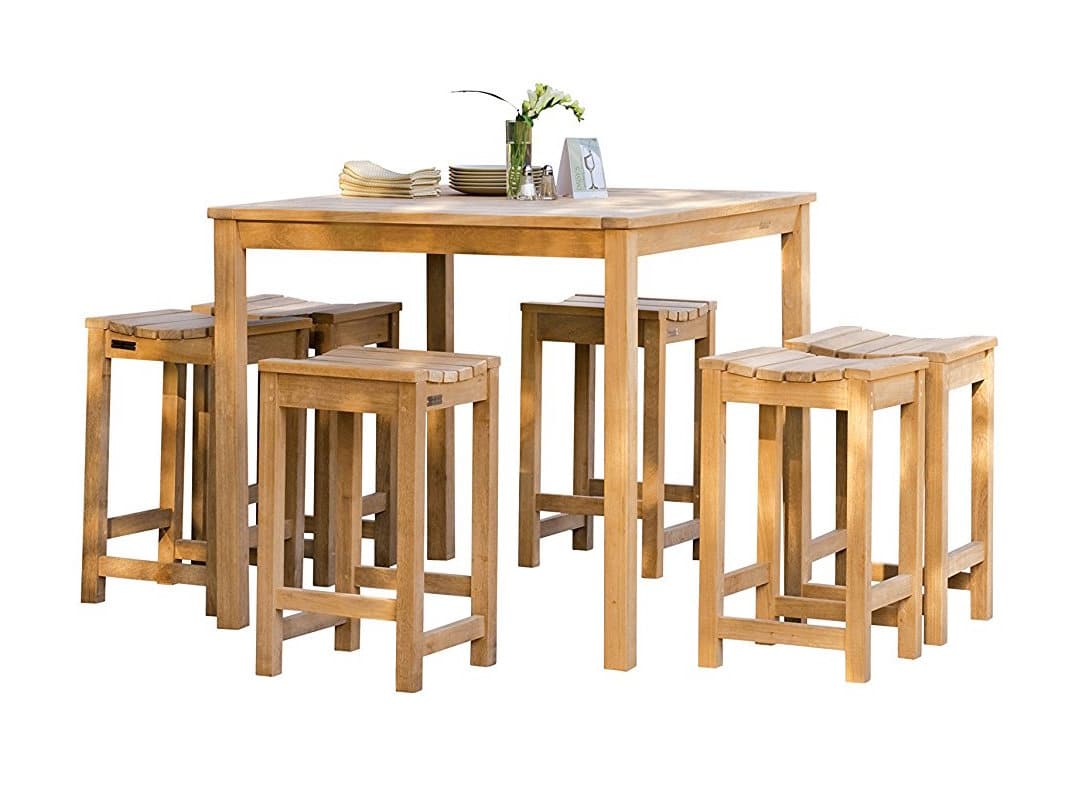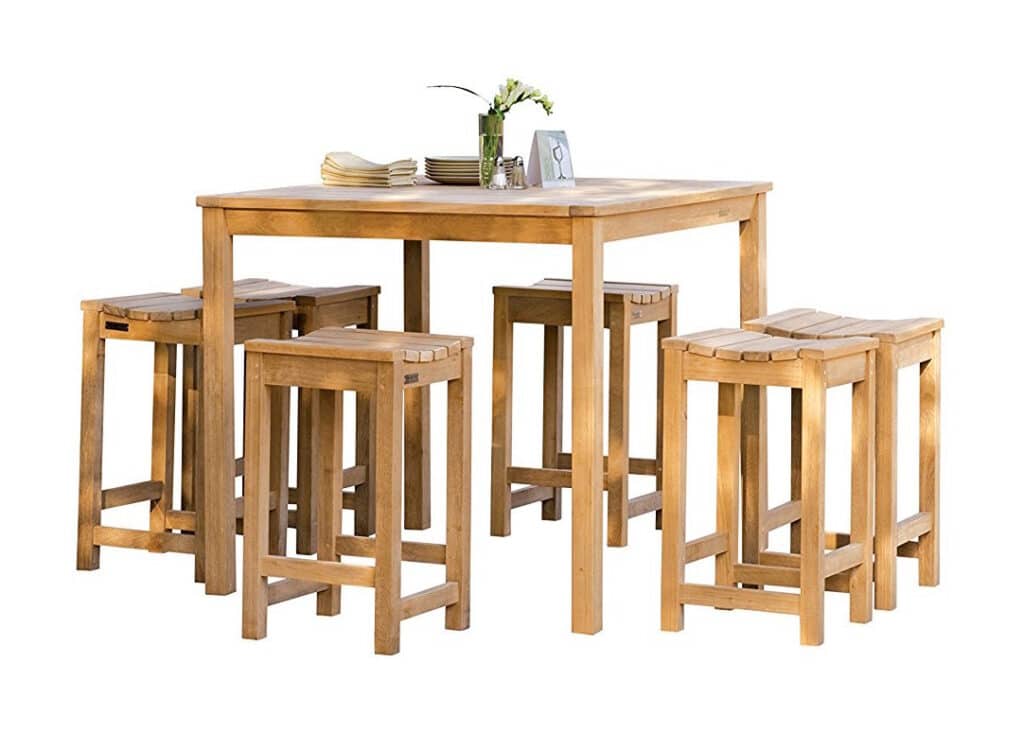 If you're in the mood to pick up a unique and very casual outdoor dining set, then this one from Oxford Garden might be of interest. It comes as an almost square table with 6 matching stools, all in shorea hardwood.
The exact dimensions of the table top are 44.75 inches long by 40.25 inches wide. So, as you can see, it's almost a square table, but not quite. The stools are 25 inches high and have seats with a slight curve, which should make them a little more comfy than if they were totally flat.
I have to say that I'm not a big fan of this set's design. The table looks to me like it can't quite decide if it wants to be a square or a rectangle. So if you're using all six stools, the people sitting on the two ends will have plenty of room, while the four people seated on the sides will be a bit squished. In my opinion, they should have made this table slightly longer—maybe by an extra six inches or so.
If I was buying a dining set for my patio, I'd rather get one with backed chairs so that you can be more comfortable sitting for a longer period of time. The craftsmanship is solid, though, so if this style suits your taste then go for it.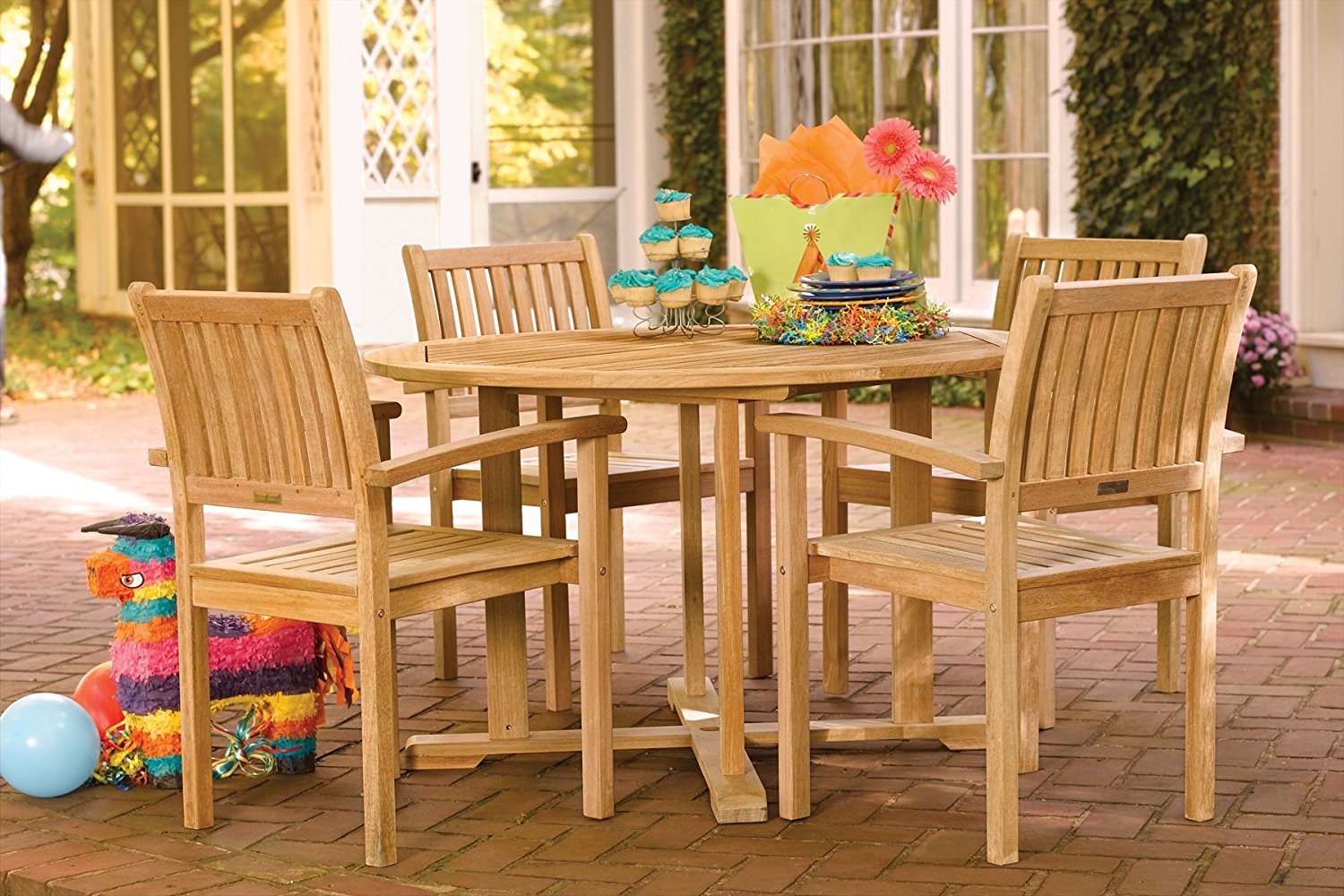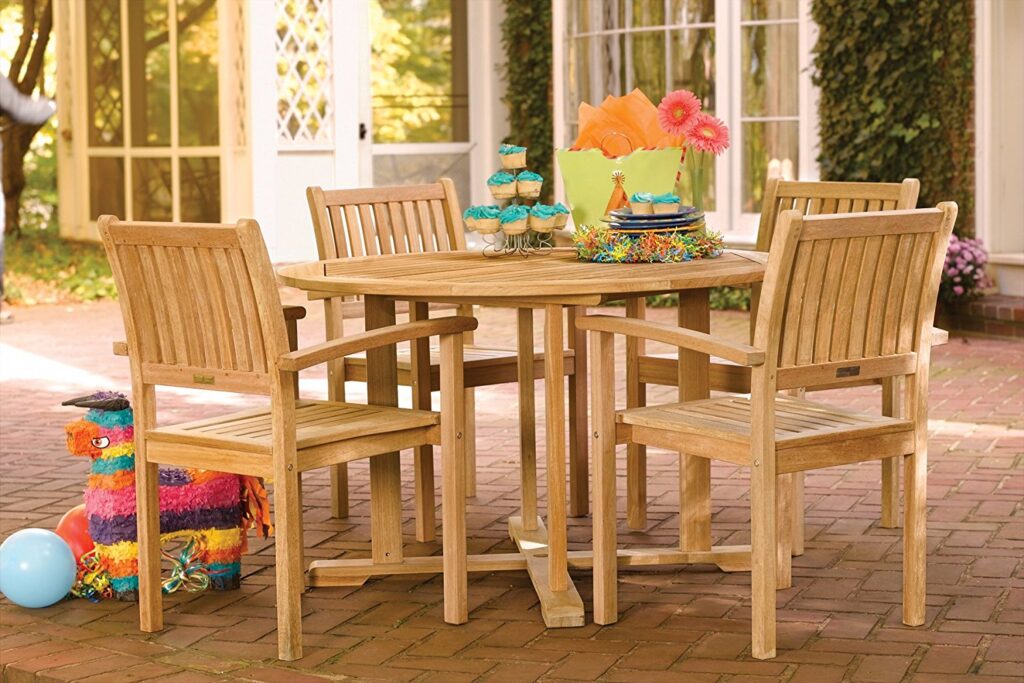 Now this set, on the other hand, is more of a classic patio dining set. People looking for a beautiful hardwood dining set for their outdoor area will be happy to purchase one of these. The styling is very traditional, and it should look great in anyone's backyard.
The table here is circular, with a diameter of 4 feet across. The four matching armchairs can be stacked up, and all five pieces are made from high quality shorea hardwood. There is the addition of an umbrella hole in the center of the table that can be covered up by the removable plug piece that it comes with.
The armchairs have square seats of 23″ x 23″ and have a listed weight load of up to 250 pounds. Make no mistake, shorea is a dense and heavy hardwood, and these chairs are solidly built. So if you happen to come in at a little over 250 pounds I highly doubt that you'll see one of the chairs breaking on you.
Overall, I feel pretty confident recommending this set. I like the look of a circular table on the patio as I feel it contributes to the organic flow of the outdoors.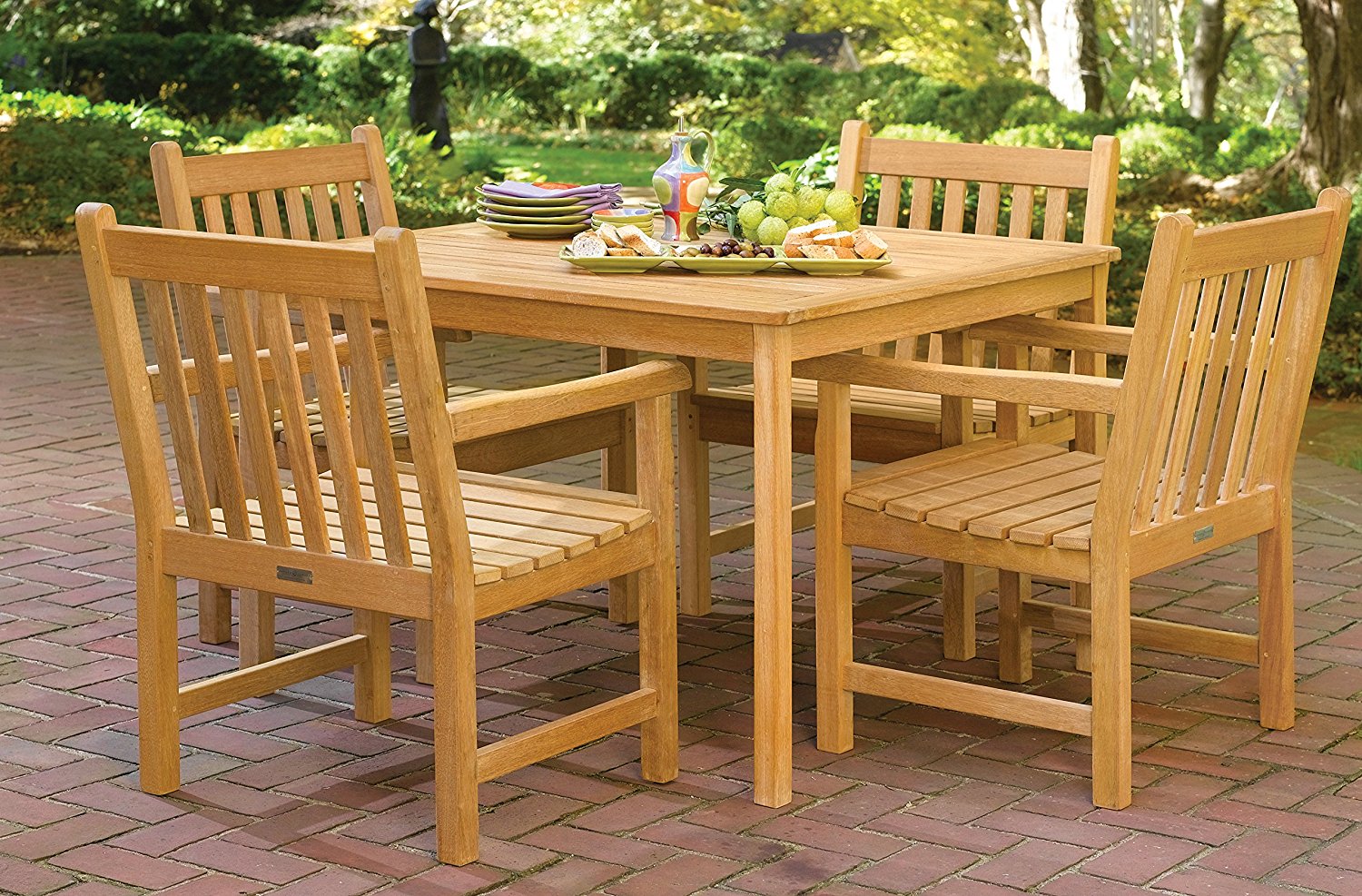 If a square shaped dining table is more of what you have in mind, then picking up this set would be a good option. The table is just slightly smaller than the circular one above. In this case, it measures 42″ x 42″. If you're good at math then you've figured out that it comes out to 3 1/2 feet on each side.
What I really like about this set is the armchairs. These aren't the same chairs as in the circular set above. Rather, the armchairs that come with this set are extra-wide. To be precise, they measure 26.5 inches wide, giving you an extra 3 1/2 inches. That can make all the difference if standard sized chairs have you feeling slightly squeezed in.
The table also has the umbrella hole in the center with a removable shorea wood plug to cover it up when not in use. If you buy an umbrella, make sure it comes with a base and not just the pole. The circular table above has a cross-piece at foot height where an umbrella pole can be stabilized, but that is not the case with this table.
My preference is for round patio sets, but if you want to get a square one, then this would be a good buy, especially if you'd want something with wider than average chairs.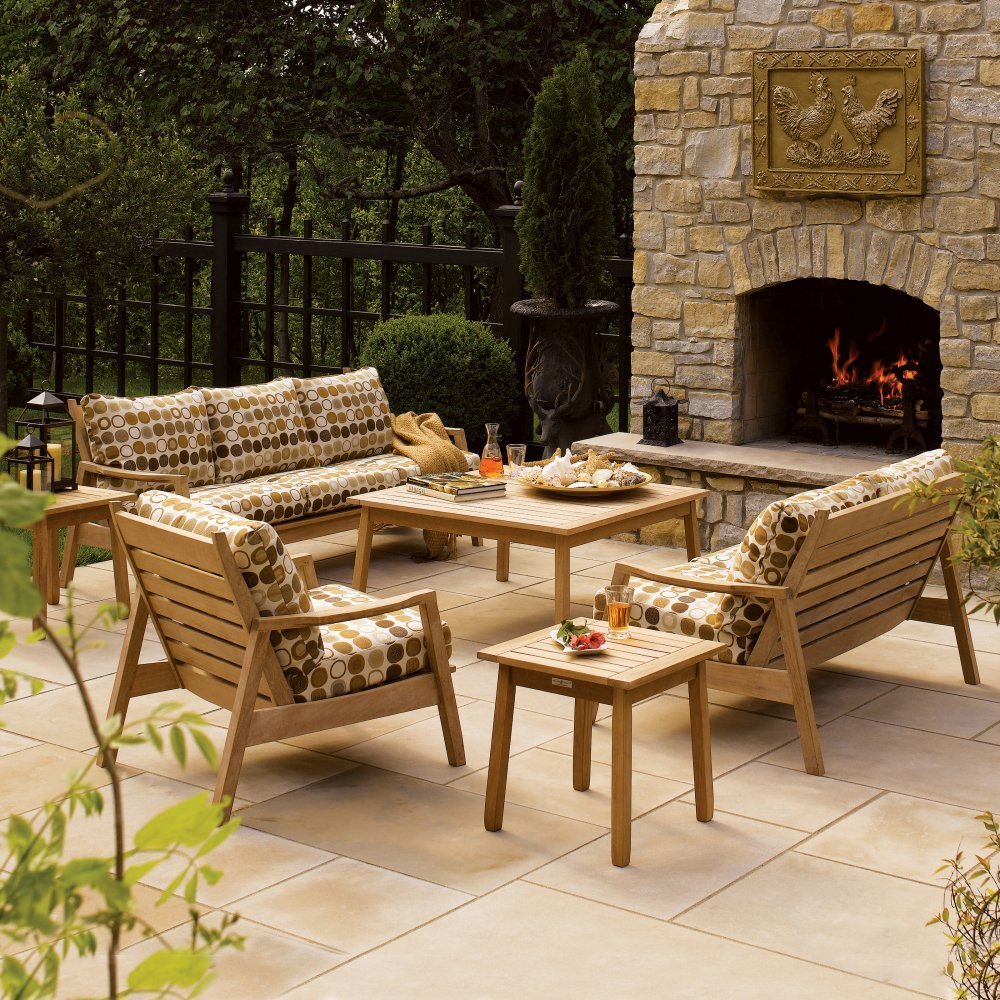 If you're going to go all-out and set up your patio to look live a living room, then this is one set you should think about buying. This shorea wood conversation set comes with a sofa, a loveseat, an armchair, a coffee table, and two end tables. All of the seats have thick, all-weather cushions for which you can pick out from a choice of colors.
Having a home in a part of the country that is warm for most of the year would really be of benefit when you think of investing in something like this. If you live in Maine and get just a few weeks of really warm weather each year, then it might not be worth it. But if you live in the Southwest, for example, a set like this would be awesome.
All of the seats have soft, thick cushions that will make it enjoyable to relax away the weekends in your outdoor living room space. As you can see in the photo above, you can create a really attractive and inviting area for friends and family to gather and enjoy each others' company by pairing this set with an outdoor fireplace.
Would I buy it if my home had the right spot out back of the house to set something like this up?—most definitely!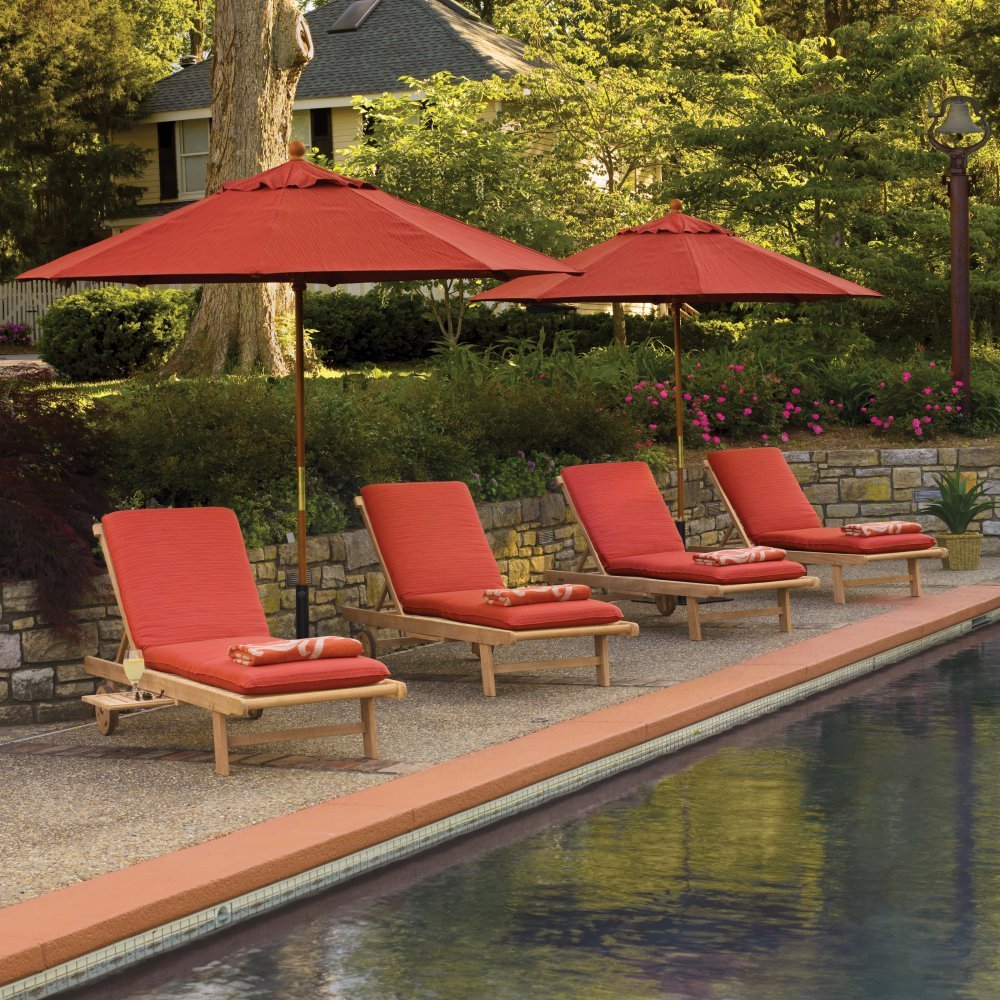 The next shorea patio furniture set to review here is quite an interesting one indeed. It is certainly not for everyone, but if you have a large outdoor swimming pool, then this could be a great set to buy. Billed as a 12-piece set, this is essentially 4 lounge chairs and a pair of umbrellas, so let's break it down further.
To get to 12 pieces with this set, we count 4 chaise lounge chairs, 4 seat lounge chair seat cushions, 2 patio umbrellas, and 2 umbrella stands.
As you can imagine, having a set of nice lounge chairs like this would make a pool party just that much better. This transforms your pool area from a place for only swimming into a hangout spot where you and your guests can lounge around and relax between dips in the pool.
As far as lounge chairs go, these have everything that you're looking for. First of all, they are constructed from solid shorea hardwood that is naturally weather resistant. The back rests can be adjusted to 5 different positions depending on how much on an incline you want.
Next, they come complete with a slide-out tray on the right side where you can conveniently set down your drink, a book, sandwich plate, or whatever else you took out to the pool area with you.
The back legs are fitted with rubberized wheels, making these lounge chairs easy to move around despite their substantial weight. And finally, the Sunbrella fabric cushions dry quickly when wet, while resisting mildew and mold at the same time.
The umbrellas are each 9 feet in diameter, to give ample shade for a pair of lounge chairs each.
If you're the owner of a small resort—or you want your backyard pool area to look like a tropical resort—then I would not hesitate to order one or more of these sets.
Shorea Wood Outdoor Bars
Are you looking for something a little more fun and exotic than a traditional patio furniture set? Why not get a Tiki bar made of shorea wood? A Tiki bar is a fun way to bring a little touch of the tropics right into your own backyard. They work great by the pool and become the ultimate backyard party centerpiece.
While bamboo is a fun option for a Tiki bar, you'll find that a tropical hardwood such as shorea will hold up over time much better.
Sound interesting? Here's a couple shorea Tiki bars to think about buying.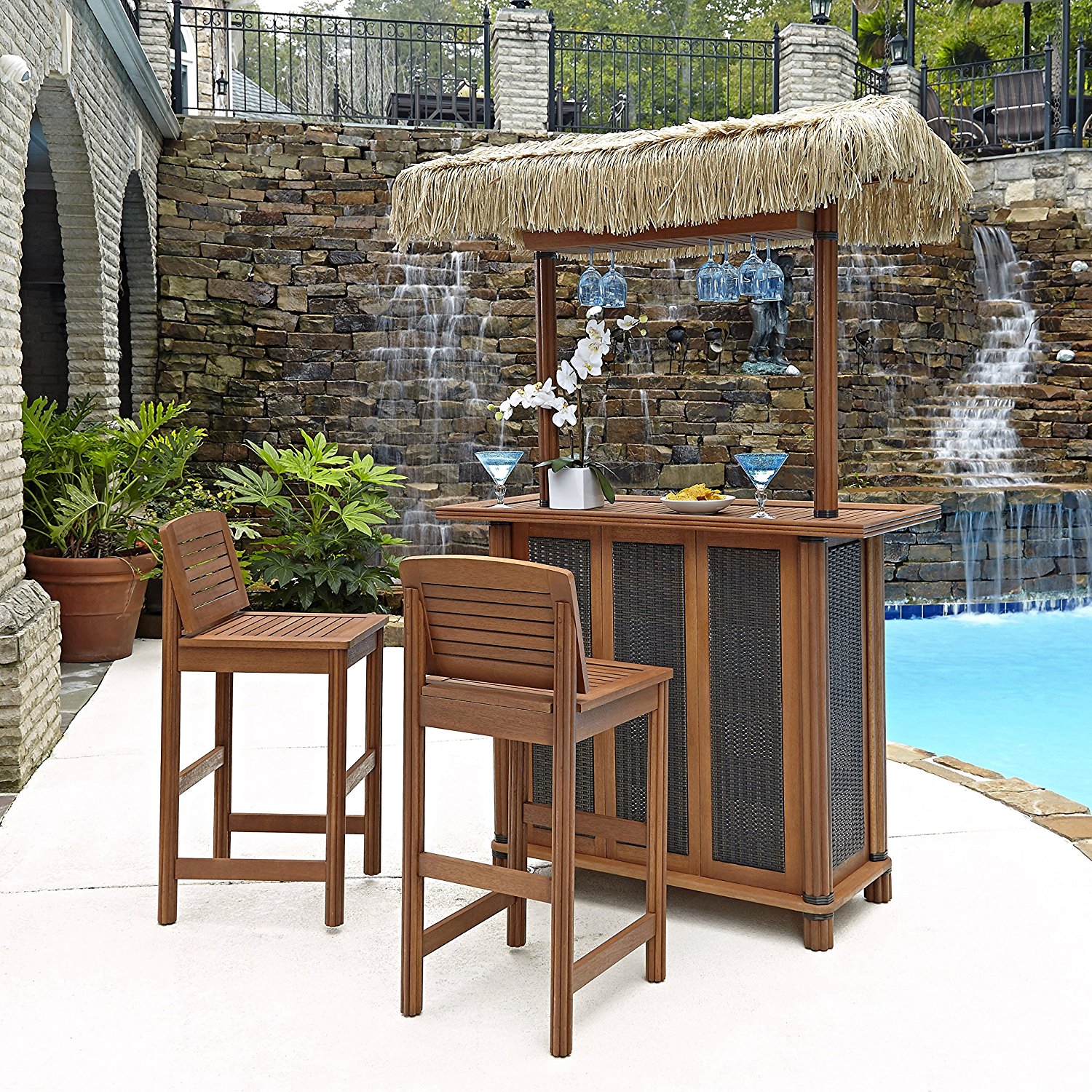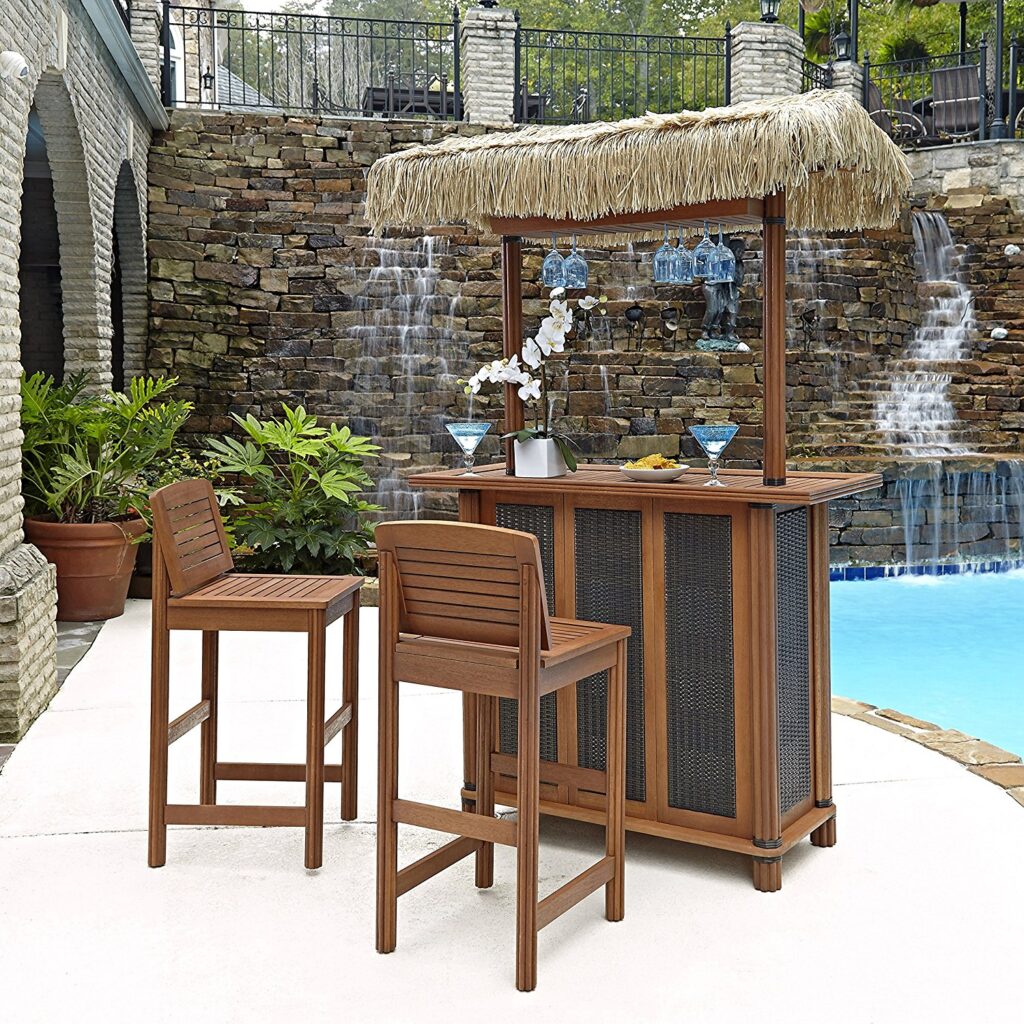 Ready to mix up some Mai-Tais, Blue Hawaiians, and Piña Coladas? This is the Tiki Bar set you want to buy in order to get the whole package. This set is a good deal since it comes complete with a pair of shorea bar stools.
The roof contains 5 slots for holding stemware, such as wine glasses, upside down. Underneath the bar, there are 4 rows of shelves to give you ample space for storing all your drink mixing ingredients and dishes. Woven vinyl panels are incorporated to keep the cost down on this Tiki bar, but they don't look cheap or out of place.
The thatched roof detail completes the tropical island look. Artificial grass made of polyester is used here to achieve the grass hut look, but with a material that is going to hold up and last many years.
The one thing you'll need to be aware of is that this unit is going to take a bit of time to assemble. That said, after you do it once, you're done and the bar is ready to use for years and years.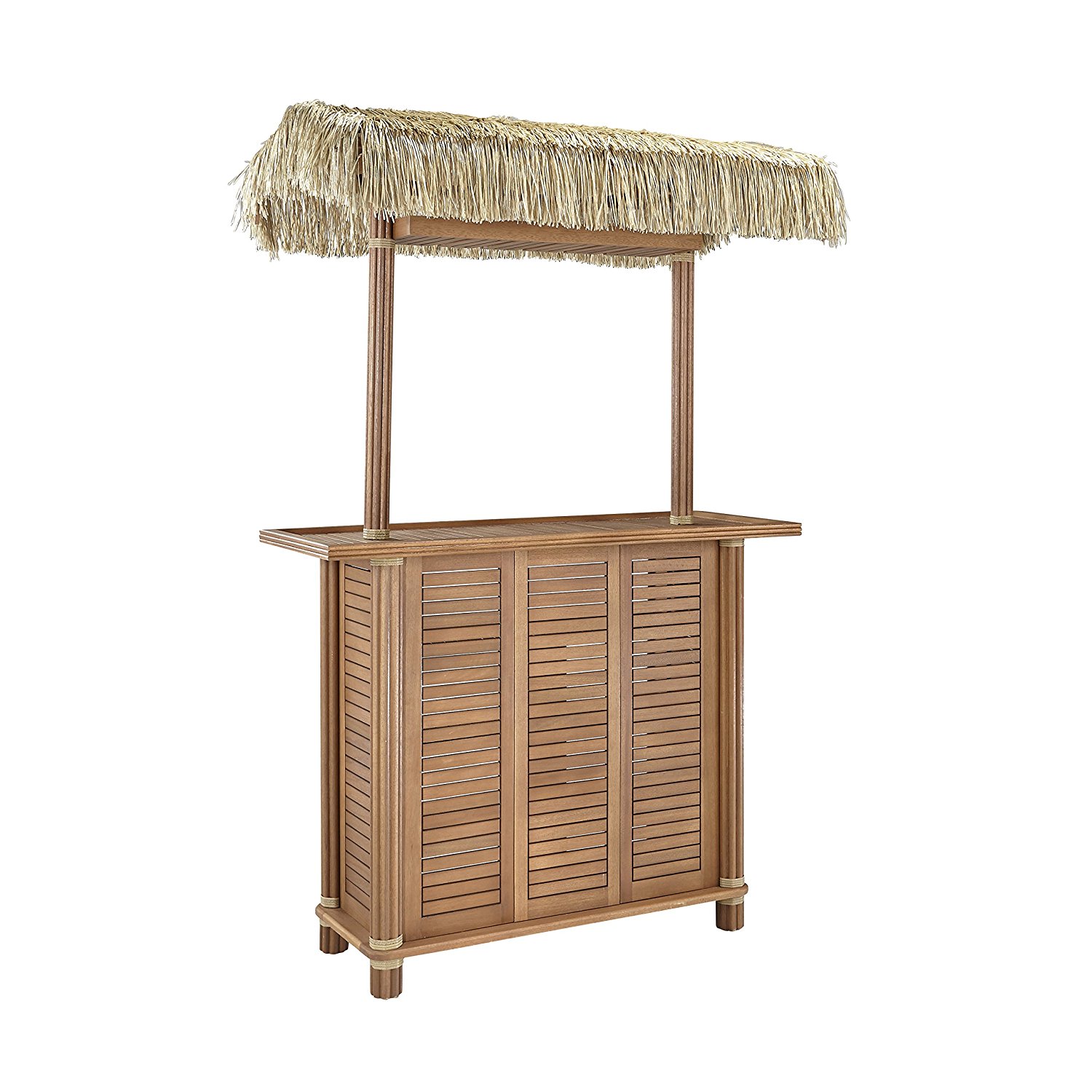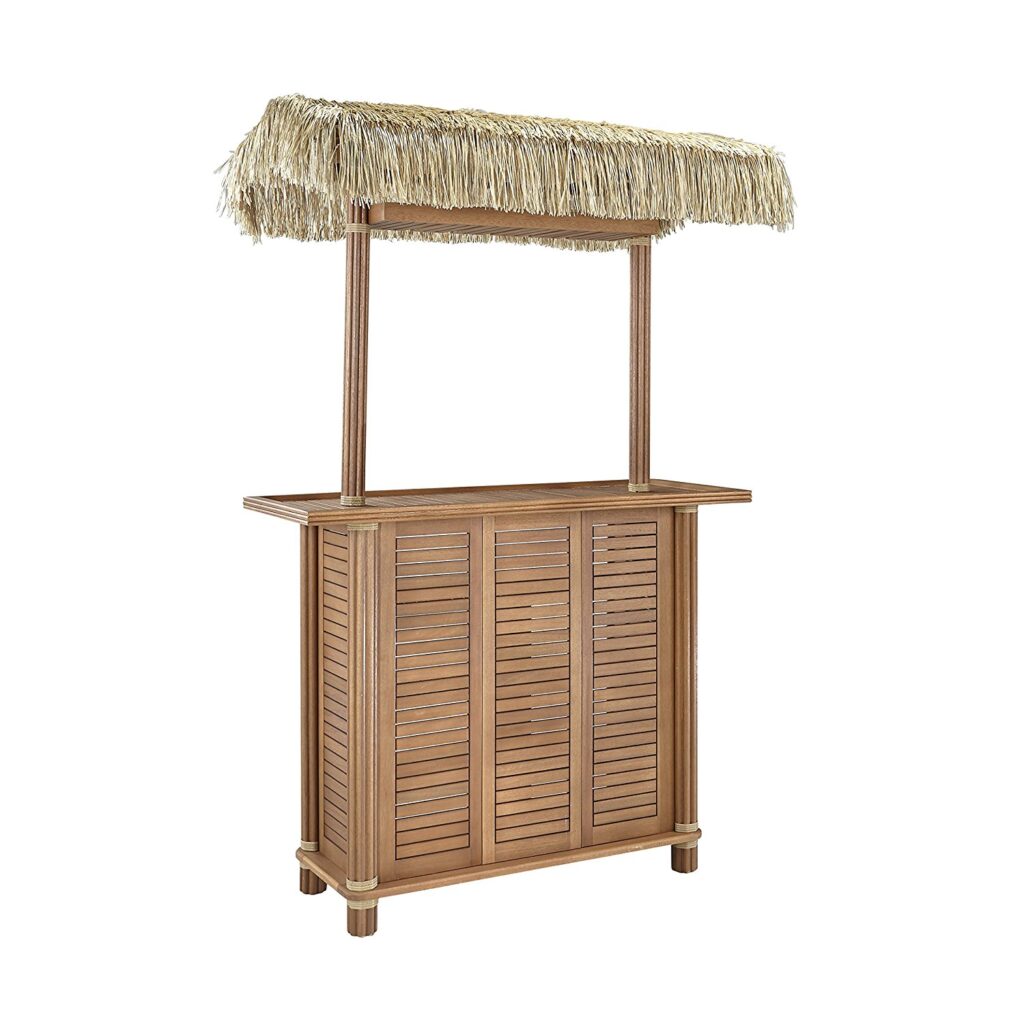 Very similar to the item above, this is the Tiki Bar to buy if you want more of an all-over wood look. In fact, this model is identical to the one above with the exception of wood slats making up the panels rather than woven vinyl.
Exactly like the first bar, this Tiki bar has slots in the roof for hanging stemware, and there are a number of shelves below the bar, accessible from the back. The polyester thatched roof completes the tropical island vibe.
The only thing missing from this set, of course, is the stools. That's not a problem though, as you can order the matching stools separately.
This Tiki bar becomes a touch more expensive that the first set, if you consider that you have to buy some stools to go with it. However, if you prefer the look of a smooth hardwood finish on the bar panels, then this would be the one to get. Personally, I feel this bar looks just a tad more classy.
Shorea Wood Outdoor Chairs
If an entire furniture set is a bit too much for your patio plans, you might want to simply get one or two outdoor chairs. Two of the most classic outdoor chair designs are the rocking chair and Adirondack chair. Let's take a look at good shorea wood versions of each.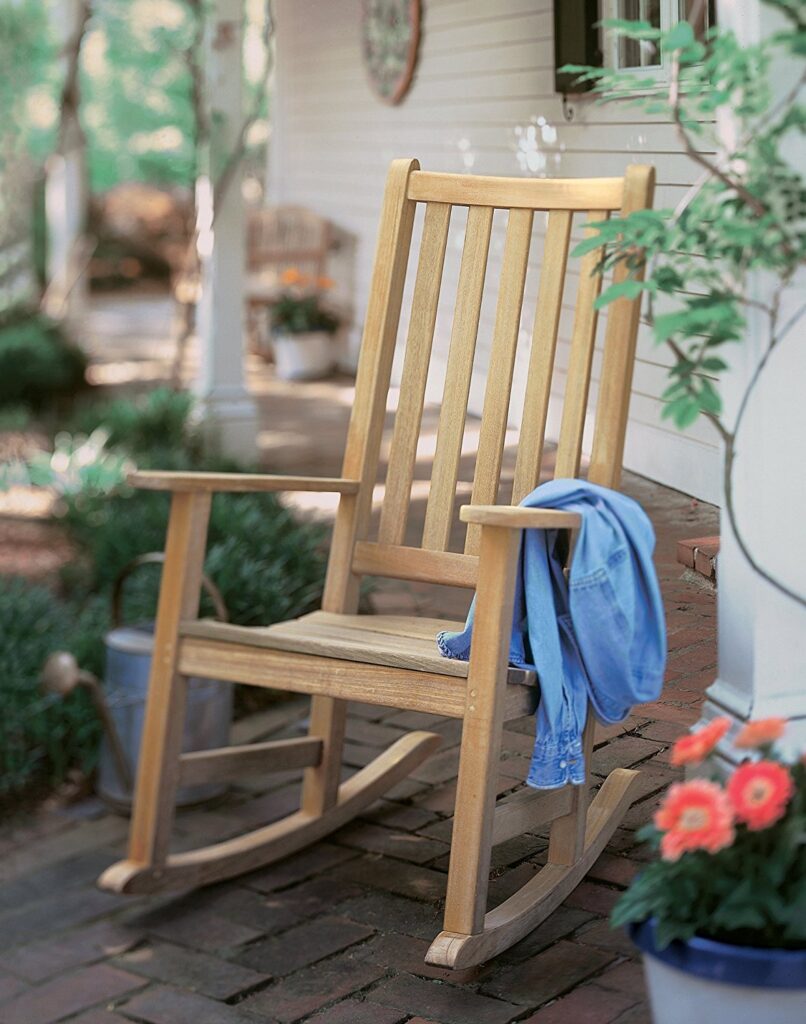 Who doesn't love a good rocking chair? It instantly makes you miss your grandma and her home cooking. It's not the type of chair that you'd put directly on the lawn, but is more of something that would go on the back porch or even the front porch. You should buy this rocking chair if you desire a timeless piece of hardwood furniture to add to your home. It looks great, though I'll admit the assembly does take a bit of work. After you've got it all put together you can kick back, relax, and watch the world go by.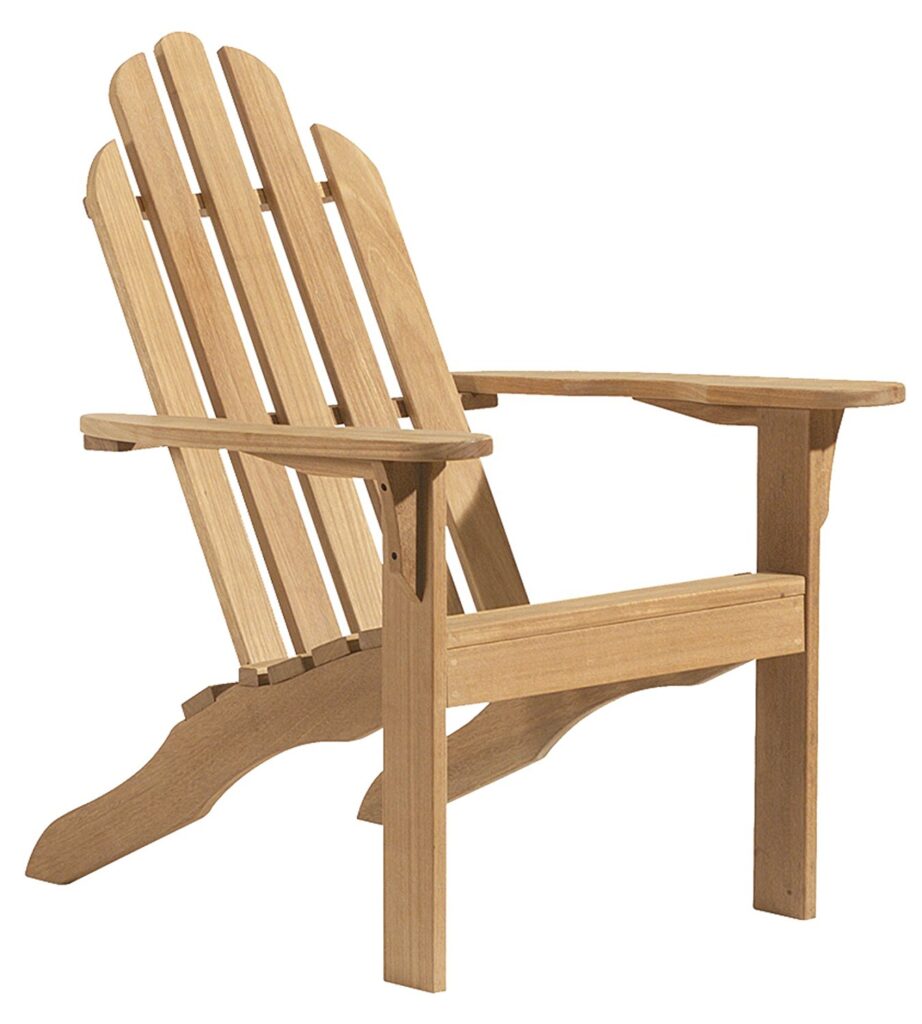 The Adirondack is the king of outdoor chairs. It's simply a classic style that you can never go wrong with. They're extremely practical due to the wide armrests. It gives you space for setting down a book, coffee cup, lemonade glass, bird watching binoculars—you name it. The design is basically like having two mini side tables built right onto the chair.
The angle of the seat and backrest is the other main factor that makes Adirondack chairs so popular. You lean back just enough that your weight is supported more by the chair instead of putting all the strain on your lower back. Heck, they're even comfortable enough to fall asleep in. If you're looking for a really nice quality Adirondack chair or 2 for your backyard, this model from Oxford Garden is a good one to buy.
It's made from heavy, attractive hardwood. And it's quite comfy to sit in. The only real downside is the assembly will take a bit of time and effort on your part. But once you do it, then you're done and can enjoy the chair for years and years.
Shorea Wood Garden Benches
Another classic stand alone outdoor furniture piece is a bench. It's no coincidence that public parks around the world have benches as the main type of furniture. A backed bench gives nice support to sit down comfortably, and you're free to seat as many people as you care to squeeze in. They're also really sturdy—you're not going to tip one over accidentally.
When shopping for a hardwood bench, the two main factors to consider are the size and the styling. Outdoor benches typically run from 4 to 6 feet in length. I personally feel that 5 feet is a nice length, as it's not over long, and yet wide enough to sit 3 average sized people fairly comfortably. Styling mainly involves the design of the backrest, but the seat can come into play, too, such in the first model we'll review, which is a storage bench.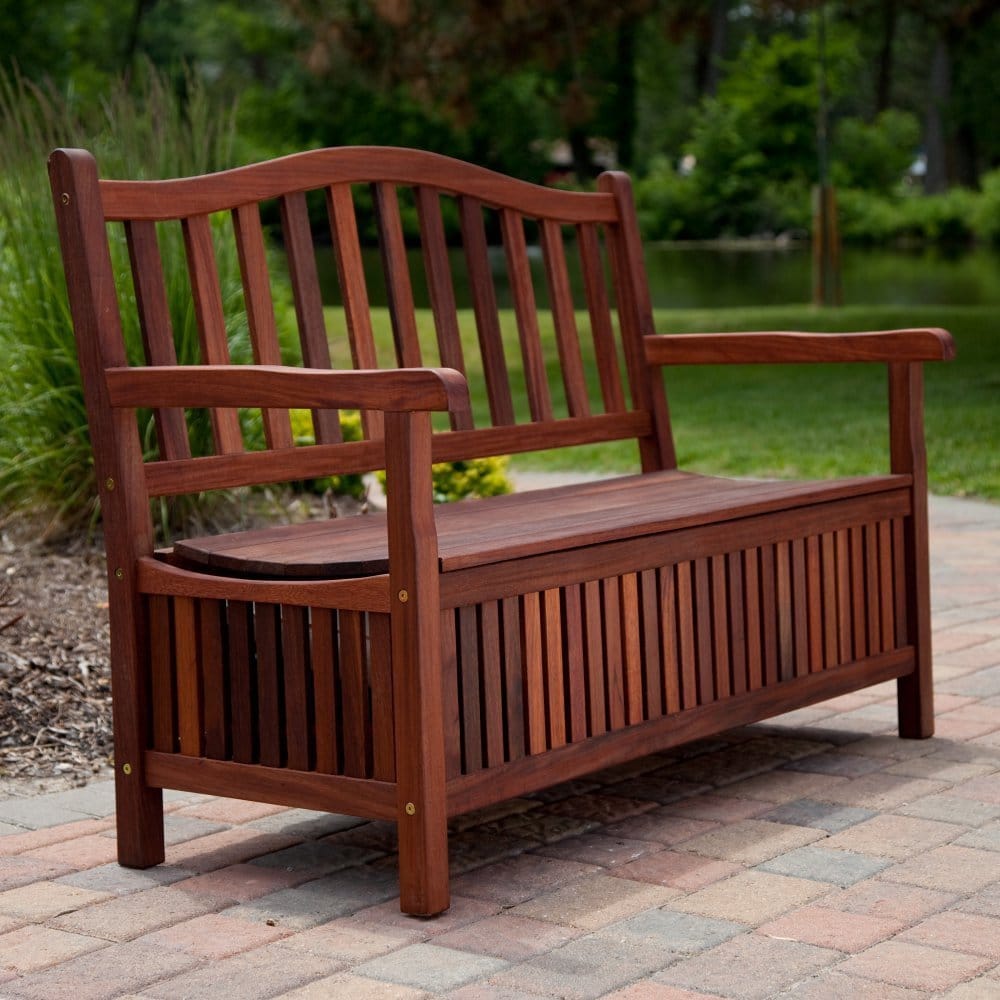 If you're hunting for a unique piece of outdoor furniture that is both attractive and functional, look no further than this 51-inch shorea storage bench. Not only is it a solid outdoor bench made from red shorea wood, but when you flip up the seat you get access to a large storage area.
The storage space underneath the seat is perfect for keep sporting equipment such as baseball bats, baseball gloves, footballs, and basketballs. It would also make a great place to stow away shoes and boots if you keep the bench near your front door. You then have the added bonus of someplace to sit down while tying your shoes.
The only thing that you have to keep in mind is that this is a very heavy wood bench, so the seat is going to have some weight to it. Small children could potentially pinch their fingers if they let the seat drop down suddenly. That said, the fat that the bench is heavy duty means it will hold up for years and years of use even if it gets exposed to the elements outdoors.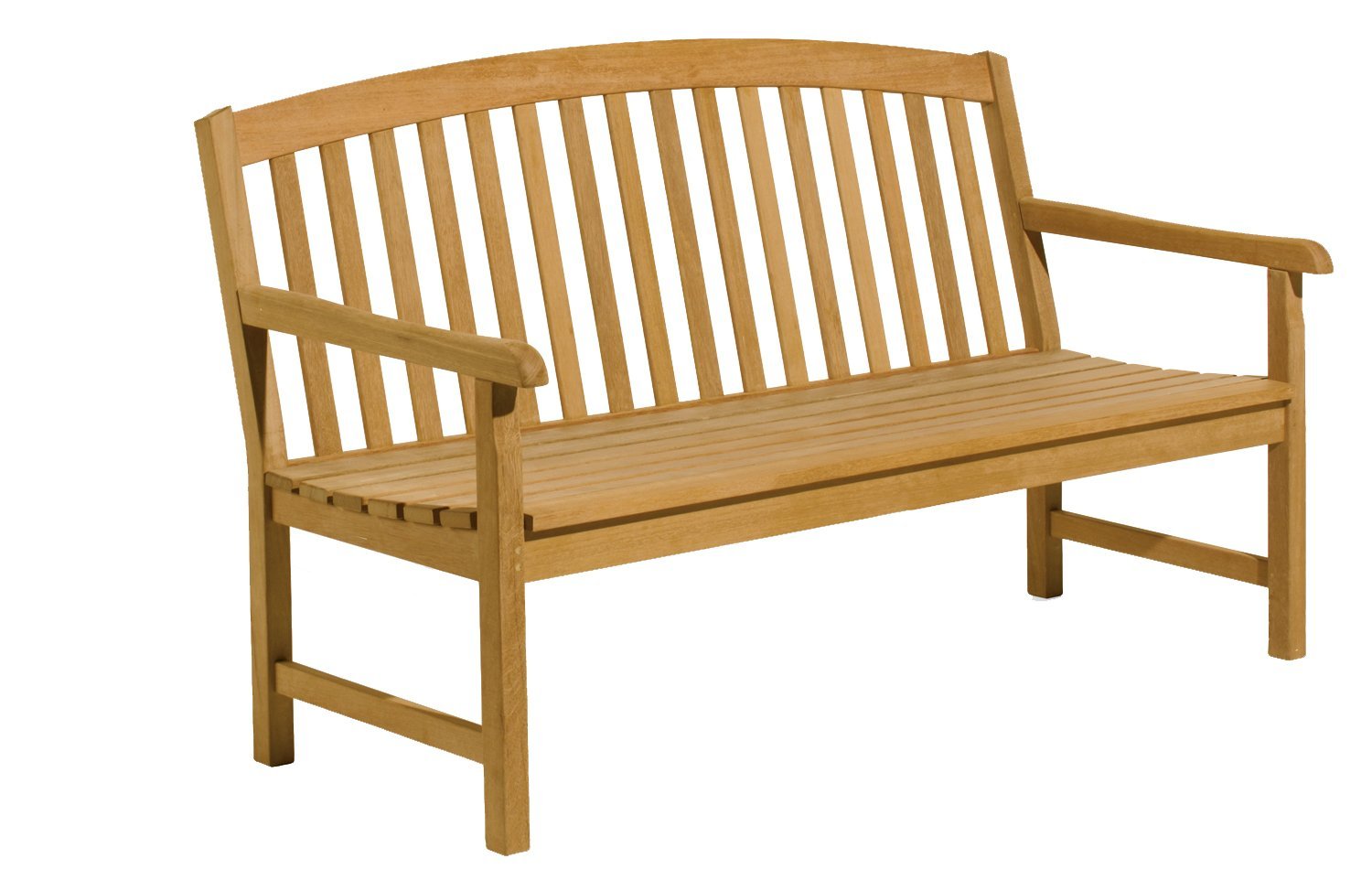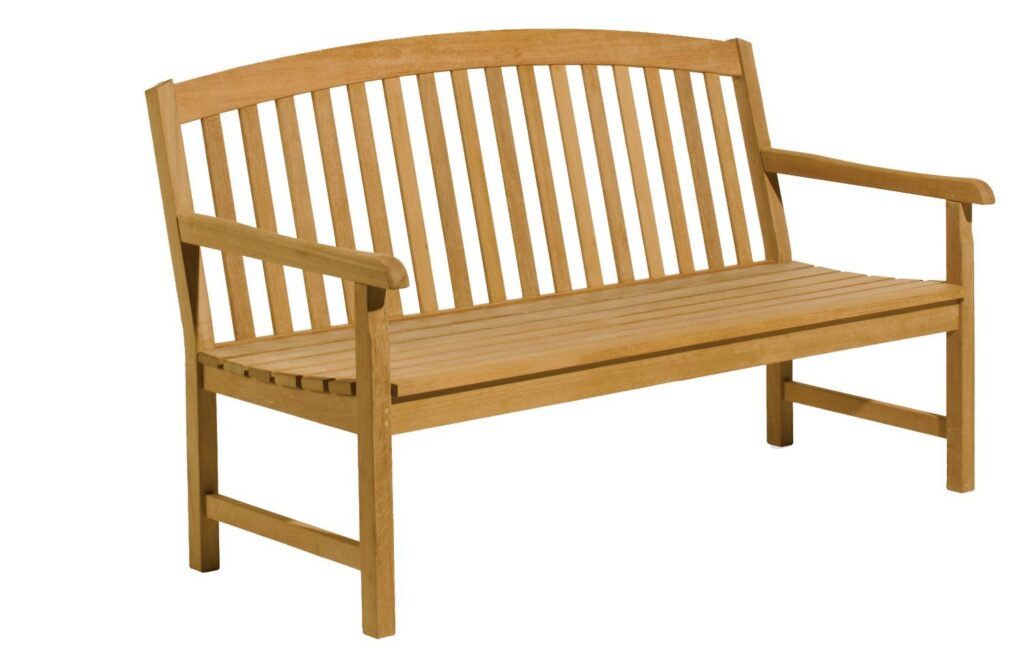 Oxford Garden has a huge variety of shorea wood furniture as you can tell from many of the previously reviewed items. They build a benches in a number of different designs and lengths. Probably my favorite of these is the 5-foot Chadwick bench. This is the bench to buy if you want something easy on the eyes, comfortable, and long-lasting.
To me the slight arc in the back of this bench is the most aesthetically pleasing style. It makes the bench appear slightly more organic, natural, and comfortable than one with a totally straight back.
I also think the 5-foot length is a good happy medium, which is neither too short and stubby looking nor too long and stretched out in appearance. This bench also has the bonus of being very easy to assemble.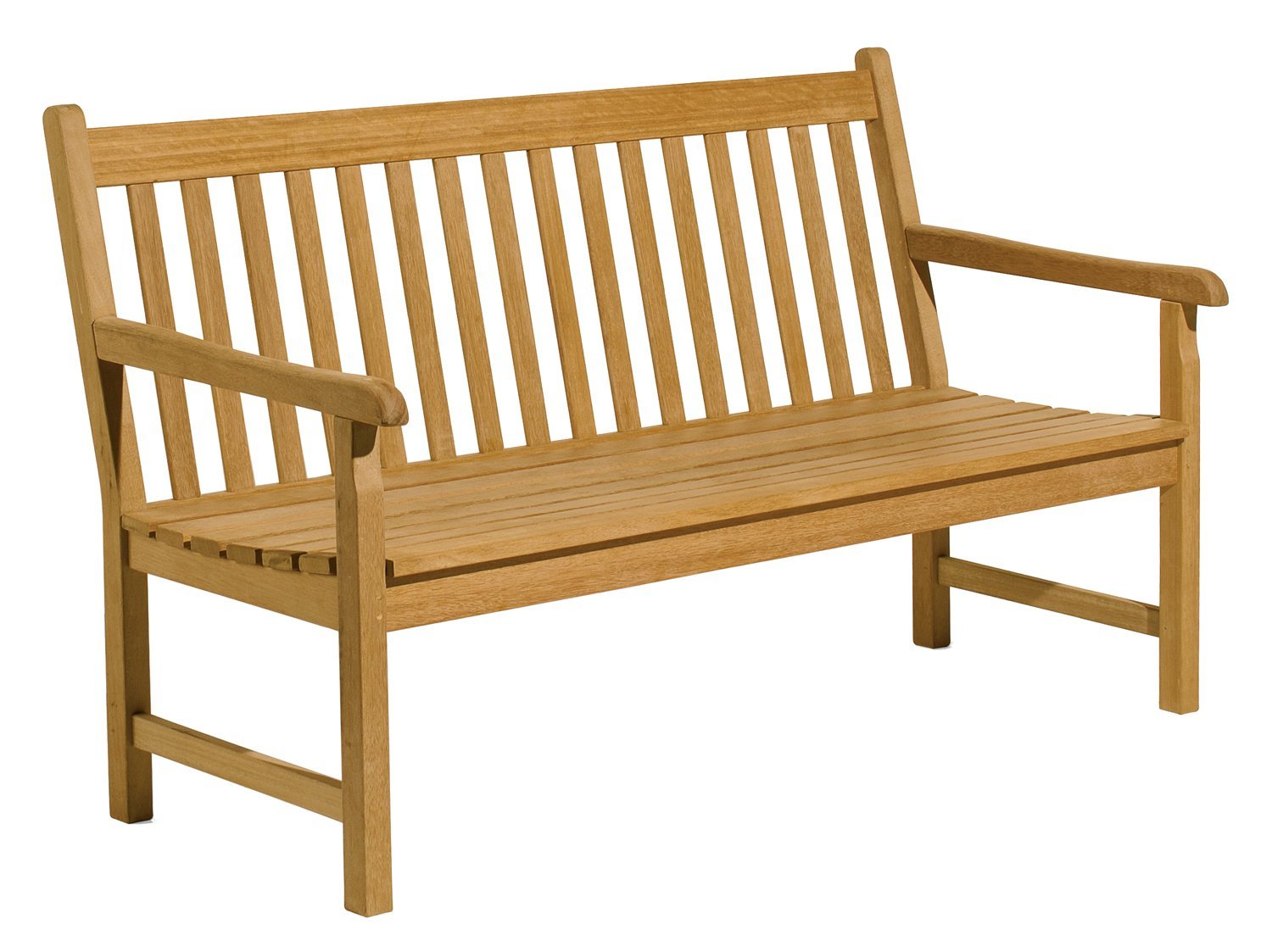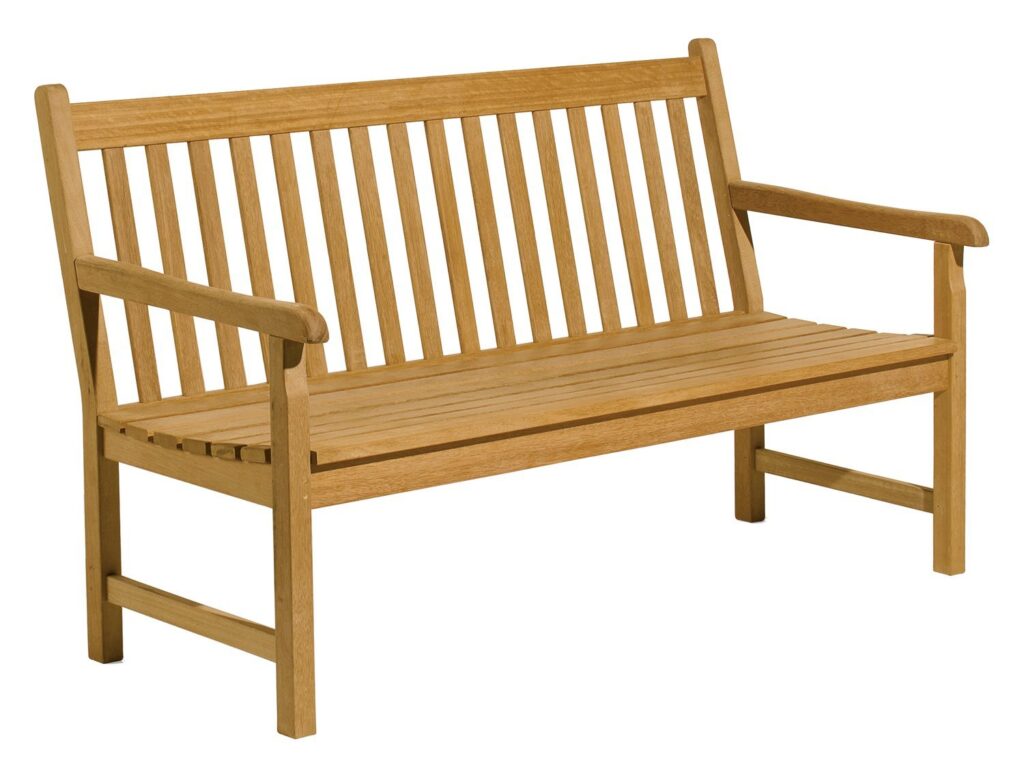 If you like the look of a bench with a perfectly rectangular backrest, however, the model you want to buy might be this Classic 5-foot shorea bench. it's nearly identical to the previous model in every way except for the slight difference in the design of the backrest. And, like the Chadwick model, this Classic bench is also very easy to assemble, with the entire bench shipped to you in 5 pieces. You should have no trouble putting it together in 30 minutes or less. And in case you're interested in a shorter or longer model, they do carry a 4-foot and a 6-foot version of this same bench.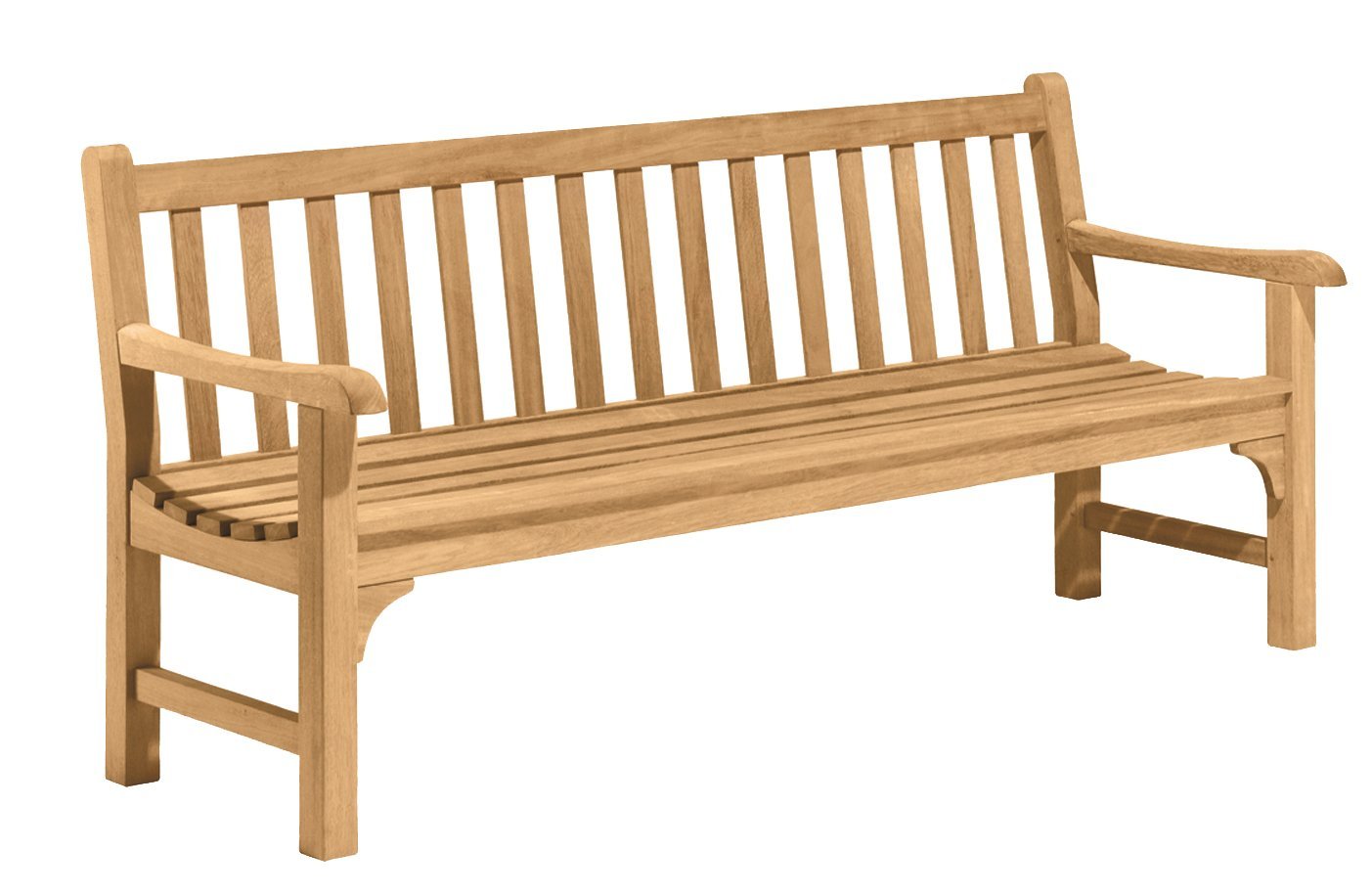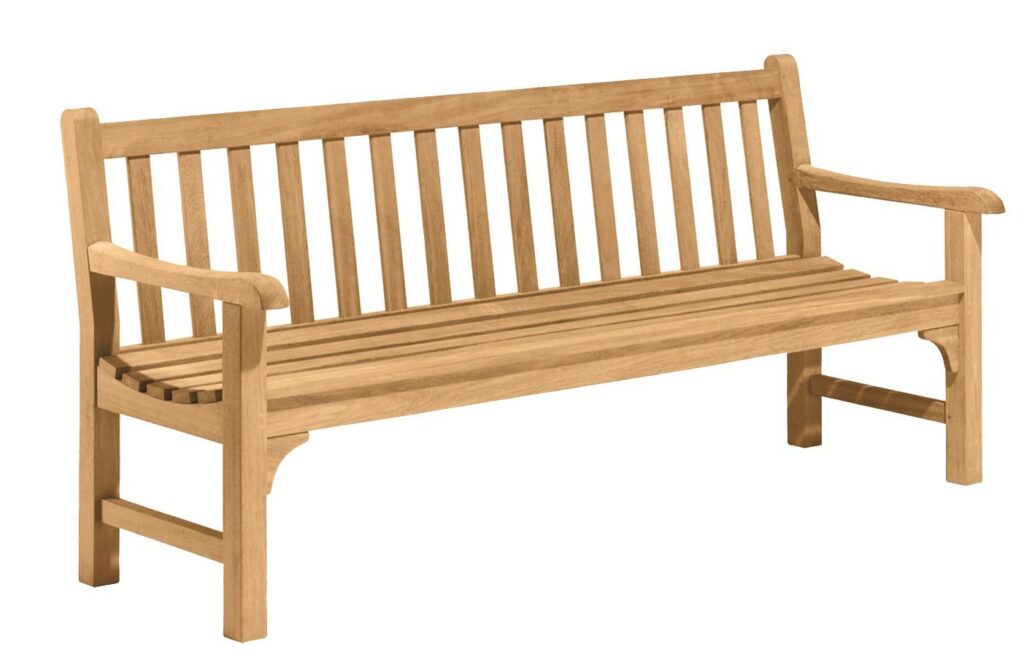 Moving on, we arrive at the Essex style bench. This 6-foot bench is distinguishable from the other models by the curvature in the seat. The other point to note is that the lumber pieces in the Essex style are thicker, with each leg coming in at 2 1/8 inches square. So if extra sturdy and durable is the look you wan to go for, this bench should do the trick.
This bench also comes in several different variants, including a 4-foot version, an 8-foot version with 6 legs, and a 7-foot curving inward model.
A Few Final Words
Shorea wood outdoor furniture is an excellent choice for those who want something with the look and durability of teak at a discounted price. There is really not much of a quality drop off from teak to shorea at all. So if you don't mind giving up the premium "teak" designation, you can easily save yourself 30-40% on a nice hardwood furniture set.