If you fancy creating a fabulous outdoor living space for your home, a teak deep seating set is the way to go!
Manifest the patio you've always dreamed of—one that will stand out from the neighbors.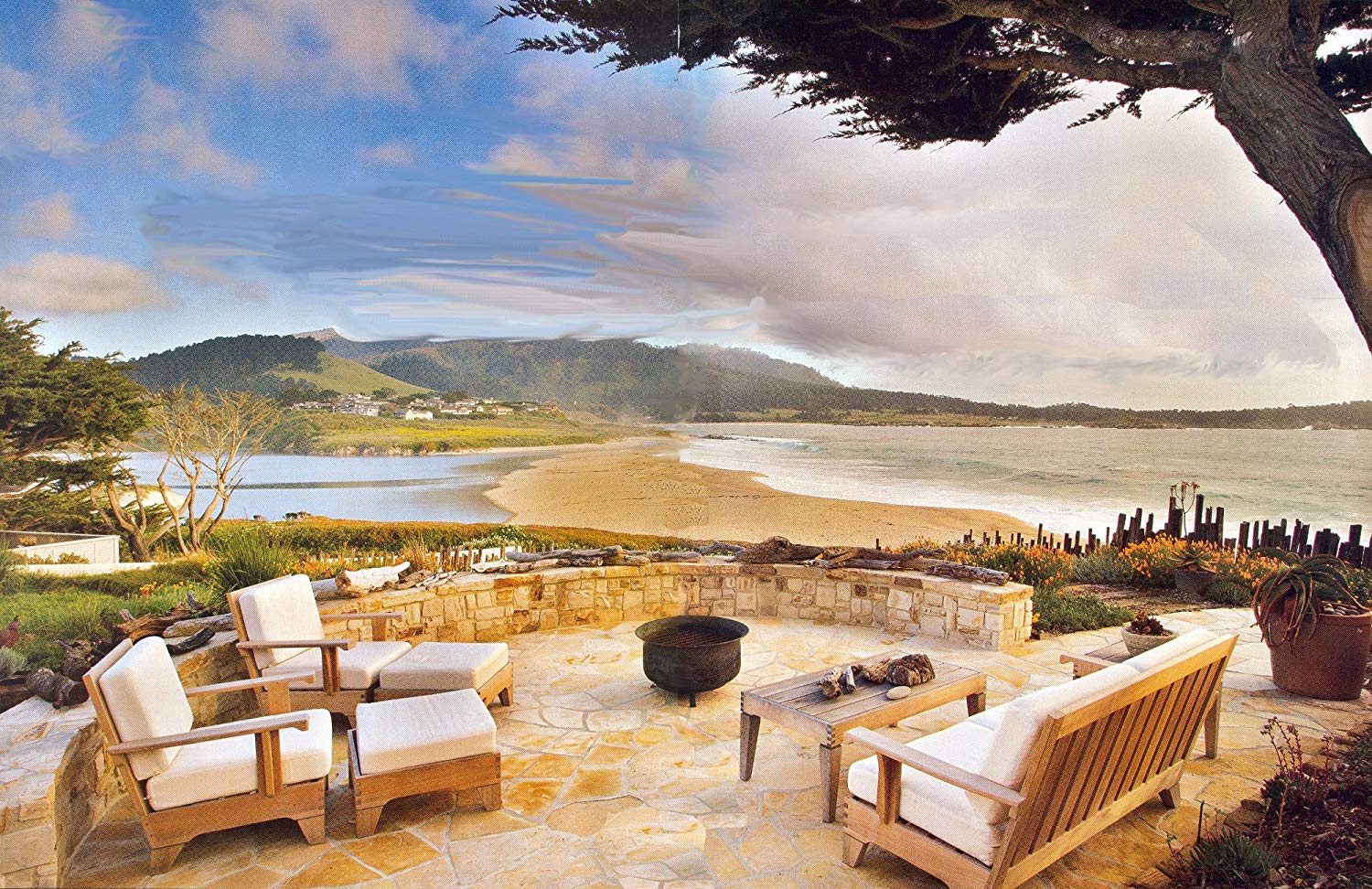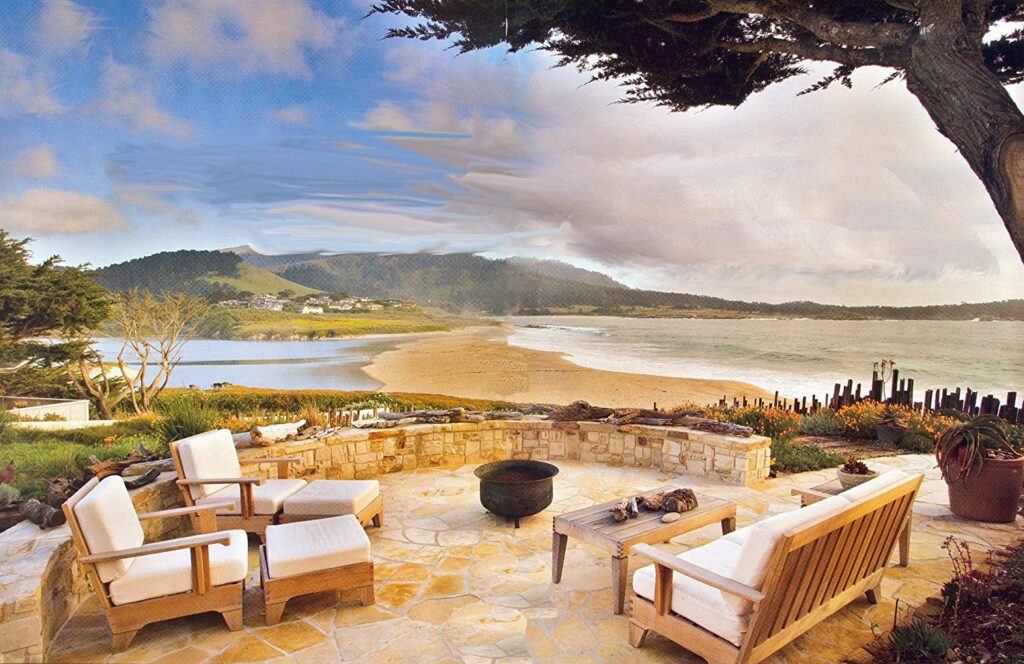 More importantly, you can set up the ultimate relaxation zone for you and your family.
Maybe you've been undecided between getting a dining set or a deep seating set. Consider it this way—dining sets are great for having diner parties, but if your primary goal is to create a chill-out space, you need to think about deep seating instead.
Why Buy a Teak Deep Seating Set?
Nothing says "luxury" like a deep seating outdoor furniture set made from high quality teak wood. With thick, cushy all-weather cushions in your favorite color, you can sink right in and relax in style.
For the furniture frames, absolutely nothing beats teak wood. This super dense hardwood species is the perfect choice for outdoor furniture due to its natural protection from water, fungus, and pests. It's super heavy duty, solid, and will stand the test of time. And best of all, it looks great.
Teak wood is stunning, especially when cared for properly. Don't worry, teak furniture maintenance is not a monumental task—quite the contrary. All it takes is a few hours of your time once or twice a year to keep your precious teakwood furniture set in tip top shape.
Deep Seating Set Styles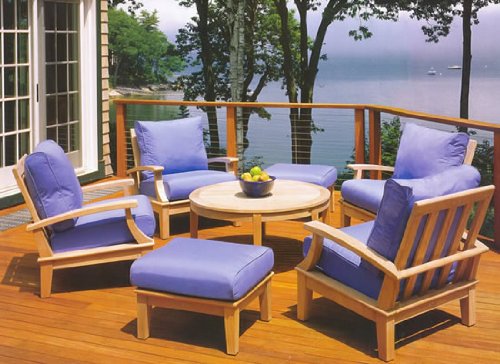 So now that you've got some deep-seating in mind, what setup are you going to get? The style you choose ultimately depends on:
Budget
Personal taste
Environment
Space considerations
Family size
These factors should mostly be self-explanatory. Obviously, if you've got a family of 5 you don't want to purchase an outdoor furniture set with seating for just 4. I mean, you can try doing that, but someone will always be left out.
On the other hand, if you're a retired couple living by yourselves, you may just want a simple 2-seater set as an outdoor living space for sharing quite moments together.
For some people, ottomans may take precedence over side tables or vice-versa.
Another important consideration is the popular L-shaped corner sectional vs stand-alone sofas and chairs. Both can look great, but it may entirely depend on the particular spot outside the house where you intend to place your furniture.
With all that in mind, here are the top deep seating outdoor sets in a variety of configurations:
Our Favorite Teak Deep Seating Sets
Teak Station Samurai 6-Piece Sectional Set
One of the largest and most versatile sets is the Samurai 6-piece sectional set. With this one, you get left, right, and corner sofa sections plus an additional armless lounge chair, a coffee table, and a side table.
You can choose to set the chair opposite the sofa as in the photo, or if you wish you could also place it in-line with the sofa sections to make a letter L shaped set that is longer on one side.
With the side table included, though, I feel it looks better for the chair to be on its own as shown in the picture above.
I also like how they've set up a square gazebo rooftop to give a little shade to the whole entertainment area.
Wholesale Teak Canberra 6-Piece Sofa Set
This is a great all-around 6-piece sofa set. In addition to the deep seating teak sofa, you get 2 armchairs, an ottoman, a coffee table, and a side table.
If you want an outdoor living area with a little bit of everything, then this is a great choice.
Be sure to check out the huge selection of colors and patterns available in the matching seat cushions. As with all the other outdoor seating sets featured here, you have a choice of over 100 color options for your Sunbrella fabric all-weather cushions. As the cushions are sold separately, don't neglect to order them at the same time.
Regency Teak Sonoma 6-Piece Loveseat Set
The 6-piece loveseat set comes with a teak loveseat, 2 armchairs, a coffee table, and 2 side tables. I'm going to be honest and say that this is my least favorite set on this list. In my opinion, the 2 side tables are overkill, and the whole setup is a little bit too symmetrical to my liking.
I know some may disagree with me, and this might just be the right set for the outdoor area that they have planned. So if you like this style, then it's a great buy. But personally, I'm in favor of more seats and less tables.
Wholesale Teak Atna 5-Piece Sectional Set
If you don't care much for side tables, this 5-piece sectional set might be your best option. You get the right-side, corner, and left-side sofa pieces along with a rectangular coffee table and an armless lounge chair.
It's important that the lounge chair is armless because this allows you to slide it in-between the corner piece and one of the sofa sides to make a continuous seating area as shown in the photo.
This is the perfect design for those who value simplicity. If you've got the right spot picked out for this corner set, just add in a few throw-pillows for an extra splash of color and you've got yourself an outdoor living area that can't be beat.
Wholesale Teak Somer 5-Piece Lounge Chair Set
Maybe a sofa or loveseat isn't for you. If your idea of relaxing is to give each person their own personal space with an individual armchair, then this 5-piece lounge chair set is one you should think about buying.
Wholesale Teak Giva 5-Piece Sofa Set
This 5-piece sofa set is the perfect choice if you want both an ottoman and a side table, and don't particularly need lots of seating. This set isn't really intended to seat more than 4 people.
if you pick up some added accessories—such as throw pillows like shown in the image—it really helps tie the set together to make it your "outdoor living room".
Wholesale Teak Giva 3-Piece Lounge Chair Set
Even if you've got a small patio you can still enjoy deep seating with this lovely 3-piece lounge chair set. Here you get 2 cozy lounge chairs with armrests and a round coffee table. It's the perfect setup for enjoying your morning coffee outdoors, or maybe a bottle of wine in the evening while watching the sunset and playing some classical music through a portable speaker.
Don't Forget the Cushions!
I've got one more very important piece of advice. When you purchase any of the sets shown above, don't forget to order the cushions too!
In general, sellers list the teak wood furniture and the matching Sunbrella fabric cushions as separate items. Deep seating furniture is basically useless without the cushions—they're really the whole point. So be sure to order both.
Sunbrella fabric is an all-weather material that dries out quickly, so you don't have to be afraid to leave your cushions outside.
Check out all the colors too! For any of these sets you can choose from dozens of striped or solid color options. You're sure to find one that you love.