When you invest in an outdoor pool, don't be so focused on the pool itself that you neglect the surrounding area. After all, you'll spend more time chilling out by the pool than swimming inside the pool. So why not elevate your poolside relaxation to new heights with the most luxurious and stylish teak lounge chairs you can find?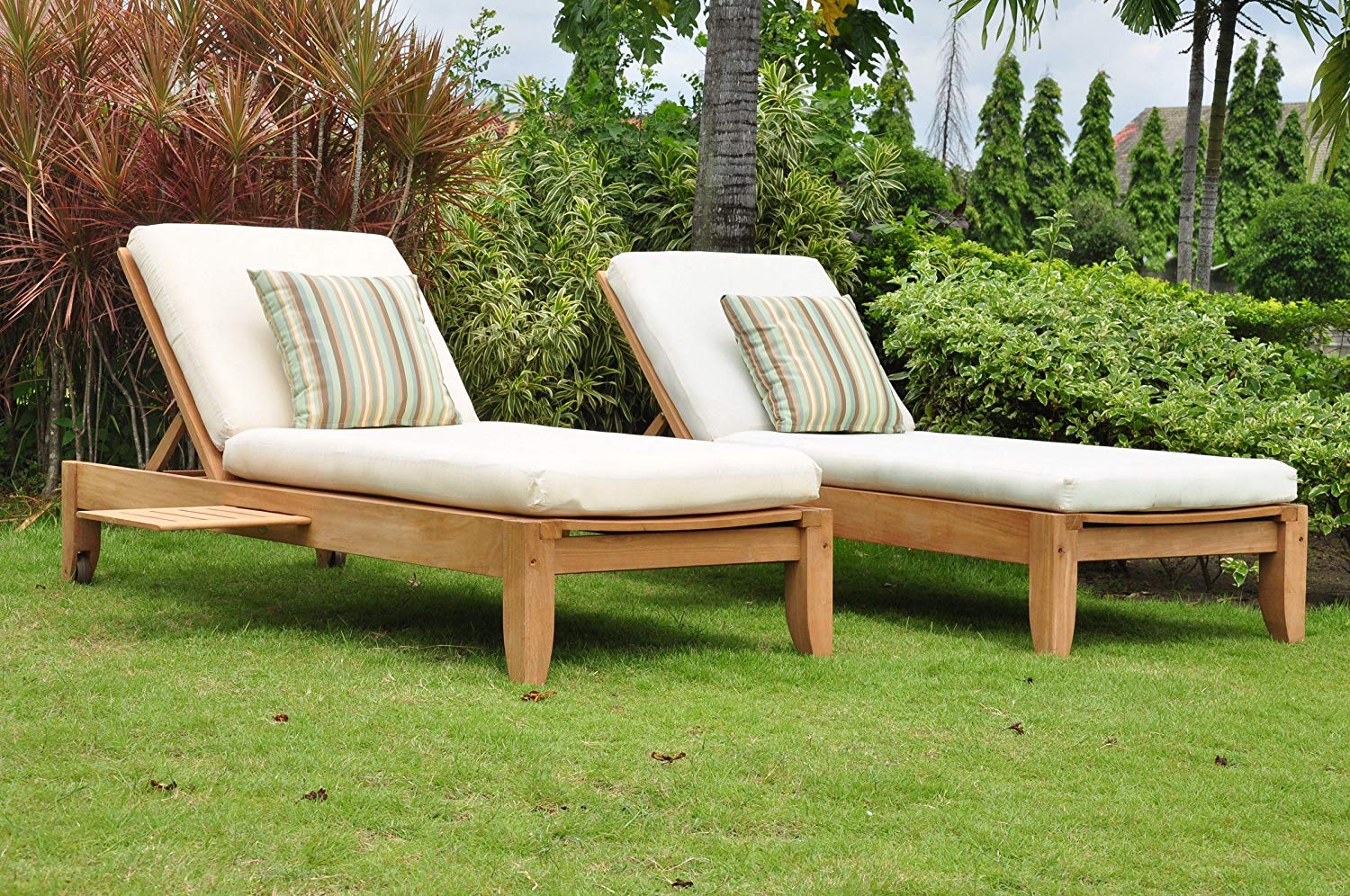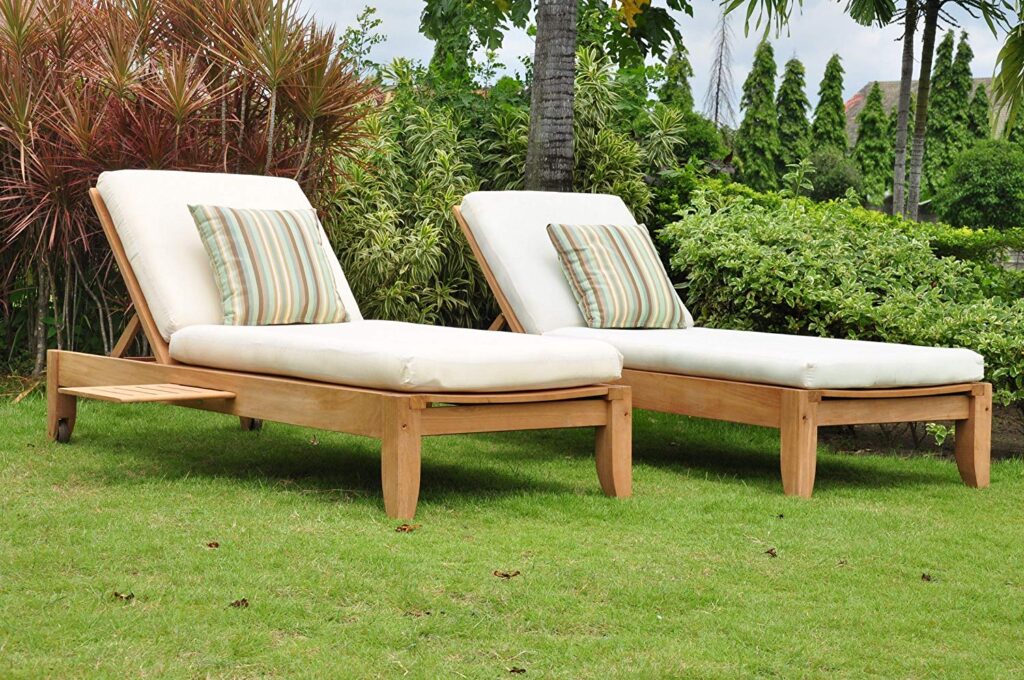 Teak lounge chairs aren't just pieces of outdoor furniture; they're a statement of comfort and elegance. They transform your poolside into a sanctuary of relaxation, where you can bask in the sun's warmth or seek shade under a patio umbrella. But before we delve into the top teak lounge chair models that will redefine your outdoor lounging experience, let's take a moment to appreciate why teak wood stands as an unrivaled choice for outdoor lounge chairs and patio furniture in general.
Teak is a remarkable wood, cherished for its exceptional density and remarkable durability. As a tropical hardwood, it boasts natural resistance to the elements—resisting rot, fungal growth, and pesky insect infestations with ease. Yet, teak's allure extends far beyond its robustness. Its innate beauty is undeniable, with a rich, warm color that matures gracefully over time.
Is teak the cheapest wood material? Not by a long shot, but when you consider that teak outdoor furniture can last 20-30 years or longer, then you realize that it's a worthy investment.
With that said, let's check out all the best lounge chairs available:
Best Teak Chaise Lounger
The top overall teak chaise lounge chair is from Wholesale Teak. It features fully grade-A teak hardwood construction, rear wheels for mobility, an adjustable backrest, and slide-out table.
These chairs are heavy, made from dense teak wood, and extremely durable. They are adjustable to lay completely flat or sit upright at a variety of angles. The sliding tray table can be mounted on either the left or right side of the chair, as to your personal preference.
With normal teak furniture care, these will look fantastic for years and years, even while sitting out under the heaviest summer thunderstorms. Get a pair of these and a patio umbrella, to create the perfect chill-out spot next to the swimming pool.
Best Teak Double Chaise Lounger
For something a bit more unique, you can get a double chaise lounger. This design allows either end of the chairs to raise as a backrest. This way you can raise opposite sides of the seats in order to sit facing your friend. It's perfect for enjoying different views or just to facilitate conversation.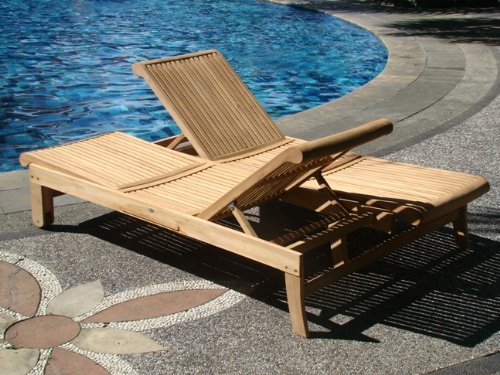 Of course, you can also make the backrests raised on the same sides so that you're both seated facing the same direction, too.
There is a slide-out tray table on both sides, so that each person has a spot to set down their cocktails.
The only drawback to this double lounger is the size and weight. Since the two chairs are connected, it is quite a heavy piece of furniture, and not the easiest to move around. There are, however, a pair of wheels to make it a bit more mobile than it otherwise would be.
Also, pay attention to the 54-inch width. That works out to 4 1/2 feet and doesn't include some extra space you'll want to leave on the sides for the slide-out trays. Therefor, make sure you have ample space by the pool or patio for this double chaise lounger.
Best Multi-Position Teak Lounge Chair
The Multi-position Teak Chaise Lounge Chair from All Things Cedar is a great choice if you want a sturdy teak wood lounge chair that you can adjust in multiple ways. An added bonus of this model is that it comes with an outdoor seat cushion, which is available in four different colors: white, brown, green, or blue.
For convenience it also comes with rear wheels and a sliding tray table.
the main downside to this chair is that the manufacturer has pre-treated it with teak oil. This is done to help prevent the teak wood from fading colors too quickly, but I would prefer if they shipped it untreated and left it up to the buyer to decide what kind of protective finish to use.
After the oil finally starts to fade (which it will within a few months), I would recommend cleaning with a teak cleaner and then applying a teak sealer as a better long-term solution to maintaining the beauty of the wood.
Best Teak Steamer Chair
The steamer chair is a slightly different lounge chair design. It features armrests and doesn't recline to a fully flat position like the chaise lounger does. You'll have to decide for yourself which lounge chair design you prefer.
This is a super solid chair made from plantation grown Indonesian teak wood and backed by a 1-year warranty.
The only real drawback is that, like the previous chair, this model comes from the manufacturer already oiled. This helps it to look like-new for an extended period of time, but then soon after you'll have to make a decision about the route you want to take with teak furniture maintenance.
Best Outdoor Chaise Lounge Cushions
If the lounge chair model you buy doesn't come with cushions included, make sure to order some outdoor furniture cushions to go with it. Sunbrella fabric is widely recommended as the best for outdoor furniture. While it's true that some water will get absorbed when it rains, these cushions will also dry out again super fast.
These Comfort Classic lounge chair cushions are a full 5 inches thick, which is nearly double the thickness of some other cushion brands. The whole point of having a lounge chair is to get completely relaxed, so I don't think the value of super thick and comfy cushions should be overlooked.
As everyone has their own style, the Comfort Classic cushions are available in 28 different colors choices. I personally prefer to keep it simple and stick with the solid color options, but several striped variations are included. You can click here to get a look at all the color choices.
Best Value Teak-Alternative Lounge Chair
If you want the look and feel of teak, but at a discounted price, then one option available for you is to pick up some lounge chairs made from an alternative wood such as acacia.
Despite the confusing product name, the chaise lounge chairs from Great Deal Furniture are made from acacia wood, not teak. They are finished with a teak oil to resemble teak, but don't have the same density nor durability as the real thing.
On the plus side, acacia wood is much cheaper, so these make a great option for those on more of a budget. This set includes two wooden chaise lounge chairs with cushions included. And the whole set is available for the same price that you might pay for just a single teak chair.
If you can afford real teak, though, I'd still recommend buying that instead.