If you're in the market for a new outdoor dining set, you want to get the most bang for your buck. You realize that you'll have to pay a bit for a good quality product, but you don't want to overspend either. Many people end up with a budget of around $3000 in mind. For that price, you should expect to be able to get an attractive dining set to accommodate up to 8 people, and it should be made from top quality teak wood and built to last. In my opinion, the best teak patio set you can find for under $3000 is Bayview Patio's 9-piece outdoor dining set with double-extension table and Patara armchairs.
This set has it all, and comes with free seat cushions to boot! People usually end up spending an extra $400 for a set of 8 waterproof fabric outdoor seat cushions. So don't underestimate the added value you're getting here.
The table itself is a really great design. The double extensions operate independently of one another. So if for some reason you wanted to open only one, you could. The nice thing is that they don't affect the central umbrella hole. This way, you are free to insert an umbrella no matter if you have the table extended or collapsed.
For the record, the umbrella hole is a standard 2-inches, which will accommodate any patio umbrella. There is another 2-inch hole in the floor-level bracing piece that runs between the table legs. This secures the umbrella pole, so a full umbrella stand with a foot isn't needed. When not using an umbrella, there is a round plug piece for the tabletop made from teak wood, so you can have the table looking complete.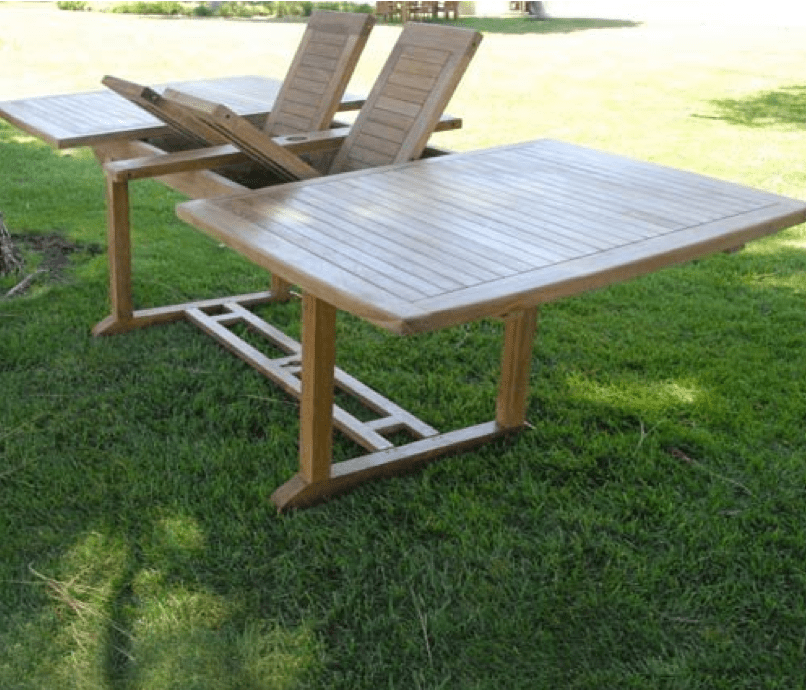 A Chair Wear-and-Tear Experiment
Bayview Patio gives you the option to have the chairs shipped assembled or unassembled. They have a high level of concern for the condition that their products arrive in. So they conducted an experiment of their own. For this experiment, they stacked 8 of their chairs and packed them carefully in a box on a pallet. Then they had the pallet shipped back and forth from California to Arlington, Texas.
They discovered that the jostling and vibrations the chairs received during the truck ride was roughly the equivalent of one year of regular use. With this knowledge in mind, they decided to give the customer the option to receive the chairs either pre-assembled or not. So if you want to save yourself a little work, you can have them assembled beforehand at no extra cost. Otherwise, the chairs are not difficult to put together yourself if you choose the second option.
Made From Grade A Teak Wood
Let's talk about the wood for a minute. The timber used for the table's construction is Grade A teak wood that is purchased directly from the Indonesian Forestry Department and certified FSC. This is wood that originates from sustainable plantations in the Southeast Asian nation of Indonesia. This is one of the original areas of natural teak forest growth, so buying from here helps to support a balanced biodiversity.
The wood is properly kiln dried, which is a critical step for getting the maximum longevity from your furniture. The construction makes use of classic Tenon and Mortise joints, which is re-enforced with teak dowels. A small amount of assembly is required, but it's very simple. No special tools are needed—just hammer the dowels into place.
This is some heavy wood, too. The entire set weighs in at just under 500 pounds. The tabletop is 1.5 inches thick, and the legs are 2.5 inches thick for some heavy-duty sturdiness.
When fully collapsed, the table is 63 inches long. Each extension adds an additional 10.5 inches. So in total, the table is 84 inches with both extensions in place. When fully extended, the table is suitable to seat 8 guests quite comfortably, and with a couple extra chairs you could even manage to seat 10. When collapsed, the table can accommodate 6 guests and gives everyone plenty of elbow room.
The chairs have seats measuring 23″x23″, and they have a height of 34″. The Patara style armchair is a very simple, yet elegant look that you can't go wrong with. The table is beautiful. There is no doubt that it will become a worthy centerpiece to any backyard.
A Patio Set to Last a Lifetime
When you buy a genuine Grade A teak patio set, you're getting furniture that can last a lifetime. The wood will remain structurally sound without any sort of maintenance on your part whatsoever. The only thing you really need to consider is the outward appearance of the wood surface. Normally, teak furniture has a golden color when brand new, and after time out in the sun and exposed to the elements, the wood will fade to a gray color.
Some people like the gray color and others want to try to preserve the golden honey-toned look. The recommended method for preventing color fade is to apply a teak sealer once a year. Bayview Patio gives you the option of having the wood professionally sealed for an extra charge. This is really a great option if you just want to start using the dining set right away after you get it, and not have to worry about maintenance for the first season. Afterwards, if you choose to keep up a routine of sealing the wood, you can apply something like Semco Teak Sealer once a year.
If you like the gray look, on the other hand, then no special treatment is needed. Be sure to give the set a thorough cleaning at least once a year though. Golden Care Teak Cleaner is a great cleaning product to clean and brighten the wood to have it looking extra spiffy.
Lots of Love for this Patio Set
Bayview Patio has a lot of satisfied customers. It's a sign that they are doing things right. Not only is their customer service and communication great, but they also put a lot of care into creating a very high-quality product that is excellent value for money. Have a look for yourself at all the great reviews this set has gotten on Amazon. If I had to pick one teak dining set with a budget in the neighborhood of $3000 to spend, this is the one I'd go for.