A sturdy teak wood bench is a great idea to add an elegant touch to your bathroom. It's a stylish, durable, and practical addition to your home. But there are so many models out there to choose from. How do you find the best one?
Don't worry, we'll help you pick out a winner. Let's compare all the top models to find the best teak shower bench or stool for you!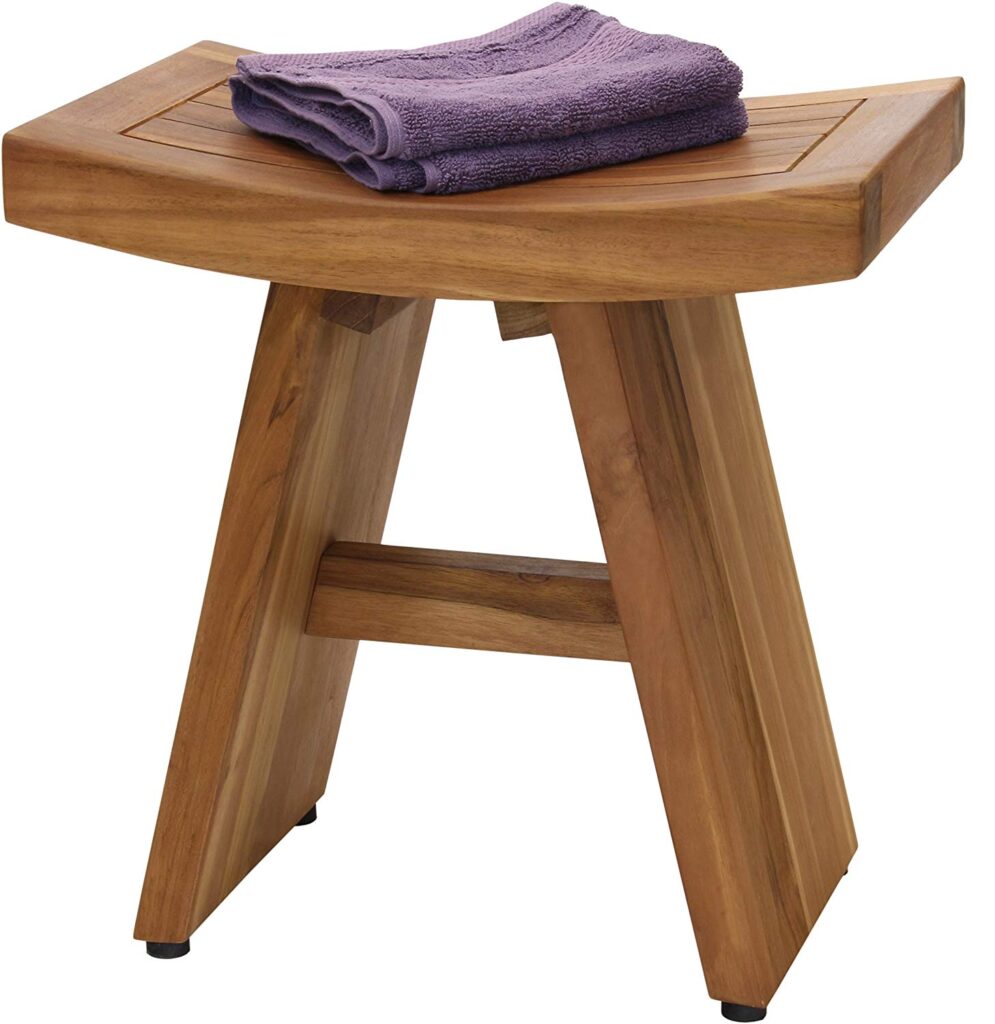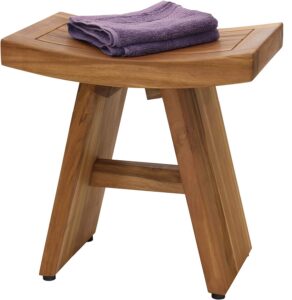 Why get a teak shower bench?
Teak wood furniture lasts for many years and is especially well-suited to the shower due to its natural water resistance. You'd be smart to get yourself one.
Or you could be shopping for a gift. Teak shower benches make great gifts. They're a perfect present for a birthday, wedding, or Christmas. Anybody in your life who appreciates fine things will love one. It's the ideal surprise for someone you care about because it's a small enough item to wrap and transport easily, but big enough to say "you're worth it".
These hardwood shower furniture items really spice up the bath area, giving it an elegant yet warm touch. There's just something about wood that makes us feel close to nature—and at bath time especially so.
Top Shower Benches and Stools
Teak furniture makers are always coming out with new variations of the beloved shower bench, but some of the top designs have been around for many years. So with that in mind let's review at all the best models that you can buy today.
Best Small Teak Shower Bench – 18-inch Asia Bench by AquaTeak
The number one overall teak shower bench (and best smaller model) is the 18″ Asia Shower Bench by AquaTeak. It has become a modern classic, influenced by the timeless traditional design of Japanese hinoki bath stools. Just one look is all it takes to fall in love with this beauty.
The design really is chic, minimalist, and enduring. In fact, it has even been featured in Architectural Digest Magazine. The smooth, contoured hardwood teak seat is matched by stainless steel hardware and rubber gripped feet for superior stability.
Many imitators have come along, trying to ride on the coattails of AquaTeak's success. But it's hard to improve upon the perfection of this original standout.
The A-frame legs of solid hardwood give amazing support for anyone up to 250 pounds. Teak is an incredibly dense material, so you'll be surprised by the weight of this stool when you first pick it up—it's a full 19 lbs (about 9 kg).
It's large enough to comfortable seat most adults and yet it's small enough to not get in the way. It has a simple, slick design that looks fantastic in any shower or bathroom. On top of all that, it's easy to assemble and comes backed by a 5-year warranty.
18″ Asia Shower Bench Pros
Simple, stylish, elegant design
Sturdy and durable
Practical for daily use
Fits in any shower
Assembles easily
Made from high-quality teak wood
Cons
May be too small for very large individuals
Best Large Teak Shower Bench – 36-inch Spa Bench by AquaTeak
If you are looking for the best large-sized teak shower bench, then look no further than the 36″ Spa Bench by AquaTeak. With a full 3 feet of width—or twice as wide as the Asia Bench—the Original Spa Bench as tons of room.
You can use the extra space to provide better seating for larger-sized individuals, and also take advantage of the generous area contained in the lower shelf.
Use it to store your gels and lotions, body scrub salts, brushes or foot-scrubbing stones.
Outside of the shower, this item would also make a very beautiful furniture piece that you could fit in nearly any room of the home. For example, you could keep it near your front door and use the bottom shelf as a shoe rack. Or maybe you could place it under a window in the living room to hold some houseplants or art object.
Like the Asia Bench listed above, this top quality item is made from super dense, ultra-durable, solid teak wood. It weighs in at a full 22 lbs (10 kg). It's also backed by a 5-year warranty.
36″ Spa Shower Bench Pros
Made of high-quality teak wood
Durable construction
Large space for seating and storage
Can be used in multiple rooms
Cons
May be too large to fit in some showers
Best Teak Corner Shower Bench – 15-inch Kai Corner Bench by AquaTeak
The 15.5 inch Kai Corner Bench by AquaTeak is the best corner shower bench to get if you want a small seat to keep in the shower that will mostly stay out of the way.
The concept for this bench is quite simple: it provides a mini seat and shelf for your bath area, but stays tucked away in the corner.
Like AquaTeak's other offerings, this model has solid teak construction, rubber no-slip foot pads, and comes with a 5-year warranty.
The main disadvantage is the limited size. At only 15.5 inches, it doesn't provide a ton of seating or storage space. If you want something slightly larger, then one of the other models would better suit your needs.
15″ Kai Corner Bench Pros
Beautiful design
Saves space in the shower
Sturdy, durable solid teak construction
Assembles easily
5-year warranty
Cons
May be too small for some users
Honorable Mentions
All of the shower seats listed below are other top models that you may be interested in buying. Everyone has slightly different tastes, so if the top 3 models shown above don't particularly strike your fancy, we've gathered together several other high-quality items to showcase.
18 Inch Java Bench by Northwest Teak Designs
There's nothing overly fancy going on with the 18-inch Java Bench by Northwest Teak Designs. It's just a super simple, super solid, rectangular hardwood bench made from sustainably harvested Indonesian teak.
It features adjustable rubber-gripping feet for supreme stability. There's also a generous sized lower shelf for storing any of your bath gels, lotions, loofahs, etc.
It the Asia bench design feels too exotic or Eastern to match your interiors, then maybe this basic rectangular model will work instead.
Sumba Lotus Teak Shower Bench by Aqua Teak
Next up is the Sumba Lotus Teak Shower Bench by AquaTeak. While the Java bench was practical for using as a storage piece, this item is more suited for getting actual sitting use.
It features a curved seat for comfort and stability in the shower. There is no shelf built into the lower support brackets, so this item definitely falls into the category of a proper stool. If shelving is not of importance to you, then I think you'd agree that the clean lines of this teak stool make it a very attractive little addition to the shower area.
Corner Teak Shower Bench by Belham Living
If you like the idea of a handsome little teak shelf in the corner of the shower, then take a look at this Corner Teak Shower Bench with Shelf by Belham Living. This is a perfect choice if you don't have much room in your shower, but still want to give it a luxurious touch..
It has a very small footprint, at less than 1-foot per side, so it won't get in the way. At the same time, it's still quite practical for both sitting and storage of small items. I would not, however recommend this as a gift for a rather large individual, as they might not have so much room for their behind if they want to use it as a seat.
Still, from a strictly visual perspective, it looks sharp and classy.
19-Inch Teak Shower Bench with Handles by Welland
Taking practical to the next level, we have this 19-inch Teak Shower Bench with Handles by Welland. If you had trouble deciding between the Java Bench and the Samba Lotus models above, you may be interested in this all-purpose design that combines the best of both worlds.
Up top, it features a contoured seat that is great for real sitting usage. Down below, it also has a handy shelf to store a variety of bath items.
In addition, this model also features a pair of handles, which are not only great for picking it up, but they also make the perfect spot to hang small towels or washcloths.
I think just about anyone would be impressed by the beauty of this little teak bench. You could even use it in other areas of the home, such as a unique-looking end-table.
Genuine Teak Bench by Redmon
Last up, we have the Genuine Teak Shower Bench by Redmon. This would be a good choice if you like subtlety.
The seat as a very slight curve to it, making it comfortable, but not something that initially stands out to the eye. It's the kind of wood furniture piece that will just look like it belongs anywhere you place it.
The Redmon model is also a great choice for larger individuals as it comes in at a full 20 inches in width—giving you plenty of seating space.
No matter which of these shower benches you chose to buy, you'll be sure to get much use and enjoyment from it for many years to come. Be sure to clean your shower furniture in order to help extend the lifetime of the product while maintaining a great appearance.