Buying your own teak patio furniture is a great idea to create a comfortable, classy outdoor living space for your home. Entertaining guests, family get-togethers, and weekend relaxation time are all a hundred times better when you've got a luxurious teak dining set waiting on the patio.
But before you buy a new set of teak patio furniture, there are a few things to consider. First, you'll want to pick an outdoor furniture set with an ideal size and shape for your property and intended use. Then you'll want to think about proper teak wood care and maintenance.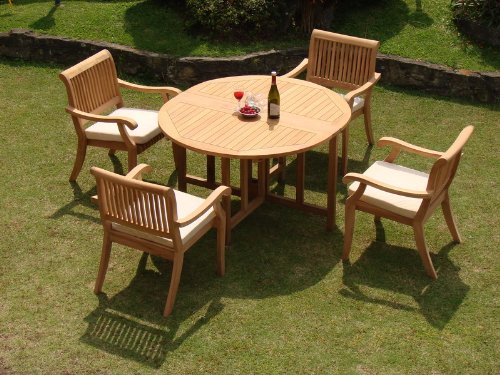 Will you let the wood fade to a gray color? Should you use teak oil or a teak sealer to preserve it? How often does the set need to be cleaned? These are all important questions.
Finally, there is the question of extra accessories that may enhance the enjoyment of your patio furniture. This includes items such as seat cushions, umbrellas, and protective furniture covers. Buying teak outdoor furniture is an excellent decision, and one that you won't regret. Taking a few minutes to go over these key points will ensure that you end up completely satisfied with your purchase—both now and many years down the road.
Dining Set or Not a Dining Set?
First things first, you need to think about your teak furniture's intended function. Why are you buying it? You've got to decide what you want patio furniture for. Will you be using it for dining outdoors? If yes, then you'll obviously want to get a dining set consisting of a teak patio table and chairs. As for the size and shape, we'll get into that next.
On the other hand, do you just want somewhere to sit outdoors to sip your coffee, spy on the birds at the feeder, or watch the world go by? If so, then something like a bench, Adirondack chairs, or lounge chairs might be more up your alley.
If you're thinking about teak pool furniture, then getting your hands on some teakwood chaise loungers is the natural conclusion. Lounge chairs are of course the most ideal design for putting next to the swimming pool. You can stretch out and tan on them if you so desire. Or you can just lay back and sip mojitos if that's your thing.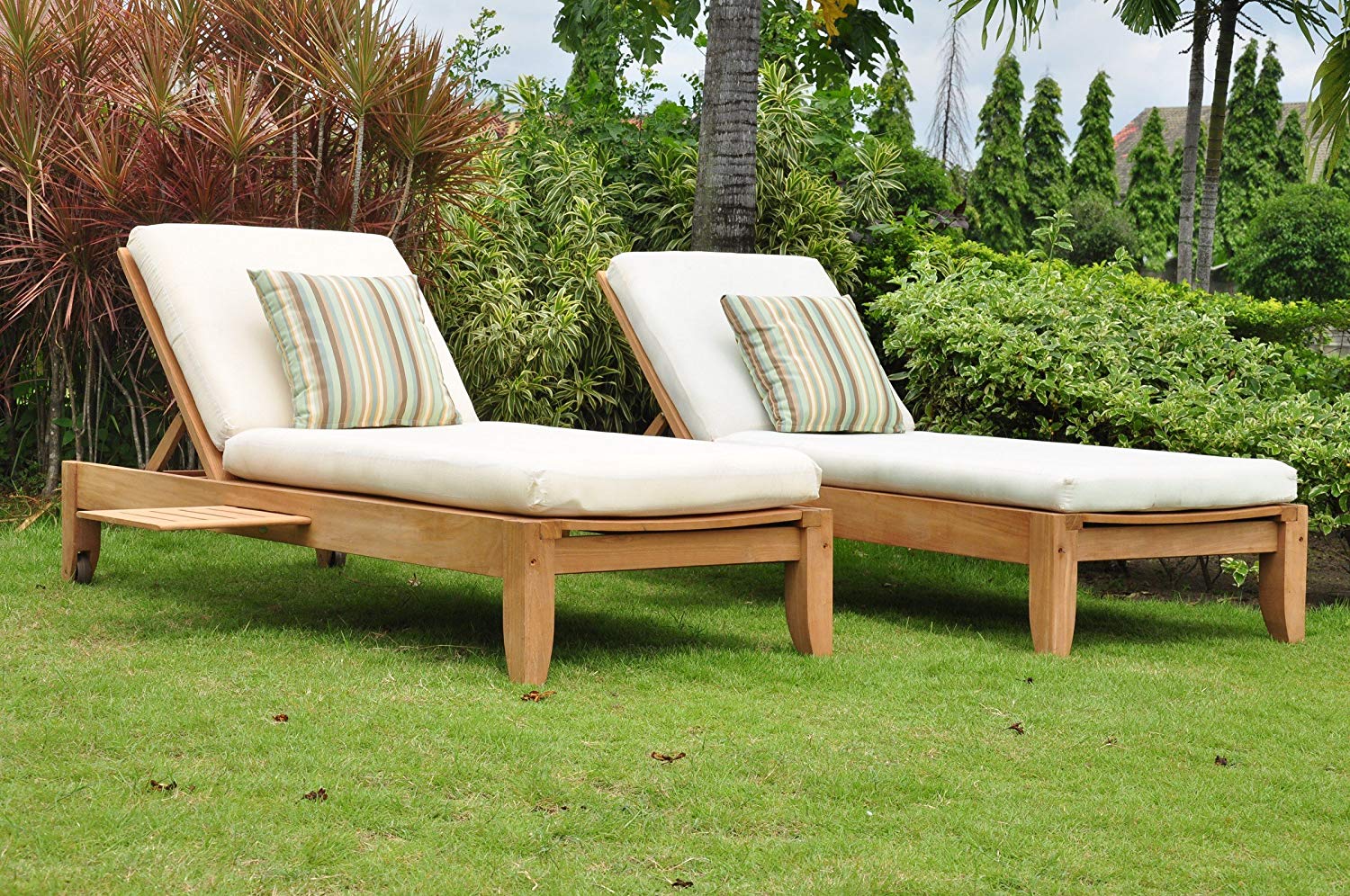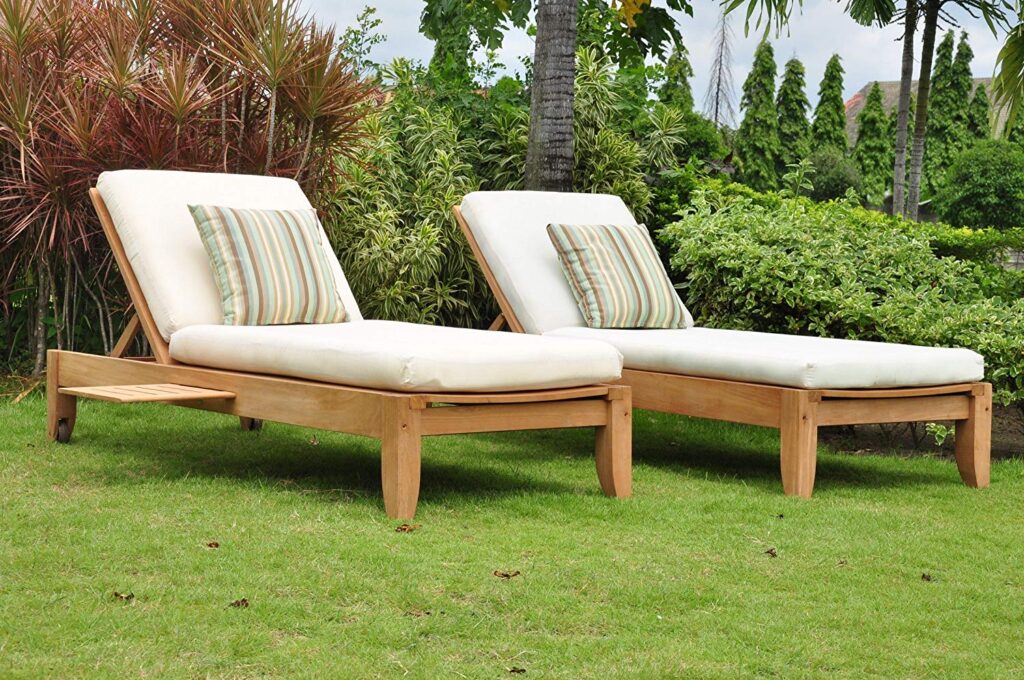 A bench is great on a porch, under a shady tree, or on a patio with limited space. Teak benches are also a great choice if you've got a bubbling water fountain, fish pond, or Zen garden to admire.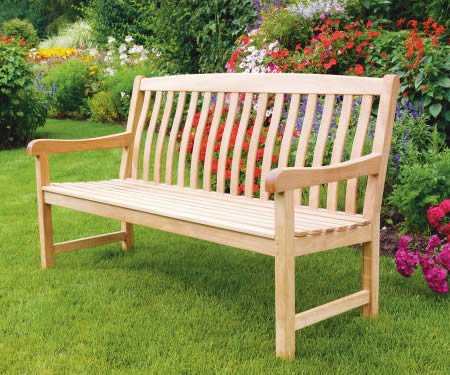 Adirondack chairs are quite versatile. They're a comfy design for sitting a long time. The extra-wide armrests of an Adirondack also make great impromptu tables for light meals.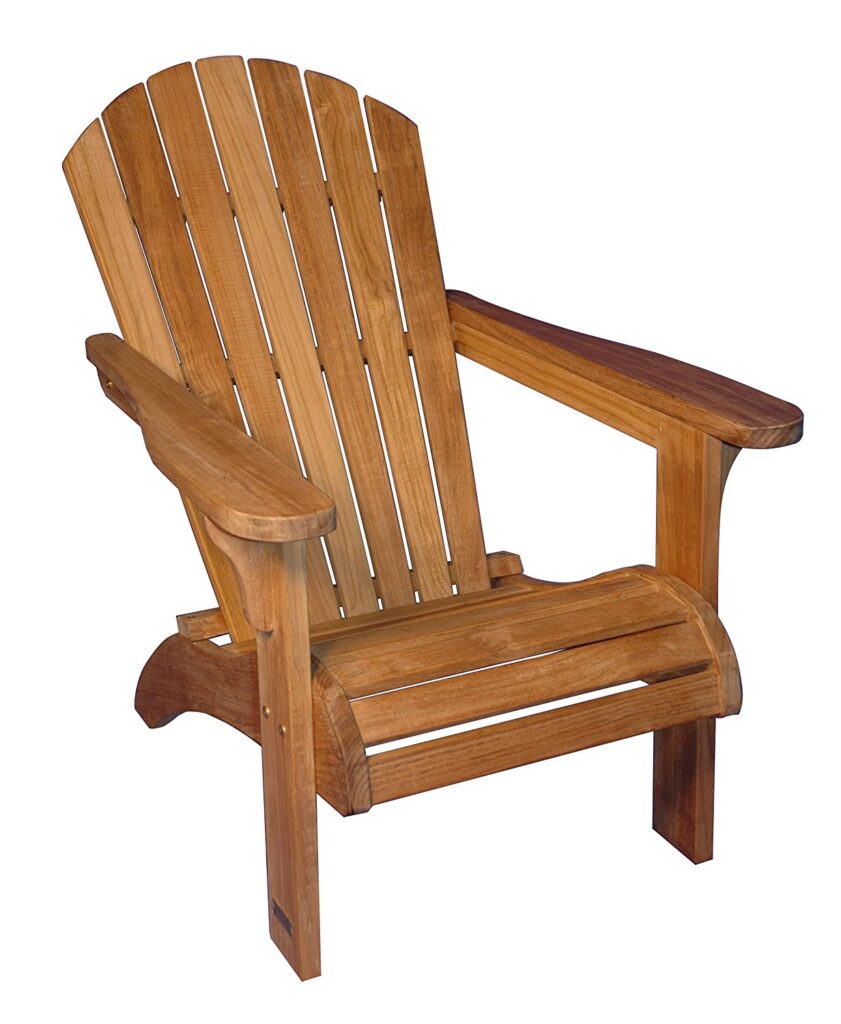 What Size and Shape Teak Patio Set Should You Buy?
There are teak patio furniture sets in all shapes and sizes. Assuming that you've decided on a dining set, you now have to consider the shape of the table and number of chairs. How many people do you wish to accommodate? And how large is the deck or patio where you'll be placing the dining set? These two questions will say a lot about the size and shape of the outdoor dining set you should be considering.
If your family is between 2-4 people, or your available space is rather modest, I would strongly consider getting a 5-piece circular teak dining set. Circular sets are easy to walk around. They're easy on the eyes. An umbrella provides equal shade to everyone at the table when the sun is directly overhead. Also, the lack of corners means the table will look good no matter how it is positioned in relationship to the rest of your patio.
On the other hand, if you have a larger family, or your purpose for buying a teak dining set is to entertain gatherings of family and friends, then you'll want to go with a long rectangular or oval table set.
I would not really recommend a 7-piece set unless you are limited for space. The reason is because it puts a rather low limit to your seating capacity. You never know when you may want seats for additional visitors, so it makes more sense to get a 9-piece dining set at minimum.
This 9-piece dining set by Bayview Patio is highly recommended and even comes with complementary seat cushions. You can read our full review HERE and also check the current price on Amazon.
If you anticipate that you'll want to be able to seat more than 8 people, then you'll want to look at the 11-piece and 13-piece sets. I'm partial to the oval shaped tables when you get into this size range as it allows you the option of sneaking another couple chairs around the table by having two seats fill out the curve on each end.
Bayview Patio has an 11-piece oval dining set that I wouldn't hesitate to recommend. You can check out the current price on Amazon.
Will You Let Your Teak Furniture Go Gray?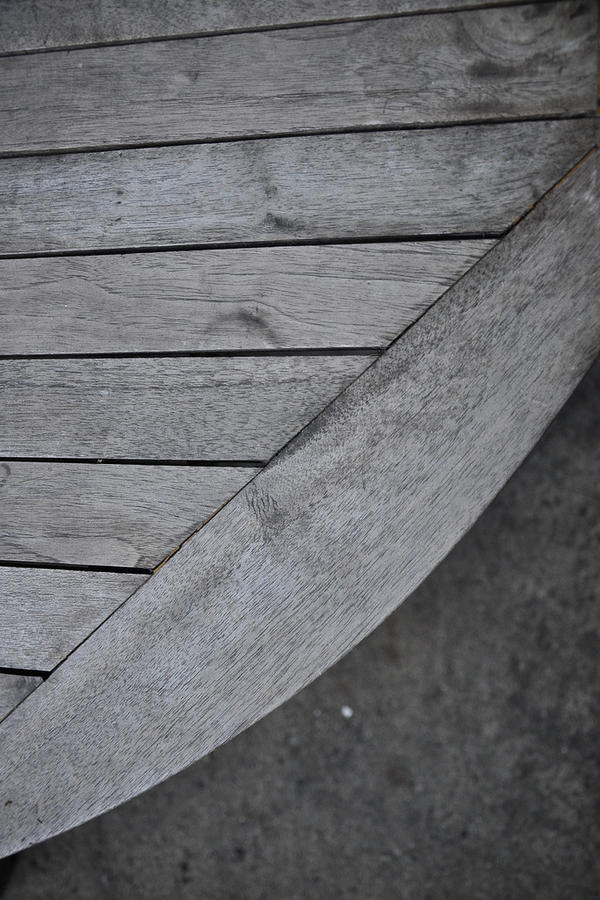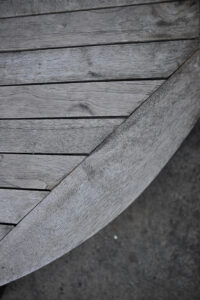 Teak is famous for it's rich golden color when new, and you'll see this color in nearly all the photos provided by furniture sellers. You have to remember, though, that this is only the color of fresh teak wood.
The naturally occurring oil found in mature teak heartwood is responsible for imparting this luscious honey-like tone. However, evaporation of this oil and oxidation on the wood's surface will cause the color to fade over time. This fading will begin after a couple months of exposure outdoors and will eventually leave the wood with a silver patina.
It's important to realize that the interior of the wood is still saturated with protective oil that will prevent damage from water and pests. If you're happy with your teak patio furniture fading to a silver color after a couple years, then there's no need to apply extra weather protection to the wood. You will, however, want to make certain that you clean it regularly to prevent an uneven graying due to any fungus growth on the exterior.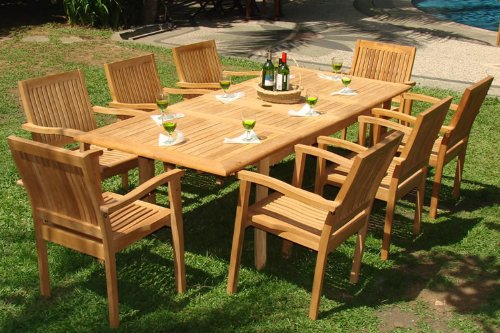 If you're like most people, though, you really love that golden honey color of fresh teak wood. Assuming you fall into this group, you can take some action to revive, enhance, and maintain your teak furniture's appearance over time.
Your first option is to apply a teak oil to bring out the color and revitalize the dry surface wood. Or you can choose to go with something like a teak sealer to block air, moisture, and UV light from getting at the surface in the first place. When considering these options, you need to choose very carefully.
Teak Oil or Sealer – Which is Better for Preserving Teak's Color?
To oil or seal?—that is the question. There are advantages to both approaches, but I feel the disadvantages to using teak oil make teak sealer the better choice.
Teak Oil
First of all, what exactly is "teak oil"? If you didn't know any better, you might assume that it's oil from the teak tree, but nothing could be further from the truth. The products you find sold as "teak oil" are almost always made from a base of linseed oil mixed with mineral spirits and varnish. The name "teak oil" is just clever marketing.
Teak oil isn't necessarily bad. If you apply teak oil you'll see results right away. It will give tired-looking teak a warm golden glow. It honestly makes the wood look fantastic, I have no complaints there.
The problems with teak oil start a month or two later when the color has already noticeably faded. Bringing your teak table back to its golden glory will require another application of teak oil. Rinse and repeat…rinse and repeat.
Before you know it, you're sucked into a high maintenance routine. The mineral spirits and solvents found in teak oil can actually cause faster degradation of the wood's naturally occurring oils—meaning that once you start teak oil applications, if you then stop, the wood will dry out faster than if you had done nothing.
Another problem occurs when teak oil on the surface of the wood provides an ideal environment for the growth of mold and mildew. It's very common for those who apply teak oil to their furniture to find tiny black spots on the wood after some time. Those who don't know any better blame the furniture manufacturer, thinking that the teak was low-quality, when in fact it was the owner's unnecessary use of teak oil that is to blame.
Teak Sealer
For all the reasons above, I don't usually recommend teak oil. Instead I suggest that you apply a teak sealer to your patio furniture. Teak sealer will prevent the color from leaking out of the wood without encouraging the growth of any fungus, mold, or mildew on the surface. At the same time it is extremely user-friendly and low-maintenance. Semco Teak Sealer is a highly recommended product for this purpose. It comes in both clear and tinted varieties. It's very easy to use, and you only need to treat your furniture once a year for optimal results.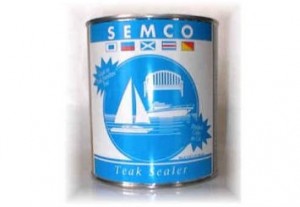 What's a Good Cleaning and Maintenance Routine for Teak Outdoor Furniture?
Whether or not you have decided to apply a product for preserving the color of your teak wood, you'll still want to make sure you clean your outdoor furniture on a regular basis. How often depends somewhat on your local environment. At minimum, you'll want to give your teak garden furniture a deep-cleaning at least once a year. For most people, spring is a great time to do this. Those who live in very dusty or very humid areas may wish to clean their wood furniture more often to ensure the surface stays free of dust and mildew.
If using any protective coating, clean the furniture first. Never use a high-power pressure washer on wood furniture as this can damage it. Just use a regular garden hose to wash and rinse. A soft-bristled brush is ideal for removing dust and dirt without damaging the wood. And a formulated cleaning product such as Golden Care Teak Cleaner is recommended in order to brighten and clean the wood at the same time.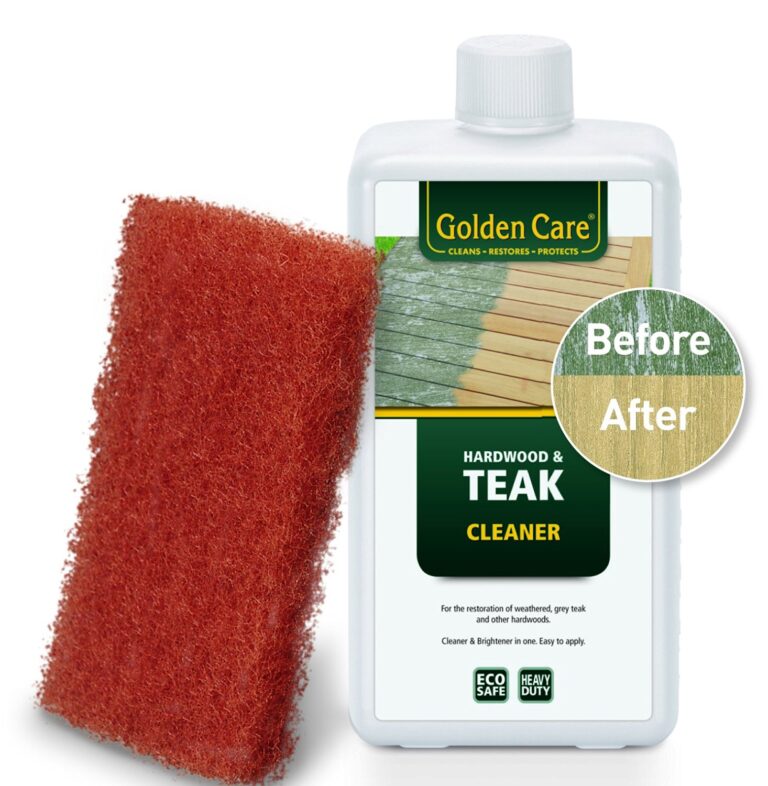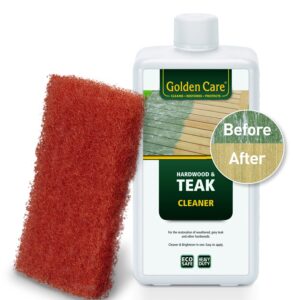 Whenever teak wood needs a total refresh, you can simply sand away the very top surface layer of the wood. This will expose a fresh inner layer of wood that still contains natural oils and glows with that beautiful honey-like tone.
What to Do with Teak Furniture in Winter?
If you live somewhere like Texas, Florida, or Southern California then you get to enjoy your patio furniture year-round. Consider yourself lucky. But for those who live in an area with a real winter the question arises of what to do with your outdoor furniture when the temperature starts to dip and snow starts falling.
Teak is once of the best woods for outdoor furniture because it does so well standing up to the elements. There is no need to bring your teak table and chairs indoors during the winter months. Even after siting out in freezing temperatures all winter long, it will be perfectly fine the following spring.
Still, you'll probably want to keep snow from directly piling on your teak wood. The main reason for this is that it puts a lot of moisture in contact with the surface of the wood, especially as the snow melts. While the water should not directly do any damage to quality teak wood, the presence of surface moisture could encourage unsightly mildew growth, which will add to the elbow grease you need to put into your spring cleaning.
For this reason, it's best to pick up an all-weather furniture cover. Make sure it's a breathable variety that won't trap moisture within. If your patio set came with stacking chairs, then it's pretty easy to pile them up in a corner of the basement or garage during the winter months to limit their exposure to slush and snow.
Strongly Consider a Patio Umbrella
Unless you're really fond of sunburn I highly recommend that you get a high-quality patio umbrella to go with your outdoor dining set. Nearly every single teak furniture set will include a 2-inch hole in the center of the table intended to fit an umbrella pole. Most also come complete with a small teak wood plug to fill the hole if you don't want to use an umbrella.
Patio umbrellas protect you and your guests from both rain and sun. We all like to get some sunshine, but as you know too much isn't good for your skin. Patio umbrellas come in a wide variety of colors, so it's easy to find one that will work with the decor of your home.
Are Patio Chair Seat Cushions Needed?
Finally, you can ask yourself if you'd like to get seat cushions for your teak dining set. Many of the patio chair designs are fine without cushions, but I feel safe in saying that cushions will make your wood chairs more comfortable 100% of the time. Cushions made from Sunbrella fabric are easy to keep clean and resist mold and moisture. They come in a wide variety of colors and can be custom ordered to fit your chairs exactly.
By now you should have a good idea about what to look for in a teak patio set. You should also be better prepared to maintain your furniture to keep it looking beautiful and enjoy it for years to come.