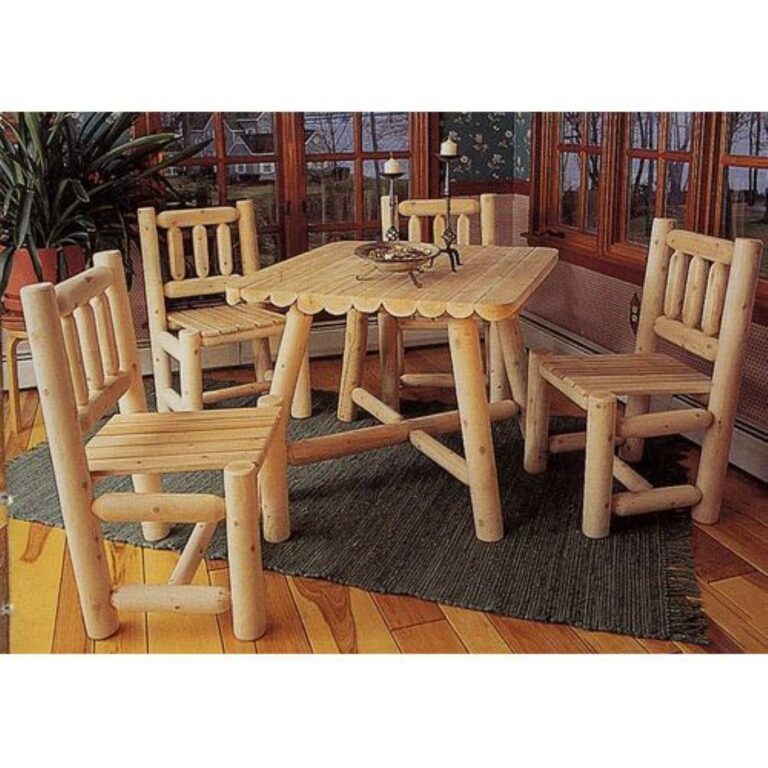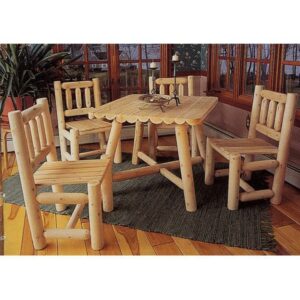 Why is cedar wood outdoor furniture so popular? Cedar makes a great wood for patio furniture for several reasons. It's attractive, easy to care for, resistant to insects and rot, and lightweight.
You can choose to treat cedar outdoor furniture with a stain or paint it to match your home exterior colors. If left untreated, cedar will fade over time to a light silver-gray color. It's a favorite wood for those seeking a rustic log-cabin type of look for their backyard.
Unlike other popular outdoor furniture woods such as teak and eucalyptus, cedar is a softwood rather than a hardwood. The advantage of this is it makes cedar lawn furniture more lightweight and easier to move around the yard. The disadvantage is cedar wood will dent more easily than hardwoods. It's something to think about if you have young active boys who play rough, but I doubt they'd really do enough damage to ruin a garden bench.
The resins in cedar wood prevent damage from insects and rot. Pests don't like the fragrance of cedar wood, and so they avoid chewing it up.
Cedar is also an affordable option for patio furniture, which greatly adds to it's appeal.
The Best Cedar Wood Patio Furniture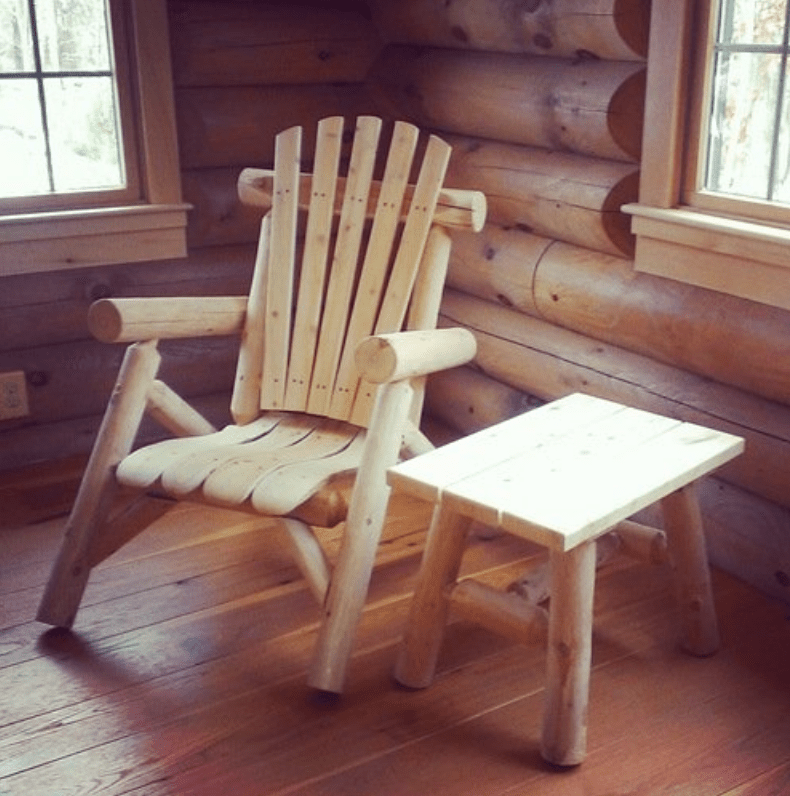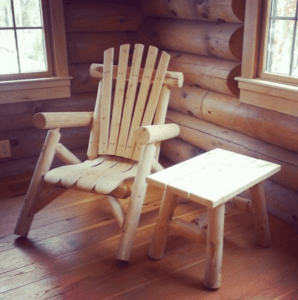 There are many styles of patio furniture that you can find crafted from cedar. In particular, patio furniture makers tend to emphasize the natural aspect of cedar by using rounded logs and often leaving the wood in an untreated natural state.
You can also find cedar wood furniture items that go with a more contemporary, modern look using flat, smooth-finished pieces and beautiful stained finishes.
Now let's review some of the best cedar patio furniture pieces available today.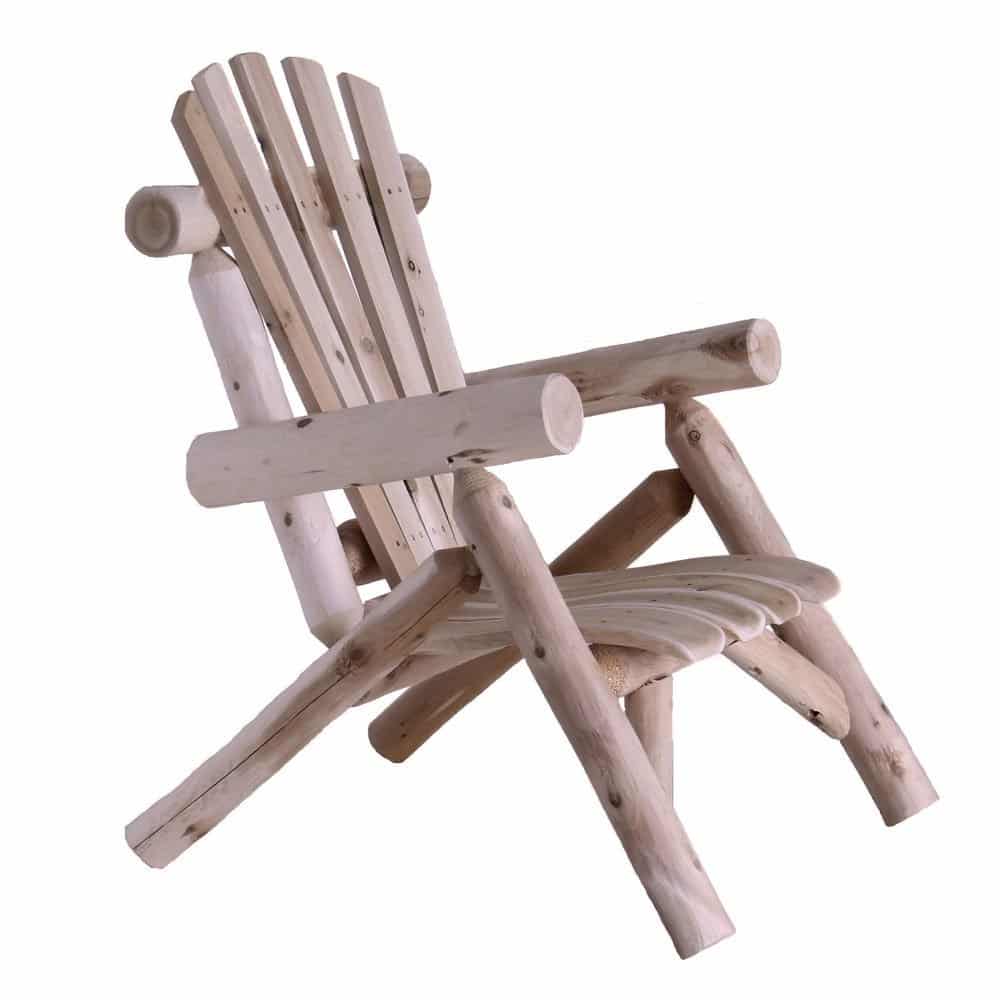 Lakeland Mills Cedar Lounge Chair is an interesting item that melds a quaint, rustic look with some modern sensibility for comfort. On the one hand, the legs, armrests, and structural pieces are rounded cedar logs. It brings up memories of summer camp in the north woods, roasting marshmallows, and sleeping under the stars. The seat and backrest, on the other hand, are made from smooth, contoured slats so that the chair is comfy to sit in.
Overall, the look is very similar to an Adirondack chair. The only major difference is that Adirondack chairs have wide, flat armrests that are very useful for setting down small items and drinks. I think this chair would be even better if the armrests were flat for this purpose, but it's still a very cozy chair to sit in.
The natural unfinished color of the white cedar wood is very attractive, and many people will just want to leave this chair as is. However, it also takes stain very well, and the color choices are nearly endless. One tip is to stain the chairs before you assemble them. That way you're not struggling to reach into every crack and crevice with a brush.
If you have a fire pit in your back yard, it would be great to pick up 3 or 4 of these chairs to arrange around the fire.
Lakeland Mills Cedar Log Lounge Chair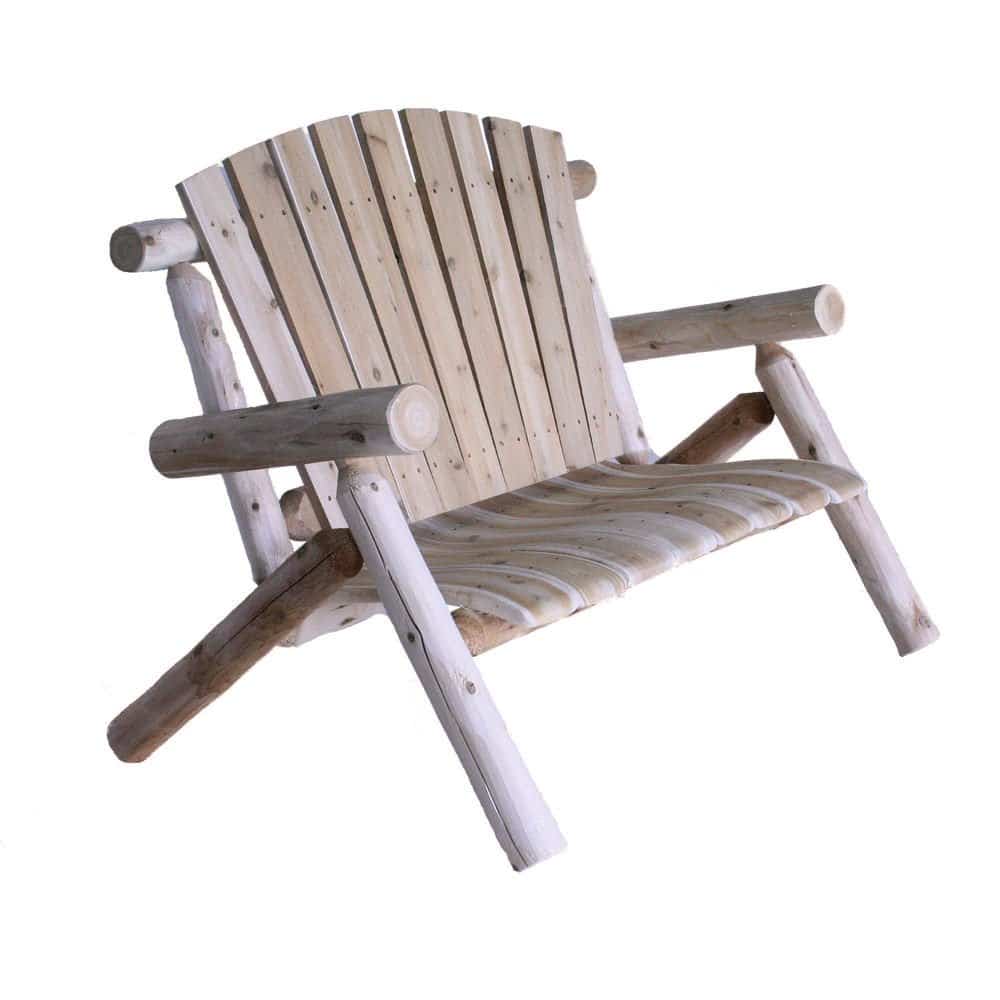 Like the lounge chair above, Lakeland Mills Cedar Love Seat combines rustic and modern design in a novel way to maximize comfort and beauty. The curved seat and backrest make for enjoyable sitting while the round cedar logs in natural tone hearken back to years gone by.
As with the lunge chair, you can choose to leave the wood unfinished or give it some stain, weatherproof sealing, or a colorful paint job. If you get one love seat and two of the chairs you can have a nice little backyard entertainment area.
Lakeland Mills 4-Foot Cedar Log Love Seat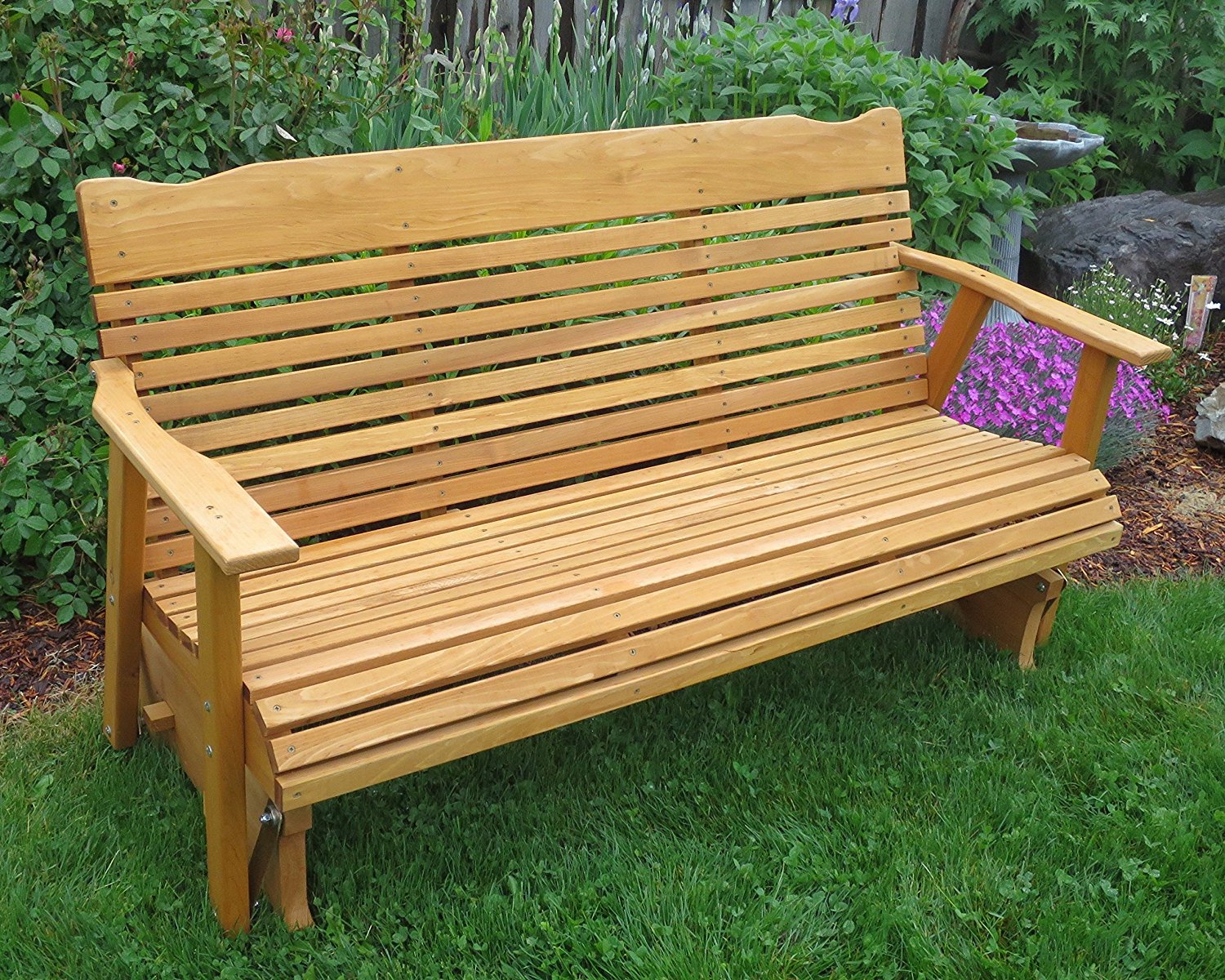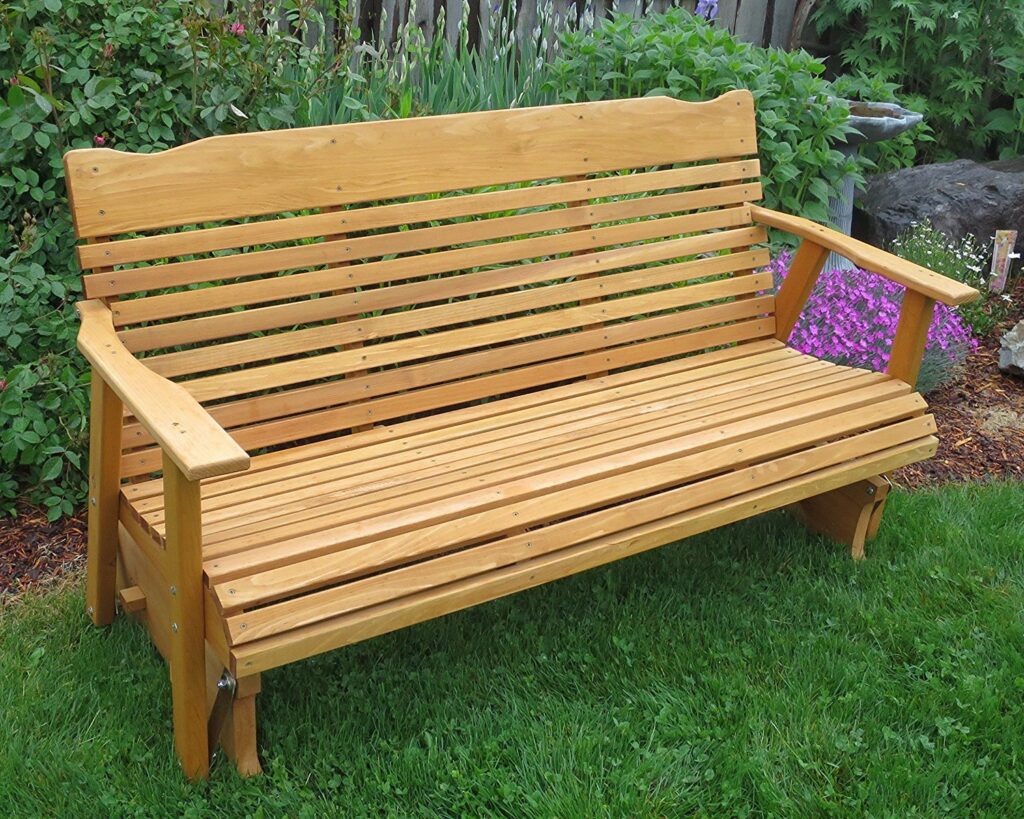 The Kilmer Creek Porch Glider is made form western red cedar and finished with Silicone Magic to repel water and protect from UV light. The result is a very attractive light red colored wood.
You'll notice right away the superior craftsmanship that goes into this furniture piece. At 5 feet wide, it's large enough for 3 people to fit on. The design is very comfortable for sitting, and it glides smoothly.
If you get one for the front porch, it's going to become everyone's favorite seat.
Kilmer Creek 5-Foot Cedar Porch Glider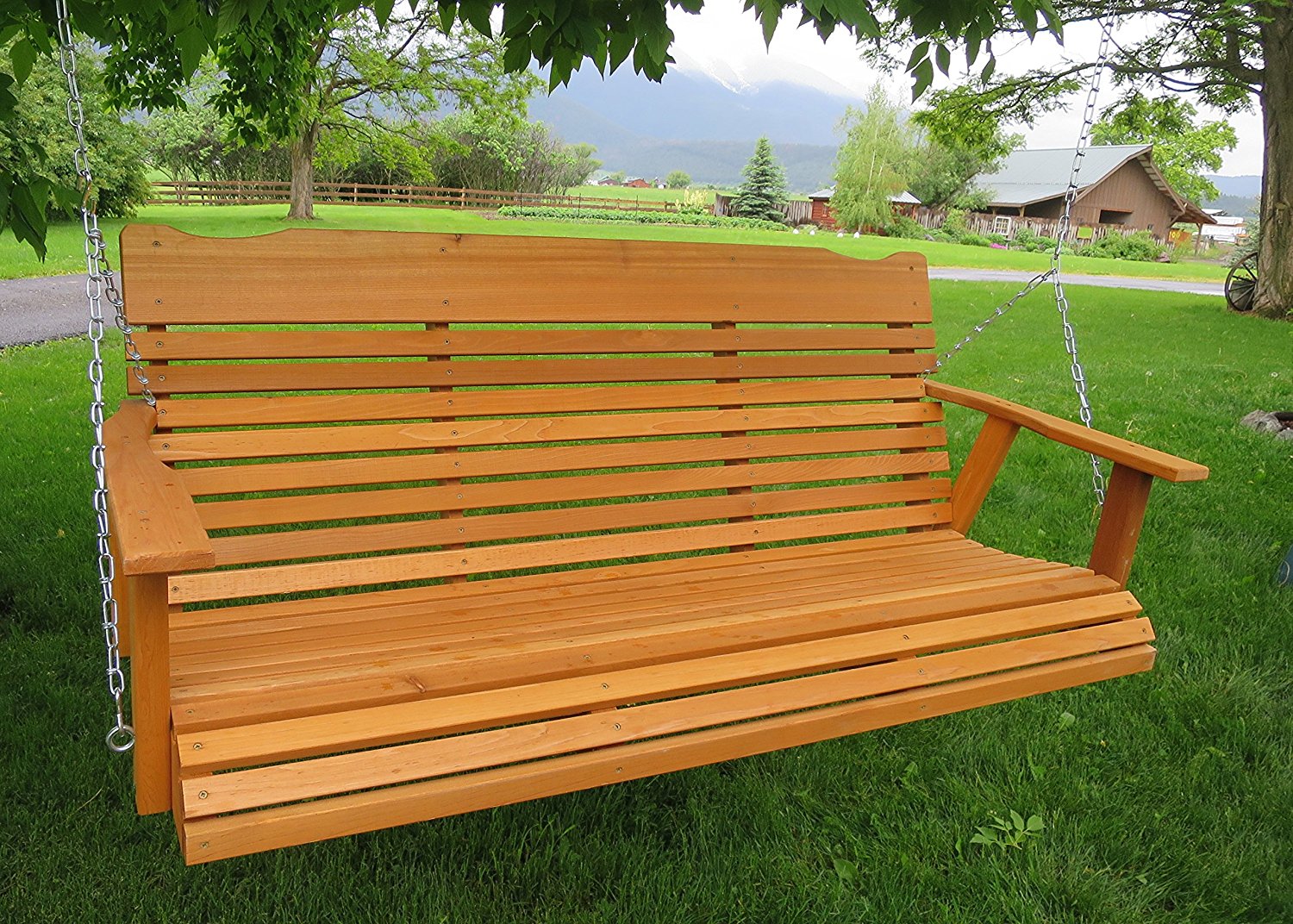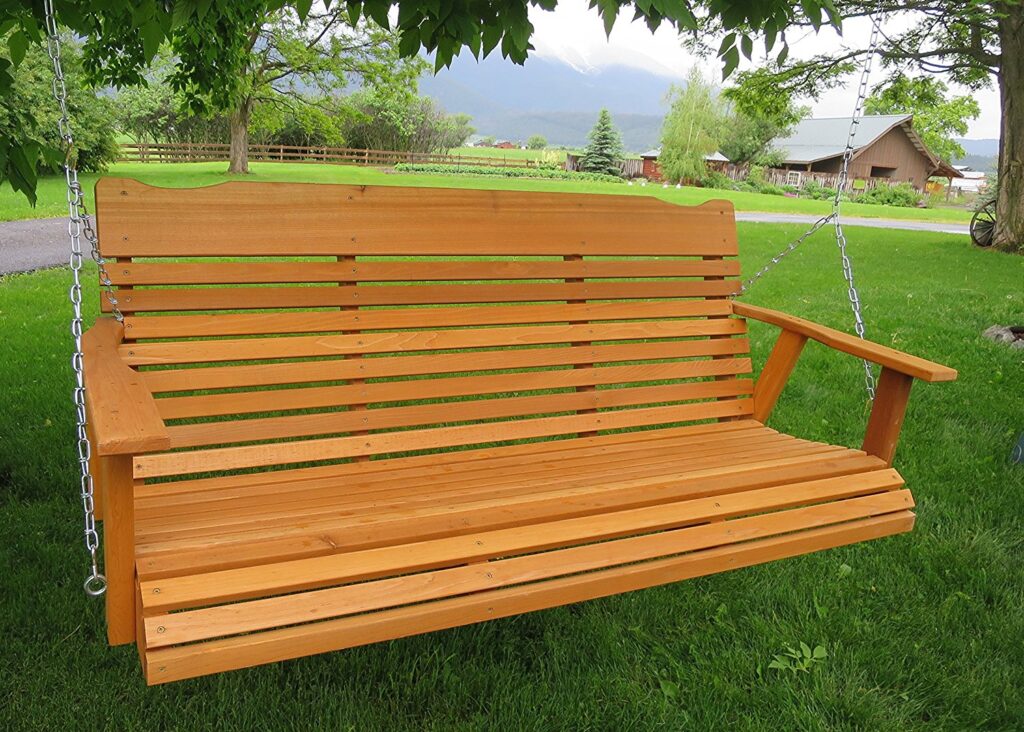 Kilmer Creek's Cedar Porch Swing is essentially the same beautiful bench as used in the glider above. The obvious difference is this one will hang from chains above rather than gliding from below.
Chains and springs are included. And this porch swing is built to hold up to 550 pounds of weight. There's enough space for 3 grown adults of average weight.
Kilmer Creek 5-Foot Cedar Porch Swing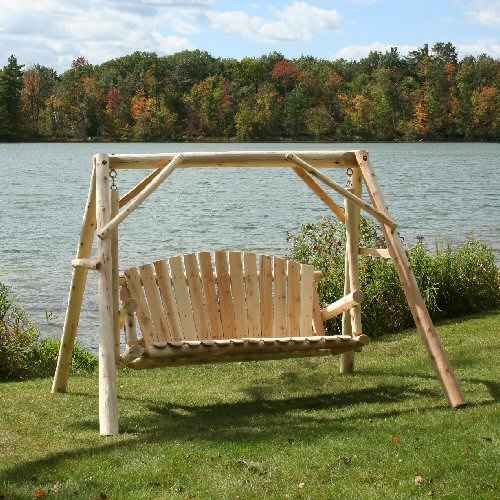 If you don't have room on your porch for a swing, you might consider Lakeland Mills Cedar Yard Swing instead. As with their love seat and lounge chair, the design brings together modern comfort in the seat with the timeless beauty of a cedar log frame.
It's a large yard swing, so expect that it will take over an hour to put together. Once you're done, though, you've got a beautiful piece of backyard furniture that you and the kids can enjoy for years.
With a 5-foot wide seat, there's plenty of room, so the grandchildren won't be fighting over who gets to sit in the swing first.
One tip if you buy this yard swing is to have a friend on hand for the assembly. Two people make the job much easier.
Lakeland Mills 5-Foot Cedar Log Outdoor Yard Swing