With a teak patio furniture set, you can make your backyard a luxurious, chill hangout spot. It becomes the perfect setting for dinners in summer's early evening glow. But if you've been busy lately, and haven't had time to keep your lawn furniture clean, then you know the typical dust and grime can easily put a damper on your weekend plans. Don't worry, keep reading to see how simple it can be to keep your dining set spic and span.
If you're wondering how to clean teak furniture, you'll be happy to know that it's not difficult. Just follow a few simple steps and your teak wood patio table and chairs will look new in no time.
Even if you've left them outside, neglected in the swampy summer humidity, and your teak chairs are growing some green funk on them—don't despair. You can clean them up and have them looking fantastic with just a bit of time and effort.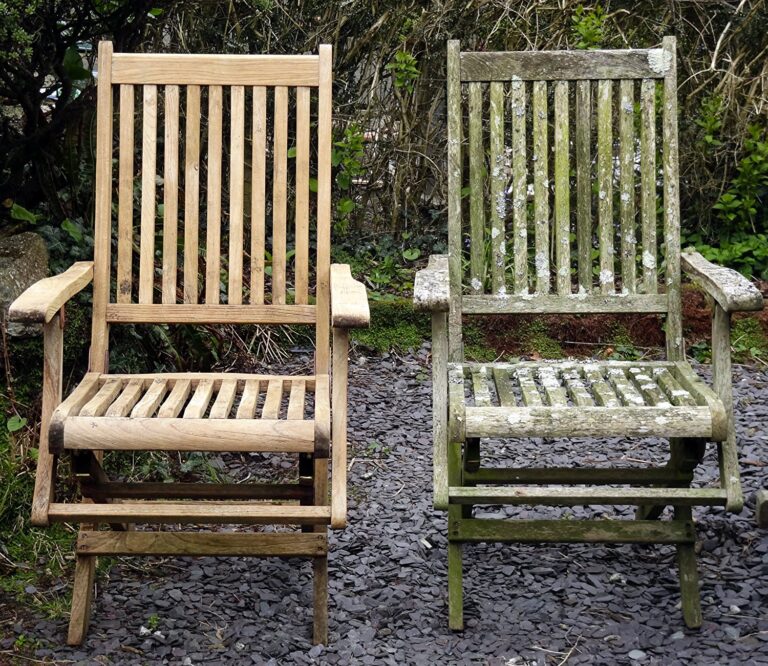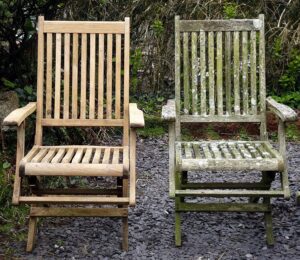 It's better if you never let them get that bad in the first place, though. Cleaning your teak outdoor furniture on a regular basis will help beautify the wood throughout.
Don't be fooled into thinking that some dirty or neglected teak furniture should be headed for the garbage heap. Chances are that dining set will outlive you. Teak is used in many types of furniture, building, and boat construction because it's so durable—often lasting many decades.




The naturally occurring oils found in good quality teak wood will protect it from the inside out against insects, rot, fungus, and water damage. The exterior of the wood, however, will get dirty and dusty over time as it sits outside. It can also develop uneven dark gray spots, especially if located in a humid environment.
Regular cleaning will remove all the dirt and dust from the surface of the teak wood. It will also brighten up the wood by clearing away any dark spots that have been left to develop over time.
Cleaning teak outdoor furniture is easy to do. You just need a few items—plus your own elbow grease to do a good scrubbing job. You will get the most impressive results on old, dirty teak wood by using a 2-part cleaner and brightener combination.
How to Clean Teak Furniture in 8 Easy Steps
Gather all necessary equipment
Soak the furniture with water
Apply part 1 (cleaner) with a spray bottle
Scrub the wood with the cleaner applied
Rinse thoroughly
Apply part 2 (brightener) with a spray bottle
Scrub the wood with the brightener applied
Rinse thoroughly and allow 24 hours to dry
Step 1: Gather all necessary equipment
You will need the following:
Make sure that you use a garden hose with an ordinary spray nozzle. You don't want to use one of those high-pressure hoses as that can be damaging to the wood. A scrub brush with soft bristles is a good tool for the scrubbing part of the job. Alternately, you could use a large scouring pad. If you are cleaning a large table, a squeegee will help you to wipe excess water off the surface very easily. You'll want to wear rubber gloves the entire time that you are working with the teak cleaner and brightener in order to protect your hands from sensitivity to the chemicals.
There are a number of good teak cleaners available. Several companies produce a 2-part cleaner and brightener that are intended to be used together. This is the best option when you desire a deep clean for your teak patio furniture to remove all dirt and grime, and brighten it up from a state of neglect.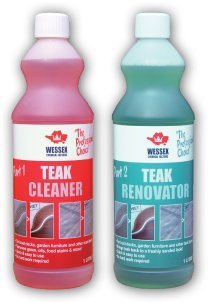 In the video below, they use Wessex Teak Cleaner and Renovator. This is an excellent pair of products, however, they are only distributed in the UK. For our readers in the US and other countries, the 2-part Semco Teak Cleaner and Brightener will do the same job.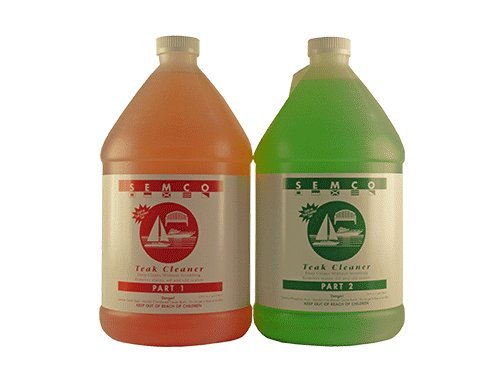 Step 2: Soak the furniture with water
Move the teak furniture into a well-ventilated shady area before you begin. It's better to stay out of direct sunlight while cleaning so that the wood doesn't get dry while the cleaners are being applied. Using the garden hose, spray your furniture with water for a couple minutes to make sure that it is thoroughly soaked. When working on large flat surfaces where water can pool, such as dining tables, you can use a squeegee to help remove the excess water.
Step 3: Apply part 1 (cleaner) with a spray bottle
Follow the manufacturer's directions on the bottle of your cleaner to achieve the right portions of cleaner and water. Using a spray bottle, we'll evenly spray the part 1 cleaner over the surface of the wood. Then give the cleaner a few minutes to activate the cleaning process on the wood before beginning to scrub.
Step 4: Scrub the wood with the cleaner applied
Using the scrub brush or a large scouring pad, you want to scrub the wood's surface thoroughly. If it has been a while since your last cleaning, you'll see the dirt come right out from inside the grain, mixed in with the cleaning suds. it is best to scrub in the direction of the grain.
Step 5: Rinse thoroughly
Using the garden hose, completely rinse all of the part 1 cleaner from the surface of the wood.
Step 6: Apply part 2 (brightener) with a spray bottle
Next, apply the part 2 brightener. Again, you'll want to check the label on the bottle to see what the recommended concentration of the product is according to the manufacturer. You may be amazed when you see the brightener clear up the color of the wood after just a few moments.
Step 7: Scrub the wood with the brightener applied
Scrub the surface of the wood a second time in order to activate the brightener evenly. Your teak furniture should be looking fantastic by now.
Step 8: Rinse thoroughly and allow 24 hours to dry
Finally, rinse all of the step 2 brightener off using the garden hose. Remove any excess water using a squeegee. Allow 24 hours for the furniture to completely dry before using it.
How to Keep Teak Looking Good Between Cleanings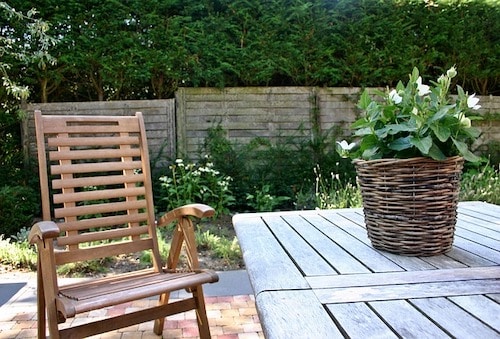 After cleaning your teak wood furniture, you should see a huge difference. If the wood was looking dirty gray and splotchy before, now it should look a clear and even sandy or light gold color.




Teak wood naturally fades in color to a silver patina over time. A deep cleaning will reverse the process for the moment and restore some of the wood's golden hue that it had when it was fresh.
If it's still too gray for your liking, then you can sand down the very top layer of the wood to expose the lovely honey-colored teak wood underneath. Start with a medium grade sandpaper to gently remove the outermost wood that has oxidized already. Then follow up with a fine grade sandpaper to achieve a smooth finish.
Use sealer between cleanings to slow color fade
You can apply a teak sealer to the wood, which will prevent the surface from quickly oxidizing. This is the best way to preserve golden colored teak furniture between deep cleanings. Semco Teak Sealer is recommended for this purpose.
When the wood is completely dry, you can apply teak sealer using a sponge or cloth. You want to only use the minimum amount required to coat the surface. Allow it to dry and then apply a second coat. When used correctly, a teak sealer should last a full year, with your furniture showing very little fade during that time.