When the weather is warm, you want to make the most of it. And what better way to do it than by enjoying time with friends and family at an outdoor teak dining set!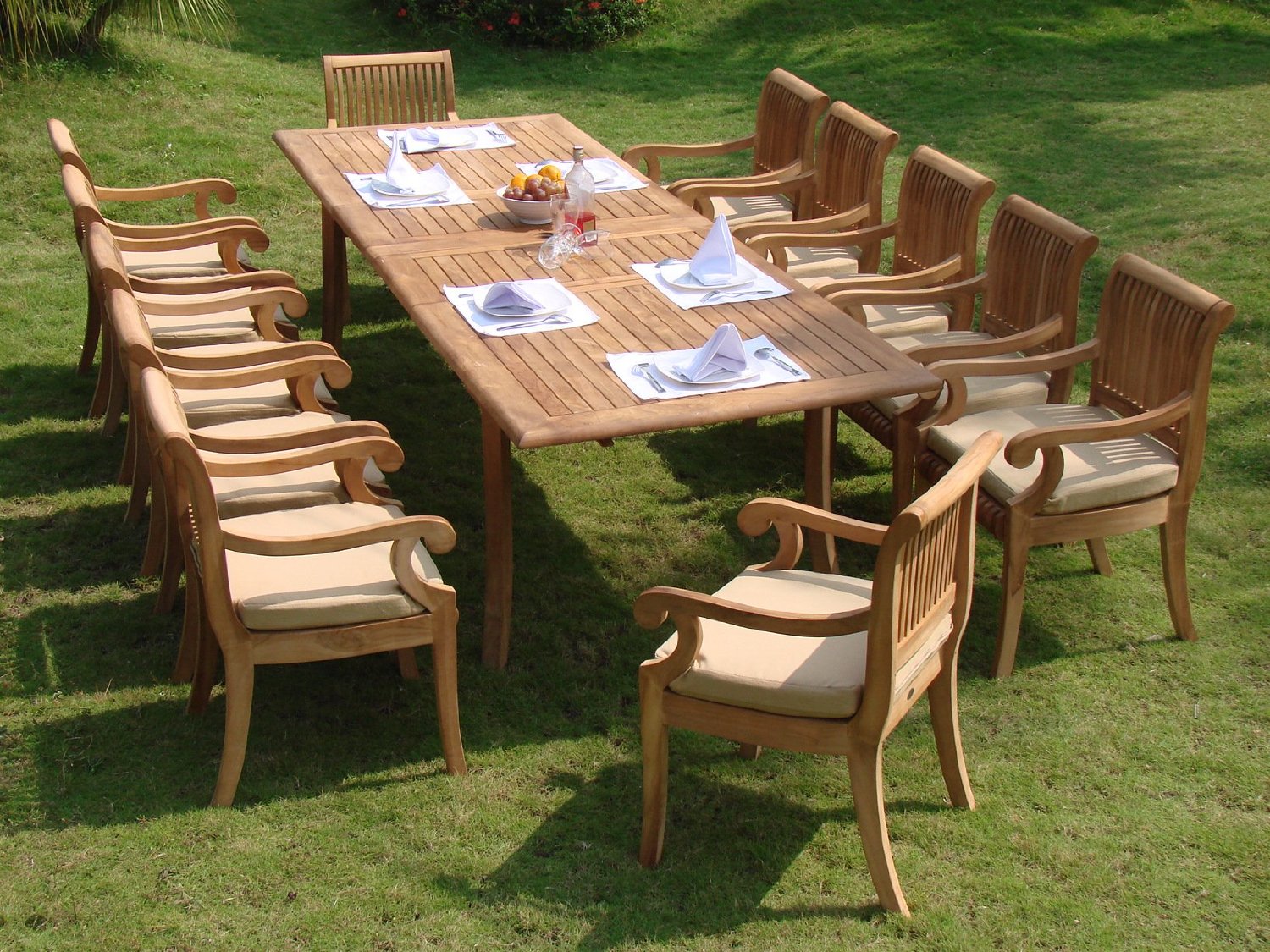 Teak is the wood of choice for outdoor furniture, so you want to make a good decision when purchasing a new set.
To make it easy, we'll help you choose new patio furniture by reviewing some of the best outdoor teak dining sets available.
Years ago you would have had to drive across multiple states to be able to compare and contrast such a wide selection of furniture, but with the power of the internet furniture shopping is now a breeze.
We've done the hard work for you, so do you can easily find the best outdoor dining set for you and your home. Here are some of the main points to ponder over:
Number of Pieces
Outdoor dining sets range from small 3-piece bistro sets to lengthy, 11 or 13-piece sets for you and all your cousins. The size you want to get will depend on how much space you have on your patio, how large your family is, whether or not you have children living at home, and if you plan on entertaining for large gatherings or not.
Teak sets are listed according to the number of pieces, so they're typically an odd number because the table counts as one of the pieces. So just remember, for example, that a 9-piece dining set will give you seating for 8 people with the 9th piece being the table itself.
Table Length
The length of the table is an important factor to consider if you plan to keep your dining set on your deck or patio. You want to make sure that you have enough room for it. The length listed is usually the maximum dimension for the table when fully extended if it's an extending table. If the table is round or square, then obviously the length and width will be identical.
When using a measuring tape to measure the space you have available on your patio, remember to account for the space that the chairs on either end will use up. You also want to give people a little bit a space to be able to walk around the end of the table. I would suggest making sure you factor in at least 3 feet of space at the end of any long table if you plan to have one of the chairs for seating there. All the lengths are given in inches.
One thing to also keep in mind is that the longer a table is, the more difficult it will be to provide shade for the entire table using just one patio umbrella.
Shape
There are four basic shapes of dining tables that you can get: circle, square, rectangle, and oval. If you have a preference, this can help you narrow down your search.
I'm a big fan of circular tables for small sets and rectangular ones for large sets. Some of you will no doubt enjoy square or oval tables though.
Price Range
Prices never stay constant. Sometimes a particular dining set will be on sale, and many online sellers normally list furniture sets for a discount price that is well below the standard recommended retail price. Please keep in mind that prices can change at any time. To see the current price of any furniture set below, click on it's name to see a full description.
Happy furniture shopping!
(We also put together another article to compare all the best teak benches.)
Read on to see our top picks for the best overall round table and long table teak patio sets.
Our Pick for the Best Round Table Teak Patio Set
Our top choice for the overall best circular outdoor dining table set is Wholesale Teak's 48″ Table & Arbor Arm Chairs Set.
There's nothing extra fancy or gimmicky going on with this set. It is just simply a very classy 4-foot round table with 4 standard arm chairs. I personally like the stability that you get with this table design and prefer it to a butterfly table. With this style, there are no connecting support pieces to get in the way of your feet. It's just more comfortable in my opinion. It doesn't fold up like a butterfly table would, but how often would you really want to fold up and hide your beautiful teak table anyways?
If you plan to use a patio umbrella, you should purchase a base too, because this table has no foot-level crossing piece to place a support hole in like some other tables have.
The armchairs are a really nice comfortable design, with just enough curves and detail so as to not be boring. And the table has a convenient hole in the center for a patio umbrella. A round 4-foot table is a great size and shape if you have limited patio space to work with. It's also the best design for a more intimate and cozy furniture set. If you don't think you really need a long table for 8 or 10 people, then a smaller round table is really a smart choice. It's also one of the more affordable teak patio sets—you can sometimes find it selling for just over $1000. Click here to see the best price for this set on Amazon.
Our Pick for the Best Long Table Teak Patio Set
Our number one overall pick for the best long table teak dining set is Bayview Patio's 9-Piece Double Extension Table w/ Patara Arm Chairs Set.
In my mind, this is the best teak patio set that you can find for under $2000. The fact that it comes with a full set of complimentary seat cushions just makes it even that much better of a deal. The double extension table design is ideal because it leaves the umbrella hole intact when the table is in its compact state. When collapsed, it is the perfect size for 6 chairs. Put the extensions in, and it fits 8 people comfortably.
Not only is the product made from top-quality materials, but the selling company's customer service is outstanding. In addition to the complimentary seat cushions, they also provide an optional professional sealing service. For a little extra, this is really a great added option because it allows you to enjoy the set right away and not have to think about maintenance for the wood until the next year. It also shows that the manufacturer knows what they're doing when they suggest sealing to the customer instead of an oil application. Click here to see the current price of this set on Amazon and read all the positive reviews it has gotten.
Reader's Picks for the Top Teak Dining Sets
Here are the top-selling teak dining sets among our readers:
Bayview Patio's 9-Piece set
Bayview Patio's 9-piece teak dining set is the top selling outdoor dining set among our readers. Many people say this set is stunning and surpasses expectations.
Wholesale Teak 5-Piece Butterfly Table Round Set
Readers seem to love the Wholesale Teak 5-Piece Butterfly Table Round Set. It's the best-selling 5-piece set. The nice thing about this table design is that an umbrella pole will be supported at floor-level, removing the need to purchase a separate umbrella stand.
Wholesale Teak 60″ Round 7-Piece Dining Set
The Wholesale Teak 60-inch Round 7-Piece Dining Set is just as popular as the 5-piece set above. Clearly, many people fall in love with the circular table design but like the idea of a slightly larger table with seating for a couple more friends.
Giva 13-Piece Dining Set with Captain Chairs
Among the large dining sets of 11 or more pieces, the most popular is Teak Station's Giva 13-piece dining set with captain chairs. It's a really beautiful set with some of the most comfortable chairs you'll find. Everyone at the table gets to feel like a VIP with armrests for all!