You can create the feeling of a luxury spa in your own bathroom or shower with a teak shower bench and floor mat. And who wouldn't want to do that? Teak is a very high quality wood that will not get damaged from use around water. It also looks stunning.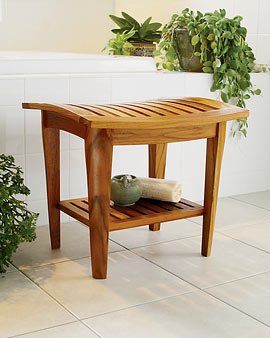 Teak has been used since antiquity as a material for building wooden ships due to it's unique qualities. The high natural oil content of teak heartwood makes it the perfect type of timber to use in water. The oil within the wood naturally protects it from any damage by water, fungus, insects and other pests.
But you don't have to be a shipbuilder to appreciate this quality of teak wood—teak is also ideal for building bathroom and shower furniture.
Teak also exudes luxury. It's one of the more expensive varieties of wood because it's known to last a lifetime. In addition, well-finished teak has a warm, smooth appearance that invites touching. It's well-known as a wood for building luxurious outdoor furniture, and teak can also add a touch of luxury to your bathroom or shower areas.
The two main items of teak bathroom furniture that you should consider getting are a
shower bench
and a
floor mat
.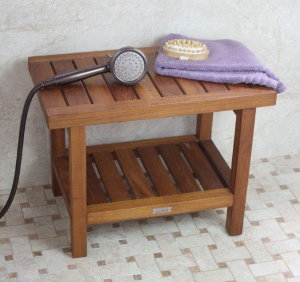 Teak shower benches come in a wide range of styles, shapes, and sizes. If you'd like to have an Eastern inspired look in your shower, similar to a Japanese onsen bath stool, you can get an Asian shower stool. It's a very practical design that also looks beautiful with a tidy sense of minimalism. You could also get a rectangular shower bench, which provides a little bit larger seating surface. It's a very practical item that gives you somewhere to rest your weight on while you shave your legs or scrub your feet.
This style gives your shower area a little touch of Zen.
Most of the teak shower benches also have rubber pads with an adjustable height so that the bench won't slip and can be made to sit level on a shower floor that has a slant in order to drain.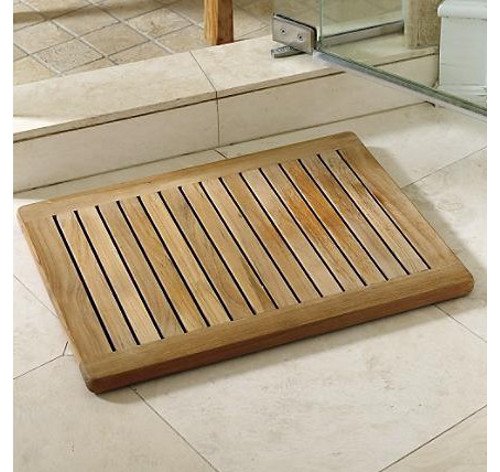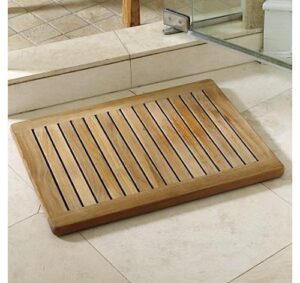 Teak bath mats also look really stunning, especially when you compare them with typical floor mats for the bathroom. Depending on your preference, you may want to get a floor mat with slats that run horizontally, vertically, or in a decorative pattern. Teak shower mats are versatile items that can be used in the tub or shower itself, right outside the shower, or even by an entrance to your house.
You don't have to worry about water damaging a teak bath mat or shower bench. Just give it a good scrubbing occasionally with a soft-bristled brush to keep it clean. Teak should keep looking beautiful for years and years.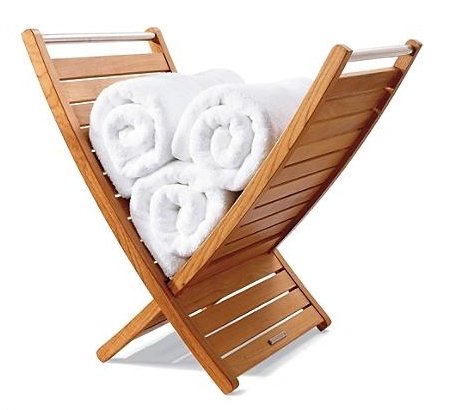 A shower bench is a very practical item for the reasons mentioned above, but you could also place a teak shower bench in your bathroom purely for decoration, as a place to hold towels, or as somewhere to display other decorative bathroom items such as scented soaps and lotions.
Or you could also get a teak towel holder that is made for this purpose. With a teak shower bench and floor mat, the addition of a teak towel holder will really complete the luxury spa look of your new and updated bathroom.
If you do intend to place a teak bath mat or shower bench inside your bathtub or walk-in shower stall, make sure to check the size of the bench or floor mat to make sure it will fit.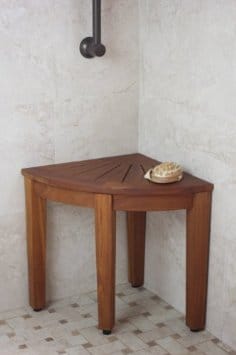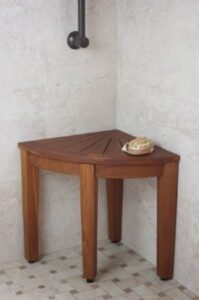 If you are a little tight for space, but you still want a teak bench in your shower, then you might want to consider a corner shower stool. There are some really nice teak corner stools that fit in a small space but still provide a very sturdy seat when you need one.
I would recommend getting both a teak bath mat and a shower bench at the same time. That way your shower area will have a unified theme and also both pieces of teak furniture should age at similar rates.
If you want to change things up in your bathroom or shower area, teak might be the best way to go. You could have a new bathroom that feels like a luxury spa just by adding a few items of teak. The combination of a shower bench and teak floor mat is the perfect pair to give your bathing area a high-class touch.