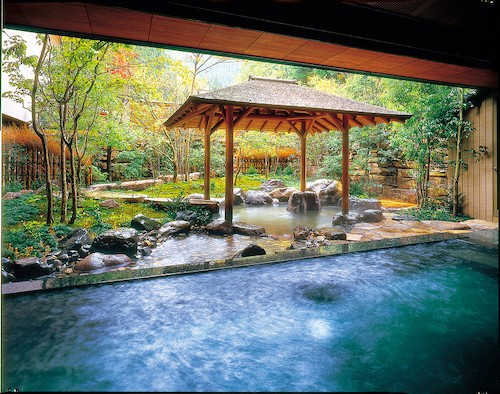 Have you ever had the pleasure to enjoy a traditional onsen hot spring in Japan? If so, you'll know that it's all the little touches and attention to detail that makes the experience so unforgettable. While you may not be able to fly out to a hot springs resort outside Tokyo on a moment's notice, you can recreate some of that traditional onsen feeling in your own home with a few careful touches.
Japanese bathing culture
First of all, what is it that makes Japanese bathing culture unique? Not even talking about hot springs resorts and spas, but in everyday life, the Japanese cultural experience of bathing is very different from that of the western world.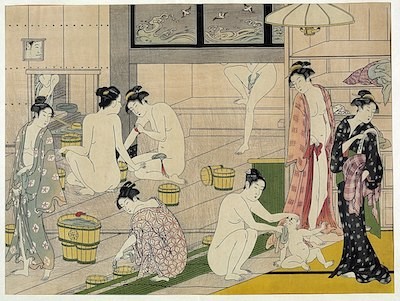 For starters, bathing is typically done at night instead of in the morning. It's not only for personal hygiene, but also for relaxation after a long day's work and to heat up the body before sleeping.
The biggest difference, however, is that a Japanese bathtub is not for washing. Rather you wash yourself before getting in the tub, and then use the tub for relaxation.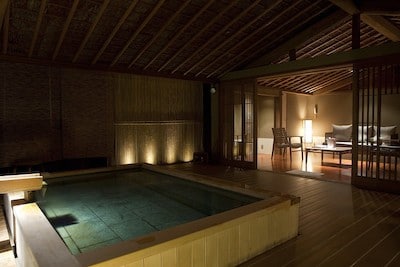 It makes sense if you think about it. If taking a bath in the western style, you fill up the tub with water and then wash yourself in the tub with soap. Although you mostly clean your body this way, you're now sitting in water that is kind of dirty.
In Japan, you wash yourself outside the tub while sitting on a little stool. Using a shower nozzle and little bucket, you scoop water over yourself. Then you lather up with soap and scrub with a cloth. And then scoop more water over yourself to rinse. Now you're 100% clean and can relax in a hot tub of water without dirtying it.
In this way, onsen hot spring pools, sento public baths, and even the home bath tub can be used by multiple people without having to change the water.
Hinoki wood bath stools
If you want to recreate the Japanese bathing experience in your home, the first thing you need is a small stool for washing outside the tub. It also really helps if you have a bathroom designed for the purpose so that water will drain from the floor.
In Japan, bathing stools are traditionally made from hinoki wood. Unfortunately, many modern bathhouses have been replacing these with inferior plastic versions. Hinoki is also known as Japanese cypress and is used in Japan for many traditional crafts such as tables, baths, shrines, and temples.
Hinoki wood has a pleasant citrus scent and light pinkish-brown color. It's highly resistant to rot and makes great timber. Hiba is another species of Japanese cypress sometimes used for wood stools due to its similar properties.
It is mainly the rot-resistance of hinoki and hiba woods that make them such great choices for bath seats and other accessories that will come in contact with water daily.
The traditional hinoki onsen stool is constructed of a flat seat with two flat, wide legs forming an A-frame. There is often an additional bracing piece placed between the legs, which is sometimes positioned quite low to function as a mini shelf. This design has inspired the teak wood version of "Asian shower stool" that has gained much popularity in recent years.
The onsen bath stool design fits in well with the Zen-inspired minimalist aesthetic style known as wabi-sabi. If you like rock gardens and bamboo groves, then you'll love the look of a simple unfinished hinoki wood stool. Typically, these stools are not treated with any oil or varnish.
Hinoki wood onsen bucket
The buckets that are traditionally used in Japanese onsen and sento baths are a simple round design with a flat bottom. These are usually made from hinoki wood as well.
You can purchase a Japanese cypress bath stool and bucket sold together as a set.
Hinoki wood is also used for other bathing accessories such as traditional Japanese soap dishes.
Hinoki wood bath mat
To add to the overall theme of your home onsen spa, you can outfit your bathroom with a real Japanese hinoki wood bath mat to match your bathing stool.
Much like a teak wood bath mat, one made of hinoki wood will hold up excellently in your bathroom or shower area due to its rot-resisting properties.
Japanese spa style waffle towel
If you add a few more touches, your home onsen experience can really come to life. One feature you may consider is to get some Japanese spa style waffle-weave towels.
They are super soft and comfortable, while being noticeably lighter and thinner than traditional cotton towels. As a bonus, they also dry much faster.
These towels come in a large selection of colors, though in keeping with the minimalist theme the colors tend to be muted or earth tones.
Japanese onsen bath salts
Now how about taking care of the bath itself? To get the full onsen experience, you can use onsen-themed bath salts from Japan. An assortment pack gives you special bath salts to represent all of Japan's most famous hot spring regions. You can enjoy scents of flower gardens, cherry blossoms, mandarin oranges, Japanese cedar and more!
Relaxing Japanese traditional music
Finally, if you really want to set the tone for relaxation, nothing does it better than music. The sounds of the Japanese koto (13 stringed zither) and shakuhachi (bamboo flute) will whisk you away to a Zen garden in Kyoto. It is the perfect musical style to create a relaxing spa experience in your home to enjoy some "me time".
Three of my absolute favorite koto and shakuhachi albums are Lullaby For The Moon: Japanese Music For Koto And Shakuhachi (Various artists), Japanese Traditional Koto And Shakuhachi Music by Satomi Saeki and Alcvin Takegawa Ramos, and Evening Snow by Tani Senzan and Tanaka Yoko.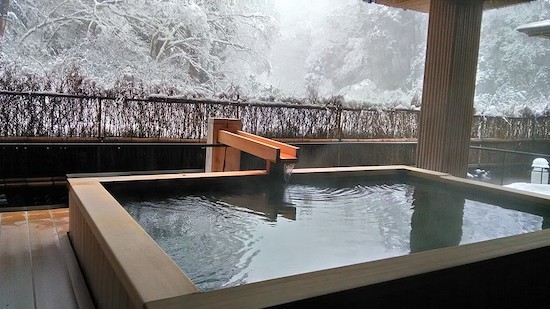 I hope you feel inspired to bring to life the traditional Japanese onsen style in your own home.
Photo credits: Nishimuraya Kinosaki Onsen under Creative Commons license