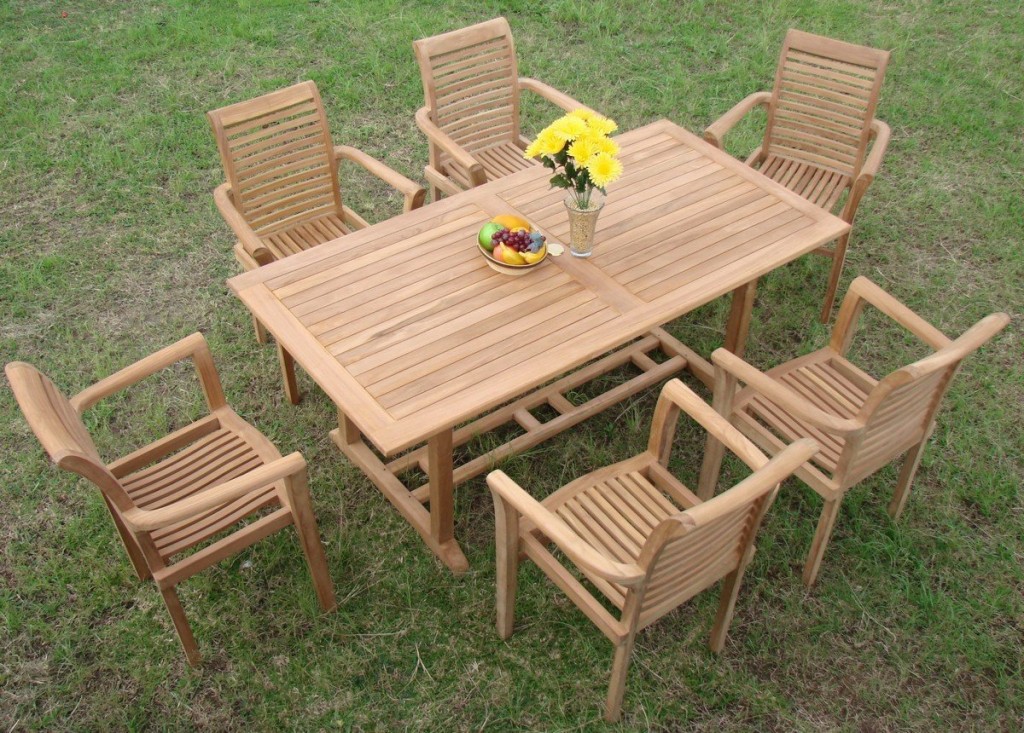 If you're looking for a 7-piece teak dining set, this one is a solid choice. It's a beautiful outdoor dining set made from 100% grade-A teak wood. If you are new to teak you may be surprised just how solid and heavy this wood is when it arrives. Teak naturally contains protective oil throughout the wood, which makes it the ideal material for patio furniture. Rain, snow, sun, and wind will not damage it.
This particular dining table has a trestle legs which gives it an extra bit of stability. It's a nice, long table with overall surface dimensions of 71×35 inches plus 29.5 inches in height. The table also features a small circular opening in the center to place an umbrella. The six teak armchairs are 24.5 inches wide and 19 inches deep. The chairs are also stackable, which makes it easy to store them if you want to take the dining set inside in the winter. The chairs come fully assembled, and the table requires very minimal assembly.
You can picture how nice this 7-piece teak dining set would look on your patio. In the summer you can enjoy family dinners outdoors in style. It's a great set up for entertaining a few guests as well. Teak is probably the most durable variety of wood available for outdoor furniture too. So you know that this set will last a couple generations. Someday your children may thank you for investing in such a high quality patio dining set if you decide to pass it down as a gift to them.