A teak shower mat is most likely considered a luxury in today's bathrooms and gives a custom-made feeling each time you set your foot into or out of the bath. The mat can be displayed in both indoor and outdoor settings. However, did you know that teak has now become popular in the use of shower accessories? Let's take a look at some of the benefits of a luxurious teak wood shower mat, some of the available designs and why you should have one.
Benefits of Teak Mats
Since the mat is made of teak, it gives your bathroom an anti-slip surface. This means you don't need to get worried about slipping and breaking a bone. This is the best accessory to have in your bathroom if you have an elderly person in the house. The best place to put your shower mat is beside the tub or just outside the shower door so that it can be the first thing you step on when you walk out.
The shower mat is even more stable since it has rubber stabilizers at the bottom. You also don't have to worry about drainage if it gets wet since they are well vented. But in any case, since the shower mat is made from teak wood it will naturally resist any damage from water and moisture. This is because teak is a dense wood that has a ready-made protection of natural oils. The density of teak also makes it extremely tough, and this toughness makes it more durable.
So if you want to give your bathroom a look that is both rustic yet sophisticated, and make it look even more elegant than before, you should decide on getting a teak mat.
Shower Mat Designs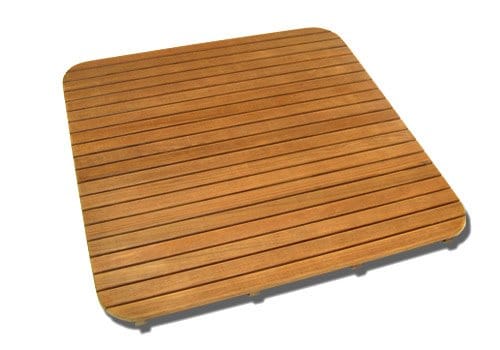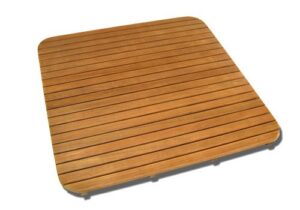 There are a wide range of designs in the market today when it comes to teak shower mats. You can go for any mat you think will enhance the spa-style look and feel of your bathroom. A teak mat with rounded smooth corners is one of the best designs because you don't have to worry about breaking your toe nail when you accidentally knock it. The 30" square teak mat will fit in most bathrooms, while still giving your door enough room to open freely.
Grated teak mats may be mistakenly perceived as poorly ventilated. However, they serve the same purpose other mats do. It is however, advisable to keep it just outside the shower rather than on the floor of the shower itself.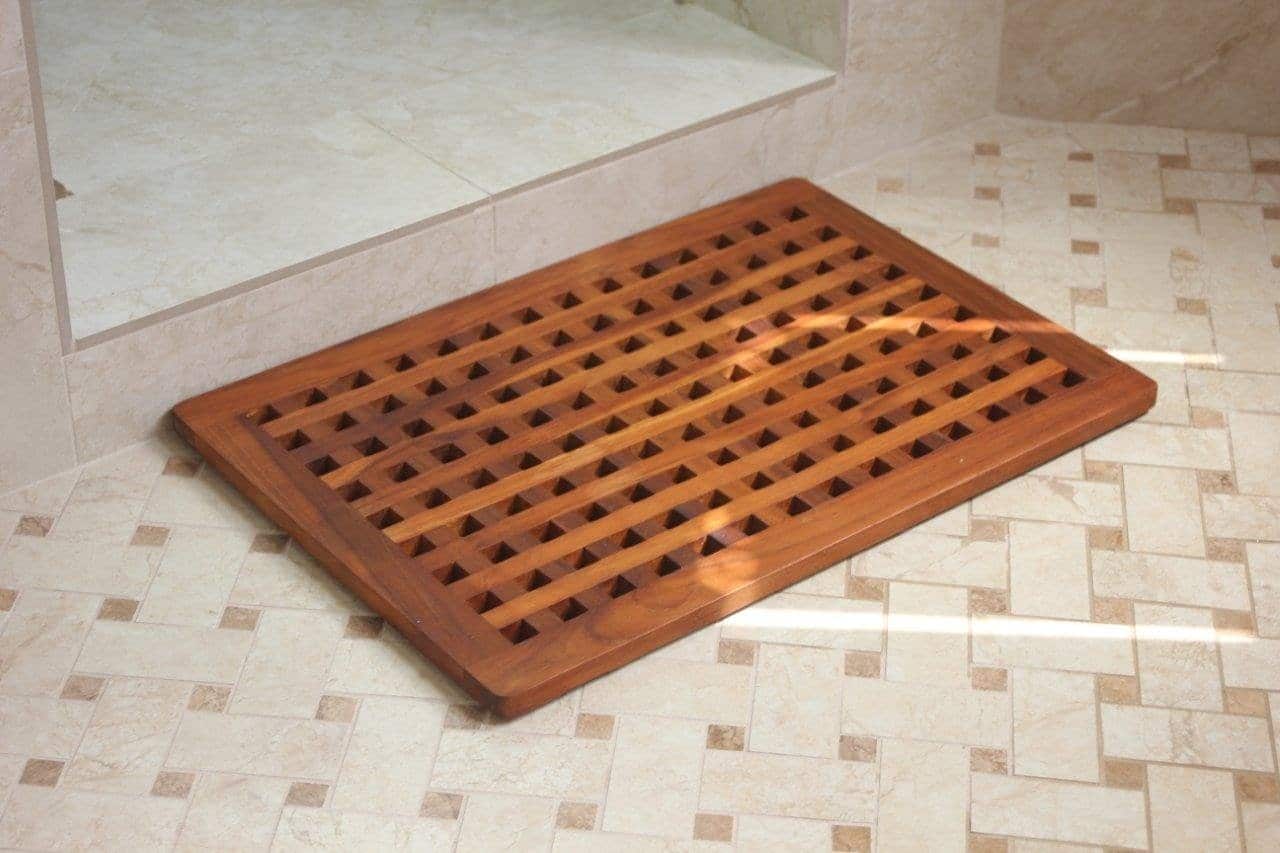 You can also choose a teak mat based on colors and shades, considering that some come with a dark oil applied already. Take into consideration the theme of your bathroom. Lighter mats give your bathroom a warm feeling. If you want your bathroom to have a bold feel then you can settle for darker colors. Any teak mat will fade in color over time unless you apply a teak sealer or oil it regularly. A good cleaning on occasion with a soft bristled scrub brush and some soapy water or a teak cleaner will help to keep your teak mat clean.