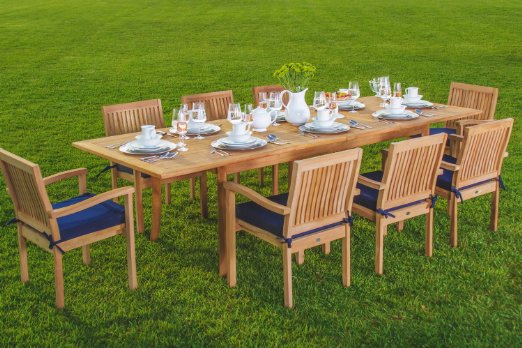 If you are browsing through the many selections of outdoor dining sets available, you will notice that not all sets are created equally. When it comes to strength and durability, the best choices are outdoor furniture made from teak wood. Teak has become one of the most popular choices for craftsmen who take pride in offering high quality outdoor furniture that can hold up against the elements of nature. This is why it is frequently used to build boats as well as outdoor furniture.
Benefits of teak furniture
This particular type of wood is highly resistant to the effects of water, humidity and the damage that some insects can cause. This makes it more durable and likely to hold up against the elements of weather longer than other materials. Other types of wood tend to become damaged by UV rays, excessive moisture and wind. Metals and plastics also succumb easily to the effects of nature. The characteristics of this aesthetically pleasing and somewhat rare wood make it resistant to the elements, particularly water. That is why it is used for so many different products that are used in or around water.
Origins of teak wood
Teak is a tropical hardwood that is native to regions in Asia such as India, Indonesia and Malaysia. For the sake of commerce it has also been transplanted into African and Caribbean countries. The water resistant characteristic of this hardwood has made it popular as the best wood for shipbuilding for many years. In more recent years, it's value as a material for crafting strong and durable outdoor furniture has been recognized.
Tips for purchasing teak outdoor furniture
Outdoor furniture made of teak wood is generally more expensive than many other materials. When shopping for a patio set it's important to make sure that you select a company that manufactures high quality teak products that are well crafted and will hold up against the elements. It is recommended that you select a company that uses a high grade of wood. Teak is categorized into three grades. A grade is the highest quality that has matured and developed a high density of mass, and contains higher levels of teak oil. This acts as a natural preservative and makes it resistant to insects. This grade will have a darker appearance. Grade B is still good quality, but does not contain as much of the preservative oil and is not as dense in composition. C grade teak is taken from the outer edges of the tree and will be lighter in color, and lacking the preservative oils of grades A or B. It's good to make sure that the furniture you purchase is either made from grade A or B wood.

In addition to this, teak that is machined versus hand made furniture delivers the highest quality. This is due to the ability of the machinery to deliver more precise cuts as it it a hardwood. The most ideal teak furniture will be machined using grade A wood. These are just a few tips to consider when you are about to make an investment in a high quality outdoor dining set that is made of teak wood.
Different styles available
It is also a good idea to consider the space that you have available, the number of chairs that you will use and the size of the table that will best meet your outdoor dining needs. There is a wide variety of sizes, styles and designs available. You are making an investment in outdoor furniture that will last for many years so it's good to take a little time and choose the set that you'll be happy with as time goes by.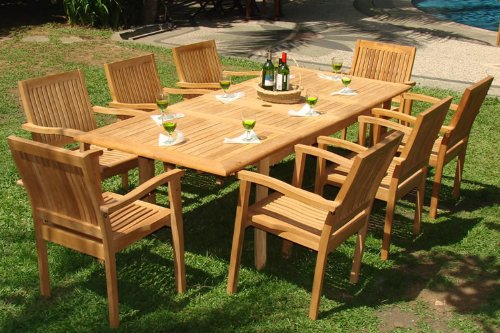 The larger sets come in a range of 7 to 13 pieces for comfortably seating between 6 and 12 people. This 9 Piece Grade-A Teak Dining Set
strikes a happy medium, with plenty of room for your guests, and yet it's not so large that you'll have trouble finding space for it. If you enjoy outdoor entertaining the larger sets will become conversation pieces among your guests, bringing you plenty of compliments through the years.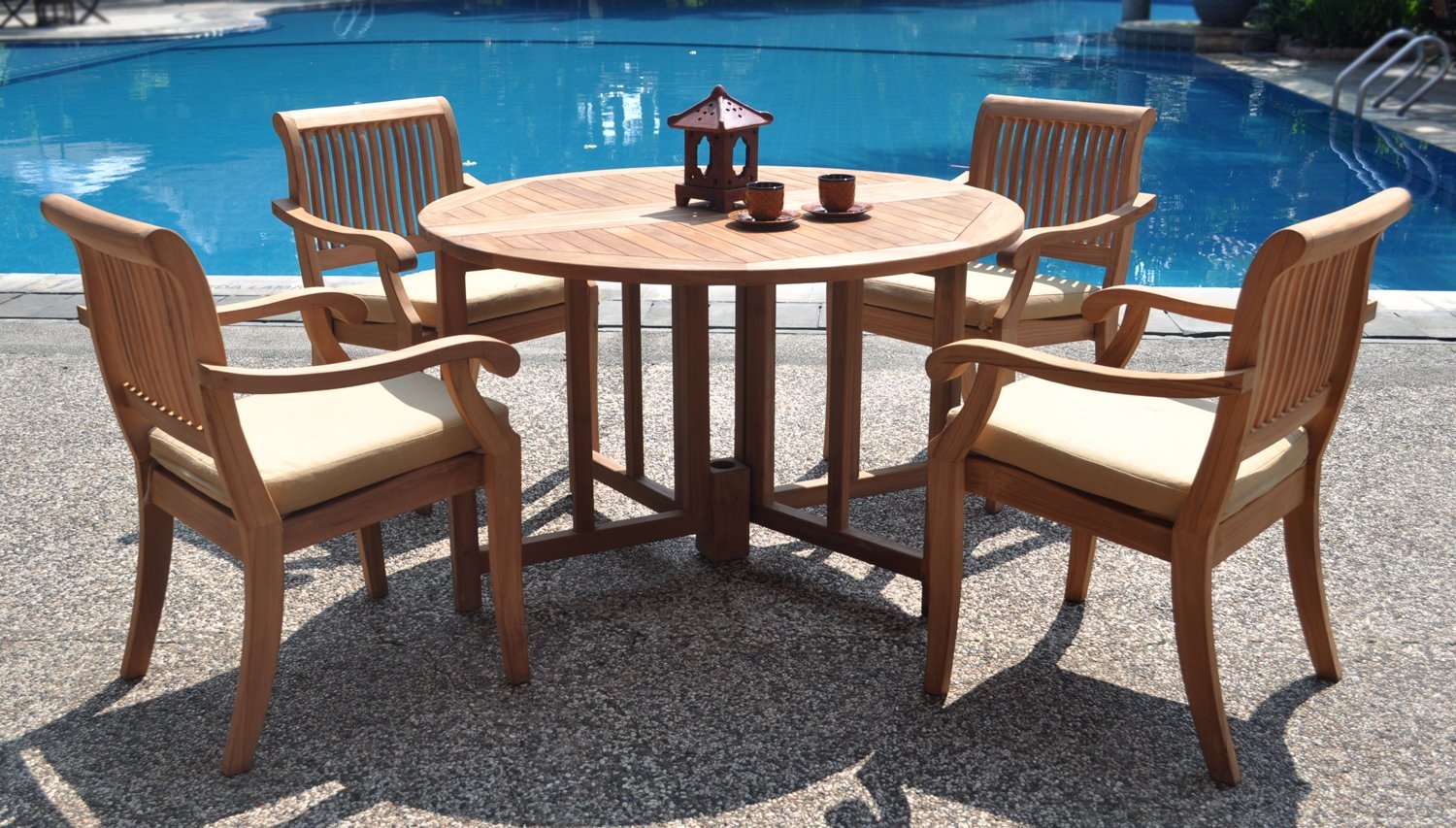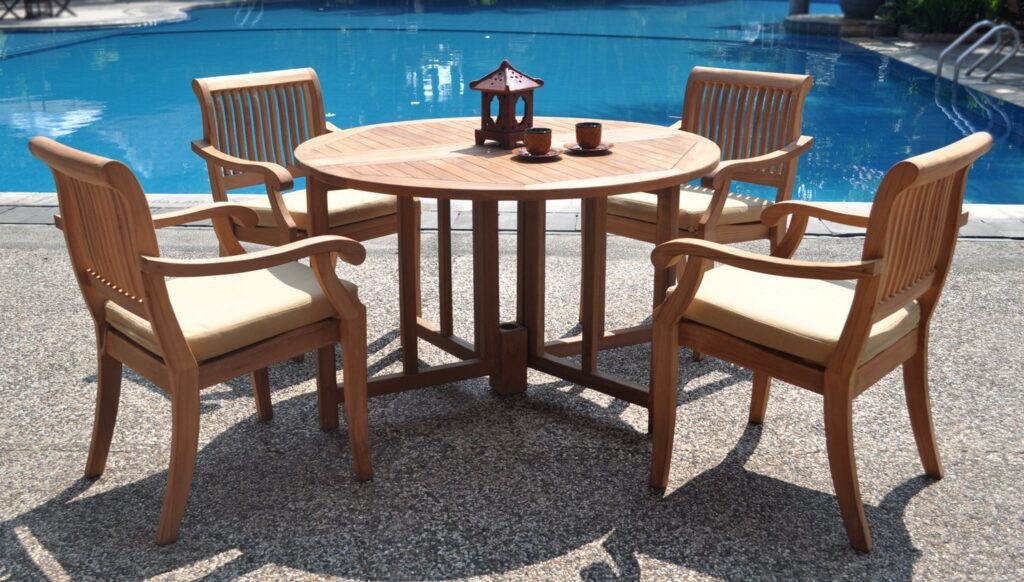 If you don't have the need for a larger set, there is a good selection of smaller sets available that will seat from 2-4 people comfortably. They come in a variety of sizes and shapes such as square, round and rectangular. One of the most popular is this 5 Piece Set with Round Table
. Whatever your needs and desires are, there are many different styles of teak outdoor dining sets to choose from.
Who should purchase teak outdoor furniture
Anyone who enjoys a touch of class and is looking for a long lasting and aesthetically pleasing set of outdoor furniture will be pleased with the addition of a set crafted of teak wood. The rarity of the wood and it's ability to resist the elements makes it a good value for the cost. Homeowners will enjoy the benefits of teak outdoor furniture for many years. Businesses who have an outdoor dining area for guests and employees will also find that the addition of teak furniture will bring an ambiance to the area.
The purchase of an outdoor teak dining set is an investment in a high quality product that will be around for many years to come. The qualities of teak wood that give it the greatest value are it's resistance to water, insects and the elements. Taking the time to find a company that uses grade A machined teak material will result in a superior product. Whether you are planning to entertain larger groups of people, or just want a smaller set for your own use, there are many styles and sizes to choose from. By choosing teak products you are going with the best in quality and durability.