Teak wood has a gorgeous warm glow when freshly cut. Unfortunately, exposure to air and sunlight will cause teak's color to fade away over time—eventually becoming a silvery gray patina.
If you want to protect the attractive color from fading, one of the best solutions is to use a teak sealer. Starbrite Teak Sealer is one of the best-selling teak sealers available, so let's take an in-depth look at this product today.
First of all, let's start with the name. This product used to go by the name "Starbrite Tropical Teak Oil Sealer", but on the newer packaging I see it has been re-branded as simply "Starbrite Teak Sealer". In my opinion, this is a great development. It reduces confusion for the consumer and better describes the product.
I didn't like the old name because oils and sealers are two different things. On top of that, all the so-called "teak oils" don't actually contain any oil from the teak tree. It is just a marketing term that gets used for a wide range of formulas by different manufacturers. Most are primarily composed of boiled linseed oil.
This here product, though, is truly a sealer. It is quite unlike most teak oils, including Starbrite's own version of linseed-based Teak Oil. Therefore, the name Starbrite Teak Sealer is much more appropriate.
Now, let's look at what it actually does. You would use Teak Sealer instead of oil in your teak wood maintenance. The company originally developed this product with boat decking and other marine uses in mind, but it works just as well on outdoor patio furniture made from teak or other dense hardwoods such as Eucalyptus and Shorea.
How to Use Starbrite Teak Sealer
Before using sealer, you need to prepare the wood by cleaning it. If you want to stick to the same line of products, Starbrite has come out with a combined One-Step Teak Cleaner & Brightener that does a great job. Allow the wood to fully dry before moving on to sealing it.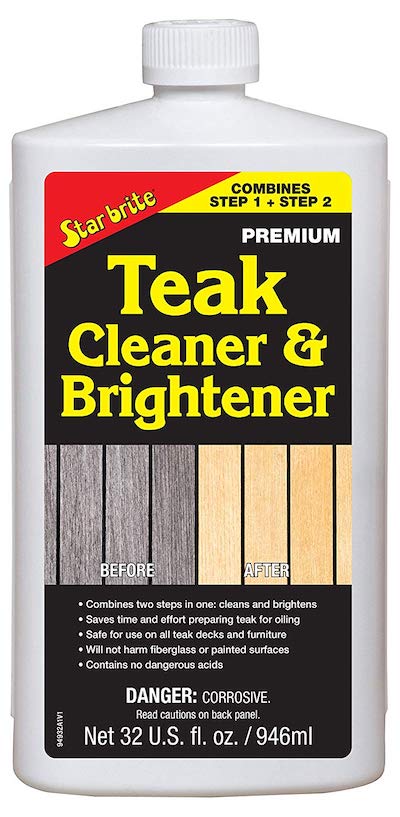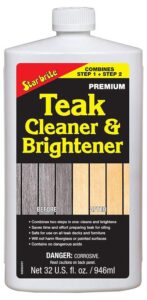 The manufacturer recommends using a foam brush to apply the product, being sure to follow the grain of the wood while using short strokes. A steady hand will help you get even brush strokes and a uniform finish. Check your work as you go, and keep a dry towel on hand to smooth out any uneven areas—again following the wood grain as you brush.
One coat is all that is required with this product, and you should allow your furniture to sit in direct sunlight as it dries in order for the sealer to properly set. The manufacturer is very specific in stating that UV exposure is required to dry properly.
If after it has completely dried, and you still desire a darker finish for your teak, then of course you can feel free to add a second coat. But again, it's not necessary to use multiple coats in order to protect the wood.
Here's a short video demonstrating the proper application technique. Be sure to also follow the detailed instructions on the package:
Color Varieties
Starbrite Teak Sealer comes in three different color variations: Clear, Natural Light, and Classic. If you watch the short video posted above, you can see samples of the three shades applied to a single teak board. From left to right they are Clear, Natural Light, and Classic:
This gives you a good idea of how each might look when fully applied to your furniture or deck. In my opinion, the Natural Light variety best captures the warm glow that many teak furniture owners are after.
Some people feel that the Classic color turns out to have too much of an orange tone. But if you're after a strong color, go ahead and use the Classic. Just be sure to not apply it too thickly.
As you can see, the difference this product makes to old weathered teak is truly remarkable: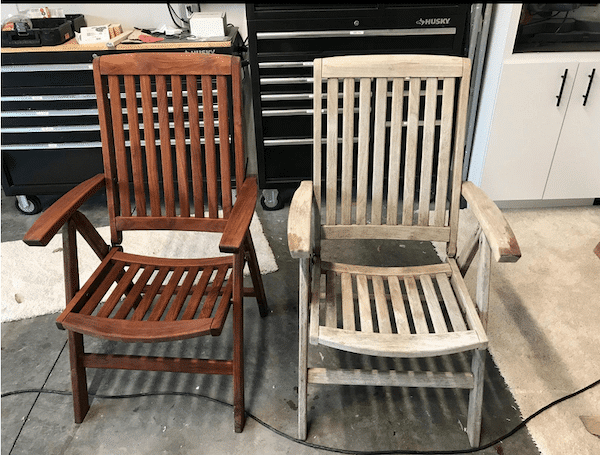 The Classic color variety produces a very strong tone: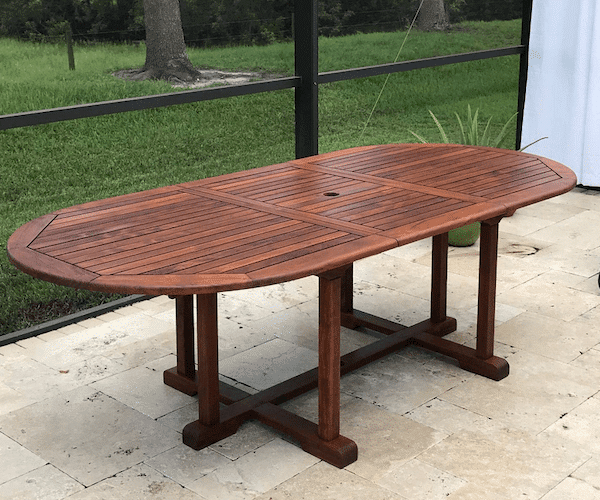 If you find the Classic tone to be too strong for your tastes, then the Natural Light shade may be more to your preference: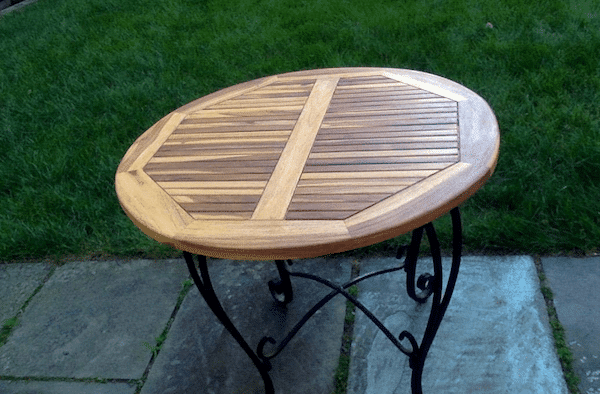 Final Say
Regardless which color your choose to buy, this is a really solid product that I would not hesitate to recommend. It goes on smooth and dries pretty quickly (just make sure you've got sunlight). The resulting color is beautiful and can last you a couple years before really needing to get redone.
Key points:
Easy to apply
Long lasting
Beautiful result
Reduced maintenance compared to oil