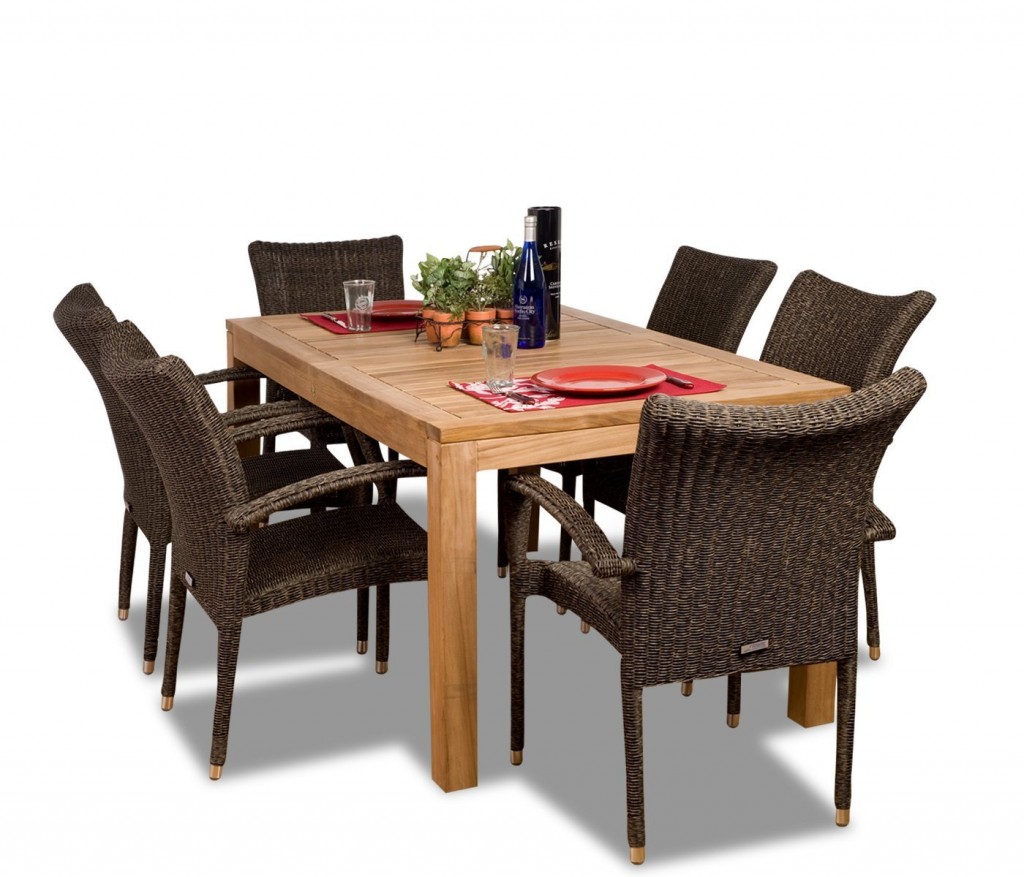 This 7-piece outdoor dining set combines the enduring quality of teak with the cozy charm of wicker. For some, a combined teak/wicker dining set will have a lot of appeal. Others may find more lasting value in an all teak dining set instead of having the table and chairs made of two different materials. It really depends on your personal preference.
One potential problem is if the chairs are not built with the same quality as the table, which might be the case here. These chairs are actually made from aluminum and a synthetic wicker. They should last longer out in the elements than real wicker would, but you have to wonder if the solid teak table won't outlive the chairs. High quality teak furniture can last for generations, so there is a pretty good chance that this dining table is still in good shape 40 or 50 years from now, but the same might not be said about the wicker chairs. If you really like the look of this set, though, that shouldn't stop you from getting it. If you have to replace the chairs 15 or 20 years down the line, you'll no doubt have many great options to choose from at that time.
This is a 7-piece outdoor dining set, so you can seat a group of six, and do so quite comfortably. The teak table measures 63 inches long by 35 inches wide, which is roughly 5×3 feet. It is also 29 inches high. A convenient 2-inch hole is provided in the center of the table in order to place an umbrella stand so you can enjoy a little shade, though you'll have to pick out a patio umbrella separately.
The chairs come in a chocolate brown color that contrasts nicely with the lighter brown of the table. Keep in mind that the color of the teak will begin to fade after a few weeks of being kept outdoors. Eventually it will become a silvery-gray color, although you can treat the table with various teak care products to slow down or interrupt the natural fading process of the teak wood. The chairs are 23 inches wide by 25 inches deep. It should be noted that the seats are more narrow at the back than they might appear in the photo, but they are still plenty large enough.
Overall, if you are interested in buying a combo teak/wicker dining set, this one looks pretty good. But with other 7-piece teak dining sets including teak chairs available at comparable prices, you may want to think carefully about which would give you more long-term value.