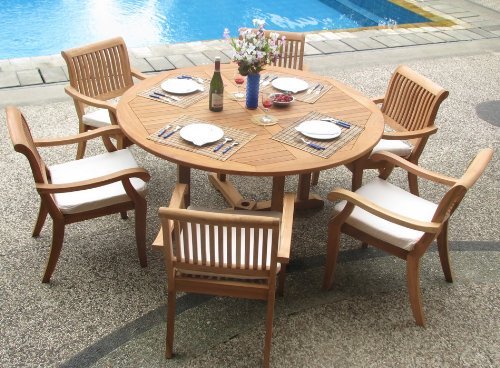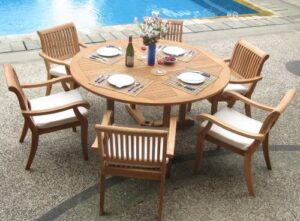 Today's review will be on a somewhat unique patio set, the 7-Piece Teak Dining Set with 60-Inch Round Table by Wholesale Teak. The main thing that sets this unit apart from others is the size. The vast majority of circular table dining sets are only 5 pieces, so this one is substantially larger. lets look at the details of the product, the pros and cons with it, and I'll tell you my final verdict on whether you should buy this patio set.
Product Details
OK, here we have a round table with 6 stacking armchairs. Most circular patio tables are 48 inches or 4 feet across. This one, however, is slightly larger at 60 inches or 5 feet. That might not sound like a big difference, but let's consider how much an extra foot in diameter affects the total surface area of the table. Do you remember this formula from high school geometry class?
A = π r²
For simplicity, let's round π to 3.14 and calculate the areas of 4 foot and 5 foot tables. The radius of a 4 foot table is 2 feet, and the radius of a 5 foot table is 2.5 feet.
3.14 x 2² = 12.56 ft² for the 4 foot table
3.14 x 2.5² = 19.625 ft² for the 5 foot table
So as you can see, the 5 foot table is actually significantly larger that the 4 foot table. In fact, the surface area is over 50% more!
That means you'll have 50% more space for casserole dishes, salad bowls, wine glasses, birthday cakes, or whatever else you've got going on in your backyard.
It goes without saying, though, that this set will take up more space on your patio. So your priorities will determine if this is a good size for you to buy.
The armchairs stack up for easy storage and have contoured backs and seats. The design is quite ergonomic and rather comfortable, though I always think outdoor seat cushions are a good investment to make when purchasing a patio dining set.
The grade-A teak dining set comes complete with a 2-inch umbrella hole in the center of the table. A teak wood plug for the hole is also included for when you don't need to use an umbrella.
Pros and Cons
The chairs only push about half-way in. I'm not sure if this would really be a deal-breaker for anyone though. You obviously wouldn't have the chairs pushed all the way in with someone sitting down anyways. And if you are thinking about space concerns, then you should realize that you'd need the space for when someone is getting in or out of a chair regardless. So I don't exactly see this as a con, just something to keep in mind.
With a circular table of this size, you need to choose a large patio umbrella. A 9-foot umbrella would give 2 feet of coverage extending on all sides around the table. I would not go any smaller than that. An 11-foot patio umbrella might even be a better choice, giving each person 3 feet of protection.
When buying a patio umbrella to match this set, you'll only need the umbrella itself. There's no need to purchase an umbrella stand since the table has a 2nd umbrella hole at foot level to hold the umbrella pole firmly in position.
The table is large enough for 6 people to eat a meal, and you can comfortably fit 8 if you don't require full place settings, such as for playing cards, having a few beers or cocktails, etc. Therefore, it might be a good idea to order a couple extra chairs at the same time if you anticipate using the table for entertaining large gatherings.
One strong point of this table as opposed to others is that the circular design is the best for socializing. With a long rectangular table, someone seated on the end may feel left out of the conversation. But with a round table, everyone is included. With no head of the table, nobody is excluded and everyone is on equal footing, just like King Arthur's legendary knights.
The chairs are beautiful and the entire dining set is made of high quality teak wood. It's a very heavy duty and study set. Take care of your teak, and it will keep you pleased for many many years.
Buying Recommendation
I'm really a big fan of circular tables. I think they look more balanced and serve as a better focal point for socialization. This is also a well-built and lovely furniture set that gives good value at this price. So I would definitely recommend it to anyone if you have the space. Realistically, you'll need spot on the patio or in the backyard with a minimum of 11×11 feet or more comfortably 12×12 feet of space in order to be able to walk around the table when people are seated.
If you've measured the space you have available and decided that this set would be too much of a tight squeeze, but you like the circular table design, then you may want to consider a smaller 4-foot table set instead.
Otherwise, if you've got a nice wide open spot on the patio ready to be filled, don't hesitate to purchase this larger circular set to create a focal point for your backyard entertaining.