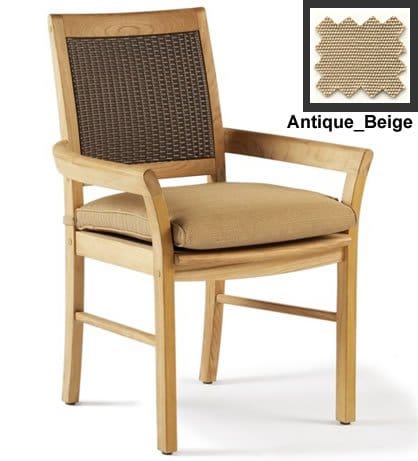 Wholesale Teak sells Sunbrella fabric outdoor dining chair cushions custom made to your specifications. If you're buying or have already bought a new outdoor dining set from teak or another high quality hardwood, you should seriously consider ordering a set of all-weather chair cushions to go with it.
Custom Order Outdoor Chair Cushions
The most obvious benefit of Wholesale Teak's Sunbrella cushions is that they're completely custom made to your specifications. First of all, you get to choose from a dozen different colors and color patterns. My favorites are the Antique Beige and the Celadon, which is a soft, pastel green inspired by East Asian ceramics. If you're ordering from Amazon, you simply select the color and quantity you want when putting the item in your shopping cart.
But that's not where the customization stops. You can also tell them the exact seat dimensions your require. To do so, you'll need to send an email right after you pay for your order. Include the length and width that you need, but make sure these are the measurements for the actual chair seat and not the chair as a whole, as the legs may add to the overall chair length or width depending on the design.
Comfy, Stylish and Durable
As for the thickness of the cushions, they come in at 2.5 inches. That gives you a fair amount of padding to keep your bottom happy while enjoying your time out on the patio. The cushions are filled with a dense dacron fiber that keeps its shape over many years of use. The Sunbrella fabric exterior is the best for exposure to moisture and discouraging mold growth. It also holds up to sunlight and resists color fade. A pair of ties are included on the two back corners of each cushion so you can secure them to your chairs easily.

My Take
I would not hesitate to get a set of these patio chair cushions if I was buying a teak dining set. With all the color options, you're sure to find one that will work with your exterior home colors. Plus, they last for years and years of use. You could go without cushions when buying a hardwood patio set, but your guests will probably thank you for getting something to make the seats a little softer. And if you pick a good color I think it actually enhances the appearance of the entire dining set.