Teak is a naturally water-resistant wood used in professional spas, home showers, steam rooms, resorts, and other places where water or moisture is going to be found. But sometimes in these places one wants a beautiful and fashionable look. Instead of using metal or other materials that are not a good fit for use in hot places such as spas and steam rooms, teak is a good option.
Teak Shower Caddies have become incredibly popular in recent years due to their water resistant durability and the beautiful, professional look one brings to both personal showers and the best resorts and hotels. The trick is finding the right Teak Organizer for your shower, weighing the pros and cons of each different type, because one size does not fit all. You want it to look good, be functional for your unique needs, and be able to fit where you need it in your shower. Also, teak is not a cheap wood to buy, so making sure you find the right product is important to a great long-term investment that you will be happy with for years to come. Below are a few Teak Shower Caddies along with their product information, reviews, and considerations of buyers.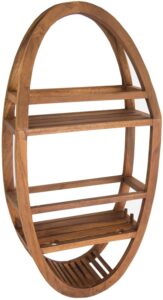 The Spa Teak Oval Shower Organizer by AquaTeak is, as the name suggests, a vertically oval-shaped organizer with two shelves running horizontal with railings to ensure your hair care bottles and other toiletries do not fall. The shelves are made of slatted teak, allowing water to run off of your items and not pool on the shelves. This caddy is built using sustainably harvested, 100% solid teak wood. It is easy hanging and provides storage for shampoo and conditioner. It features 2 washcloth hooks, 2 razor ports, and a soap tray.
This Oval Shower Organizer has excellent reviews, with people praising it for being unlike most shower organizers, which are usually cheap, made of plastic or metal, and do not have the necessary storage. People like this design because it is durable, can hold all of the items for anywhere from 2-5 people, and the ability to customize it personally when received. The design is stylish and attractive and it has been featured in Architectural Digest Magazine due to its appealing design.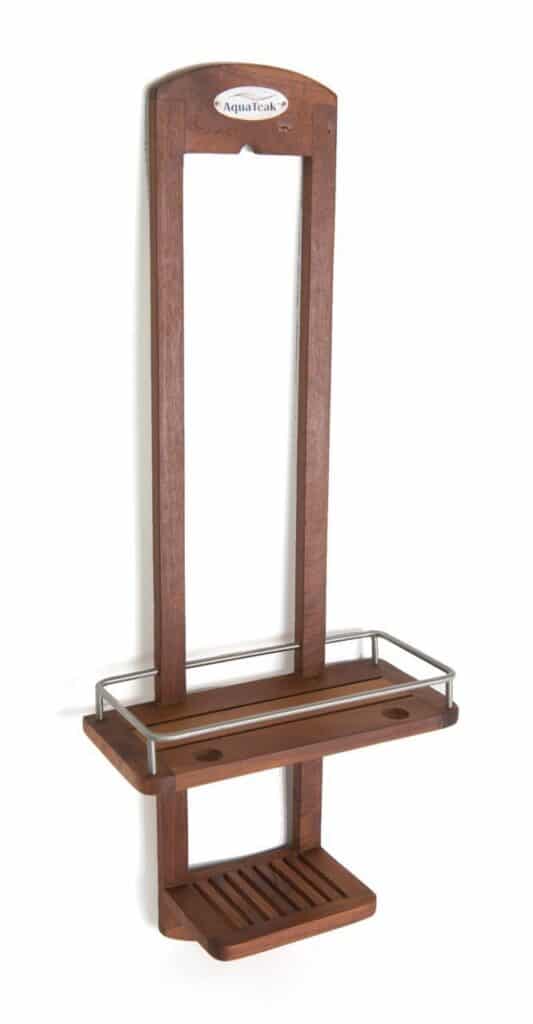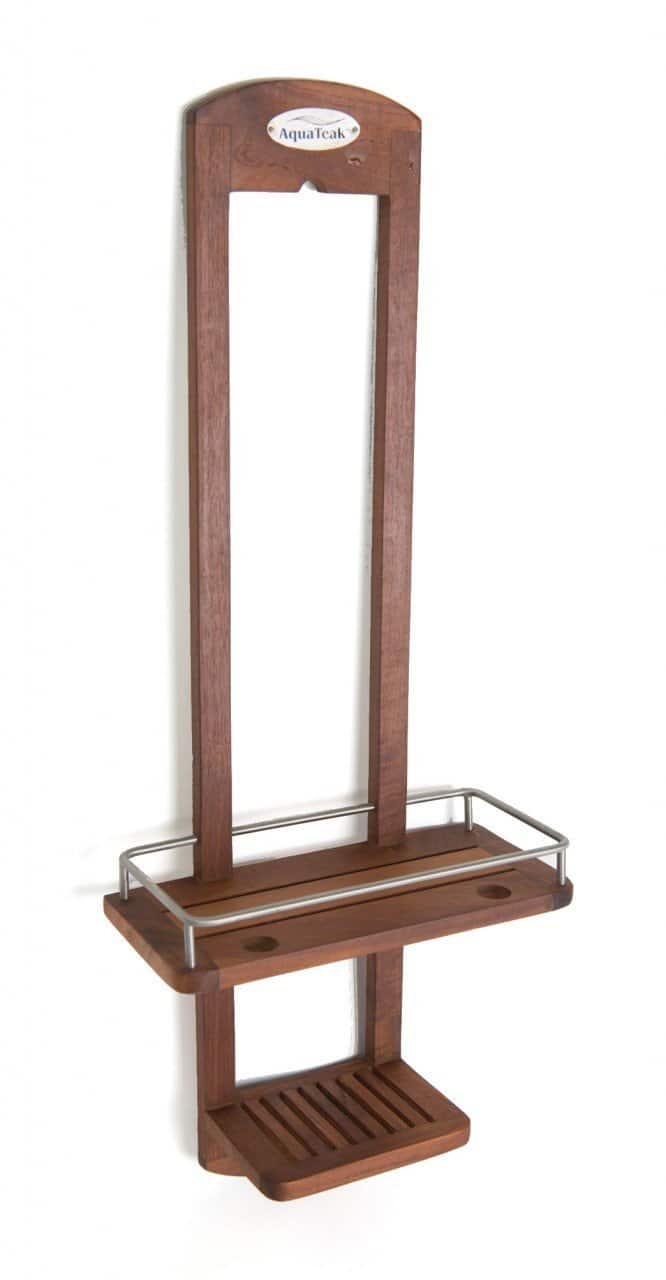 The Original MOA Small Teak Shower Caddy, also sold by AquaTeak, uses the same 100% solid teak that was sustainably harvested. This caddy is in the shape of a vertical rectangle with two different shelves that allow the shower water to run past, avoiding pooling. This item features stainless steel, non-corroding hardware that is used on one of the shelves, acting as a railing to keep the items from falling off of the shelf.
People liked the functionality and style of the Original MOA Small Teak Shower Caddy because it is very sturdy and has held up well to water, specifically, avoiding any weak spots and mold. Others loved it for the warm look that Teak gives their shower, as well as the elegance it brought to their bathroom. It was also praised by those with stand-along showers with short necks, for it is of high quality and a great fit for any shower.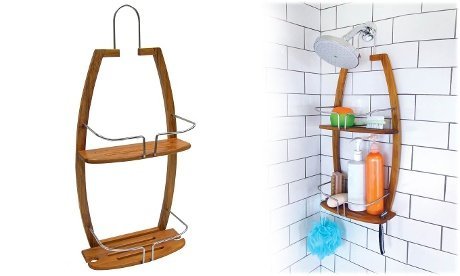 The Ginsey Blissful Bath Shower Caddy by Ginsey is a Teak shower caddy of similar design as the Original MOA Small Teak Shower Caddy by AquaTeak. However, instead of a vertical rectangle design, Ginsey has a bowed-oval design that utilizes an anti-slip, coated wire neck to hang onto the shower head. It contains two flat teak shelves arranged in vertical fashion, and uses stainless steel for the railings to avoid falling items.
The Ginsey Shower Caddy is the lesser-known caddy and less functional one out of the caddies provided. While it is made of durable teak, and contains two spacious shelves that can hold multiple bottles, toiletries, and has an integrated accessory hook and razor holder; the stainless steel used to keep the items from falling off the shelves is thick and may not be rust resistant in the long run. People liked it due to its size and ability to fit several shampoo and body wash bottles as well as their razors, but others had an issue with the metal loop that attaches to the neck of the shower head, citing that it did not have an appropriate rubber grip and therefore, it would slide down the shower head tube.
Before buying any accessory that will add functionality and style to your home, it is important to do your homework, read about each product under consideration, and read reviews of people who have bought and used the product themselves. This will give you great insight into what did and did not work about each product and which one is right for you.